Half of our time goes in browsing internet and sometimes we look into content that we do not wish others to know. Privacy is the most important thing to be concerned about while working on the web. There is always a risk of your privacy getting affected by web threats and we need to make sure that our system and data remains untouched by hackers. If you use private browsing sessions, then you can save your information from the prying eyes of web predators who are eagerly waiting for your private information. 
Looking into confidential files and important information that should not be shared, should be done in incognito mode. You should also avoid looking into such confidential information in public internet connections as they might pose higher risk of data leak. Though it is very tough to find a completely private browsing tool in Android systems,
yet we have listed down some of the best private browsers for Android.
Also Read:
1. Javelin: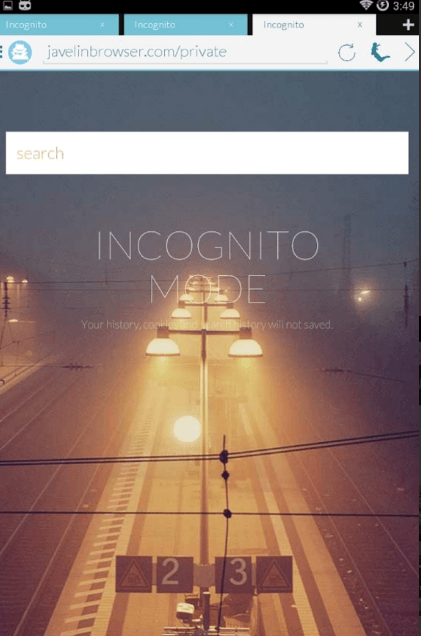 One of the most secured Android browsers in the Google Play store is the Javelin browser. Starting from the anonymous browsing sessions to the inbuilt AdBlock Plus, Javelin has some really good features to flaunt. The AdBlock plus prevents all those annoying ads that keep irritating you while browsing through sites.
An A-Okay user interface with exquisite design on the window and address bar makes it a fun browser to use.
2. InBrowser: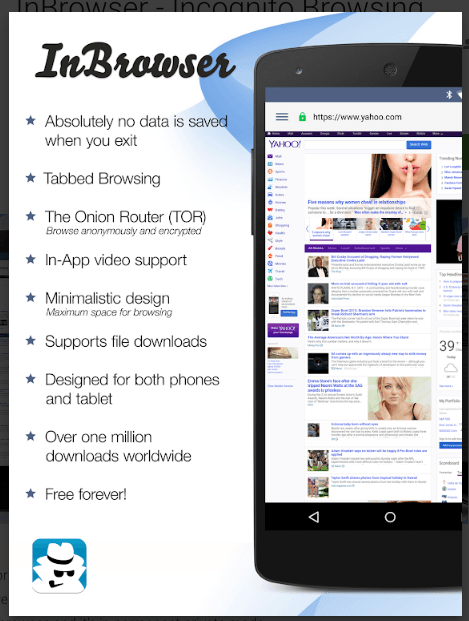 The best Android browser for privacy gives you full freedom to visit any website without putting your browsing history or personal data at risk of getting hacked or shared. The InBrowser is a private or incognito browser that helps you surf through adult sites, medical websites, confidential data without others getting a hint about it.
No data is saved and it also supports agent cloaking giving websites an illusion of using them through desktop browsers.
Also Read:
3. Goldeness Browser: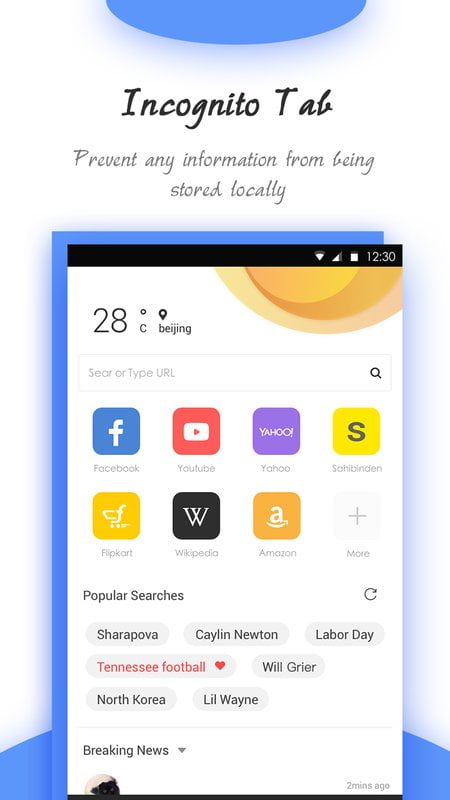 The best thing about this secure private browser for Android is its relatively smaller size than its rivals. It is a mere 4 MB app that enables faster browsing, smarter web surfing and increased download speed. The browser has a really good incognito mode that does not save any history, cookies or cache and thus your friends or kinds won't have the slightest idea of the websites you visit while using your phone.
4. Dolphin Zero Browser:
With a user rating of 4.2 stars, Dolphin Zero Browser is one of the best private Android browsers you can come across. Unlike many other browsers, this one does not save your browsing history, website login credentials, form inputs, cached files, user address book, location info etc. It thus helps you keep your browsing data remain a complete secret from prying eyes. The app has over 150 million downloads and is also supported by iPhones.
5. Ghostery Browser: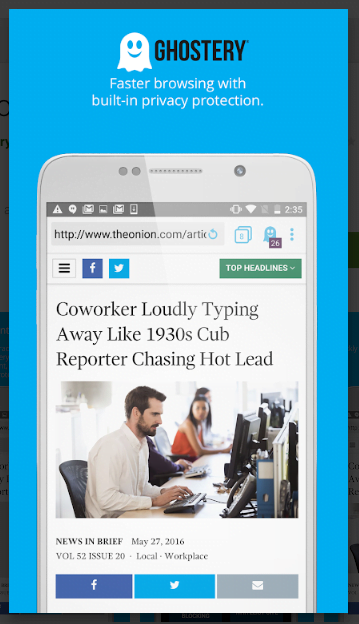 As mysterious as a ghost, this browser keeps your browsing information, website login details and form details a complete mystery to the people who use your phone. You can selectively choose the website details you want to keep private and which ones to keep public. Reduced number of permissions, remarkable incognito mode, 8 different search engine choices, huge tracker database make it a top choice among private browsers for Android.
Also Read:
6. Omigo:
Flaunting a number of features like fast browsing, private browsing, reader mode features, private incognito browsing, Adblock functionality, HTML5 & Flash support it is clearly a winner among all. Its Adblocker is comparably better than many and it leave no trace of your search and browsing history. And the best part, it is an Indian browser and has a rating of 4.4 stars in Playstore!
7. Firefox Focus:
Users are particularly impressed by its lighting fast browsing speed and ad-blocking feature. It automatically blocks a wide range of online ads and effectively erases browsing history and passwords entered through the browser. So, you can now browse without any fear and Mozilla's sleek and smooth user interface is going to sweep you off your feet for sure.
8. Brave Browser: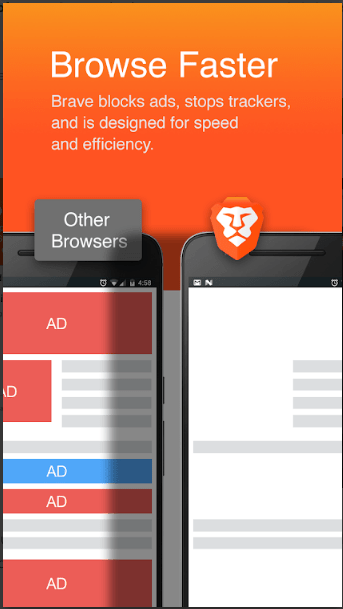 Loved by many for its faster than ever browsing speed, Brave Browser has several new channels' test results to back up this fact. It is proved to be much faster than Chrome and Safari and it effectively blocks ads and trackers that records your browsing data and other private information. And by blocking ads, the browser saves you quite a lot of money that you used to pay for unwanted ads.
Also Read:
9. Opera's Browser:
As a smartphone user, you are entitled to have good browsing speed and secure web usage. Opera browser takes care of all such needs. It has a smart news feed to keep you updated on all the happening events. Its user interface is smooth as silk and it improves the browsing speed by blocking all kinds of ads and redundant pop-ups that eat up our internet data and sets back the browsing speed.
10. Frost Incognito Browser: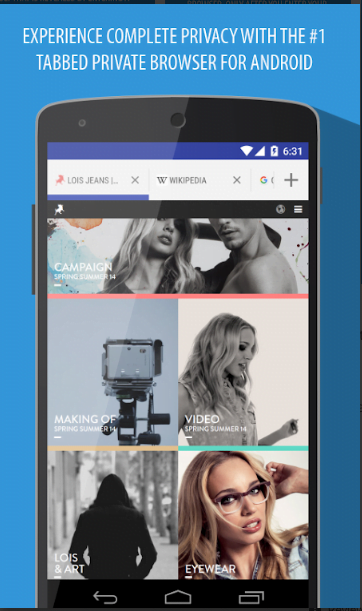 The name itself speaks about its efficiency in keeping your web data private. Apart from private browsing, a blocker feature and password protected history, this browser offers multiple tabs to work on unlike many others listed here. You can import to and export images from device storage and images vault. You can put images, passwords into vaults and that won't be accessible by any other app.
11. CM Browser: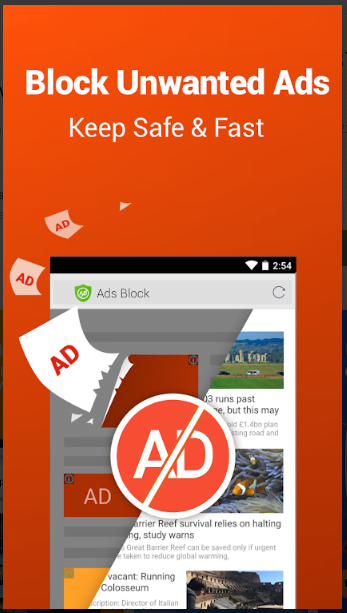 One of the highest rated most secure mobile browsers that you can find in Google Play store is CM Browser. It is a light weight browser that allows you to download any content from any website you want. It ensures you get a malicious content free browsing and ad-free browsing by blocking all kinds of ads, trackers, pop-ups, banners, and threatening java scripts over the web. The cherry on the cake…it has got a page translator version with support for over 40 languages.
Also Read:
12. Ecosia Browser:
Wanna do something good for the nature while browsing over the internet? Try using this amazing browser named Ecosia. The company uses its profits to plant acacia trees in regions that need plantations. Apart from being a 'eco-friendly' browser, it also features private browsing mode and does not track your web activities. It does not save your browsing history, cache, website passwords etc. for a more secure and private browsing session. It is truly one of the most secure private Android browsers.
13. Flynx: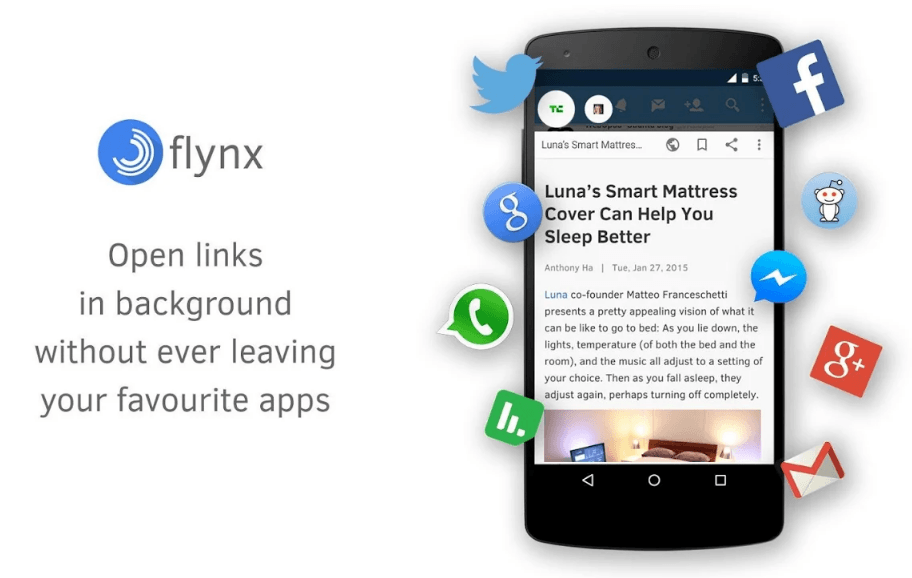 While going through the content of a site, hackers can get into your system through malicious ads and pop-ups. Flynx saves you from all such malicious content. It allows you to save the content of a site for offline reading and removes ads from the content to ensure you get a disturbance-free reading. It supports over 15 languages and also allows you to share links directly to social websites.
14. Google Chrome: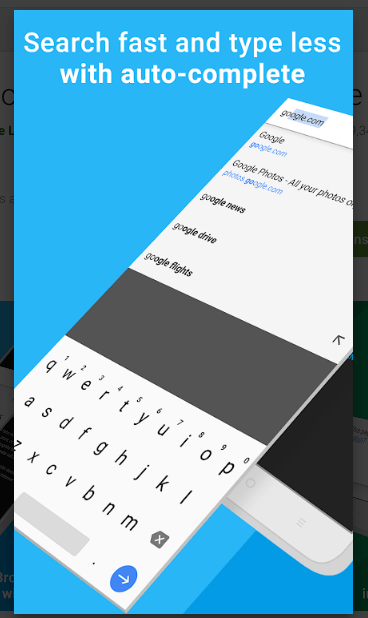 Do I even need to tell you anything about Chrome? You can rarely find anyone who hasn't used this browser. Though its speed may not be as impressive as the others it is still one of the most tired and tested private browsers for Android. Click on the Incognito window present on the top right corner of your browser and enjoy track-free and history-free browsing sessions.
15. Lightning Browser:
A lightning-fast browser and lightweight app, you can use this for a private browsing session. It uses the WebKit rendering engine for a faster browsing experience. With Full-screen reading mode and multiple tabs and bookmark support, it is a must try for Android users. It is an open source app, so, just visit them at GitHub to suggest any changes you wish to see in the browser.
16. Lynket: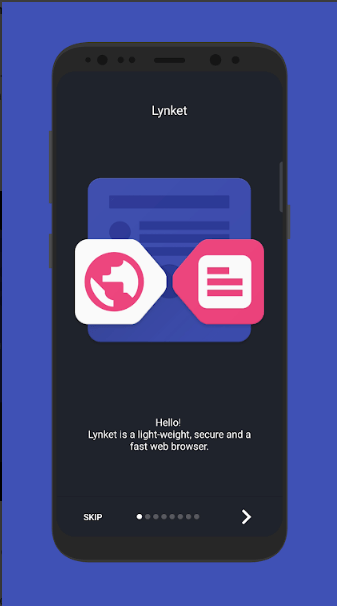 You must have come across a browser named Chromer; it has now been renamed as Lynket. It is based on customs tabs protocol allowing you to go through the site seamlessly. The app has an article mode that saves only the content of the page for future offline reading. It looks for the AMP version of a web page for faster loading.
Also Read:
17. Naked Browser: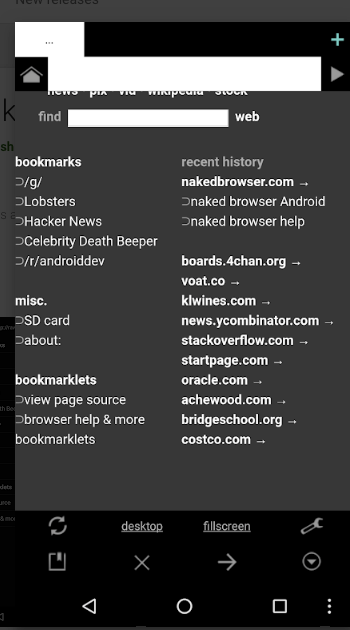 Listed among the best private browsers for Android, the Naked browser keeps your browsing data safe from others. You can open multiple tabs at a time and restore crashed internet sessions easily. You can also reopen closed tabs and the browser removes ads and banners quite effectively giving you a hassle-free browsing experience.
Every other phone has got its own previously installed web browser. Once we start using a browser, we get used to it and love to stick to the same. But what if you found out that it is not a very secure browser but are not in mood of switching to any other browser? Free proxy apps like Orbot come to your rescue in such cases.
It uses Tor to encrypt your internet traffic and make it impossible to track you down. So, you can easily visit any site you want without any worry. Do check out our article on the best VPN apps for Android for a more secure browsing. We hope you liked our list of best private browsers for Android.
Also Read: