It often irks to do a single set of steps again and again. It creates unavoidable delays in delivery of work and is a quite tiresome job. Though not for all, some of these tasks can be turned into a 5-min job with the help of a macro recorder. We have enlisted some of the best free macro recorders for Windows right here, but before that, you should know what a macro recorder is.
What does a Macro Recorder do?
A macro recorder is a software that is used to replicated certain set of steps again and again as per the requirement. The software basically records the user's steps or actions and stores them for playback at a later time. It is one of the basic tools required to automate tasks in your system.
The macro software records a series of steps (keyboard and mouse actions) and plays it back when you need it. In advanced macro softwares, you can also add your own macro script as per your requirement. You can find two different types of macro programs/softwares for Windows, free and paid type.
Free macro recorders for Windows may have limited features but they will be much easier to use than the paid ones. Complexity increases with the paid ones but they are much more feature-rich than the free ones.
Check out Best Free Macro recorders for Windows:
1. Pulover's Macro Creator: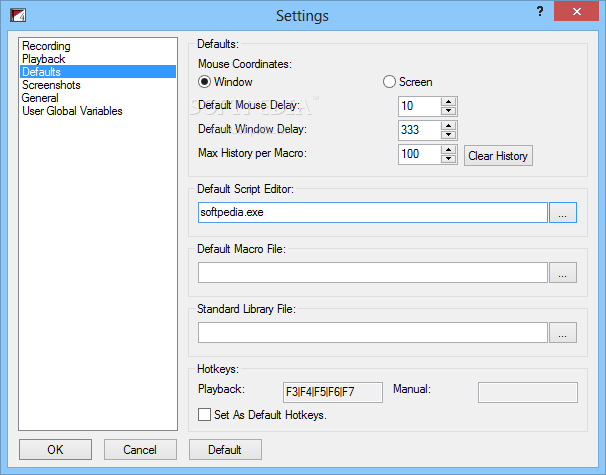 This free macro software for Windows works on Windows XP/Vista/7/8/10 systems. It is a very advanced macro software that records continuous keystrokes, mouse movements, looks up for images and files, creates If/Else codes etc. to enable a smooth automation. Macros can be carried out either from the application or through Auto Hot Key Script.
2. Auto Click Typer 2.0 – Fastautoclicker.com

Auto Clicker 2.0 is a free, open source application which lets its users automate repetitive clicking of mouse and the keyboard. Actions like "Left Click", "Right Click", "Move Cursor", "Double Click", "Pressing one key", "Typing a multi line textual content" etc can be automated by using this application.
This is a lightweight application that can be easily installed from here Fastautoclicker.com. In order to execute the list of actions, Hotkeys are used. These hotkeys can be changed by the user and can work even when the application is running in the background.
Auto Clicker 2.0 lets its user choose whether they want the clicker to follow the cursor or click at a fixed spot. It also lets its users choose the total duration for which the clicker has to continue clicking, the time gap between two consecutive clicks and the total number of times the clicker has to click. The settings that are fed to the clicker in one session can be saved (including the last fixed location of the clicker). The list of the actions created by the user can also be saved and stored (AUTOCT file), that can be reused later.
3. AceThinker Screen Grabber Premium

AceThinker Screen Grabber Premium is another tool that can help you record your screen automatically, thanks to its "Task" Scheduler" feature. You don't have to hit your keyboard and mouse multiple times. All you have to do is set a specific date and time on Task Scheduler, and the tool will do the recording for you in HD quality like 720p and 1080p.
Besides, this tool can record in full-screen, region mode, around the mouse, including your external webcam. Of course, this tool can also capture the audio from your system sound, microphone, or both. It is best for recording webinars, online class, live stream videos, game videos, and more.
AceThinker Screen Grabber Premium
4. Macro Dollar: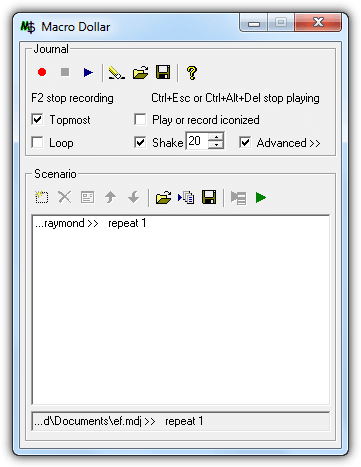 There is a saying that 'Old is gold'…Well, this macro software is a good example of the proverb. This is one of the simplest and easy to use macro softwares that you can find. It is over 10 years old and just like others this automation software also records mouse movements and keystrokes.
5. Easy Clicks Macros: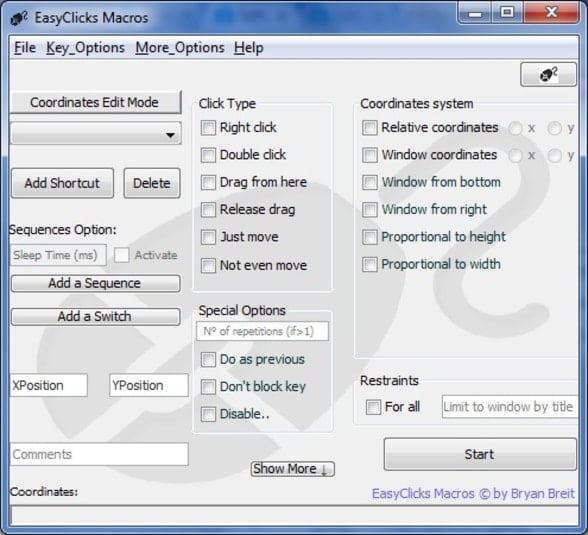 Easy Clicks Macros may be an old macro software but it is a very efficient one. It is compatible with Windows 95, Windows 98, Windows 7 but till date, its Windows 10 version has not been released. It allows multiple macros on a single key and you can fix the frequency of repetition of any step. Its ease of access to different macros and shortcut availability makes it a popular choice among users.
6. WinMacro: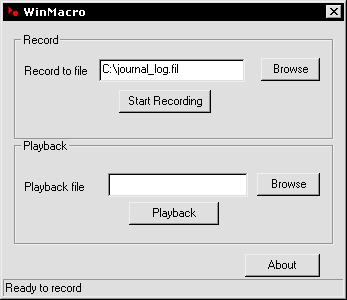 With one of the easiest recording and automation tool, the WinMacro macro software is used to automate various simple everyday tasks. Its simple GUI has just three buttons- Record, Play and About. You also have the option of ignoring mouse actions during recording. You can opt for repeated playback and modify the payback rate. User configurable hotkeys make your automation job way easier.
7. TinyTask:
Don't judge an application by its name or size. TinyTask is merely 33KB and it is the smallest macro recorder for Windows. Simplicity at its best, TinyTask has just six buttons and a very small GUI for all automation operations. It supports almost all versions of Windows OS; Windows 98/Me/NT/2000/XP/2003/Vista/7/8/10. You can adjust the playback speed, alter the hotkeys and playback speed, record and play buttons, etc.
8. GhostMouse: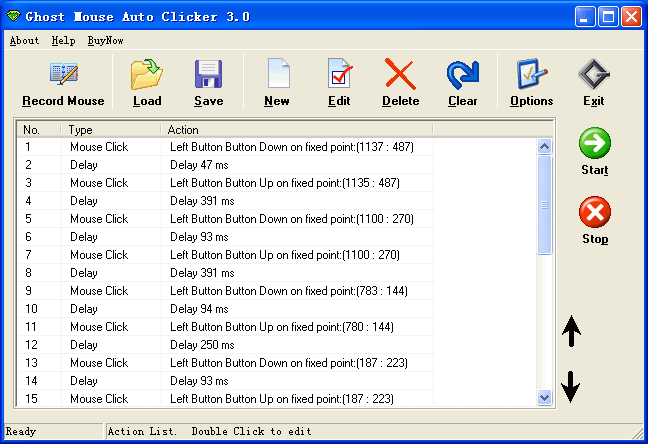 The GhostMouse macro recorder software will give one hell of a competition to TinyTask as it has got just 2 buttons to carry out automation operations. On the main GUI, it has buttons for play and record options. Though it cannot be used for complicated automation, if you are looking for small applications of recorder, then go for GhostMouse.
9. Mouse Recorder Premium: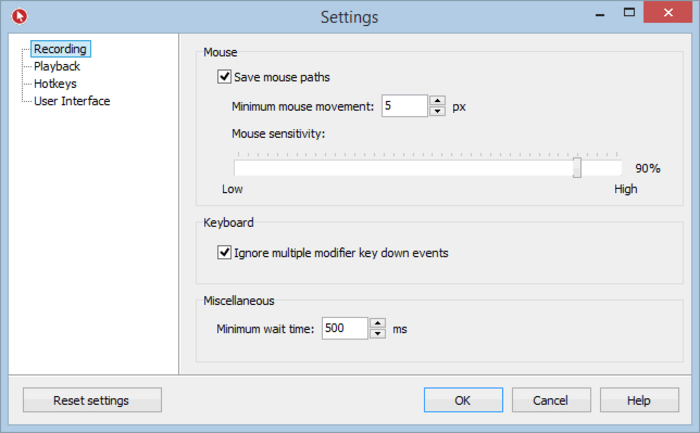 This is yet another free macro recorder for Windows that allows you to record and playback various actions on your system. It records and replicates individual mouse movements, optimizes timings to capture macro recordings step-by-step, restore the position of the windows, sort macros in folder for a more organized working etc. It is one of the best Windows 10 macro recorders and is compatible with Windows Vista/Server 2008/7/8/10.
10. Do it Again:
Just as the name suggests, this macro software has a list of macro recordings displayed in its main GUI for faster and easier access. If you are interested in advanced automation in which you can edit your own scripts, then Do It Again will help you out in the simplest way possible. This macro software stores all the recordings in files with .dia extension, i.e. text files. So, you can easily edit the scripts as per your requirements.
11. Mini Mouse Macro:
Highly portable and easy to use interface, the Mini Mouse Macro is capable of tracking mouse clicks, changing the speed of script, editing the script as per requirement, and many other general automation software features. It is a very small application and it never lags during operation it is compatible with systems running on Windows XP / Vista / 7 / 8 / 8 64 bit/10.
12. Macro Toolworks Free:
This application comes with three versions; free, standard and professional. It is one of the few free advanced level macros available and supports tons of automation techniques. Macro commands such as tracking variables, finding an image on the screen, FTP, sending emails, recording keystrokes and mouse events, manipulating windows, etc. are all supported by the Windows macro software.
13. Perfect Automation: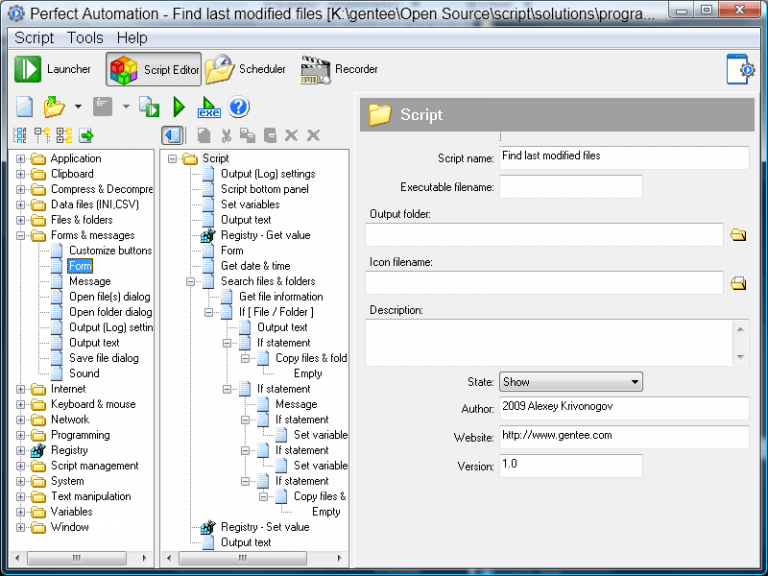 Just as the name suggests, the Perfect Automation macro recorder makes complex automation a cake walk for users. It records mouse movements on an active window even if it has been shifted to a different position on the monitor screen. Though it consists of four different parts; launcher, a recorder for mouse and keyboard, a solid script editor and as a scheduler, you don't have to install each of them separately. All of them are combined into a single unit.
Now you can check out some Free Macro recorders for Mac
1. A Simple and Easy to use Mac Automation Tool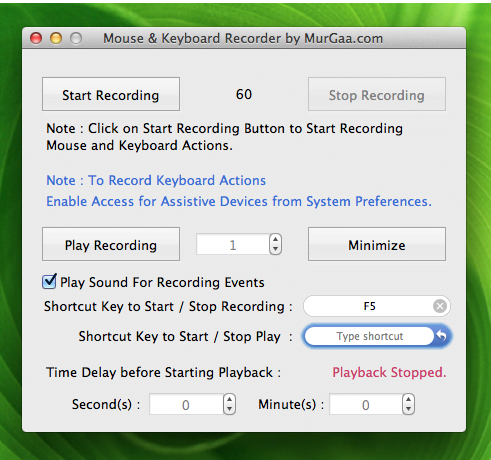 A Simple and Easy to use Mac Automation Tool is presented here which can Record and Playback Mouse and Keyboard Actions. This Macintosh Automation Tool works on all latest version of Mac OS X Operating Systems running with 10.6 onward versions. This Macro Recorder can be used as a combination of Mouse Click Recorder for Mac and a Keystroke Recorder for Mac.
2. MadRuby Macro recorder for Mac:


MadRuby is an on-the-fly keyboard macro recorder. You simply start recording while using any application, perform a task using the keyboard, stop recording and play it back as many times as you want, anywhere you want.
3. Mac Mouse Recorder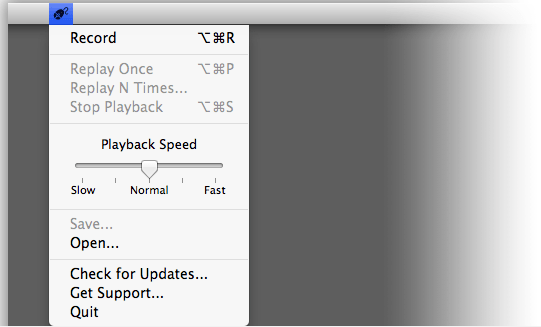 A simple mouse recorder for Mac OS X. Sits in the menu-bar and records your mouse & keyboard actions.
4. Easy Macro Recorder for Mac
Easy Macro Recorder by GoldSolution Software, Inc is a piece of software that will help you record mouse and keyboard actions so that you can automatically reproduce them at any desired time. Even though Easy Macro Recorder for Mac is not available for download, there are several other tools that can help you crate macros on Mac. Here is a list of apps that can serve as replacements for Easy Macro Recorder for Mac.
We hope you liked our collection of free macro recorders for Windows. You can also check out our articles on best free animation software for beginners and best free password apps for iPhone.