The time has bygone professional video editors are required for the video editing. Today people are looking for such ways in which they can edit their videos on their own as per their convenience and choice.
One such video editing feature is slow motion that is liked by many yet don't know how to do it. Although advanced smartphones are having slow motion video capture option in – built.
But in some instances that is the case with expensive and camera quality and features oriented phones. So what to do when you don't have expensive phone and want to make slow motion videos like a pro.
Well in that case we are presenting you an entire list of best slow motion apps for android.  To know more please give this article a read.
FAQs
Does android have slow motion video
In some android phones built – in slow motion video feature is present while in some its absent. So it depends on the version of Android as well as smartphone company and model to have slow motion feature or not.
What is the smoothest slow motion app?
When you search out there in the market you will get thousands of slow motion apps available. However all of them are not worth consideration and even those are, differ on many scales.
15 Amazing Slow Motion Apps For Android
The best solution for having a perfect slow motion video is slow motion apps where you can edit as you want. Below is the list of some of the best apps available for the same.

This application supports only the Android platform and provides it users with a plethora of slow motion video editing options.
It has ranked top in this list because of its standing out features.
In this app you will get slow motion scale of ranging from 0 to 1 and can edit your recordings too in slow motion.
Also you will get easy editing for frame rate and speed adjustment.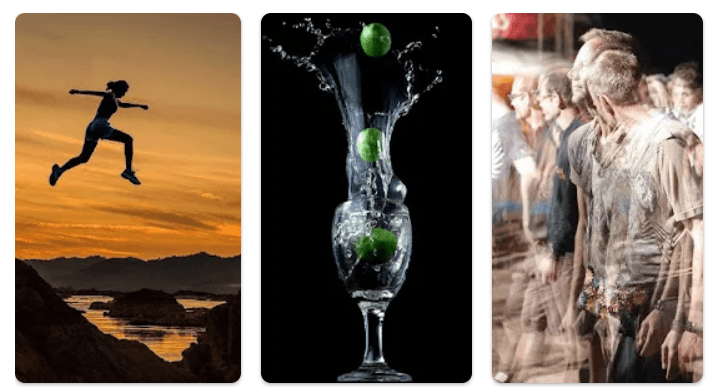 What makes this application comes right after our first rank achiever its features.
It has such stunning features that can make anyone love it.
In this application users can shoot slow motion videos, edit recorded clips, loop them or reverse them.
With advanced editing features it also provides options like effects, rotating, cropping, and trimming to count a few.
Above all its decent interface and advanced dashboard makes the editing thing a game of seconds full of fun.

If you are looking for a simple but robust slow motion video editing app then this is a top pick for you.
It comes with a sleek and intuitive interface in which you can record a slow motion video or edit an imported clip.
In this app you can make your videos fast forward as well as slow motion and offering videos in all popular formats.
What makes it more interesting is that from the app you can directly share the videos

Editing you video clips into stunning slow motion videos is just a piece of cake with this app.
In this application you can make your videos slow motion or even select a part of it and apply slow motion on it.
Also you can do a lot with your video clip like trimming, cropping, rotating, adding music and voice over.
With that you can also adjust the colours and make animated titles.

This app has secured its place in our list with its superb functions that are very useful for video editing and newbies to pro video editor.
In this app you can edit a video into slow motion, fast forward, reverse video and video zooming.
You can also convert videos into GIFs and it supports PiP mode with other video editing features.
Also you can export your edited videos in a high resolution video quality and share it on the social media platforms directly.

If you are looking for an application to edit both slow motion and fast motion videos then your quest is over.
For video speeds it has four formats and for audio speeds it has two formats.
What makes this application unique from others is that here you can reverse your video clip.
With these amazing features this app also has ordinary video editing options.
7.      Slow Motion : Speed Video Editor
As you can guess from the name itself that this application is all about slow motion videos.
This application is one of the top and new launched video editing apps that has straightforward interface.
In this app you just need to import a video from the gallery and apply slow motion on it and you are done.
With that there are many other video editing features you can use to make your videos stunning.
What is different about this app is that it retains the high video resolution of the videos.

Another app with slow motion video editing is this which has the best overall editing features.
In this app you will plenty of video editing features including advanced and ordinary options.
For slow motion videos you will be having various speed rates where you can direct capture a slow motion video or import it from gallery.
In other advanced features you will have reverse video editing for social media content.
Also you can edit your videos by trimming, cropping, and removing audio to count a few.

In this app you can record a video in slow motion and can edit already recorded clip.
With slow motion effect it comes with many other features like trimming, cropping and filters.
You can also apply various other effects to your videos to make them shine.
Also you can add voice overs and music to your videos to make interesting.
This slow motion video editor supports both Android and iOS platforms.
In this wonderful app you will get tonnes of slow motion video editing settings including speed selection, frame rate and playback.
It has dual arc sliders that can adjust focus and exposure offers 4K video quality.
With HDMI output it makes the entire editing streamlined.

Another slow motion video editor app for iOS and Android platform is here with us.
In this incredible application you can edit your video into slow motion and super fast clips with various frame rates.
In the slow motion option it comes with more features like ghost mode, optical flow and frame blending mode.
With split – screen feature and focusing it also display timeline at the end.
12.   SlowCam
Using this brilliant app you cannot only edit a recorded clip but also capture a slow motion video.
For that you just need to choose the desired frame rate and you are good to go.
It offers various frame rates such as 60, 120 and 240 fps and after the shot automatically saves the clip in the camera roll.
You can set the exposure and focus individually as well as simultaneously by just tapping on the screen.

Another all rounder video editor in our list is this which not only makes a video in slow motion but also offers tonnes of editing features.
In this app you can choose your preferred video speed and turn your clip into slow motion or fast forward.
Also through this app you can add texts, titles, effects, animations and various other things to your video.
With all these thing you will also get video editing features like trimming, cropping, rotating and many more.

Its not hard to get the idea from the name that with this app you can turn your video into slow motion and fast motion clip.
This video editing tool with slow motion effects stands out from all other available apps in the respect that it offers a wide range of speed selection.
In this app you can choose your preferable video editing scale whether in fast or slow motion up to the scale of 1 to 10.
Also with that you will get plenty of other video editing functions such as trimming, cutting and retaining the same audio.
One of the powerful applications for slow motion video editing is this that comes with robust features.
In this app you can edit your videos for slow motion with motion editor as per your need.
It also offers a plethora of video editing functions like multi – layering, 3D animation and text, custom keyframe, and various visual effects.
With that it supports the high resolution video quality of 4K and 1080p and export the video directly.
These are some of the best slow motion video editing applications for Android platform.
Conclusion
If you are wondering that how you can turn your normal and boring videos into stunning and interesting slow motion videos then there are plenty of apps available for the same.
However not all of them are perfect for you, and its only you who has to decide what to choose and what not. With the help of above mentioned list of best smooth slow motion app you can edit your videos like a pro.
Also Read: