No one knows what's going to happen in the future, and that's what makes it exciting, interesting, and even thrilling. But then also some people like to take a peek at their future and want to know about it.
For that horoscope is the thing that holds significant importance for people. Apart from the future, there are also many other things a horoscope tells like lucky color, lucky number, what to do for a good day to count a few.
That is why for decades seeing horoscopes in newspapers is a habit of people. But when everything is available online then why rely on the morning newspaper for such important things?
So today we are having an online free horoscope app where anyone and on anytime can check their horoscope without paying any fees. If you are already excited to know about such amazing applications then let's dive in.
FAQs
How can I find my horoscope online for free?
Finding a horoscope online for free becomes simpler and easier with the new apps. When you search you will find plenty of horoscope apps available out there.
They differ on the basis of the services they provide, however, and you need to select the suitable one according to your needs and requirements.
How true is AstroTalk?
AstroTalk is one of the most credible horoscope applications available out there which claims the utmost accuracy. With accuracy, it offers people many more interesting services that make it different from others.
How do you get a personal horoscope?
To get a personal horoscope all you need is a device and an internet connection and you are good to go. Checking your horoscope anytime and from any place has become simple because of the online horoscope apps that are free to use.
20 Amazing Horoscope Applications
Without wasting a single second let's have a look at the horoscope applications.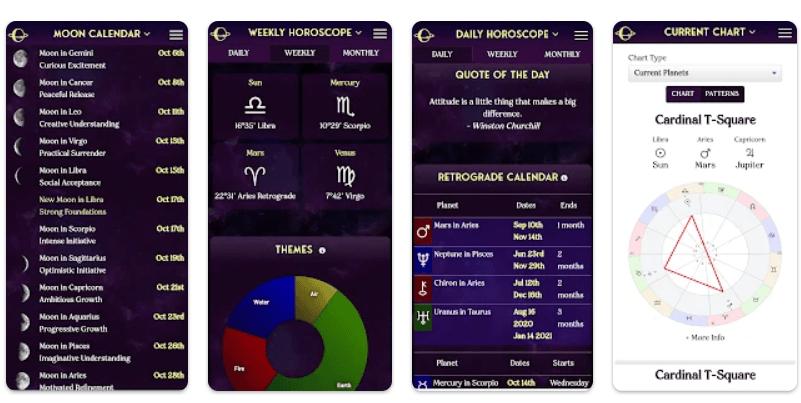 If you need an accurate birth chart with various astrological reports, then this is worth your consideration.
Why because it has earned its name for offering its users accurate birth charts and other charts.
With wisely made charts it also offers daily and weekly horoscopes.
What makes it more interesting, is its love compatibility.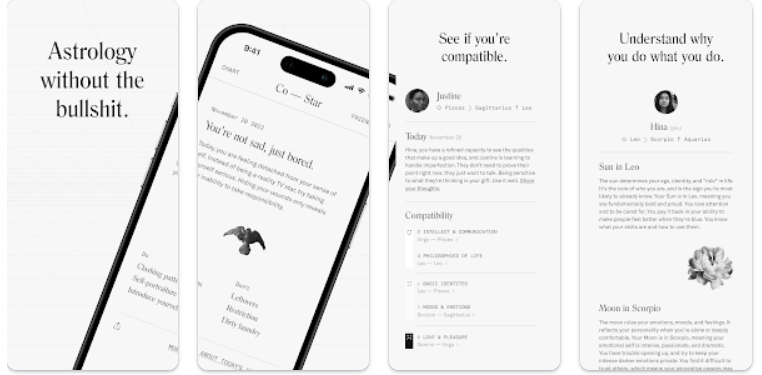 This application is specially curated for people who are looking for a more personalized horoscope app.
It offers tonnes of customization options among which you can choose whatever you like. And according to that, your results will be filtered.
For compatibility check, it uses a different method. It shows compatibility according to the planets.
All the forecasts are based on sky maps and thus provide accurate results.
This horoscope application comes with a clean and decent interface that is easy to navigate.
What makes it stand apart from others is its advanced astrology glossary. It makes complicated astrological terms easy and simple to understand.
In this app, you will get colored charts displaying detailed descriptions. This enables a deep understanding of astrology for the newbies.
It also offers birth charts for those who want to go ahead with their horoscope.
If you are searching for some extra services other than ordinary daily horoscope then you can rely on this application.
In this application, you will have access to a massive community of astrologers and tarot card readers.
It offers accurate predictions based on your zodiac signs and planetary movements.
To make your experience different from other applications it has an artificial intelligence bot that is completely customizable.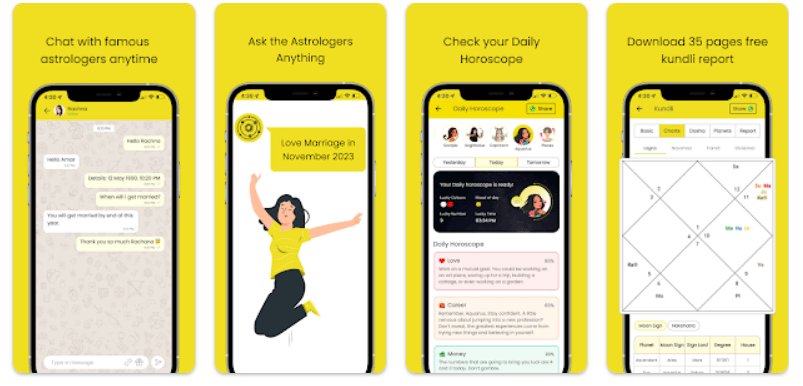 We can't afford to miss this app while talking about guaranteed accuracy.
This application is in the market for a considerable period of time. And throughout its lifetime it has earned its name for offering accurate results.
To provide accurate and to-the-point results, it uses a number of astrology mechanisms. They include Vedic Astrology, Nadi Astrology, and KP astrology to count a few.
Apart from ordinary horoscopes it also provides its user services for well–researched answers, rectifying birth time, and suggest child names according to that.
If you are a newbie in astrology yet excited about knowing what is in your cards then you have got this.
This application is one of the most simple astrology solutions for the new folks out there.
It offers decent and attractive themes with personalized astrology reports.
In this app, users will get daily business and love horoscopes with normal horoscopes.
To offer something extra to its users this app provides them with precious love tips according to their love horoscope.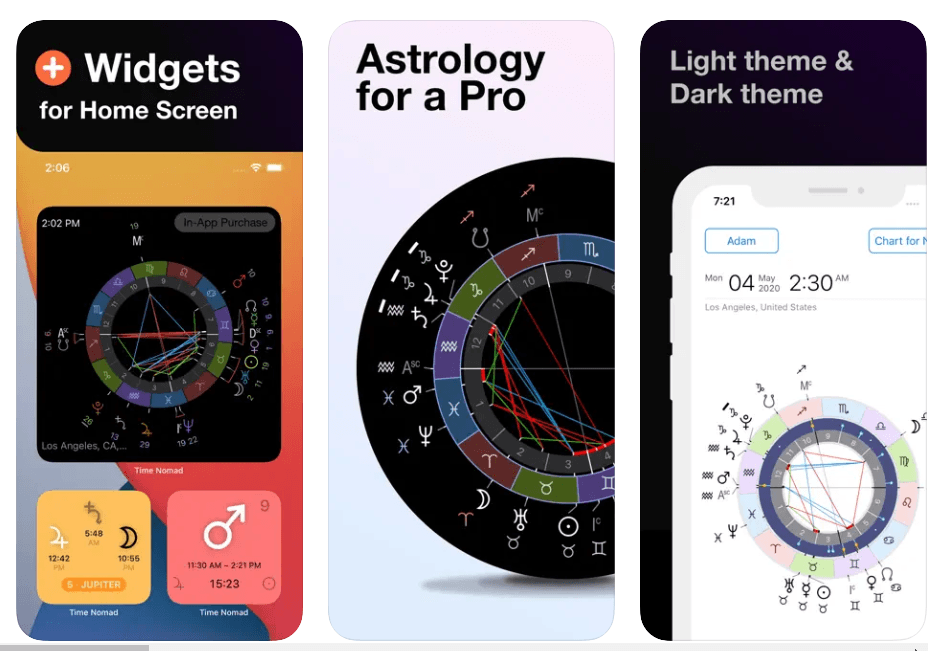 This application is for people affluent in astrology that needs highly advanced solutions.
In this app, they will get easy to navigate home screen widget.
It offers daily horoscopes in a variety of options including daily love and business horoscope.
Through this app monitoring, the current astrology chart is easy and it has a built–in planetary hour calculator.

If you are looking for an all-rounder horoscope application then this is the one for you.
Its foremost work is to provide you with detailed reports of your zodiac sign horoscope.
With its daily guidance, you can plan your next move and check love compatibility too.
Apart from a daily horoscope it also offers a tarot card option to check what is coming to you.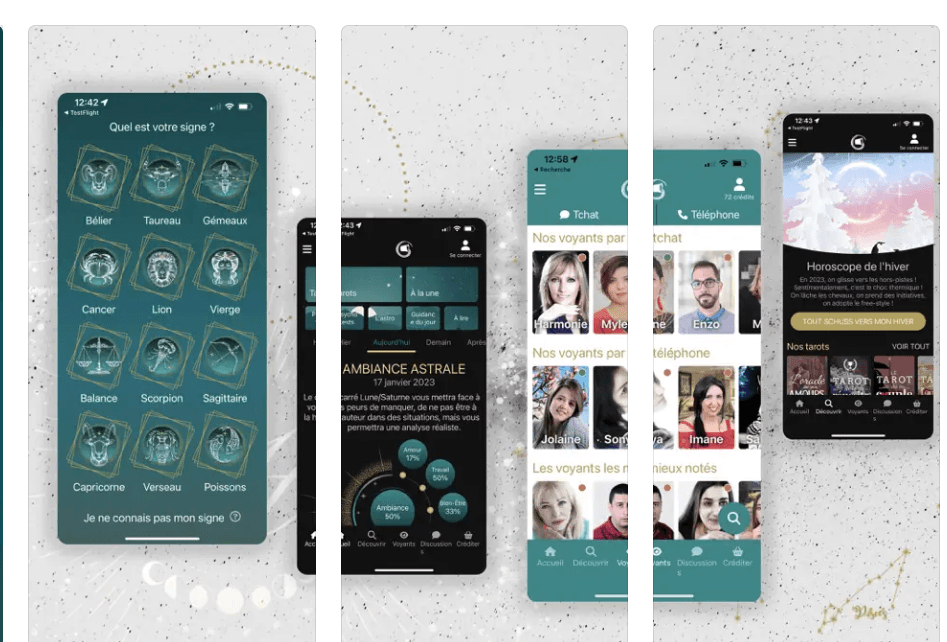 This horoscope application offers a very advanced solution for its users.
It provides its users with their daily, weekly, monthly, and even annual horoscope.
With its seasonable horoscope and predictions, users can plan their future.
Apart from horoscope it also presents live readings and love compatibility.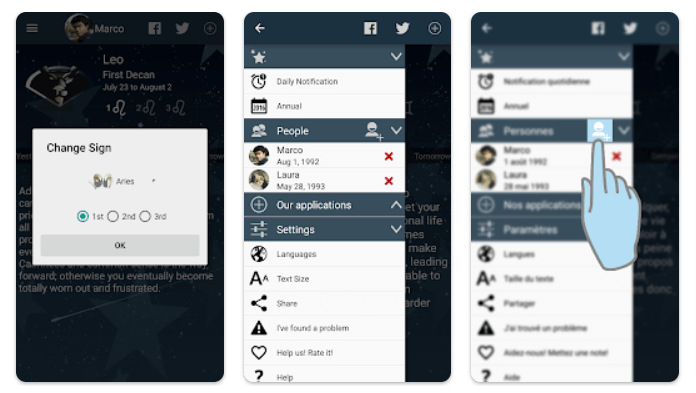 Providing its users with 7-day horoscope predictions this application is ruling over the hearts of millions.
It offers future forecasts for all the zodiac signs with their daily and weekly horoscope.
This application provides a detailed description of astrological predictions.
You can check and calculate your zodiac sign too for further astrological predictions.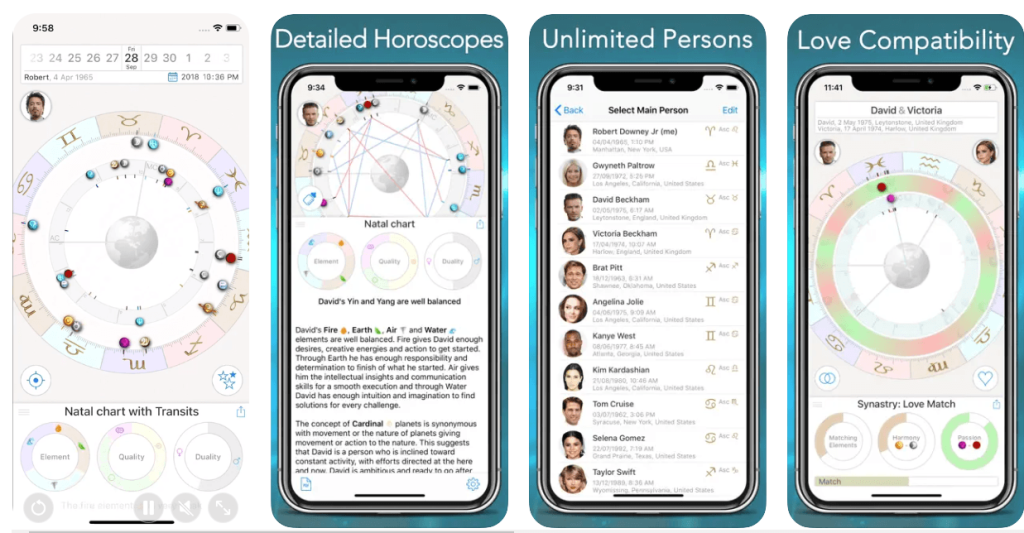 This app is for iOS platform users who want to stay updated with their daily horoscope.
With a daily horoscope, you can also check your love compatibility with as many people as you want to.
It presents horoscope reports in pdf format that are easy to share and print.
Apart from all ordinary horoscope services it offers natal charts with a detailed description of the horoscope.
If you are looking for more compatibility-checking applications then your wait is over.
With this horoscope app, you can check your compatibility too in an extensive way.
This application lets your check your compatibility with your friends, love, and even with your friend group.
And if you want to check how many people compatible with you are living in your locality then you can check it using this app.
It can't be undermined however that the primary function of this app is daily horoscope.
This one–stop destination for all your horoscope needs is a favorite choice of millions.
It offers very much accurate zodiac predictions and also zodiac compatibility.
With zodiac compatibility, it also presents marriage compatibility to its users.
In this application, you will get personalized natal charts and their reading.
When all other horoscope applications are providing astrological predictions it is offering something different.
It offers personalized health, prosperity, love, and happiness tips based on your zodiac predictions.
This application also offers compatibility analysis with a personality quiz.
In this app, you can check how stars are going to affect your future.
As you can guess from the name itself that it offers tarot services with ordinary horoscope.
It offers zodiac signs for all 12 zodiac signs with zodiac compatibility.
Not only daily horoscope but also offers its users daily tarot.
As an alternative option, it provides a Chinese horoscope on the lunar calendar.
For those who need accurate and reliable daily horoscope predictions, this is a perfect choice.
It offers not only daily but also monthly horoscope predictions.
To inculcate a deep understanding of astrological terms and themes it offers essays on tonnes of topics.
This app presents compatibility reports too with a note on the auspicious days.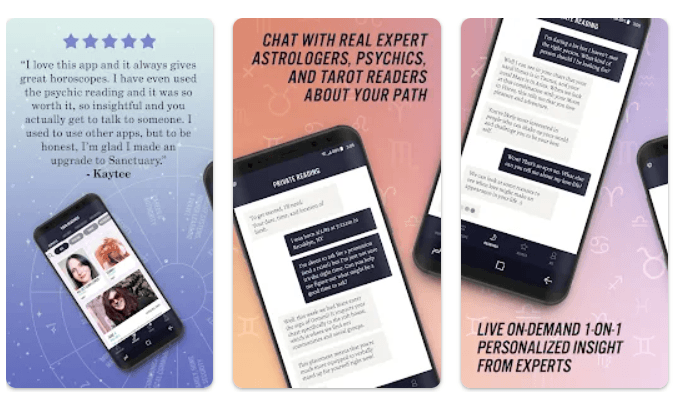 If you are looking for an interactive astrology application then this is for you.
In this app, you can seek advice from astrologers with your daily horoscope.
They will answer your questions, give you insightful suggestions and present a solution to your problems.
Through this chatting, you can know your future well and plan it well.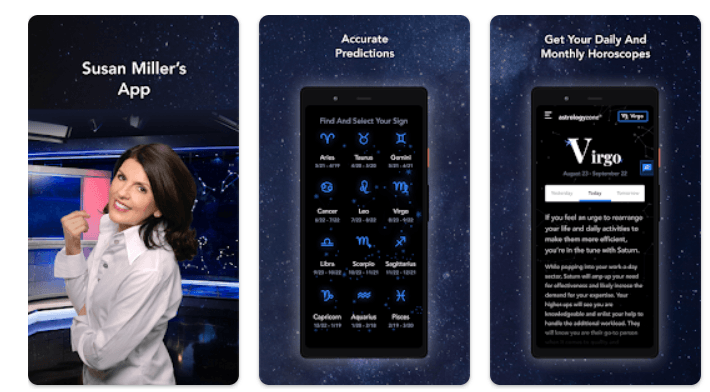 This is a sophisticated astrological application loaded with advanced features.
In this app, you can check your daily, weekly, and monthly horoscope for all 12 zodiac signs.
Also, you can check your earlier and forthcoming horoscope predictions and reports.
All this helps in the better analysis of the predictions and gives a hand in future planning.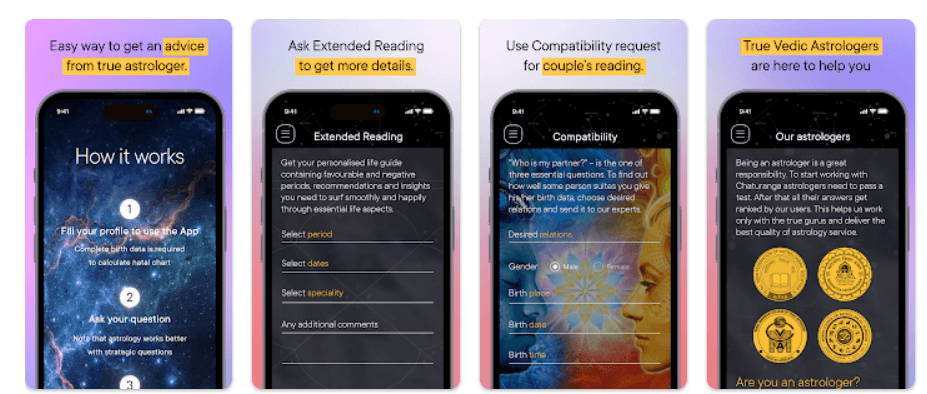 This horoscope application has made a distinctive place for itself due to its attention to minute details.
In this app, you can get exact birth timing and birth time rectification.
With that, you will get on–call astrologer advice too.
You can ask anything about your professional or personal life.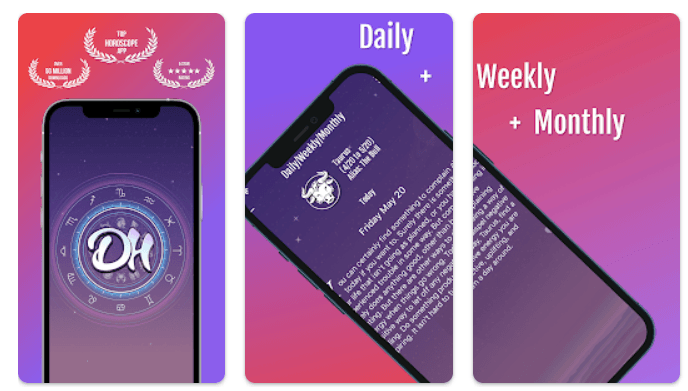 With daily horoscope, this application offers its users something unique and different. That is their zodiac characteristics.
Whether you are a Gemini, libra, Pisces, or any other zodiac sign you can know your zodiac characteristics in just a few seconds.
It offers its users to explore alternative druid horoscopes and custom colors and fonts.
Also, it has a wide range of customization for making every experience personalized.
Conclusion
When it comes to knowing about our future not a single soul can restrain that excitement. So if you are eager to know about the future and what stars are planning for you then these top astrology apps are only for you.
Through these applications, you can not only know your future but also plan your moves accordingly.
Also Read: