Even though voicemails are becoming extinct still there are several reasons why we need voicemail apps. But, why do you need the best voicemail app for android at all? The answer is, in this generation of rush and hurry where people have no enough time to spare on extra things, the technology has taken one step ahead and developed voicemail.
It was brought as an alternative to typing a reply or an email to important messages received. So, why not use some best android voicemail app that will help you communicate with others quickly, via voice messages, managing missed calls, and replying to texts. Sounds like a time-saver right? Indeed it is. You don't have waste your valuable time in typing, just share your voice message via voicemail applications and boost your productivity, spending less effort.
What is Visual Voicemail Apps?
A visual Voicemail application helps in transcribing your incoming voicemail messages so that you don't have to listen to them. Further, it also allows you to save, delete, filter, and listen to voice messages without dialing their voicemail. Meanwhile, the visual voice apps are also best from a privacy point of view. It lets you discreetly look at the voicemail transcriptions instead of listening to each message received.
We have brought in this article to you some of the best voicemail app for android 2020, both free and paid ones. So, let's check out their features so that you can decide on your own, which one is best for you:
1. InstaVoice
InstaVoice is among the top visual voicemail app that seeks to give you access and manage your voicemails efficiently. The application provides its users with free voicemail, voice messages, and missed call notifications. You can even delete the sent voicemail messages. It has a simple yet excellent modern Android interface that allows you to manage your voicemails with ease.
It allows you to check your recent callers or missed call notifications even when your phone is switched off or unreachable.
The app has to offer free and unlimited voicemail storage to users so that you don't have to get worried about deleting received voice messages when your mailbox is full.
The app features with new voice-to-text voicemail transcription engine that lets you read voicemails instead of listening to each of them.
Free subscription available.
2. Voxist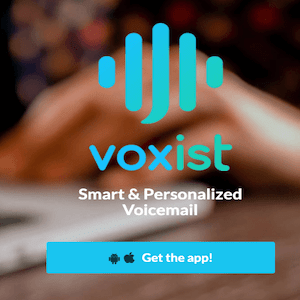 Voxist is one of the great visual voicemail that allows users to manage voicemails conveniently and smoothly, anywhere they go, and also let them read transcribed voicemail messages. The application makes use of an intelligent voicemail algorithm to replace your carrier's inefficient voicemail and saves your time and effort.
Voxist lets you access your voicemails and transcribed messages on your phone or via email, making sure that you never miss important ones.
This free voicemail app is really simple to navigate and allows you to access the voicemail messages via the Voxist app or in your email when you are not on the phone.
Free trial available before paid subscription. The premium subscription offers great features with more transcription languages, a number limit for voicemails, and personalized greetings.
3. YouMail Robocall Blocker & Voicemail
YouMail is one amongst the great free visual voicemail app that acts as spammer and robocalls blocker to protect you from unwanted callers. The storage limitation of the app is up to 100 voicemails permanently saved in the cloud, sorted by date and contact, which can be accessed either on the phone or your PC. You can also organize the voicemails into folders for the record.
With YouMail, you are also allowed to host a free conference call that sounds just perfect for business use.
With high-quality voicemail transcription features offered by the app, you are able to read the voicemail in messages. It also offers voicemail monitoring to keep you up to date.
It also lets you access your voicemails from the cloud and view your calls from anywhere, using the YouMail app or a browser.
Though it is available for free, the premium subscription is also there to avail bonus features.
4. HulloMail Smart Voicemail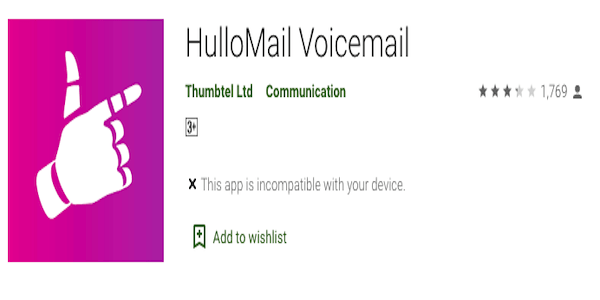 HulloMail is among the best visual voicemail app for android 2018 offering advanced voicemail services with its simple and easy-to-use interface. It manages your voicemails and also protects you from unwanted callers. It is available in two different premium subscriptions i.e. Lite, and Pro version.
The app scans your voicemail messages from the inbox and lets you read the transcribed voicemails so that you don't have to listen to each of them.
HulloMail Lite version is available at the price of $0.99 per month. It offers your first 10 voicemail transcriptions each month and provides voicemail management, custom greeting for callers, and copy voicemails to email.
The paid HulloMail Pro version gives your unlimited cloud storage at the cost of $4.49 per month. It enables you to receive the bulk of voicemail messages, and enjoy unlimited cloud storage so that you don't have to delete your transcription after reading.
14-days free trial.
5. Ooma
Ooma voicemail app is among best voicemail app android providing high degree of flexibility. The app offers its users with high-quality voicemail and all-around phone services from anywhere. You can manage your voicemails efficiently and effectively with this app.
Ooma allows you to delete, compile, and listen to all voicemails easily. However, the app doesn't have the feature of transcribing your voicemails.
The Ooma app allows you to make and receive calls, and check your voicemails even when you are not at home.
It makes calls using your internet, so you have don't have to be bothered about your cellular plan.
6. Visual Voicemail Plus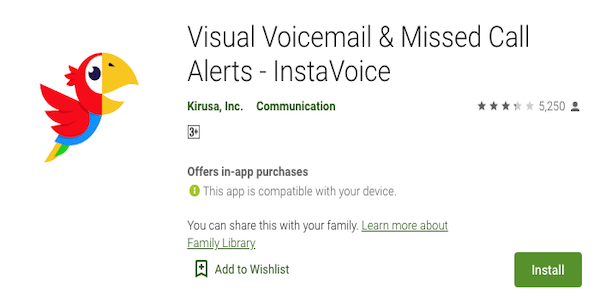 Visual Voicemail Plus is a reliable voicemail app offering great customisation options for its users to manage their messages visually. The app offers comprehensive transcription to give you accurate readings of voicemails. It allows you to add multiple accounts, manage your data, and alert and notification settings effectively.
The app comes with a unique feature of automatic voicemail play. This allows you to hear voicemails automatically when you raise your phone to ear.
It adds all your contact numbers and forward missed calls to one place so that you get a unified voicemail box.
It blocks unwanted callers, set up caller specific and scheduled greetings, and respond to messages with a Voice Instant Message.
Available for free and has further paid subscriptions.
7. My Visual Voicemail app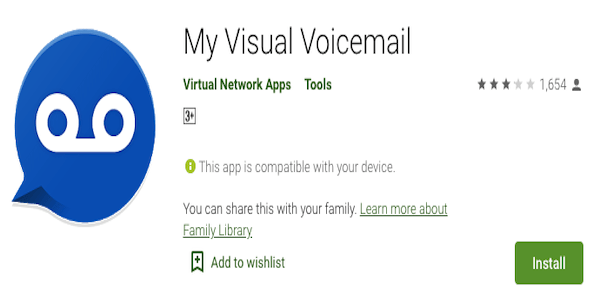 My Visual Voicemail app is the one that ends your search of looking for the best voicemail app for android 2019. The app is the right choice as a visual voicemail app, providing you with a great experience of accessing and checking upon your voicemails.
My Visual voicemail app enables the android users to read the emails in the inbox as well as listen to the voice messages. The android users can respond to the mail with just one click and manage the inbox easily with no need of dialing the voicemail.
It supports voicemail transcriptions that let you read received messages wherever you are, without listening to them.
The app comes in small download size of 4.50 MB that doesn't increase the storage burden on your device.
Available for free.
8. Base Visual Voicemail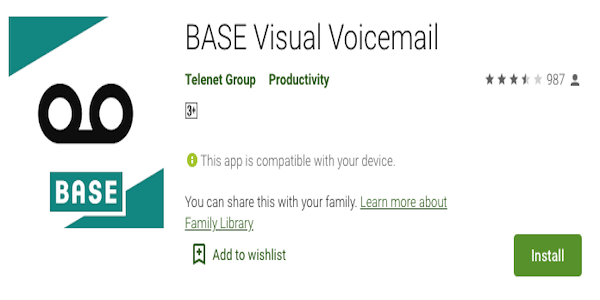 Base Visual Voicemail is one of the top-rated voicemail apps till now, developed by Telenet Group. This app was designed with an aim to give you a wonderful experience while checking on voicemails while offering a great range of features to view and manage your calls and voicemails with ease. You would require to be connected to a cellular network or a Wi-Fi connection to use this app.
The app provides you with a list of voicemail messages so that you can choose any of the messages you wish to listen to.
With Base Visual Voicemail, you can also delete, share, or respond to desired messages. It supports android version 2.3 and above.
It also provides features to stop, rewind, pause, or forwarding emails while listening to your voicemails.
9. AT&T Visual Voicemail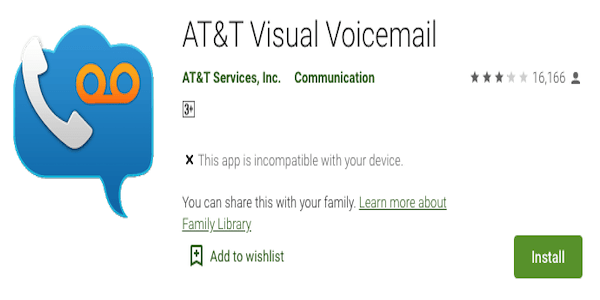 With AT&T Visual Voicemail, you get easier access to voicemails. You get visual voicemails straight from your mobile carrier that increases the accuracy of reading the voicemails and removes the need to call from your mail inbox. The app displays a notification into the status bar whenever you receive a new message so that you don't miss upon the important messages.
With the voicemail-to-text feature (VMTT), AT&T supports automated transcription to transcribe voicemail into readable messages. It also enables users to change their voicemail passwords and greetings.
The app arranges your voicemails by setting up contacts priority and has the unique feature to play messages in any sequence.
It reads out the text transcriptions of your message and saves the messages to your phone's memory.
10. T-Mobile Visual Voicemail
T-Mobile Visual Voicemail is yet another great voicemail tool for your android devices for accessing and managing your voicemails. It allows you to listen to messages received in any order like numerical or alphabetical, and respond to them in one click. The app also features with unread message widget to keep you in touch with every message received.
You can easily manage your mail inbox without the need to dial into your voicemail.
The advanced T-Mobile Visual Voicemail app also enables its users to change their voicemail into the email or text format so that they can read them later.
The app doesn't require you to change your T-Mobile voicemail number or to reconfigure your voicemail forwarding.
Available for free.
11. Google Voice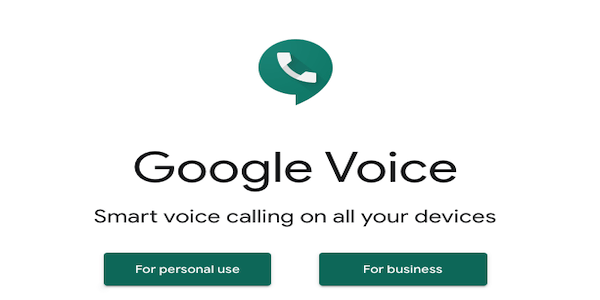 Google Voice is one of the best voicemail app android that comes with a simple and easy interface. If you are looking for an entirely new phone number for receiving calls, SMS, and voicemail, then Google voice is perfect for you. The app can sync through your different devices so that you can access the app on your phone or computer in ago. Also, it can ring all your connected phones simultaneously, so that you can prefer to answer whichever one is nearby.
The high-quality advanced voicemail transcription feature in Google Voice can work in multiple languages and it can transcribe voicemails for free.
The application backs up all your voicemails without any limit and can block and filter the spam numbers.
It lets you customize alerts and notifications for calls, messages, and voicemails to give your more personalized feel.
Available for free.
Final Thoughts on Best Voicemail Apps
The need for voicemail apps in the current scenario of fast-paced life is really unavoidable. The article has gathered the best afore-mentioned best voicemail app for android 2019 that comes with versatile functionality and powerful resources. So, choose wisely considering the features, cost-effectiveness, and how much it will facilitate you in escalating your productivity. I hope you have liked and found the article of great help. Thank-you!
Also Read: