Funny face is an application which allows you to edit the faces of your friend in a simple and fun way. The application contains more than 200 objects to customize your photo like hats, glasses, expressions, turbans, moustaches and wigs. It further lets you to add texts to your photos and share your photos on social networks or storage. Funny face apps are a great fun and you must have it on your phone to play pranks and have fun time with your friends and family, so do not hesitate and download such an app right away!
We are providing a list of varieties of top 31 best cool funny face apps for android/iphone. So, let's have a look at their cool features:

1. Face changer
Face change is among the best funny face apps for android and iphone users and its more than 500 million downloads on Google play store clearly shows its popularity.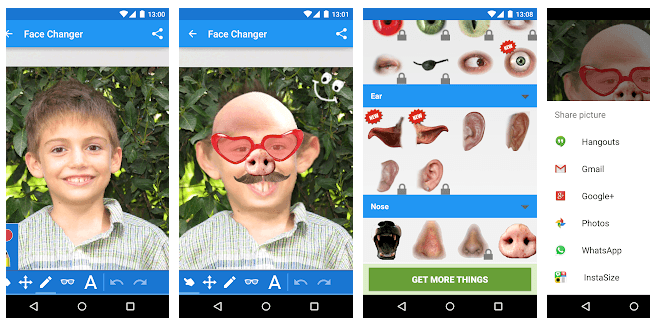 Perfect for funny face app lovers, this app allows you to change any face and replace face parts with some special funny faces. It provides you with option to change your face parts and make them bold or add artistic interesting effects on it like pointy ears, moustache etc.

The app shows lots of customisation options that also let you add text draw on top of a photo and share it with others.
2. MSQRD (Masquerade)
MSQD is an excellent app that helps you take video selfie with added funny and cute masks. The app supports both iOS and android platforms and is available for free download in android.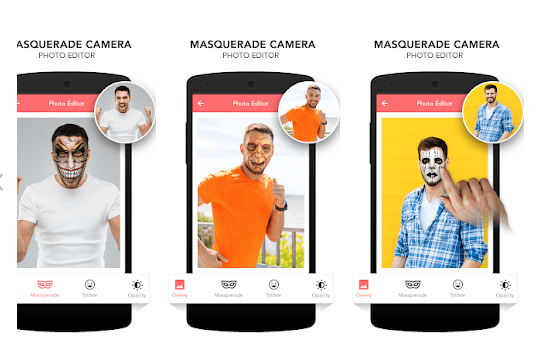 MSQD lets you scan a face and impose a mask of celebrity, creature or an animal on it to make it look funnier. It has a large collection of interesting masks.

It allows you to directly connect with social networks such as Instagram and Facebook and upload photos there.
3. Face Swap
Face swap is one of the best free funny faces apps for android users. It offers varieties of free motion stickers, stickers and cartoon faces so that you can easily create a funny face of yours.
The app features with motion swap option, live stickers, snap filters that allows easy swap of your face with others in real time and create different fun faces of you and your friends.

Its live face swap effects further allows you to swap your face with superstars and cute animals as well.
4. Funny Face changer
If you want an easy-to-go app to make pictures of funny faces, Funny face changer app is the one for you that can be downloaded easily from Google play store. With the help of the app, you can create extremely funny and interesting photos of other.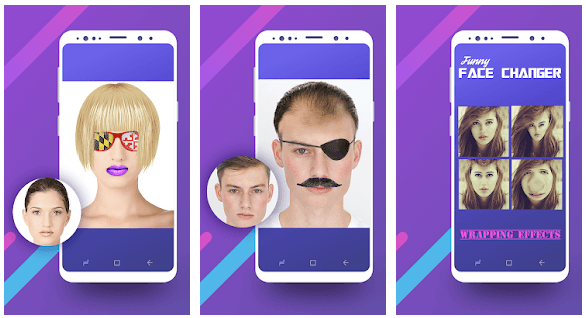 Use of this app is really easy. Firstly, users need to capture image from their camera or select their respective picture from gallery. Then take the picture to funny editing lab and apply cool effects on it.

You may add stickers to the photos as well. The app has all resizable stickers to fit according to your needs.
5. Face changer 2
The Face changer 2 is the latest version of the previously launched Face Changer app. It is an Editor's choice on android Google play store and comes with added new features that make it worth downloading.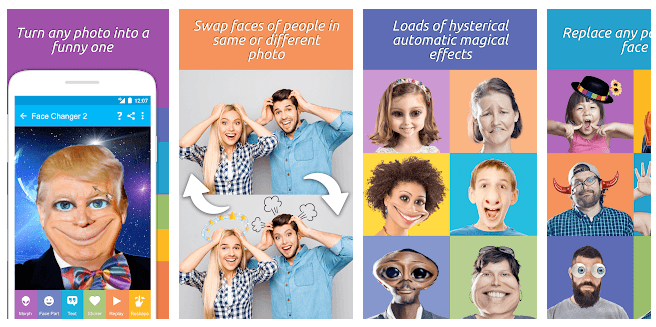 The app has morph heads such as skinny, fat, bald, and others and allows you to add face parts and swap faces.
. You can take selfies or import pictures from gallery of your android device. This app has 600 different stickers with different background and hundreds of accessories to make your pictures look fun.
6. Face Warp
Face Warp is an awesome app for creating funny faces of your pictures in seconds. This app has more than 50 million users which prove why it is worth using.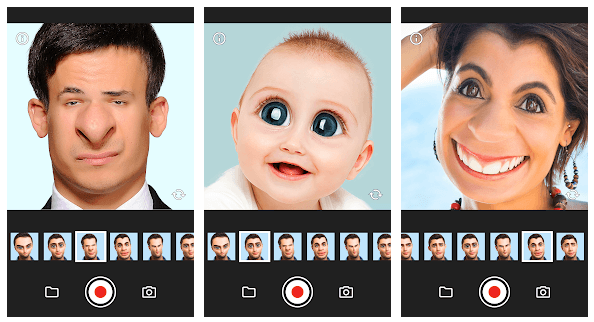 The app is quite user friendly has intuitive interface. You can begin the wrap fun on your pictures by downloading Face warp from Google play.

It provides you interesting GIFs effects and unlimited wrapping wrap to create hilarious effects on your picture.
7. Funny face effects
Popular among funny cartoon faces app, this app easily lets you create funny facts effects, change face to look bald, big smile, fat etc. on your android device.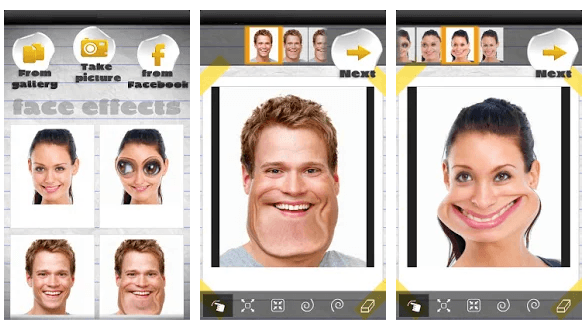 Its coolest features is that it can be used as easy changer to wrap, move, stretch, distort and image with your fingers to create an own warped face.

This app has more than hundred different awesome animal effects and morph effects. Download this app to enjoy hustle free changing of any face of your family, friends and others and share it with them to have great fun in seconds.
8. Funny photo editor
This photo editing tool is counted among other best funny face apps free with a clear interface. The application works on android devices to enlarge your face and make them look comic and funnier.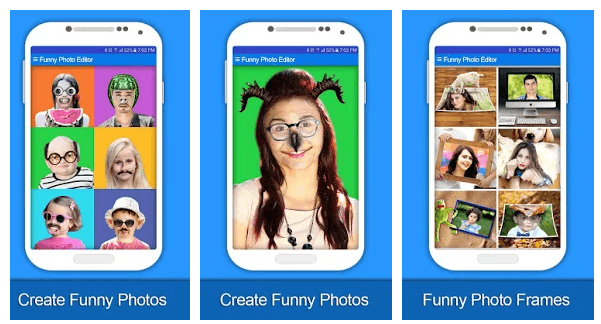 The program lets you edit and change photos of your friends and add funny stickers, masks, funny frames and so on. It also allows you create funny and animated videos with your photos.

Its utility includes different and unlimited number of animated stickers that will make your photo and video clip very fun. You can scale different parts of face, change brightness, colors and saturation.
9. MixBooth
MixBooth is among well-popular funny face changer apps that provide you with amazing and funny way to merge two faces on your android device. You can mix your face with photos of friends, families, celebrities and so on by connecting 2 faces into 1 and making the photos look funnier than ever.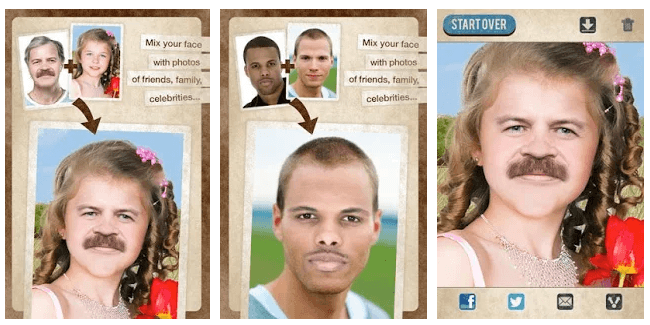 MixBooth app has a very simple-to-use and intuitive interface where you just need to take 2 photos and start adding the app filters to it to get a funny mix of two faces.

The program saves your creation in the gallery and allows you it share it your friends via social networks such as Twitter or Facebook.
9. Banuba: Face Filters & Effects
Banuba offers a face filter apps that can turn your normal photos into best collection of selfies experiences. Its huge collection of face filters and effects can transform you into a celebrity, astronaut or hipster and see yourself in most crazy hairstyles, with glam accessories and so on.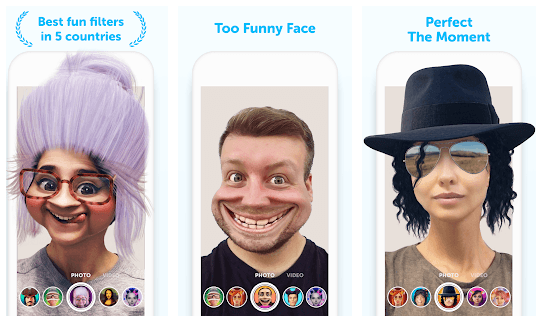 Banuba is compatible with both iOS and android devices. It has more than 1,000 AR masks and virtual try-ons (hats, glasses, etc.) that look so real to make your face funny and cool at the same time.

You can create your own face filters like snapchat. The app allows photo or video post processing and you can apply the filters to created images.
10. YouCam Fun
YouCam Fun as the name suggests gets you another best selfie filter app that is really fun. This application offers you with great collection of 3D face filters, effects and live stickers. It supports both IOS, android platforms.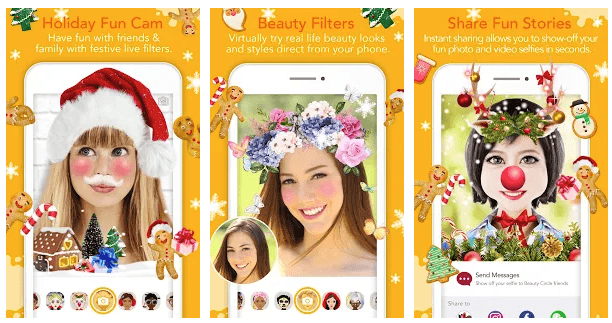 The program has fast face detection and face filter placement features with refined sleek performance so that your face filters stick to your face well even when you move or overlay face with your hand.

It offers plenty of face filters: hairstyles, animals, AR effects and so on. It uploads and post processes your already existing photos.
11. TikTok
TikTok is among the most popular filters app that is based on video community concept. It is largely accepted by the users as it lets you create short-form mobile videos. The app supports both iOS and android devices.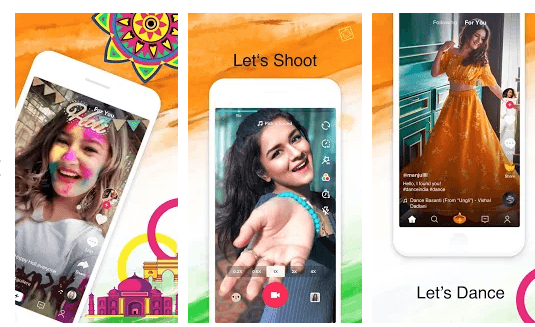 TikTok camera filters allow you to take creative and funny photo selfies and become a creative clip-maker.

It has theme-based face filters, AR filters and masks for cats and dogs and varied funny face filters with triggers.
12. Ugly Camera
If you are really interested in making funny photos and share it with your friends, there is no other suitable way than creating ugly pictures from the normal face of your friends. Ugly camera is one such funny face changer app for android that creates strange ugly face picture in a very few steps.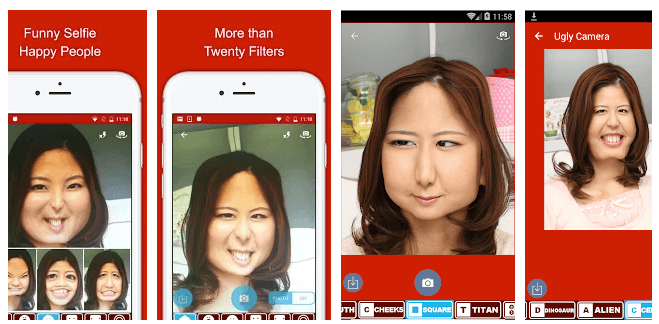 The program is really simple to use as you just need to take the photo add several ugly face filters to it to get funny results in real time with its live filters.

The app also allows you to make still photo and animated GIFs.
13. X Photo Editor
X Photo Editor is another face filter app that provides you with variety of live face filters that is super fun for selfie fans. The application supports only android devices and comes with in-app pricing. It is recommended to be cautious about its tricky subscription policy.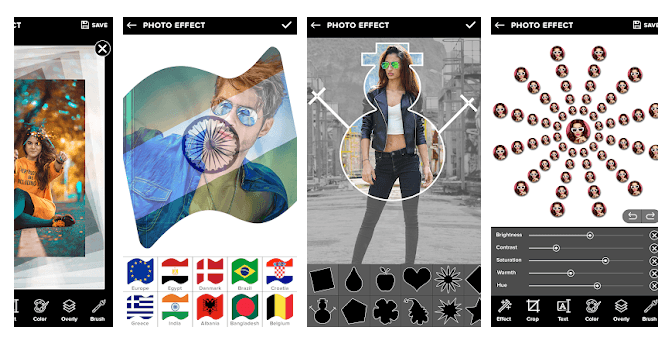 X Photo editor offers you with age and gender face change filters that is super funny. You can add filters of face changes on your friends' photos and share it with them as prank.

It also has the feature of face and body reshape that makes it super funny.
14. Sweet Face camera
Sweet Face camera app is counted among the sweet funny face apps for iphone. This app is a real good choice among iphone users because of its lightweight and AR filters for your selfie.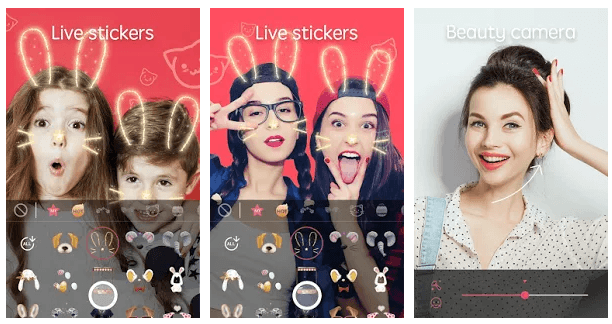 Its beautification feature is the best among top devices' native camera capabilities that you can use to change your original selfies.

The app has easy-to-use collection of clean design and stickers that will indeed catch your attraction.
15. Face Changer Video
Face Changer Video is another popular funny face app that helps you create funny face videos, using different filters and share it among your friends. Use your selfie camera to see the range of funny filters this app has to offer for you.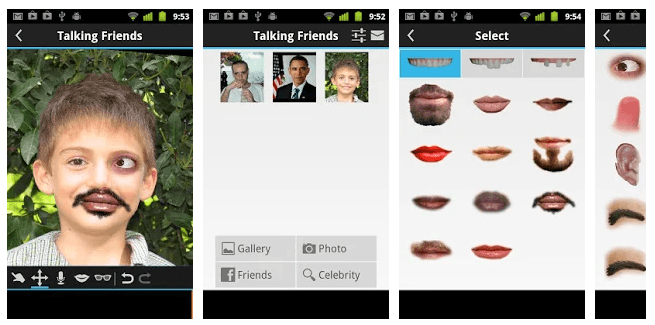 It is best among

funny face apps free

as available for you with so much extra features, filters and stickers like hats, glasses, mouths, moustaches etc.

The app offers animation of the images and adds different sounds to change to your voice to something funny.
16. Face Swap Live
With Face Swap Live, you can replace your face with any photo, using a usual device camera. It is the best face swap app and is available completely for free. It allows users to swap faces with their friends in real-time.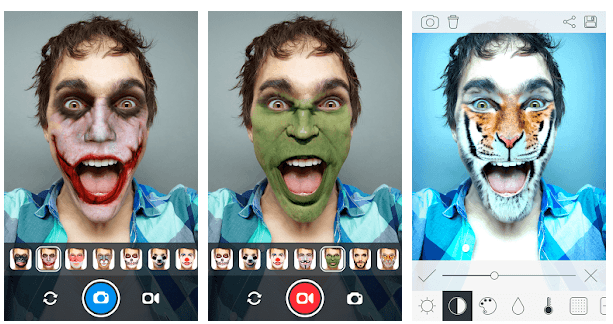 The app automatically recognises any face, be it men, women or children and changes their place.
For android users, the app can identify photographs of people for you. The application is quite easy to use giving realistic results. Also, it lets you use any image or video from the web, a snapshot of a celebrity, other interesting pictures to swap faces live.
17. Sweet Snap
Sweet Snap is a great photo editing tool that provides with huge collection of live stickers, handful of interesting filters for your photos and videos. It supports android devices.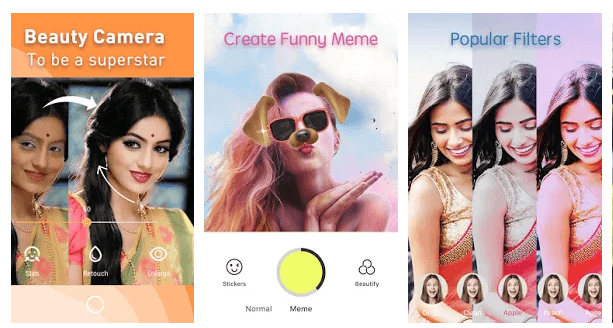 The program offers more than 1000 effects available completely for free to give you high quality selfies. You can then share the creation via social networks and messaging applications.

It is all in one photo editing application. The program features with all classic live stickers from Snapchat, Instagram and etc. so you need to use a bunch of applications.
18. Photo Warp
Photo Warp is the funniest photo editor tool among the funny face apps for android. It empowers you to be a professional plastic surgeon with guaranteed fun, craziness, creativity to laugh on your created photo and share it among others.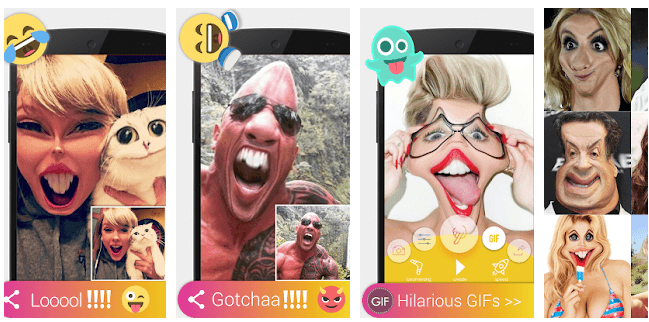 It empowers you to be hilarious and creative by editing your own, friends, family and other pictures. It also has some built-in funny images with which you can start your editing skills. All the edited photos are saved in high resolution.

The program provides real-time editing on its elegant and easy-to-use interface.
19. Instagram
Instagram has enormous worldwide user base and its face filters feature when introduced, was loved by all. It is still among the popular social networks for photo-sharing with added filters.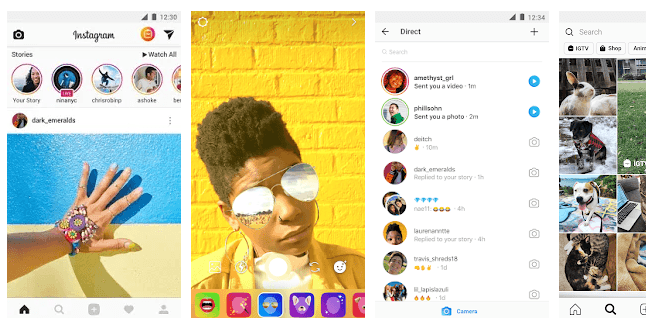 The app works on both android and iOS and gives you a stable and fast filter performance

The program's utility has built-in library of face filters and fun effects that makes your pictures look fun, attractive and what not.
Also Read:
20. Face Live Camera
Face Live Camera app lets you shoot fun videos with interesting photo filters variations to impress your friends. This incredible photo editing tool is available among funny face apps free and comes with advanced editing features.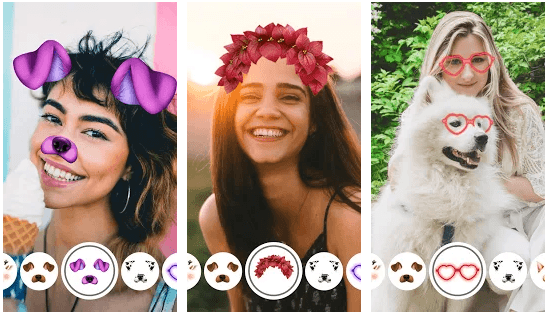 The app features with sweet filters & selfie snap camera that shoots your videos using some really cool filters.

It makes your photos look cooler and interesting with its dynamic and live emojis, filters, animojis, animal faces, stickers and lets you share them instantly on social networks.
21. Face camera
Face camera is among the best face changer and photo editor application that provides you with large collection faces, masks, etc. The android users can take photos as well as video clips using motion stickers and other effects.
The application contains cinematic stickers as theme-based such as animal, movie, cartoon, etc. You can swap faces and make different expressions with Face camera.
The app has simple interface that lets you record changing face videos and share them with others instantly.
22. FaceApp
FaceApp is a simple photo editing tool that offers you with huge collection of different face filters for your pictures. This app has more than 100 million download on the Google play that shows its popularity evidently.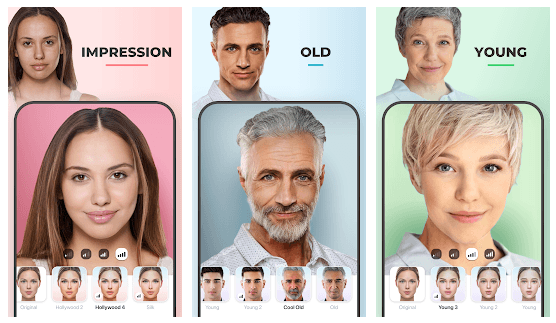 The app lets you modify your appearance in a funny way with added filters like gender swap, hair styling, old age selfie filter, background change and so on.

FaceApp also provides you with most advanced neutral portrait editing technology. It is available for free download but most of its pro features are locked and requires premium membership to access them
23. LINE camera
LINE camera photo editor app is quite user-friendly has is super clean with its varied features.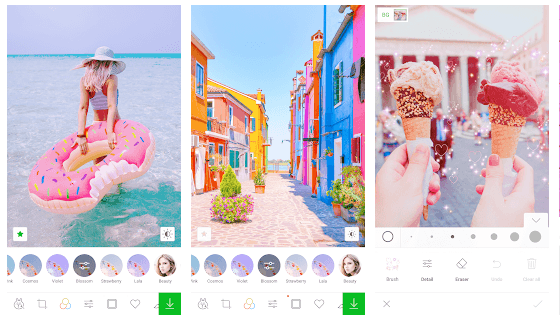 The application has not that huge collection of face filters in comparison to others, but the existing filters says it all about its quality. It offers really cool effects that you must look forward to share with your friends.

It lets you navigate among face filters and apply the variety of cool effects and motion stickers on your pictures.
24. Face Camera- Snappy Photo
Snappy Photo is popular as photo editing application among funny face apps for iphone.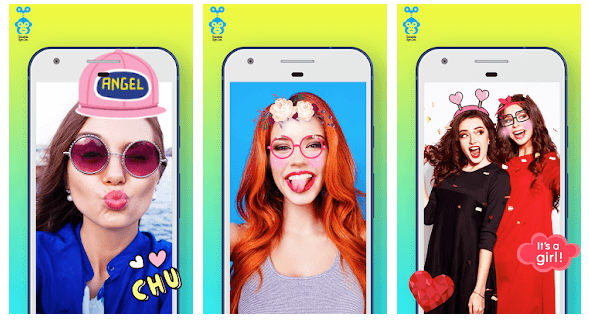 This funny face filter app provides you with numerous faces, masks, motion stickers and also lets you make funny face videos.
The app comprises of more than 200 funny stickers, act filters and romantic heart icons. It saves your created photos with full HD quality and let it share with others via social platforms.

This easy to use and intuitive interface app is available for free download on play store. You can easily drag, resize and rotate the image with multi-touch.
25. FaceArt Selfie Camera Editor
FaceArt is an excellent photo editor app that helps you take selfies with its face cam providing animal effects to make it look cute and funny at the same time. You can share your created editing on various social platforms such as Snapchat, TikTok, Instagram and etc.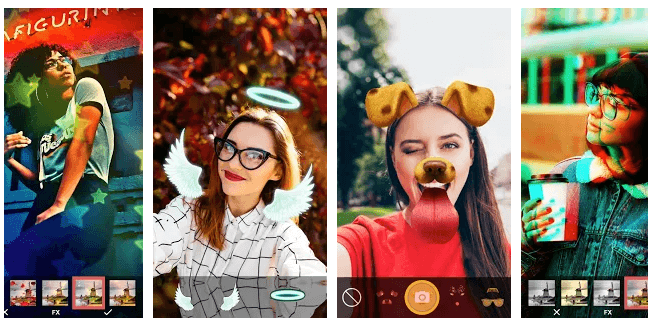 The app includes lovely animal filters, selfie camera filters and amazing animal stickers that give you plethora of options to make your photo funny.

Its live beauty camera effects and Photo filters with makeup tools will make your selfies look really amazing. The app if available for free download on Google play store.
26. Insta Face Changer Pro
Insta FaceChanger Pro is popular among funny face apps for android. The app is quite easy-to-use and comes with intuitive interface so that you can change your face and replace face parts easily as in the photos. It lets your photos look more interesting, funny and unique.
Insta Face changer program has advanced settings for face morphing effects that allows you manually adjust the settings for the replacement, color text on photo and add various effects and filters.

Supports android devices and includes more than 50 animal presets, around six types of facial transformation as well as large set of various functions for image processing.
27. Funny Face Maker
Funny Face Maker is a free face photo editor app that provides you with range of funny face filters and animal photo stickers to make your face look funny and amazing in photos. It allows both taking photo and recording of video selfie.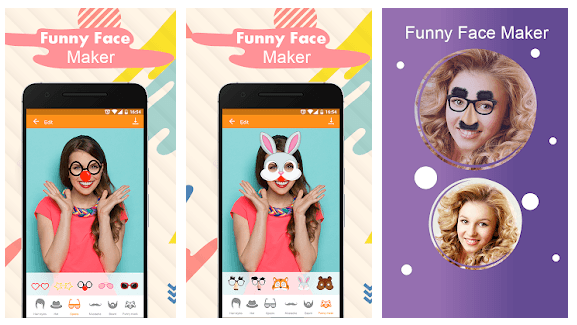 It is another amazing free

funny face apps for android

users. The app covers lots of face changer, masks, fun filters, animal faces and funny hairstyles with so much more.

The app allows you to easily change photo effects, adjust saturation, contrast and brightness, rotate and resize your photo.
28. Animal Face Photo App
Animal face is a photo editor tool that helps you create funny animal photos from its handful of real animal stickers in various styles. Download this app and choose one of the wild animals you would like to be.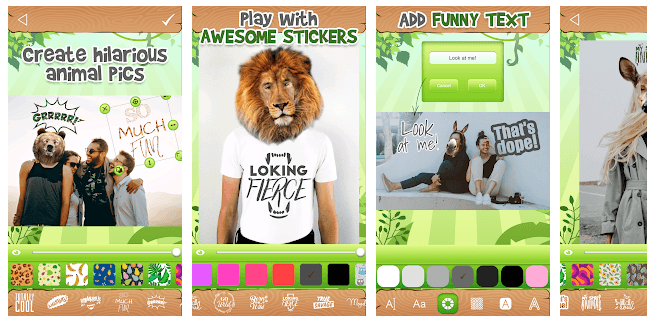 Popular among animal photo sticker app, this application lets you easily choose your favorite animals stickers from its collection and use it to create funny faces.

The program has features like zoom in and out, rotate, drag, adjust and swap faces instantly with completely free of charge.
29. B612
B612 is undoubtedly an excellent funny face app offering most varied types of camera effects for the users. Besides beautification face filters, it also offers you with real-time 3D emojis that copy your mimic.
The app offers various AR stickers that you can place at the surface with a back camera and it supports both android and iOS devices.

It has live avatars with micro-expressions and real-time background change that lets you even color the sky putting effects on it.
30. Make Me Bald
Make me bald is a funny prank app that applies bald effects to the pictures chosen. With this added filters in the photo editing app results in removal of all hair and shows shaved head in the photos.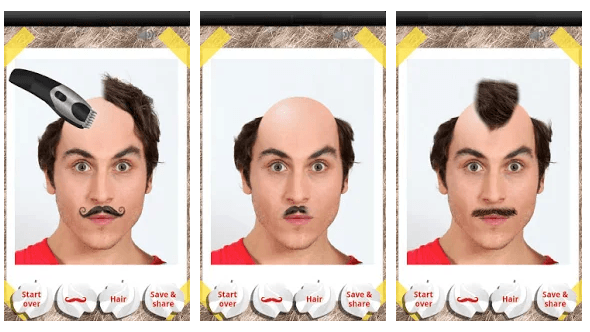 The app is popular among

funny face apps for iPhone

because of its fun bald head photo maker and funny hair style with photos stickers.

The app contains large collected of different bald head stickers and beard photo editor. It is easy to rotate and resize the hairstyle stickers with fingers and share on social platforms in a second.
31. Face Changer Photo Editor
Face changer photo editor app allows you to create funny image faces in photos. The app keeps you entertaining with its large collection of varieties of stickers like beard, caps & crowns, earrings, Horror, Tattoo and etc.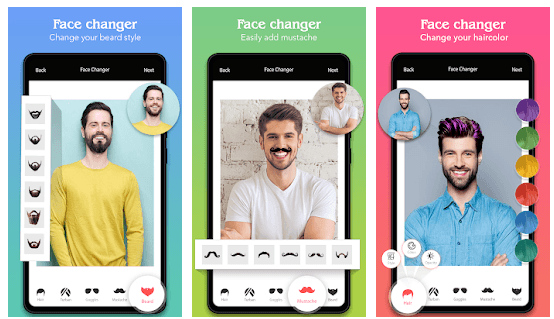 It allows you to change the size of stickers according to your face shape. Also, with the use of this app, you can set opacity according to chosen image sticker.

It has simple and easy to use interface with more than 300 stickers available for photo editing.
Let us now have a look at some of the bonus websites that provides for best funny faces picture editing tools and apps.
Following is a list of such top 15 online funny photo editing websites:
1 . HairMixer
HairMixer provides you with numerous of famous hairstyles to make your photo look more creative. You just have to choose a photo for the left and right side and start mixing their hair ups.
2. photo funia
The website is indeed a fun and engaging photo editing site. It provides for photo montage to make collage fun photos with various image effects like comics, sketches and oil painting, etc. The site is online based and can be accessed only via web browser.
3. Festisite Money
Festisite Money site helps you upload your photo and create a personalized paper bill online easily. Users can also access many foreign currency notes to create the money bill.
It helps you generate own play money by putting in a picture of yourself.
4. AnyMaking
AnyMaking is a free funny photo editing software that lets you do creative editing to your photos. The website has a range of effects and filters with practical tools available that will help you crop, rotate and resize the images.
5. FACEinHOLE
FACEinHOLE is just perfect opportunity for those who wish to embarrass or make fun of their co-workers. You just have to select a scenario from the site, upload your choice of photo and get desired results in seconds
6. Blingee
Blingee is a creative community online platform for animated graphics and pictures to help you edit your own images and get funny results in seconds. This online website has a wide range of animated graphics, glitter and comments so that you can personalize your images.
7. In 20 years
In 20 years is another website that acts as online funny photo editing tool. As the name suggests, this site basically predicts what your face would like look in 20 or 30 years from now.
8. Fun Photo Box:
Fun Photo Box provides you with perfect online site where you can create funny pictures from your photos. The site is completely free and no download is required. Its tool and photo services allow you to add special effects to your photos.
9. anymaking
anymaking is an online free photo editing tool that helps you experience indeed a fun time with the range of effects that it offers. The site now comes in 9 different languages and allows you to add cool photo effects and create funny face photo montages.
10. Photo505:
Photo505 site provides you with wide array of digital photo effects and helps you make cool photo collages for fun. The site offers effects with face recognition with a huge collection of photo templates.
11. Loonapix:
Get started to have fun with the tons of photo effects that Loonapix has to offer you. It provides great frames collection where you can make funny photos online or embed your face from the photo to the various templates. The site is quite easy-to-use and free.
12. Funny Photo:
The site offers more than 600 creative photo frames, effects, and filters online that are completely free. With its numerous photo templates, you can create different effects; apply style, fun and coolness to your photos.
13. Poladroid:
Poladroid is another online photo editing website that is popular as the easiest and funniest Polaroid image-maker. You can download the free Poladroid application and use it to create high-resolution Polaroid pictures from your digital photos.
14. Pizap:
Pizap is a fun free photo editing website that allows you to easily create wacky images from digital pictures. The site offers tons of effects, fonts, stickers, frames, collage layouts, and photo editing tools that are fun and easy to learn.
Conclusion
The above-mentioned lists of funny face changer apps are among the top apps that you will find on Google play store. Each have these apps have their own set of functionalities of creating funny faces that will temp you to try it once to create awesome funny faces and have never ending fun with your friends and family.
We have also provided lists of online funny photo editing websites that provides you with wide range of image editing tools. So, pick your favorite one from the list and start creating funny faces on your android/iphone.
Also Read: