What is Risk Management
With the advent of digital technology, the running of businesses around the world is likely to suffer technical hazards. Risk management provides you with a solution that makes identifying and assessing risks simple.
Risk management has become a necessity for even the best business companies that may get hit by unforeseen problems anytime. To overcome such risks arising out of an unpredictable issue, risk assessment software tools are the best safety solutions.
Risk assessment software helps organizations mitigate consequences of risk events if they occur, reducing exposure to enterprise and operational risks, improving quality, and minimising losses through better management of data. There are two approaches to the assessment of risks: Qualitative and Quantitative.
The qualitative assessment method is considered as the most effective but only when used properly in lieu of Quantitative estimates.
Both of the risk assessments are an analytical and evidence-based characterisation of risk that helps in risk identification and its analysis.
Qualitative Risk Assessment
Qualitative risk assessment is the process of assessing the probability of occurrence of risks in the future and avoiding the impact it would have on a project if it had happened.
This technique is used to quantify risks associated with a particular hazard. Qualitative risk assessment can be used to both evaluate the risks and also to determine where to invest the effective methods in mitigating the loss that might occur.
The assessment and mitigation of risks can be done by adopting various effective methods in an organization such as Risk rating scales, SWOT analysis, Historical data analysis, Brainstorming, Delphi technique, etc.
Most Popular Risk Management Tools
Finding suitable risk management software for your enterprise can be quite challenging. So, for the convenience of readers, this article provides shortlisted best risk assessment software tools for your business risk management. So, let's check out the software description and their important features:
23. SpiraPlan

Risk Management with SpiraPlan by inflectra lets you easily identify, capture, and manage project and program risks with an easy-to-use web interface. SpiraPlan provides you with a powerful risk management system with built-in support for Risk Mitigation activities and a full risk audit trial.
SpiraPlan has an integrated executive dashboard of Key metrics, real-time charts, customisable reports, and templates.
This program management tool synchronizes all your project's iterations, releases, requirements, tasks, codes, bug issues, and risks quickly and seamlessly from a single and unified platform.
22. Audits.io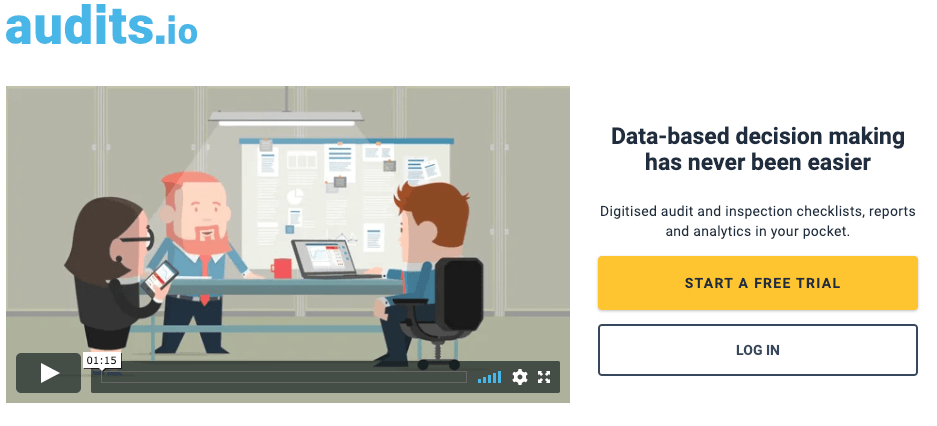 Audits.io has fully featured audit management software that enables you to access automated reports that can help management keep track of site audits. This is a cloud-based app that can be used by small to midsize businesses.
Audits.io provides customizable risk management and compliance management.
Supports incident management and comprehensive reporting that will give users automated corrective action suggestions.
21. iTrak
iView Systems' iTrak is another free risk assessment software that provides you with a unified software platform for incident reporting, risk management, contact management, data management, and subject profiling.
The software is intuitive and easy-t-use. It automates and integrates your physical security information management reporting needs.
iTrak can easily control or manipulate the application system based on the security codes that makes it ideal for any risk management and loss prevention environment.
20. Risk Management Studio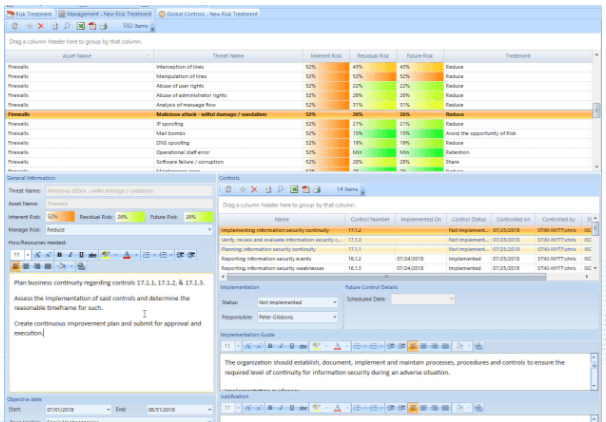 Risk Management studio (RM Studio) is one of the most efficient and effective used risk assessment software tools for risk management. This dynamic software tool can be used by organizations of all types for the implementation of proven risk management processes and policies.
The software simplifies operational risk management and business continuity management by providing users with an integrated risk management framework solution.
It is fully customizable to meet your organization's unique needs and provides end-to-end risk management solutions ready for immediate deployment in your organization.
19. Reciprocity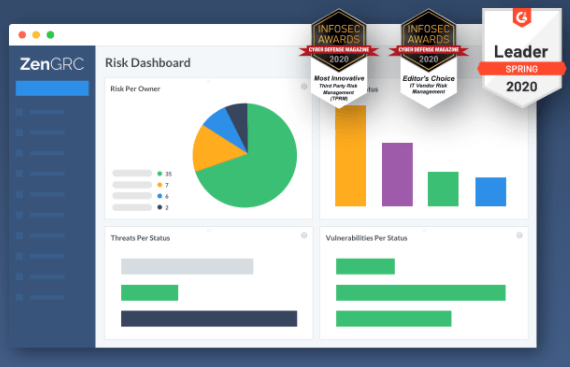 Reciprocity (previously known as ZenGRC) is a risk assessment software tool that provides you to assess and mitigate real-time risk detection and reporting. The software is quite intuitive and simple-to-use UI.
Features with simple user-friendly, comprehensive dashboard and automated alerts and notifications to owners/stakeholders.
It provides regulatory and standards-based support for compliance tracking without compromising innovation.
18. Isometrix
IsoMetrix software provides one of the best software solutions for integrated risk management with proper management of risks, governance, and compliance. IsoMetrix drives efficiencies by replacing multiple point solutions with a single integrated solution.
The software is quick and easy-to-use and is ideal for large and medium organizations across all sectors
This cloud-based application provides for critical control management in organizations and ensures compatibility that every risk are identified and assessed, and controls implemented.
17. Enablon
Enablon is operational risk management software that provides you with an integrated solution to identify, assess, and control risks across the organization. It helps you track many areas of the enterprise's resources and compliance needs.
Enablon software creates a system for follow-up and organization to assist risk management, ensuring important tasks are completed efficiently on time.
The software provides with effective internal control and management system that mitigates risks in the project lifecycle.
16. GRC Cloud
Resolver GRC Cloud (Governance risk management and compliance) is among best-integrated risk assessment software that helps in providing effective risk management, security management, dashboard, and incident management to your organization.
The software is developed with an aim to plan for the risk, trace the risk with its risk management tools. It features an automated alert system that helps in triggering emails depending on the risk and time of occurrence.
The risk assessment is based on risk score that prioritizes the risks and offers a way to display risk areas in the application in terms of the heat-map.
15. A1 Tracker
A1 Tracker by A1 Enterprise is a powerful risk assessment software that provides a web-based UI efficient enough to record and manage risks in a project in real-time. The software is user-friendly and has top-notch customer support.
A1 Trackers comes with built-in features such as web portal, risk audits and log history, alerts and notifications, threat assessments, threat response, risk ratings, dashboard metrics, and charts and documentation.
Supports emailing the risks or reports to key individuals and stakeholders in need. The software tool also addresses the process of Incident management and Internal control management for you.
14. Analytica
Developed by Lumina Decision systems, Analytica is considered as one of the best risk management tools. Analytica is available as windows software and features with business hours support, and online support.
Transparency is one of the key advantages of Analytica that helps users to build, navigate, and document models with intuitive visual influence diagrams.
It features with dashboard, internal controls management, and risk management to create, analyze, and communicate quantitative decision models.
13. Optial Risk Manager
Optial is a flexible, multi-module software platform for the management of key business assurance measures. The primary feature of Optial is auditing, compliance management, incident management and risk assessment and management.
The software generates risk assessments automatically, manually or ad-hoc to customizable workflows.
Features with automated timely reminders supported by notifications on unfulfilled completion to the assigned people.
12. nTask
nTask is absolutely free risk assessment software that document, manage, and mitigate unlimited project risks single-handedly with ease. It is a fully-featured project management tool.
nTask allows you to create a wide range of risks whenever the need arises. Its proficient risk reporting feature helps in resolving the risk and monitor its progress.
The software provides with self-generating Risk matrix that helps in making a tabular summary of probability of each risk, based on performance so that you can access them in a single click.
11. Active Risk Manager
Active Risk Manager (ARM) is the world's leading Enterprise Risk management software. Its robust and unique integrated approach addresses the risk management of the entire organization. It covers project management, program risk, and strategic business planning with the main focus on risk management.
ARM features with an auto alert system that propagates risk related updates to owners and stakeholders.
The software provides with Qualitative and quantitative assessment support for the risk items with a display of risk and updates on one single screen.
10. Resolver
Resolver is a cloud-based internal audit and risk management solution for midsize to large corporations in different sectors. The software provides corporate security solutions including incident reporting, command center, and enterprise security risk management.
This incident management software gives an end-to-end solution for responding to, reporting on, and investigating incidents.
It quickly identifies, analyzes, and mitigates risks that may threaten to achieve business objectives. Also, it provides response and recovery support with real-time data analytics.
9. Opture
Opture ERM is integrated risk management software that depicts the complete risk management process. The software is easy to implement and intuitive to use. It provides end-to-end solutions designed for Macintosh.
Primary features include risk identification, assessment and management, analysis, steering, reporting and monitoring. It enables users to increase risk data quality, perform individual risk analysis and manage them efficiently.
Opture is flexibly configurable and easily adapts as per customers' requirements.
8. CURA
CURA is among the most popular risk management software that offers solutions to measure the impact and probability of risks, tailored to the specific industry. It helps businesses handle risk and compliance leveraging a set of internal controls.
CURA software enables performance internal audits and self-assessments to keep track of your business growth.
Provides with highly configurable features of risk reporting and real-time dashboards. It enables you to identify and mitigate risks as per regulatory requirements at any stage of the project.
7. TimeCamp
TimeCamp is fundamentally a time tracking tool but also helps in conducting risk assessment with its inbuilt risk assessment features that help companies evaluate threats in multiple facets.
Its time tracking reporting feature helps you point all weaknesses in project management so that you can make a prior recovery plan to deal with it. This way, you will achieve project and task completion within deadlines.
TimeCamp allows users to determine financial risks so that they can control expenses with simple and easy editing options on time.
6. Qualys
Qualys is an award-winning risk management software that automates compliance and risk management in the cloud. The software is simple-to-use and among the most advanced tools to offer vulnerability scanning, malware detection, and remediation tracking all-in-one app.
Its Vulnerability management helps to determine business threats/risks that may arise and put security strategies accordingly.
Provides with constant real-time monitoring of potential malware and enhances security against threats, manage PCI compliance, and implement web application firewalls.
5. Isolocity
Isolocity is cloud-based free risk assessment software that can provide access to the data anywhere in the world. This is a quality management system built to adapt to ever-changing needs in ISO 9001 & GMP compliance.
With Isolocity, you can access and manage all aspects of your process from a single data access point.
It features document management, quality control, supplier management, resource management, supply chain management, and traceability.
4. Integrum
Integrum is a cloud-based risk and compliance management software solution for organizations of all sizes. This integrated software solution manages safety, healthy, quality, environment, intelligence reporting and mobility and risk, and compliance.
Its excellent business intelligence reporting system enables users to create graphical reports, graphical analysis, and a flexible dashboard to explore their risk strategies.
The software is equipped with comprehensive features to manage governance risk and compliance for identifying potential risks at any stage of the project.
3. SAS
SAS Enterprise risk management software reduces model risk and increases business value with its integrated, comprehensive data management, reporting, and predictive analytics.
Its comprehensive risk data management ensures the data is appropriately aggregated and governed effectively. Also, it features with data tracking and automated documentation to keep a check on business performance.
Features with an intuitive dashboard and real-time performance tracking.
2. StandardFusion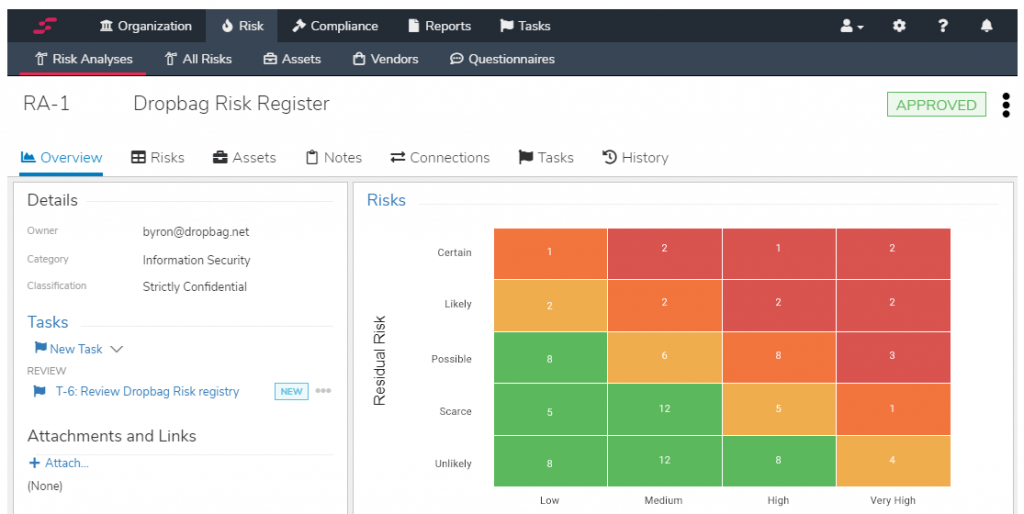 StandardFusion is cloud-based integrated risk management GRC software that lets users track not only the risk but also the associated assets. The software is fit for organizations of all sizes and supports most compliance feature standards including IPAA, FEDRAMP, SOC 2, GDPR, NIST, ISO, etc.
Its risk management features enable users to access and track individual risks, mitigating actions, and their summarised outcomes using report generator.
The software has a simple and powerful interface that helps in reducing risk and disruption by eliminating complexity before an incident occurs.
1. ARC Cyber Risk Management
ARC Risk is an online cyber security risk assessment software tool that provides information risk management, business impact assessment, enterprise risk register, and reporting. This fully featured software is designed with an aim to serve enterprises and startups.
The software enables you to access risks, manage assets, support incident management, report and track results that can be audited on a yearly basis.
The primary features are auditing, incident management, compliance management, dashboard, and risk assessment.
Conclusion
So, that's the list of top 17 Risk assessment software in 2020. The aim of the article was to bring to you the description of various risk assessment software tools that differs as per industry, use, and operations. Hope you have found the best one according to your needs and suitability.
Also Read: