It is very critical to back up your Mac to save yourself from data loss in case an unfortunate even occurs. Backing up your system helps in making sure that your precious data and information are not lost in occurrence of any such event that renders your Mac useless. You can create back up for your system software either by the use of the local backup i.e. Time Machine, sending it to a cloud service or by installing another duplicate creation program. You may even use all of these three methods to clone your Mac's hard drive.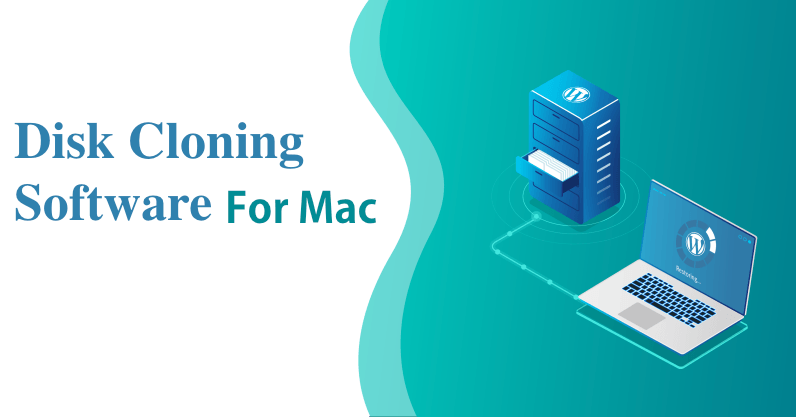 Disk Cloning is the best method to clone your software because it allows you to create a bootable copy of your entire hard drive and can easily clone everything on one Mac to new Mac. Making a correct choice for a disk cloning app that is suitable for your Mac system is really crucial.
For the convenience of the readers, this article aims to provide you with the list of 15 best disk cloning software for Mac that are available with an excellent set of features, control and performance.
The list includes best free hard drive cloning software for Mac depending on the features you need so, without further ado, let us check out their features.
1. Acronis True Image 2020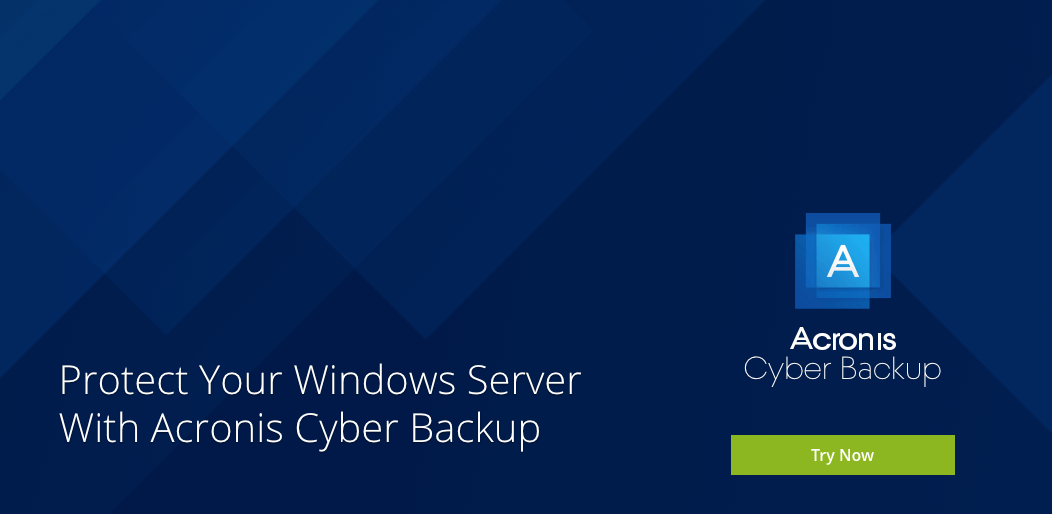 Acronis Ture Image 2020 is among the best hard drive cloning software for Mac that duplicates your entire data and makes MacOS bootable on your new hard drive. You can use this cloning app to migrate to a new Mac computer or to clone the entire hard drive to an external HDD and have a bootable copy of the hard drive. The key features of Acronis True Image are provided as below:
It provides with efficient all in one protection and is quite simple to use with an intuitive backup features.

Its disk cloning and Mirror imaging recovery features ensures that your data remains safe in all unfortunate events.

Acronis True Image 2020 comes with innovative protections that serve as only personal backup solution that uses AI to prevent ransomware and cryptojacking.

The software offers its users one of the fastest cloud backups that protects your data and restores with 13x faster speed.

It makes it easy and efficient by automatically replicating local backups in the cloud and also features dual protection by combining local backups and online backups.

The pricing for Acronis True Image 2020 starts at

$34.99.
2. GoodSync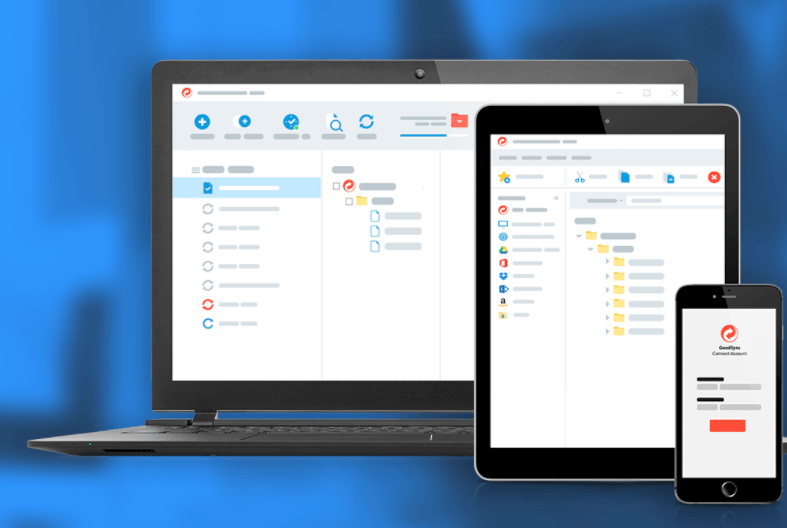 GoodSync software provides for easy backup and file synchronization features. It is available for free trial of 30-days online. The key features of GoodSync are provided as below:
It provides you with easy, faster and secure way to automatically backup al your data to multiple destinations and restores it when needed.

Its automated, schedules and real-time backup and sync features requires no user interaction.

Provides end to end encryption through AES-256 bit for additional security.

GoodSync monitors and propagates file security attributes across the internet, maintaining same access permission levels at different locations.
3.SuperDuper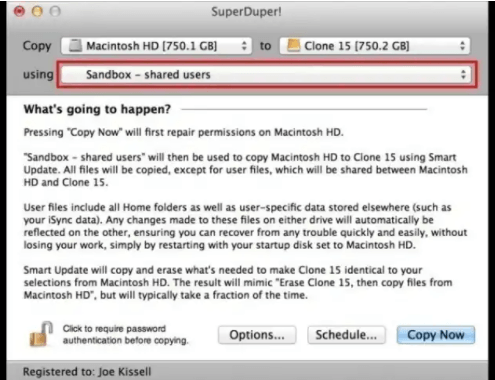 Advanced disk cloning/recovery utility specially for mac system. SuperDuper! is an advanced, yet easy to use disk copying program. It can, of course, make a straight copy, or "clone" — useful when you want to move all your data from one machine to another, or do a simple backup. In moments, you can completely duplicate your boot drive to another drive, partition, or image file.
Also Read:
4. Paragon Hard Disk Manager for Mac

Paragon Hard Disk Manager for Mac is a system software and data management solution for Apple users. This best disk cloning software for Mac provides you with fast and easy image based MacOS backup solution. Its Key features are discussed as below:
Paragon Hard disk manager for Mac provides the apple users with powerful backup solution and flexible recover features.

Its extensive hard disk management feature is everything that you may need for perfect advanced partitioning and for reliable data wiping algorithms.

The software significantly reduces backup and recovery times while improving general performance of your system. The full copies of disks and partitions through its bootable media recover your system to a working state within less time.

It supports core storage backup and restore and also helps in securing your software environment from data wiping.

Its fast bare-metal recovery features allow macOS system volumes to be restored from a bootable external drive in one action without need of re-installation of the OS.
5. ChronoSync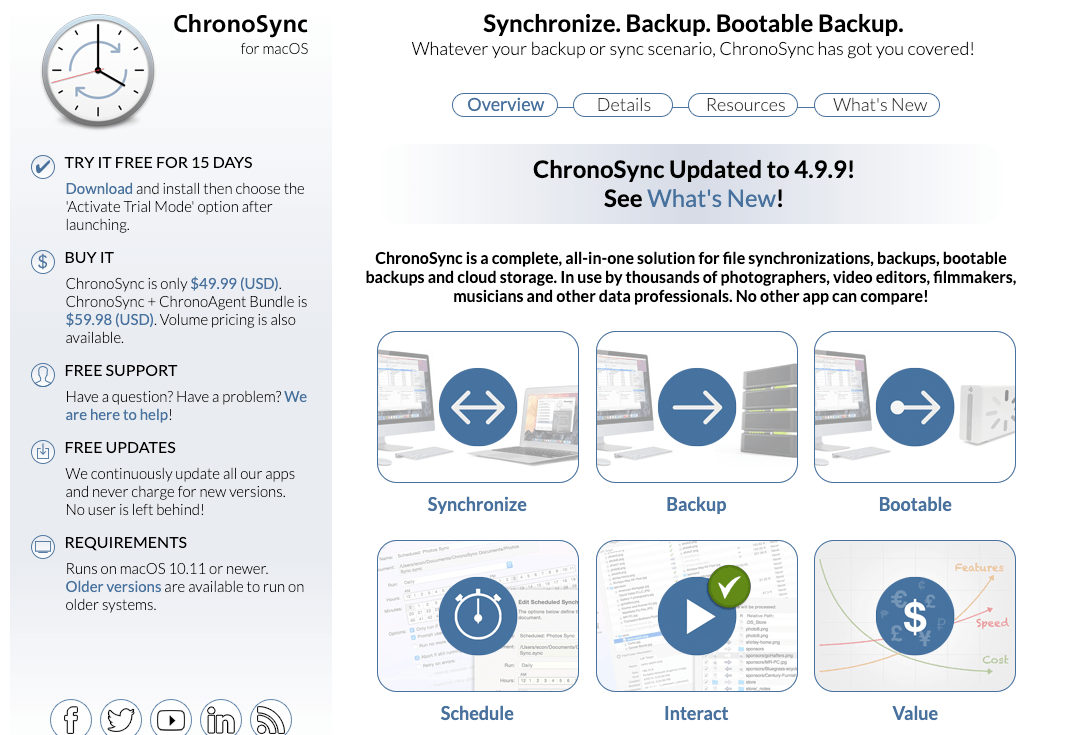 ChronoSync is powerful, fully-featured and highly configurable backup software. By the use of this software, users can manually run backups or schedule them. They can also back up their data up to a local hard drives or a NAS box. It supports backing up to Google cloud and Amazon S3 storage as well. The core features of ChronoSync are provided as below:
Users can backup one remote location to another using SFTP and even backup or clone Mac to new Mac system.

The software reflects any alteration to the metadata since the last backup. It copies the backed up files to a temporary file and verifies the integrity before the file on the destination volume is replaced with the new version.

ChronoSync offers two types of bootable clone i.e. standard and mirrored. The standard bootable clone created a bootable system on the destination volume, leaving other files on the volume intact and the mirror clone replaces the entire contents of the destination volume with files from the source.

ChronoSync is available for fully functional free trial of 15 days and its pricing starts at $49.99.

It is useful in synchronization across multiple Macs and backup. It is a easy to use software with quite intuitive and featured rich interface.
6. RStudio for Mac
R-Studio is robust and cost effective data recovery software that is specially designed for the macOS environment. The flexible parameter setting of this software allows users to have an absolute control over the data recovery of their system. The core features of R-Studio disk cloning software are discussed as below:
Its raw file recovery software can be used for heavily damaged or unknown file systems and recovering data on disks, even if their partitions are formatted, damaged or deleted.

It also helps in recovering the compressed, encrypted filed and alternative data streams from NTFS partitions.

The software has advanced file search and mask options that gives detailed file information in the technical version.

Its disk imaging feature created image files for an entire hard drive or its part that can be processed like regular disks. Images can be easily connected to the OS as devices which makes the content accessible to any program including any other recovery software.

R-Studio pricing start at $79.99 but its demo is available for free download.
7. Catalina-Ready ChronoSync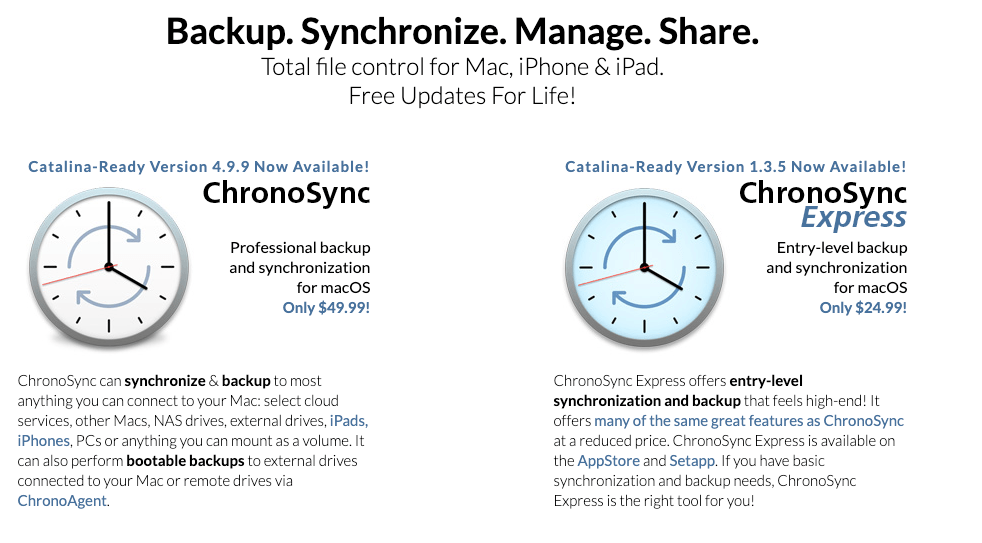 ChronoSync with its updated version 4.9.9 is ready for MacOS Catalina; a entirely new file system organization that allows backups by accessing files outside your home folder such a s bootable backups. The download and installation of Catalina is quite easy and straightforward to use. The key features of Catalina- Ready ChronoSync disk cloning software are provided as below:
The software helps in quick recovery from catastrophe. It allows you to clone your hard drive so you can be up and running instantly if your primary device fails.

It creates copies of files and data to prevent you from any precious data loss and allows backing up of any files you want to any new device as you want.

It synchronises files Mac to Mac, Mac to cloud, Mac to external, Mac to PC, Mac to NAS.

By the use of this software, you can transfer files to cloud storage so that your data remains at your fingertips when you need it and access the files anytime and from anywhere.

Keeps your data secure and safe by running tasks in case of any unfortunate event occurrence.

It is available for free trial with expiry of 15 days. Further, the pricing is only $49.99 to buy this amazing software to meet your system requirements.
Also Read:
8. Get Backup Pro
Get Backup Pro is an advanced Mac disk cloning software that quickly backs up your data and creates a bootable and encrypted backup. This software ensures your data safety in case of system failure or information loss. The software is available for free trial online and its pricing is $19.99. Some of the core features of this advanced backup software for Mac are provided as below:
Get Backup Pro creates full and incremental data backup and with each subsequent backup, the use of hard links to the original files makes the backup folder a full backup with very little additional storage space over the original.

The software sets up backup encryption and automated backup schedule.

With the disk cloning feature of this software, migrating to a new disk is made easier and faster. Users can boot up the hard disk using the clone as an external drives and devices.

By the use of this software, users can also

clone Mac to new Mac

by using its sync features that synchronizes the files and folder between two destination systems.

It creates a bootable APFS/HFS+ clone of hard drives to get a backup disk that can be booted up and used in case of system failure.
9. Backblaze
The software is available also for free trial. With Backblaze hard drive cloning software you can create unlimited backups for your data. It is very simple and easy to use software and makes Mac backup process easier and better. Some of the key features of this software are:
Backblaze uses less than 1% of your CPU and memory on average. It doesn't install any drivers and opens any files it backs up as read only so your computer is kept stable and steady.

The software works great running side by side with Apple Time machine for added security for the system.

It automatically back up all your attached external drives providing a great backup speed.

It provides with personal encryption key for additional security. It encrypts all your files before being transmitted over SSL and stored encrypted.

You can conveniently backup your Mac's data at just $6 per month; however Backblaze is also available for free trial.
10. Carbon Copy Cloner 5
Carbon Copy Cloner 5 (CCC 5) is among the first bootable backup solution for Mac that is easier, smarter and better than ever. It allows you to create bootable backups to prevent any data loss in any case, when disaster strikes your hard disk. CCC 5 troubleshoot the problem disk when you have time to spare and updates only those files that have been added or modified. The additional features of this software are listed below:
CCC 5 runs backup health check monthly or weekly to identify damaged files in your backup and automatically replace them.

The simple interface mode of this software allows users to clear the visual clutter and clone in just three clicks. Source> Destination> Clone.

The software provides users with a Cloning Coach that are backup experts to proactively guide and alert about configuration concerns about your tasks and how to address those concerns.

It has intuitive and efficient interface that can schedule, group and sort tasks; run a backup; and access the disk center all from a single window. It offers to help you with a guided setup and restore.

CCC 5 is the only backup software that archives and clones the proprietary recovery volume created on your startup disk that can be used to reinstall MacOS.

It is available for 30-day free trial online and the license could be bought at the price of Rs. 3,189.15
11. IDrive

IDrive backs up unlimited Macs, iPhones, iPads and Android devices into a single account and can also back up data from mapped drives. IDrive is available for free up to the use of 5GB however if your wish to buy the license for personal use, the pricing starts at $52.12 for first year. Some of the core features of this software are given as below:
IDrive is free disk cloning software available online that can backup and retrieve your data quickly via physical storage shipment, ensuring no bandwidth usage.

It allows your all files and folders to get synced in real time across all the devices that you link using this software. Its sync storage does not affect your backup storage and matches with the backup storage limit.

The software can backup entire drive including OS, settings, programs, files and folders without impacting the content and information structure that remains intact.

It provides users with incremental and compressed backups that will ease the network bandwidth by transferring modified portions of a file.
12. AweClone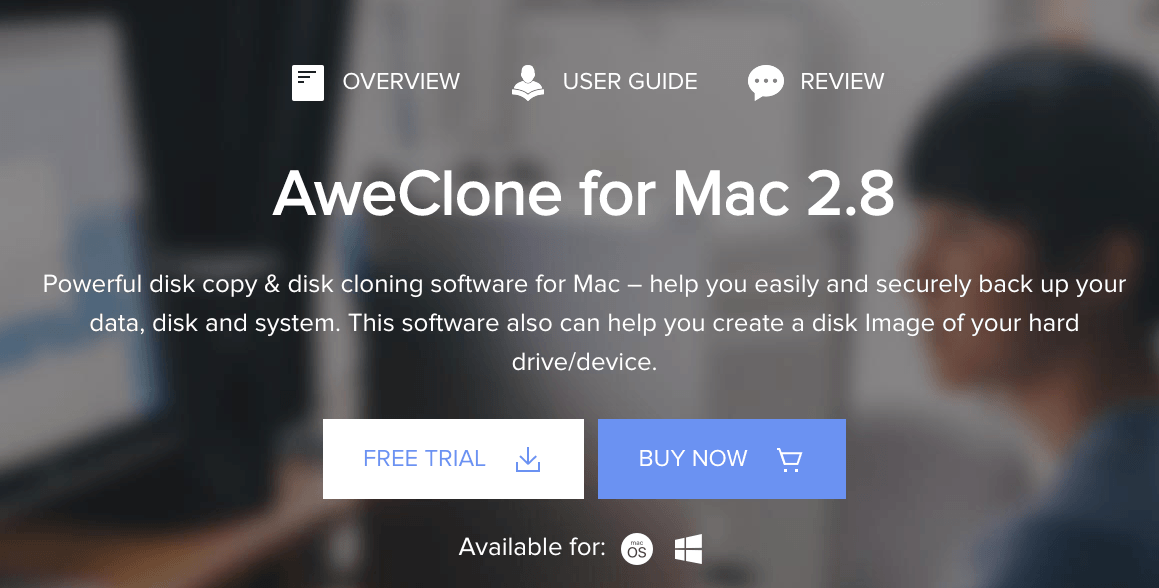 AweClone offers smart disk cloning solution for Mac users by allowing you to create a disk Image backup of your hard drive or external device. It makes it easy to prepare a full copy of your system securely and use it on another Mac system. The software is available for free trial. The core features of AweClone are discussed as below:
The software provides you with the easiest method to clone a hard disk/external device/entire system under MacOS. It further allows you to restore your data with the Image backup on any other Mac or hard drive.

By the use of AweClone, you can clone all the data information including the files/folder, operating systems, configuration settings, applications and much more. It is one of the

best hard drive cloning software for Mac

that ensures 100% safe disk cloning and data copy.

Further, it allows you to clone disk drive and compressed image to compressed file to save the disk space.

It allows you to

clone Mac to new Mac

by creating a copy of your OS system and duplicate it on other Macs or hard drives.

AweClone migrates all your data from your Mac system to another hard drive in case you are planning to sell or dispose your Mac. It makes a backup copy of all data including photos, documents, etc to prevent you from any data loss in event of system crash.
13. EaseUS Todo Backup for Mac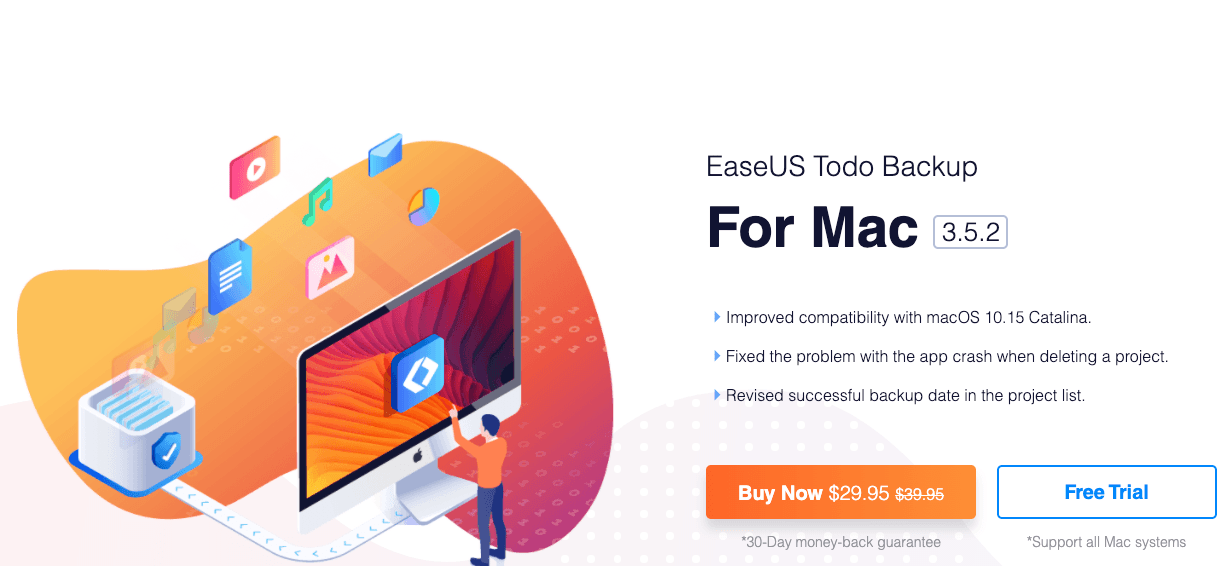 EaseUS Todo backup provides you with another best disk cloning software for Mac that is available for free trial. The software can be used to reduce data loss and back up data from any of the Mac device. It creates file backups in different mode i.e. full, incremental or differential mode by using templates for mail, contacts, documents, photos and iTunes. Let's see the additional key features of EaseUS Todo backup software:
It helps the users to archive files a hard drive, network volume, CD/DVD or an external device that can be automated. Later, it restores the archived filed on any computer without impacting the original data.

Its disk cloning features helps you to clone your disk volume to get a backup disk that can be booted up at any moment. That way, you can easily restore data from bootable backups in case of system failure.

It makes it quite easy and safe to migrate to a new drive.

Makes files and folders synchronisation easier and faster on your Mac with another computer or mounted drive. It share and keep your files always updates between two different locations.

Provides you with faster collection and processing of data information about available disk volumes.
Also Read:
14. Carbonite Safe

Carbonite Safe software provides for file backup and recovery features of use of individuals and small businesses. It allows you to back up your Mac to remote servers and recover files when you need to. You can restore the data online using Carbonite application. The key features of Carbonite safe are:
The software is very simple to use and has a user-friendly interface. It is easy to install and configure so it runs automatically.

It provides powerful data migration for moving from one cloud to another.

It can easily recover files from any web connected device and has an excellent defense mechanism to prevent ransomware attack or hardware failure.

Carbonite safe easily recovers files, folders and complete system with advances encryption features for data at rest and in flight. It is available for free trial.
15. Time Machine
Time Machine backs up all your files to an external device so that you can restore them later when you need it. It is one of the best free hard drive cloning software for Mac that allows you to check backup status of your files. Some of its key features are:
It makes it extremely easy for you by maintaining automatic backups of your files and helps in restoring the entire Mac system or particular files from recovery hard drive.

The software lets you include and exclude files from backup and notifies you whenever it is unable to complete a backup.

It supports redundancy and multiple backups and also keeps a track of all your files that have changed since your last backup.

Time Machine software supports for file versioning and also compares an 'inventory' of your current data to that of the backup data. You can read this article to lean how to use time machine for backup.
Bonus: SmartBackup
SmartBackup is an alternative lightweight backup application for OS X.
Backup multiple source items to a destination folder on an external hard drive, flash drive or network share, or create a bootable clone of your system.
SmartBackup only copies what has changed after the initial run and is very fast in updating your backup or system clone.
Archive deleted or changed files in an archive folder during the backup and easily browse available versions of a file and restore them with one click.
Use Spotlight Saved Searches to define what you want to backup or what you want to exclude.
Automate your backup using iCal, Automator or launch it in command line mode and include it in launchd items or scripts.
Conclusion
There are various significant reasons that recommend you to must have a disk cloning app for the safety of your system and to conveniently back up your Mac hard drive. Though Mac is among the sturdiest systems in the world but it this machine is still subject to wear and tear over time. Thereby, you need to have a backup to fall back to in case of any unfortunate events or system failure.
This above mentioned lists of 15 Disk cloning apps is provided to bring to you the information about the Best Disk cloning software for your Mac that are secure, trustworthy, compatible and simple to use. So, choose the best disk cloning app for Mac according to your requirements and need of your system.
Also Read: