Computer processors can get damaged especially when they get overheated. No matter the problem is with your computer or any processors at this time you look for some Hardware Monitoring tools which helps you to solve the problem. With this type of tool, you can also check your newly built PC is running properly or not. It is very important to check the program which can monitor your CPU's temperature. So, if you are also having a problem with your computer then use these Monitor software on your Windows and check out your PCs. In this article, there is a list of best CPU Monitoring Software which will check your CPU is operating at the safe temperature.
Q1. Do We Really Need CPU Temperature Monitor?
Computer processors getting Overheating looks harmless but it has harmful effects. As we all know, CPU has some of the most important parts of the system like Hard disk, and motherboard. And these parts can get damaged due to heat so make sure these parts are safe. In some of the cases, the whole system can get shut down without giving any warning. So, we need temperature monitoring software which tells us about the temperature.
Q2. How to monitor CPU temp windows 10?
To check the CPU temp, first download the Core Temp on your device. Once it is downloaded and installed, right-click on the icon. It will show you options about the model, speed, and the temperature.
Q3. How to monitor CPU and GPU temp?
To check the temp of CPU you need to download Core Temp first on your device. And to monitor GPU temp you need to use Windows key + R to open the Run command. Now open the DirectX Diagnostic Tool by entering the command dxdiag.exe. And click on the Display Tab. Under the "Drivers" option check all the information.
Q4. How do I cool my CPU?
One of the best ways to cool down your CPU is to clean all the internal fans. On top of the CPU, there is one fan, one is inside the power supply, and one or more is on the front or back case. Just shut down your PC and open the case to clean all the fans.
Q5. What is the meaning of CPU?
CPU is the abbreviation of Central Processing Unit.
Q6. What is a normal CPU temp?
The normal temperature should be between 167 degrees and 176 degrees Fahrenheit, which is 75 degree to 80-degree celsius.
Q7. What happens if a CPU overheats?
If your CPU is overheated then it can damage the motherboard or the nearby components. Overheating is bad for computers. Now, let us check out some of the best CPU Temperature Monitor Tools For Windows which are free.
Best Free CPU Temperature Monitor Tools for Windows
Here is the list of best and free CPU Temp Monitor Tools which can be used to check your Computer.
1. Speccy
Speccy tool is also known as a daily driver and this tool helps you to check the temperature of the CPU. This software supports both 64-bit and 32-bit computers. It is a free PC monitoring tool which has come from the developers of CCleaner. If you use this software, you can see all the detail info which is related to CPU, RAM, OS, Motherboard, storage disks, graphics card, and also other hardware.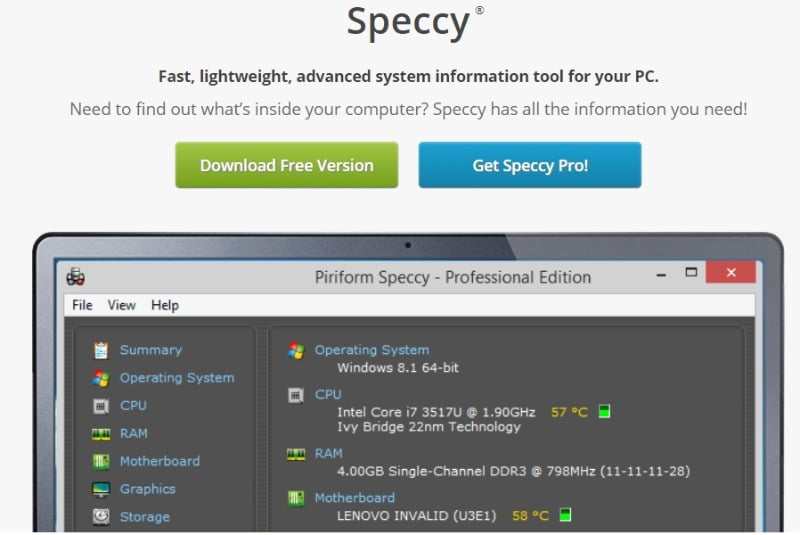 Speccy has two versions, Free and a paid version. In the free version, you will get limited features but when you choose paid version, this software will be your one-stop destination to know everything about your system.
You can also use it to create all the detailed reports. View the performance of your hardware with the help of this software. However, it will show more information about the hardware which is installed on your computer.
Features of Speccy Tools:
You can see the real-time temperature of the components
Take Screenshots using this software
Gives detailed information about the system, so you can decide what to do next
2. Speed Fan
Speed Fan offers great CPU temperature monitoring features. Apart from showing the CPU temperature, it also shows the temperature of the system, graphics card, and different cores in a multi-core processor. Speed Fan tool is compatible with all versions of Windows 95 to Windows 10. And it also supports both x86 and 64-bit processors. For compatible processors and motherboards, you can view and control fan speeds with this software.
Whenever the program will find some high CPU temperatures, it automatically raises the speed to 100%. The premium version users will get so many different great features and data for monitoring the system like they will get access to SMART HARD Drive info and hard drive temperatures.
Features of Speed Fan:
The User-Interface is very simple and easy to use
It gives you swift results
It shows you results in the form of charts and visualised which is easy to understand.
Also Read:
3. HWiNFO
Another CPU Monitoring tool which is one of the best CPU Temp monitor Software for Windows 10. We can say, this tool is special than all other software, as it operates in sensor mode only. For all the windows users, both portable and installable version is available. It will show you all the detailed report of your system which can be used to improve the performance of your system.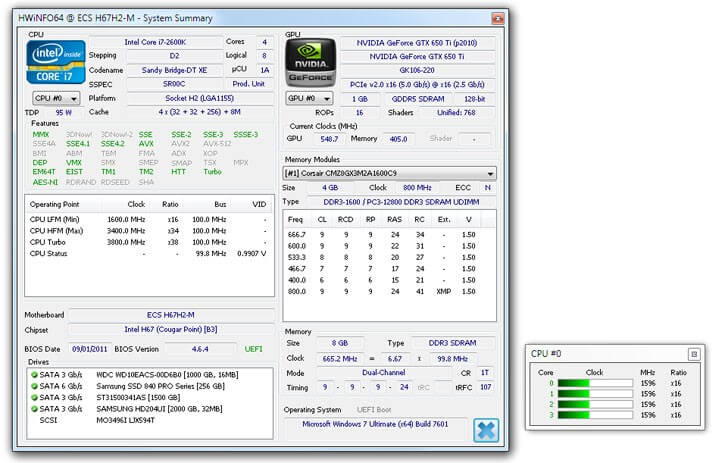 HWiNFO is a free software which provides all the information about your computer, including the temperature of the CPU. It is supported on all Windows Operating System version from Windows 98 to Windows 10. And it also supports monitoring of so many different hardware components from Chipsets, Graphics Cards, and CPUs. In this tool, you can customize alerts and get all the notifications and you can get reports and integration with any extensions. It is one of the best free CPU Temp monitoring software to use.
Features of HWiNFO:
You don't need any other additional app to operate this
The interface is very easy to use
Real-time monitoring is available
4. Core Temp
As in the name itself you can see Temp, it is a Temperature monitoring tool which shows readings on the temperature and the voltage of your computer. With the help of this software, you can see the load on the CPU so that you can easily manage it. This tool is free to use and the user interface is also very simple which can be used by all the users. It shows some important information so it is good.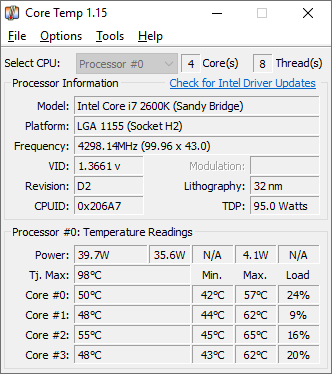 Core Temp is a lightweight software and can be easily used on Windows Computers. It almost works with all the processors and shows the temperature of each individual core. If you want, you can also view other basic system information like Platform, frequency, processor model.
One of the best thing about this tool is, it displays the temperature in real-time and doesn't use more resources. Leave this tool running in the background and it won't slow down your other programs also.
There is also a mobile version application available for this tool for Android and Windows Phone smartphones.
Features of Core Temp:
Supports Intel and AMD processors
Alert system available which can shut down the procedure in case of overheat
Collects reports through a digital thermal sensor
5. GPU Temp
GPU Temp is simple and easy to use software which helps to monitor the temperature of the CPU. This software comes among one of the best PC Temperature monitor software. It easily finds out the temperature and voltage in the CPU. For all the gamers this information is very important as they can check whether their game is causing any problem on the system or not.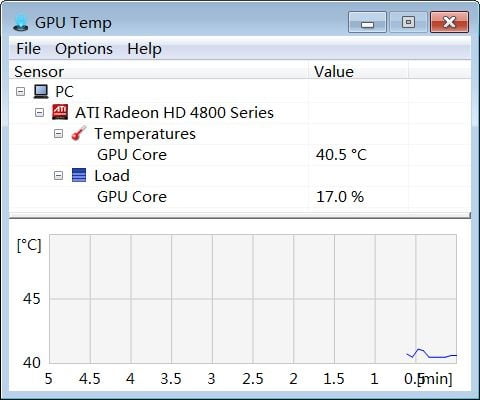 Features of GPU Temp:
A lightweight software
The reports of temperature is shown in "Degree Celsius"
A User-Friendly interface which is designed for both gamers and beginners
6. CPU Thermometer
CPU Thermometer is one of the most popular software tool which is used by most of the users. It is a lightweight monitor which works well with most of Intel and AMD processors. This tool supports 32-bit and 64-bit Windows Operating System and also Vista, 2008, 7, and 10. In the latest version of this tool, there is a basic list of the CPU cores and the Temperatures with a total CPU load capacity of each core.
You can see some of the basic options in the CPU Thermometer. Set a maximum CPU temperature on the tool. If the temperature reaches the maximum value, you can choose to display a warning message, reboot the computer, or shut down the computer.
Features Of CPU Thermometer:
Very easy to use
According to your preferences, customize the unit of temperature.
Also Read:
7. SIW
SIW software is a detailed program which will also tell you about the health of your computer with the temperature of CPU. It also monitors some of the few important chips and power supply in the unit. Only one thing you need to keep in mind before choosing this tool is the specifications of the chip. If the sensors are not attached to it, then this software will not work. So make sure the sensor is attached.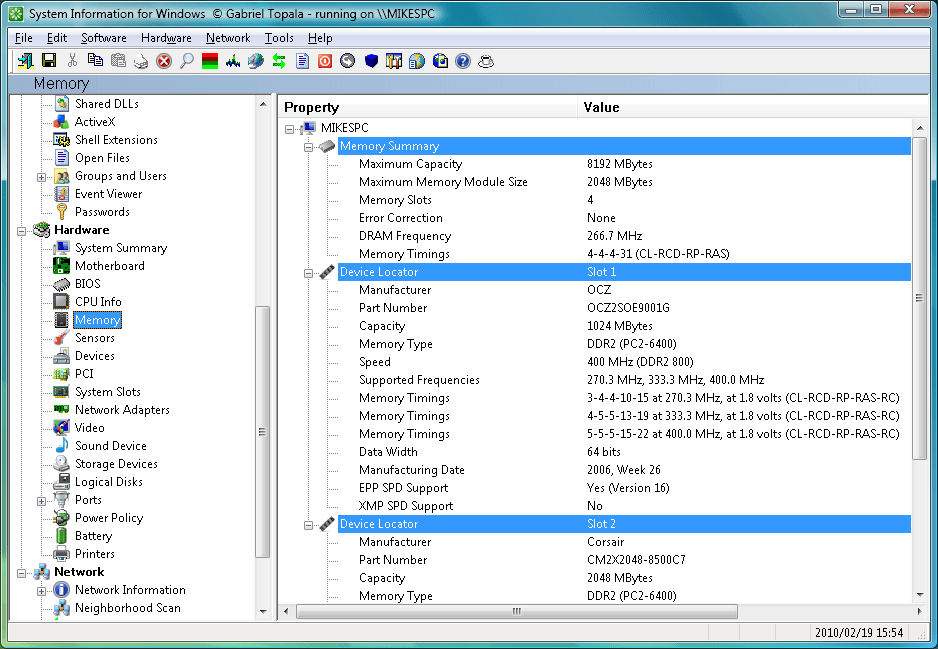 Features of SIW Software:
With this you can check the fan speed of the CPU also
Gives you a detailed report about everything of your computer
If you use this tool, you can keep an eye on all the virtual machines, storage devices, sound devices, and other important parts also.
8. Moo0 System Monitor Portable
Most of the experts recommend to use this software as it provides the real-time analysis report. On this software, there is information about the thirty types like CPU health, network information, memory status and much more. Moo0 System Monitor Portable software has amazing features which are normally available in the paid version of the software. Check out some of the best features of this software:

Features Moo0 System Monitor Portable:
This software is free to use and it supports monitor very easily
You won't get any trouble, as you will be notified what to do on the screen while installing
The user interface is very simple and customisable
9. Open Hardware Monitor
Open Hardware Monitor software is an open-source software which helps you to check the temperature of the CPU. For beginners, it is hard to get the reports, but no other tool can offer as this tool gives you a detailed analysis. As it gives you the report of the temperature of CPU, you can reduce the workload so it stays proper for a long time.
Features of Open Hardware Monitor
This software is free to use and you can also share it
From here you can export data also
It gives you a lot of detailed reports
10. AIDA64
AIDA64 is a paid software, but it is worth paying money. It has so many advanced features which are useful for you. However, this software does not give you a detailed report, but it will give you all the important details which are needed.
Features of AIDA64
AIDA64 software has a user-friendly interface which is designed for all types of users
It can be used on a few advanced and new processors also
To check the stability, it performs a stress test on your system
11. ASUS AI Suite
If you are using Asus computer, then you will be worried about the CPU temperature monitoring. But don't worry as this ASUS AI Suite software is specially designed for Asus systems only. This software will check the whole system and lets you know everything about it.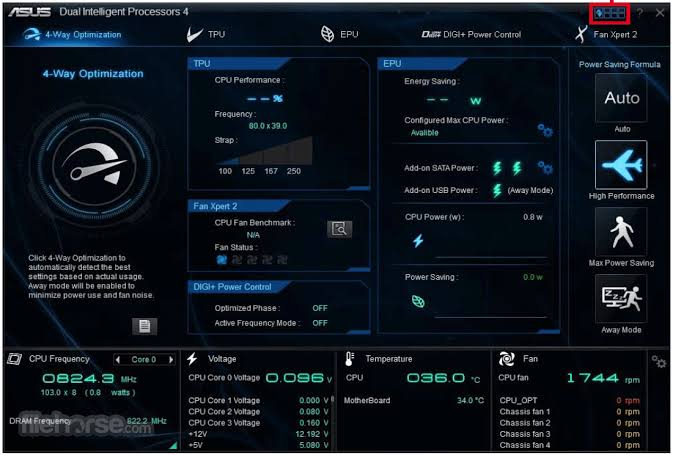 Features ASUS AI Suite
It will show the reports in both graphical and statistical so you can easily understand it
For all the users it has all in one Menu bar
To detect the best settings, it has a 4-way optimisations
12. Real Temp
Real Temp Software is designed for Dual-core, Single core, Quad Core and Core i7 processors. However, no matter which processor you use, this tool is very important. You don't need to install this software to use. Real Temp software is compatible with Windows 2000/ XP/ Vista / Windows 7/ 8/ 10. Keep in mind that Pentium 4 processors do not support this software.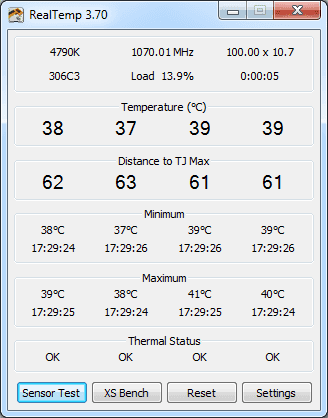 Features Of Real Temp
Real Temp software is quick and accurate
On this software, you can see the minimum and maximum temperature which is recorded on your CPU
It will individually mark each core of CPU
13. HWMonitor
HWMonitor software keeps a record of your system's temperature. It also checks the current incoming voltage, so that you can change it, if it is getting more current. This information is helpful and you can check whether your machine is not getting overheated or is not getting a hardware failure. It is very simple to use.
Features of HWMonitor
This software is free and easy to use
It records all the log files and supports all the files
The developers say this software is faster than others
14. Game Assistant 2
The basic function of this software is as game software, but it is also helpful in checking other information also. It is one of the best CPU temperature monitoring software for Windows 10 and it also gives the report of RAM usage, fan speed, the current temperature of CPU and much more. As you get this information, you can know about your system and can monitor it if there is any problem.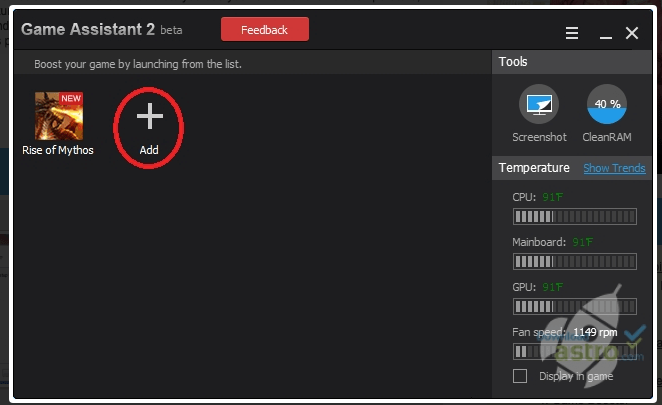 Features of Game Assistant 2
This software does not take much of RAM
Helpful for beginners and experts
Without hesitation, take screenshots of the result
CONCLUSION
All of these software tools are free to use and are the best ones. Use the given software tools to check out the temperature of your system and fix it if there is a problem. All these are the best CPU temp monitoring tools for Windows. Use these tools and solve your problems. We hope this article was helpful to you. Stay tuned to us for more and latest updates.
Also Read: