On Windows Computers, there comes a built-in feature to view photos. Earlier, when we want to view photos in the computer, there was a built-in app named as Windows Photo Viewer. As time passed the Software got old and many new alternatives of Windows Photo Viewer came in the market. Even Microsoft brought the new app Photos App for Windows 10 and 8. When you use Windows Photo Viewer it takes time to load the picture and it only handles JPEGs and RAW images. And it also has few editing tools which works well. However, there are so many alternatives available, so here is the list for the Best Photo Viewer for Windows.
Installing a third-party photo viewer app is not enough, and you also need to make that app as your default app to view photos. So, make that app default by going to the Search bar and type in Default. Then go to Default Apps settings and click on Photos. Now, you need to select any app as your default app to view your pictures.
What is the best photo viewer for windows 7?
There are so many apps available on the internet. You can choose the best one from the given list.
Best photo viewer for windows 8 free download
Some of the best photo viewers for windows 8 are HoneyView, XnView, Quick Look, FastStone Image Viewer, and so much more.
Best lightweight photo viewer for windows 10
One of the best lightweight photo viewers for windows 10 is ImageGlass. It is a lightweight versatile image viewer.
Check out the list of best Photo Viewer for Windows 10.
Best Photo Viewer for Windows 10
1. HoneyView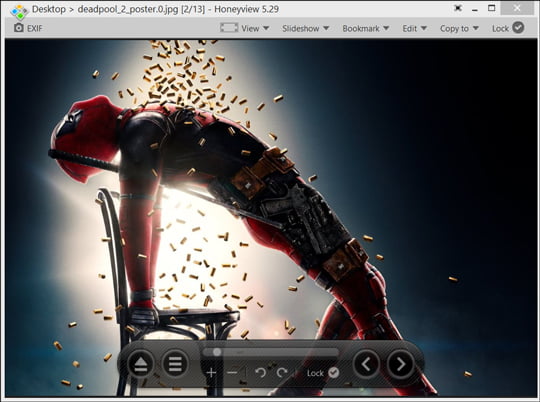 The most popular third-party photo viewer is HoneyView. This app has similar functionality and features like Windows Photo Viewer. HoneyView also supports image formats like  BMP, JPG, GIF, PNG, PSD, DDS, JXR, WebP, J2K, JP2, TGA, TIFF, PCX, PGM, PNM, PPM, and BPG. It is supported on Windows XP/ Vista/ 7/8/10. Check out some of the best features of HoneyView:
Features:
Rotate images and can also resize it
You can edit photos by attaching the link to Photoshop or Paint
It has the ability to  view EXIF in JPEG format
Supports OS Windows 7/8/10/ Vista / XP
Pros:
Very easy to use and is similar to Windows Photo Viewer
Cons:
There is No inbuilt editing tools available
2. FastStone Image Viewer
Another light-weight image viewer which supports multiple languages is Faststone image viewer. It have so many transition effect which is attractive and also has a slideshow option. FastStone Image Viewer supports multi-monitor configuration which is very useful if you work with so many images.
Features:
One can rename and convert files in the batch
Open and view the batch of files
It can run through a flash drive and it also has a portable variant
Supports image format BMP, JPEG, JPEG 2000, GIF, PNG, PCX, TIFF, WMF, ICO, and TGA), RAW
Pros:
Email sharing option is available
It supports renaming and Converting in batch
Cons:
Generating a thumbnail is very slow
DOWNLOAD FASTSTONE IMAGE VIEWER
3. JPEGView
JPEGView is a free and open-source photo viewer. The main moto of the tool is editing quickly. And you can preview the photos which will have loaded brightness, colour, and the contrast sliders to adjust are at the bottom.
Features:
There is an inbuilt image file browser
Easy and quick editing available on the Preview Page
Set up a slideshow of multiple images
Pros:
So many editing tools available
Supports renaming and converting
Cons:
It does not have a print button and an extensive EXIF data
4. 123 Photo Viewer
It is one of the easiest and simple Photo viewer in Windows. If you are not satisfied with Photos App, then there is another photo viewer app which is UWP-based image viewer for Windows 10 and is called 123 Photo viewer. This tool is around from the year 2014 and it offers the best image viewer for all the users who don't want so much of show.
Features:
It has a simple user-interface and has a hassle-free navigation
For editing the image, it provides different filters
Slide show viewer is also available, so just double click and view images while you sit back and relax
Supports image formats like  JPEG, PNG, etc., as well as, GIF and WEBP animated images.
One can Add and view images from local folders and OneDrive cloud storage.
Cons:
Some of the users might not like the Windows Image Viewer app because of its look
It does not detect the folders and images on your computer automatically
5. ImageGlass
Another best photo viewer for Windows 10 is ImageGlass. It has the modern User interface as compared to other software. ImageGlass tool allows you to view photos in a Slideshow.
Features:
One can link different editors to a different file format.
If you link PSDs to Photoshop, then whenever you choose to edit, it will open the PSD in photoshop
It supports image formats JPG, GIF, BMP, TIFF, WEBP, and 72+ image formats.
Pros:
View images in a slideshow feature
Cons:
Does not have an in-built editing tool
6. Google Photos
This one is not a regular photo viewer for Windows 10, but it is very helpful. With this Google Photos, one can store all the photos and videos on the cloud and get access to those photos on their PC or Phone at any time. In the search bar, you can search for your photos easily.
This tool is completely free to use, and you just need to save the photos as PWA. Upload images from your computer by using Google's Backup and Sync tool.
7. ACDSee Ultimate
If you know about the Rock band AC/ DC, then you will know this software very well. This software has so many great features available. One can resize and crop, lossless rotation, and also can view the Thumbnail. However, this software is not free, as it has a trial version for 30 days and then you need to pay $109.
Features:
Look at the images in the Zip file without extracting
Adjust the colours, exposure, and contrast of the image.
You can remove any low-light image which makes you look like a demon.
Supports formats JPG, PNG, BMP, GIF, and PSD. It also supports most of the raw file formats.
Pros:
View images in Zip file without extracting it
Cons:
The free version is available only for 30 days
A paid version is of $109
8. QuickLook
QuickLook tool is developed to reproduce the preview action on MacO. It has the best user-interface and has a Apple's Quick Look feature. On Mac this feature is available, however, if you haven't used the Quick Look feature on Mac then it just works with a spacebar. To preview the image and again close it just tap on the spacebar.
Features:
It runs in the background and listens to the hotkey's trigger
To control the environment of the file, different hotkeys are available
Only supports image preview, but allows you to view PDF, text files, PSDs, and much more
Supports formats like images, videos, PSD, PDF and text files.
Pros:
It is very quick and gives response faster
Cons:
It works on Windows 10 only
Does not have an option to control the file on its own
9. XnView
Earlier, XnView tool was supporting only Unix system but now is available for Windows also. On this tool, you can not only just view the images but can also organize the photo and editor. It is a software which supports multiple languages.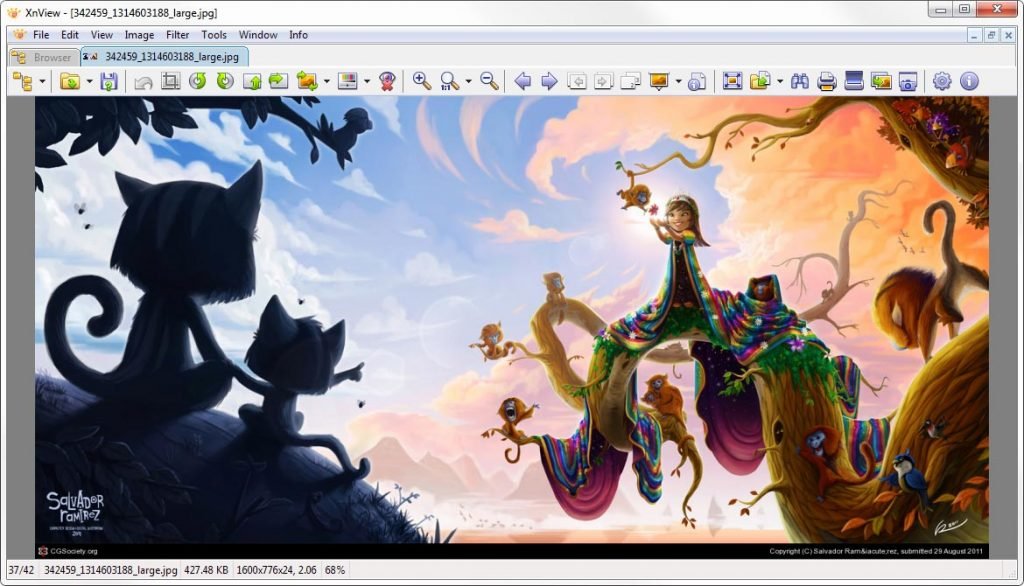 Features:
Supports 500+ image formats and also few audio and video formats
Rename the batch of files
Do basic editing like crop, resize, rotate
With this software, you can edit Raster images also
Supports formats JPG, BMP, GIF, PNG, TIFF, and 500+ file formats.
Pros:
Can do scripting for basic tasks
It supports large file format base
Cons:
This software is not free for everyone, it is free only for private use
10. Movavi Photo Manager
One of the best tool to manage your gallery in Windows 10. It is the best tool if you have a huge collection of photos and videos, it is very helpful. This Movavi Photo Manager tool is also available for macOS. So, you don't need to worry if you switch from Microsoft to Apple operating system. However, this tool is not for free and you need to pay $8 to get this image viewer. Use the trial version first and use the tool then buy it, if it is worth your money.
Features:
It can search the duplicate image in your Windows gallery
Automatically arranges the photos to albums which is based on data
Has basic image editing options like Crop, flip, rotate, straighten, etc
Works with a plethora of image formats
Cons:
Gets freeze if you add too many pictures at a time
CONCLUSION
Now, you have got the options to choose from the best Photo Viewer for Windows 10. Try out any tool from the given list on your computer, you will definitely love it. Each software has its own plus point, so here we have gathered some of the best software.