Can you think of a way to earn at your home at your own convenience? At first, this may seem a joke to many, however, it's the reality of changing times.
Now people are looking for such jobs that they can do from home. And the digitalization era has made it come true.
Whether it's work from home or freelancing work, such jobs are great and possible only due to the technical advancements. If you are also wandering around to get a remote job then you have landed on the right page.
Here you will get a list of the best website for finding remote jobs. So without any further delays let's dive in.
20 Incredible Websites For Finding Remote Jobs
Finding a remote job is not easy although but a well–researched list including all the top websites for remote work will be helpful.

The first website on our list is this which has secured its position because of its wide range of remote jobs.
On this website, users will find remote jobs in leading tech giants such as Twitter, Apple, and Google to name a few.
It provides job options in the field of copywriting, design, customer support, product management, operations, and sales.
This is perfect for remote development, creative, and designing job seekers.
In our list, the second position has been achieved by this website that offers remote jobs to women.
Why because, even today there are many jobs that are restricted for men, and this website is only for women.
On this website, women can find the perfect job for them without any restrictions.
The companies enrolled here offer jobs to women in designing, web development, marketing, customer support, and sales to count a few with perks for women.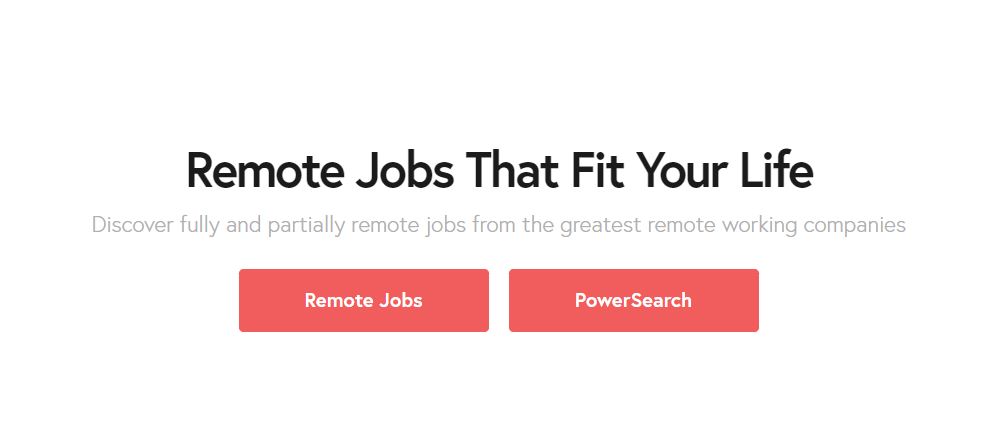 As you can guess from the name itself that this website offers remote jobs to people across the world.
If you are willing to work with an international company at your own convenience then you can register here.
It offers remote jobs in partially or fully virtual jobs without any regional requirement.
On this website, users can find jobs in design, writers, editors, developers, SEO executives, marketers, recruiters, customer service executives, and social media managers.

For those looking for working remotely with new startups, this website is perfect.
This website offers remote and work-from-home jobs in newly established startups.
What is even more interesting is that all the options are among international tech companies.
So through this website, users can find remote jobs in global startups after filtering through various steps like industry, salary, location, required skills, and many such.

This website is for people who want to work in IT companies.
So if you want to work remotely in tech companies that this is for you.
On this website, users can find jobs as project managers, salesforce developers, android developers, data analysts, scrum masters, and network administrators.
Apart from this users can also search for jobs by a keyword like a company name.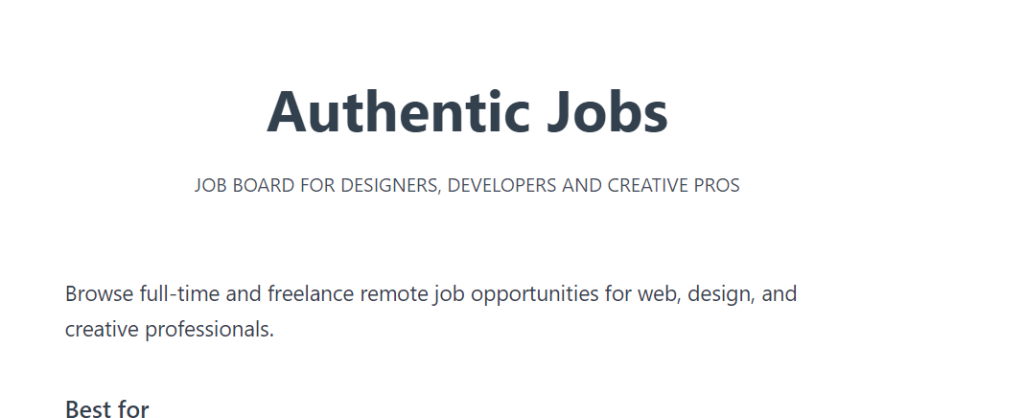 As the name has made itself clear, where users are not bind by a desk.
This website is simple and easy to use with a straightforward interface.
On this website, users can search for remote companies, positions, and other online stuff quickly.
It covers industries such as marketing, engineering, finance, product management, design, sales, operations, and customer support being prominent.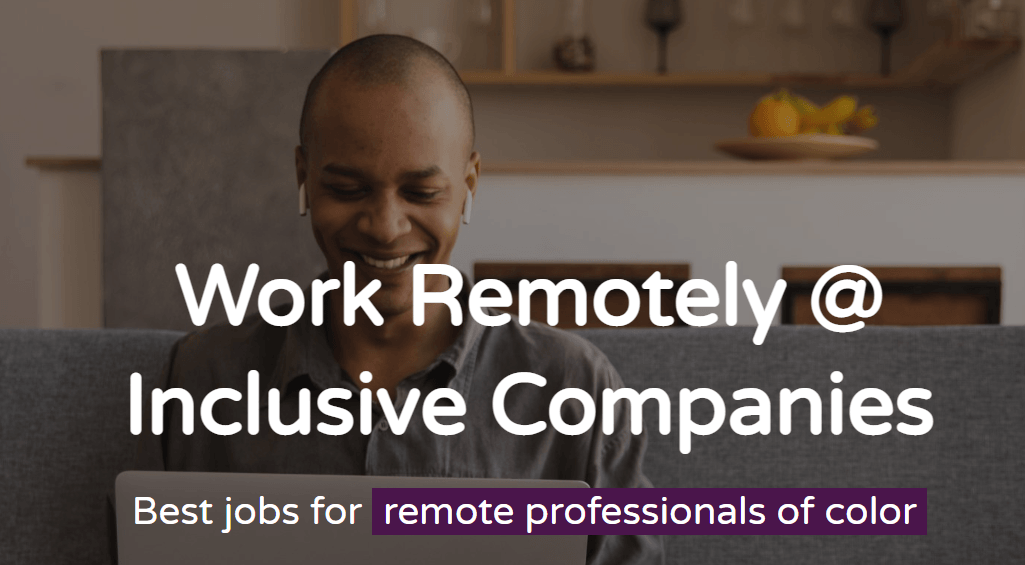 One website that offers remote job opportunities to professionals as well as to newbies is this.
On this website, professionals can find for themselves full-time work-from-home jobs.
While students or housemakers can find internships or part–time jobs.
So it caters to the needs of all by offering them jobs in marketing, product, design, support, and development.
To make the process quick it comes with a search bar where users can find the best jobs for them.
Today everyone in the industry must have heard this name due to its growing popularity.
This single application has emerged as a great platform where people can meet to grow their careers.
The same can be used to find remote jobs.
LinkedIn users can check on remote jobs and join relevant communities offering remote jobs or information on them.
On this platform, people can find plenty of work from home and remote jobs in their dream fields.

Also known as Amazon Mechanical Turk, this website is a platform for crowdsourcing jobs.
This means that here employers offer jobs that don't require any specific skill or qualification.
They will be offering tasks like writing product descriptions, content moderation, data validation, survey participation, and many such works.
In exchange for completing these tasks, the employers will be providing payments to the users.
If you are afraid of getting scammed through mal – intentional people by finding online remote jobs then this website is for you only.
This website has a team of professionals that checks all the jobs before posting so that users will get only authentic and genuine jobs.
It will also check whether the job is open and paid or not and then will proceed further.
On this website, users can find jobs in content marketing, SEO, finance, HR, graphic design, writing, UX/UI design, technical support, multimedia product, and many more.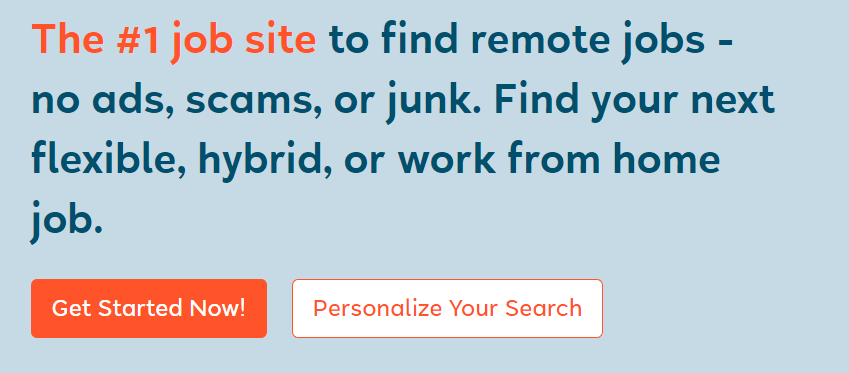 This website is for the professional as well as for the newbies with no experience.
On this website, users will get more than 50 different career categories and job options to choose from.
Also, they range from freelancing work to remote jobs or work from home with flexible hours.
The positions will be starting from entry–level and even goes up to executive level.
All these things make this website a must for remote job seekers.

If you are a free bird who wants to spend time more on outings than at the desk then this website is suitable for you.
This is a brilliant option for those who want to work remotely for full-time or part-time jobs.
It comes with a filter feature on the job board where you can find the job of your choice in just a few minutes.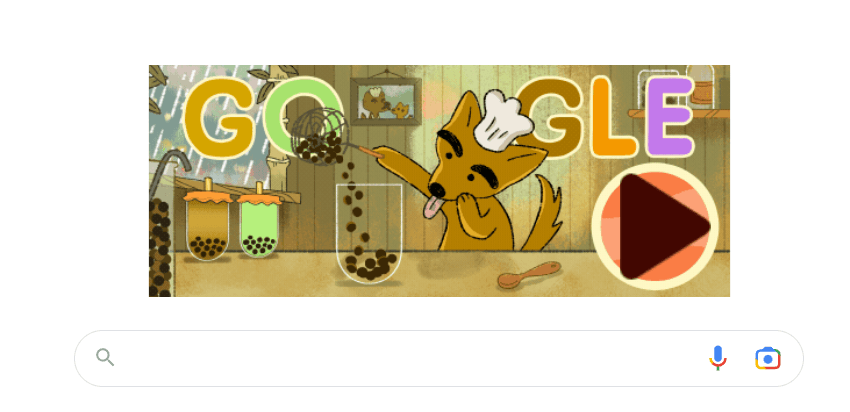 You don't need to be shocked after hearing this name. Well, Google is not a search engine but a tech giant that needs thousands of employees to work for it.
While some workers can be full-time, some need to be part-time and remote workers. That is why Google also presents remote or work-from-home jobs regularly.
It offers jobs in many fields such as writing, graphic designing, and marketing to count a few.
What's more interesting is that you can first have a free course from Google for the career you want to opt for and then apply for a remote job.

This free website is for those who want to build their career in remote working.
On this website, users can get jobs in legal, customer service, writing, design, data entry, and many other fields.
It also has various search and filter features that help users to find what's best for them.

Another international-level remote work website is this offering jobs to all.
On this website, users can search for remote and work from home all across the world which is updated regularly.
Users can search for the best remote work from them among the categories such as management, programming, design, DevOps, and others.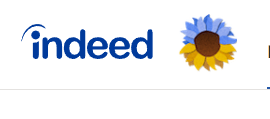 One more popular remote job website is here that is much older than others.
Founded in the year 2004 this website is one of the favorite choices of people when it comes to finding jobs.
It offers a plethora of jobs in full–time, part–time or remote working to the users.
On this website users just need to search their required field, location, or keyword, and it's done.
If you love working and traveling then this website is specially made for you.
On this website, you will get plenty of remote jobs where you can work from anywhere and at any time.
This website includes all major cities and countries of the world offering a great reach.
It offers jobs in designing, consulting, writing, development, and many such fields are included.
This website is an excellent option for people who need remote freelancing work.
On this website users first need to register and then create their gigs to get the work.
It includes a variety of work like content writing, copywriting, data handling, and designing to count a few.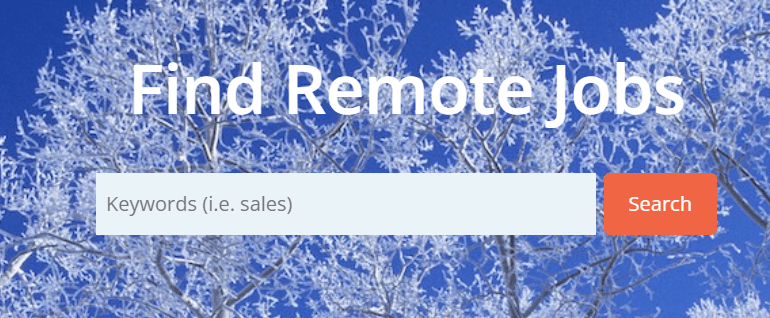 For people searching for remote jobs in tech companies, this website is incredible.
On this website, people can register and then find jobs in call centers, customer service, project management, insurance, and many others.
It is also loaded with many amazing functions like easy to navigation dashboard with transparent policies.

This website is a newsletter where users can find tonnes of remote job working opportunities.
It is a bi–month paper with a great community of people that work together and grow together.
On this website, users can find remote work in marketing, HR, sales, design, customer support, and many such fields.
These are some of the best websites to find remote jobs while ditching the 9 to 5 jobs.
Bonus Site
Work.so  you can Hire the Top 1% of Remote Developers and Designers from this website.
Conclusion
Remote jobs are great for students, housemakers, and those who want a passive source of income. If these jobs provide ease of working, convenience, and a way to fulfill your dreams while working on the one hand then on the other they have some drawbacks too.
Major being the scammers who as a company or employer ask for money for work. So beware of such things and just believe in the genuine ones like those provided in the above-mentioned list.
Also Read: