Imagine your home without the regular cleanup sessions by your mom…your house messy and ugly, right? You also don't find your stuff easily and it leads to delays. So, is the case of smartphones and PCs. If you don't clean your smartphone (be it internal or external), its functioning is hampered. Without a regular removal of junk or cache files and unwanted temporary files, your phone will slow down. If your laptop is freezing and there is lagging in opening applications, then your PC needs a deep cleaning. Don't forget to check Best Cleaning Apps for Android Phone & iPhone.
We have listed some of the best cleaning apps for Android
Clean Master: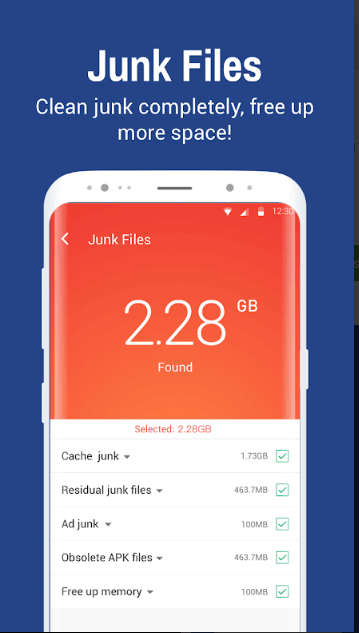 Every Android user must have tried this cleaning app at least once in their life. It frees up your phone's storage space by removing junk files, cache memory and thus helps boost up your phone memory.
Also Read: Very Simple 20 Notepad Hacks
It comes with Anti-virus feature which protects your system against malware attacks from pre-installed and installed app upgrades. It also helps in extending battery life and improve the speed of operation by clearing up RAM. Fake and risky Wi-Fi connections are also detected by the app very effectively.
Simple System Monitor:
Talk about the best cleaning apps for Android and Simple System Monitor will top your list. Clear up your RAM space, CPU frequency graph for all cores, monitor read/write speeds, detect unusual temperature increase and in which part of the device.
Also Read: 22 Best Android Hacking App
The app helps you improve the device operational speed, prevents freezing, increases memory space, clearing up space even when the app is swiped away.
Cache Cleaner – DU Speed Booster:
One of the most popular Android cleaning apps, Cache Cleaner- DU Speed Booster can be used to boost up your mobile speed and improve your phone's memory space. Eliminate junk files and redundant background stuff to improve your phone's performance.
Also Read: Top 10 Paid & Free Video Calling Software
The app also features CPU cooling feature and network boosting techniques in which it detects the signal strength of your Wi-Fi connection.
All in One Toolbox:
Apart from the general Android cleaner app's features like CPU cooling, junk cleaning, cache cleaning, battery power saving, the app also offers fast battery charging, photo compression, backup and restore option, the mobility of apps from internal storage to SD card, system uninstalls and many other standout features.
Also Read: 14 Best Writing Apps for Mac Free
The app has got over 50 million users and has an impressive rating in Appstore.
Go Speed: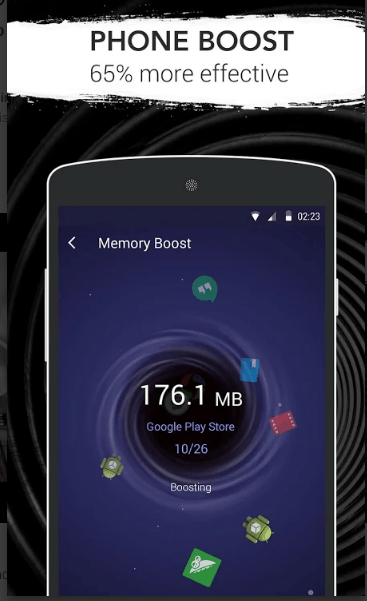 What use is a cleaner app for if it itself slows down your phone? Bulky cleaner apps just make it worse and Go Speed is just the cleaning app you need! Small in size but huge inefficiency, the app cleans junk files effectively, terminates pre-installed apps (I don't think I have to explain how annoying these apps can be), has smart on-screen widgets, app manager, app lock and the list goes on. Easy to use and handy, this app is a must-have.
Also Read: Best Free Malware Removal 2018
The Cleaner – Speed up and clean: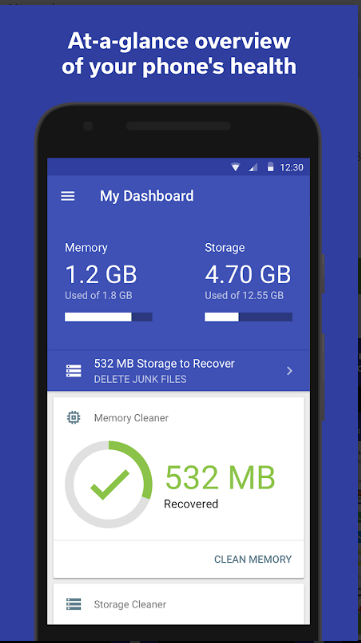 Easy to operate and smooth user interface, The Cleaner- Speed up and the clean application has got rave reviews for its efficiency. It eliminates junk and cache files to boost up the speed of your system. The app manager uninstalls apps with unacceptable permissions.
Also Read: 8 Calendar Apps For Mac Desktop
Along with app locker feature, it also offers game speed boosting feature which improves your performance in different games.
Power Clean: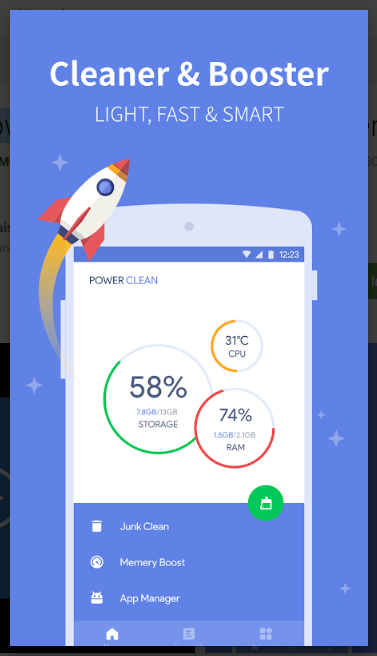 Being a perfect package of anti-virus and phone cleaner, Power Clean is often listed among the best cleaning apps for Android phone. Clean up your phone with just one tap and all your junk files, residual storage, cache and temporary files will be removed thus improving your phone's performance. It also protects your mobile from various malware attacks and removes the existing ones while scanning.
Datally: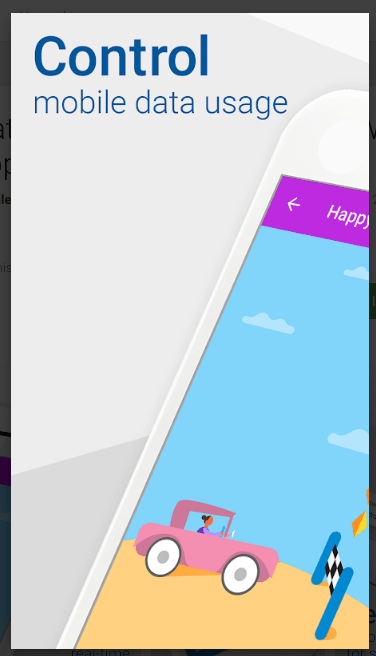 This is not exactly a cleaning app, but it does improve your phone's performance and prevents lagging of applications. Wondering how it does this? It controls the internet data usage of various apps and if any app is using more data than usual, then it warns you. It restricts unnecessary usage of data and also helps you detect nearby Wi-Fi connections.
Also Read: 8 Free and Paid Automatic Time Tracking Software
It also sets up local Virtual Private Network (VPN) service in your mobile to help you block various unwanted mobile data usage.
Ace Cleaner:
An ace among the best cleaning apps for the Android phone, Ace Cleaner cleans unwanted ad junk files, cache files, and RAM junk. Optimize your phone by removing auto-starting of applications. App lock and App manager feature in addition to duplicate photo deletion feature makes it a good choice for people looking for phone performance enhancer.
Also Read: 3 Ways To Access Facebook Full Desktop View
Droid Optimizer:
Are the best mmorpg for Android freezing in your phone? Time to upgrade to Droid Optimizer! It effectively improves your gaming experience and its 1-Touch Speed Up and Auto Clean Up feature ensures unwanted app files and makes your phone clutter-free. It also protects your phone from spyware and viruses. With this amazing Android cleaning application, you will get a better battery life, ad-free operation, CPU cooling, game boosting etc.
Even though Android phones are quite popular among the masses, the increasing sales of iPhones, MacBooks and iPads have led to increased demand of iOS cleaning apps too. though iPhones have a better level of security, smoother interface and faster-operating speed than Android phones, they too are affected by junk files and malware attacks.
Listed below are some of the best cleaning app for iPhone & Mac
iMyFone iPhone Cleaner:

Apart from general phone cleaning features like removal of redundant files and removing unwanted applications, what makes this app stand out of the crowd is the lossless photo compressing ability. Release at least 75% of your phone's photo space by compressing your images with this app. Delete unwanted images and videos after backing them up through this app.
Cisdem iPhone Cleaner:
Back up your iPhone docs and files and then delete the bulky and unwanted files from your phone using this cleaning app for iPhone. It can not only be used for iPhones but also for iPads and iPods. It supports all iOS devices including the new iOS 10, iOS 9, iOS 8. Reclaim up to 40% of your memory space and speed up your iPhone with just one tap. It has one of the most convenient user-interface.
iFreeUp iPhone Cleaner: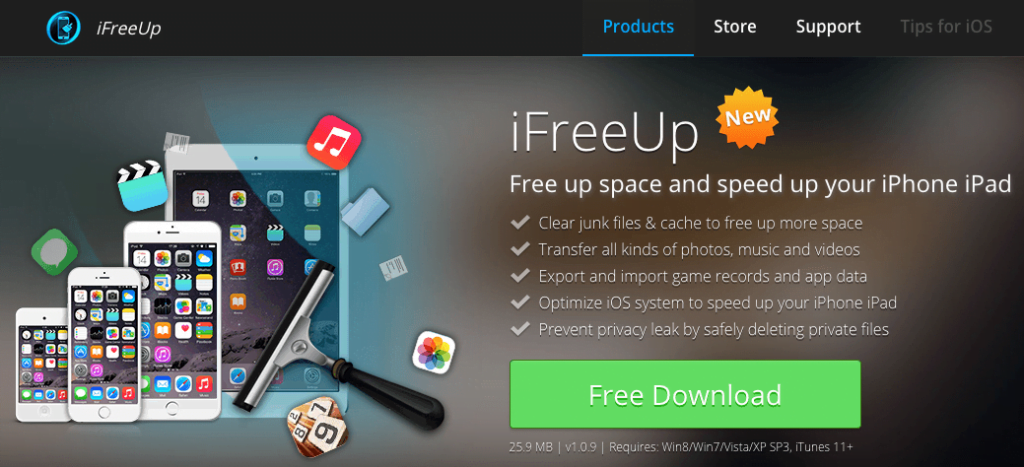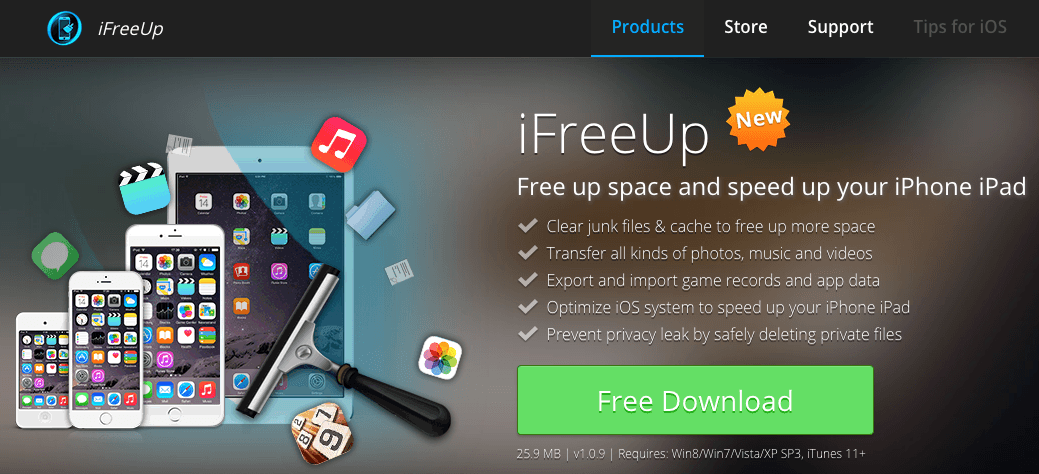 Talk about the best cleaning apps for iPhone and iFreeUp will pop up on the top of the list. Free to download, it keeps your phone free from junk files, easily backs up your data and transfers them to another device or system, optimizes the performance of your iOS device and keeps your phone protected. When you delete a photo, there remains some junk files and these can be deleted through this amazing app.
Clean Doctor:
Developed by Elinasoft, Clean Doctor is the app you need if your iPhone suffers from slow operation and junk clutter. Though people have complained a bit about the developer's unresponsiveness to the issues, yet this free app is good enough for an occasional phone clean-up. Delete duplicate contacts and photos and make your iPhone's performance smooth as silk.
CleanMyPhone: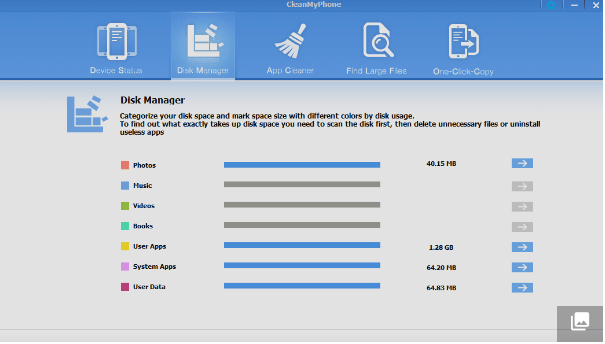 Be it Windows or iOS, CleanMyPhone is one of the most preferred cleaning apps you can find in the market. Get rid of cache data, useless messages, junk files, with just a tap. The app also helps detect large files which are consuming a lot of space. This app makes sure your iPhone works as smoothly as it can by clearing up unwanted files and also shows you which apps are consuming how much space.
Magic Phone Cleaner:
With a 4.6 star rating and over 19K users, this is one of the best cleaning apps for Mac and iPhones. Boost your phone's memory space by detecting the largest files and then deleting them. Some users have also said that if you are moving from an older iOS version to a newer one and after installing the new one your phone has slowed down, then this app might help you out. It boosts phone speed and prevents cluttering of junk files.
TenorShare iCareFone: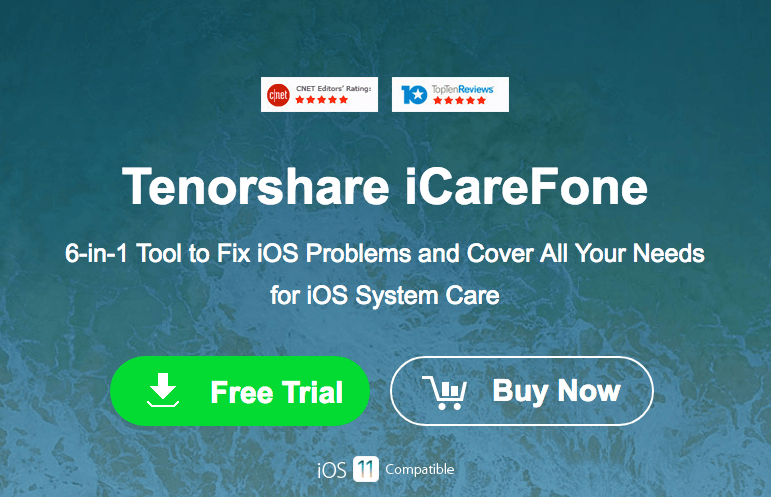 Talk about advanced iOS cleaning applications and this app is going to prove itself worth it. Apps crashing? iPhone running slow? Cure is here, guys! If your system has gone corrupt or you are getting too many ads (a serious case of hack attempts), then this app will help you get your system back on track and keep it protected from malware attacks. You can cloud sync your files, images, audios, videos through this app and save up your space. This app also helps you compress images and save up to 70% of storage space in your phone.
Phone Clean: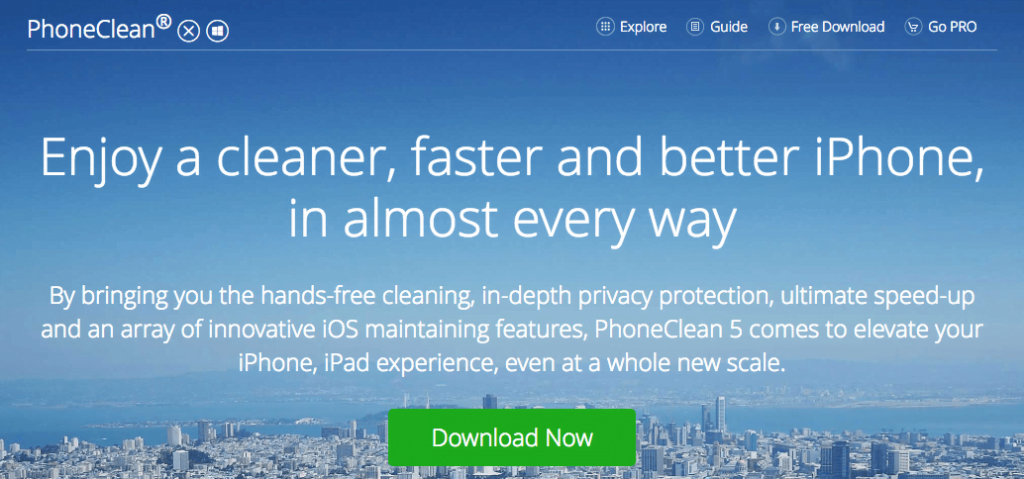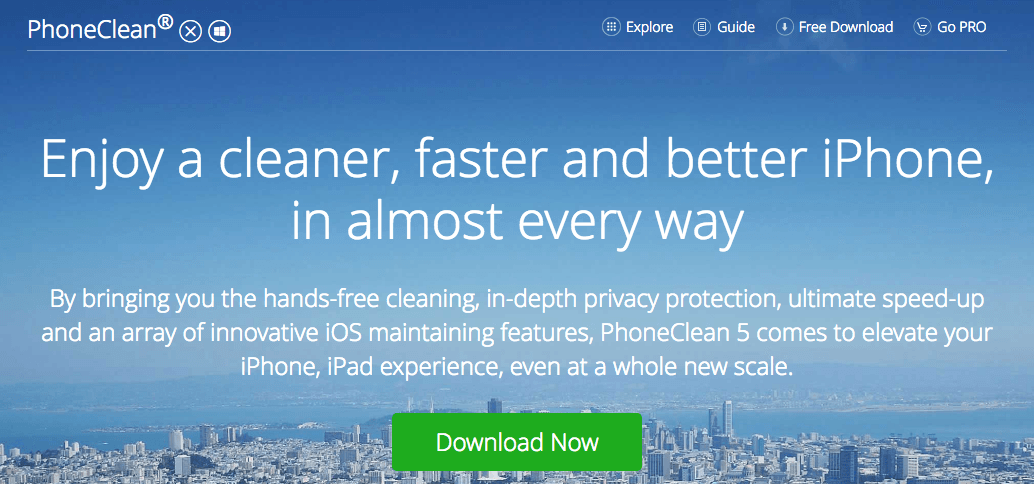 However top-notch and high tech your system may be, it is always threatened by malware attacks and piling up of junk files. They make your system slow and you will also notice that your system crashes quite often. Avoid all such annoying situations through Phone Clean which just cleans away all the residual files and quite effectively improves your phone's performance. Small in size and easy to use, it is one of the most handy cleaning apps for iPhone that you can get your hands on.
Smart Cleaner:
There are very few cleaning apps available that have got versions for iOS as well as Android running systems. Smart Cleaner is one such rare gem that can be used to boost up your phone speed, remove redundant files and contacts, delete temporary files, cache files and web history. Interesting UI paired up with its simplicity, make it a favorite cleaning app among users.
iRemover: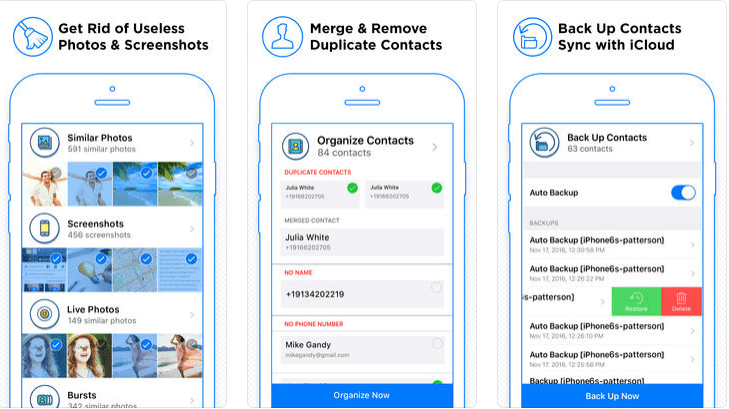 You ask your friend to take a few pictures of yours and your friend takes 10-15 pics for your satisfaction. But later on, you just need one and the rest all just eats up your mobile space. You can easily delete duplicate pictures, duplicate contacts, screenshots and anything that's not needed anymore. Backup your stuff in iCloud and speed up your phone using iRemover. The app has got 4.4 star rating in iStore and has even received very good reviews.
iChecker: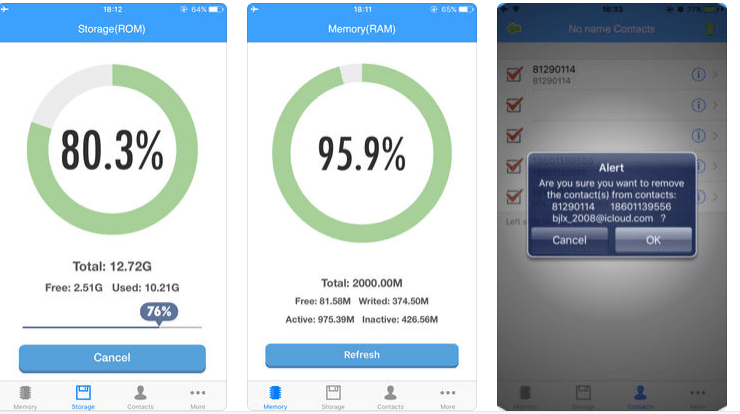 This app shows you how much RAM space is available for use and which apps are eating up the space of your phone. You can then decide which apps and files to keep and which ones to delete to improve the space in your iPhone. Refresh it to know the new status of your mobile's space. Some users have complained about the app crashing between use; it usually happens when you haven't upgraded the app. Keep the app updated on a regular basis to clear up your phone's junk and make it clutter-free.
Doctor Cleaner:
Good ratings from user…checked. Simple yet sleek user interface…checked. Efficient in clearing junk and redundant files…checked. Doctor Cleaner treats all your storage issues with ease. Though the app size is quite higher than the others mentioned in the list, it is worth every space and penny used to upgrade to Pro. It clears away junk files and you will notice your system's performance improve significantly after using this app.
Junk File Cleaner:
The app claims to clean over 50 different types of junk and malicious files. But it asks for your permission before deleting any file. It also shows you how much space and cleaned by the app and thus you can plan your future downloads accordingly. Keep your iPhone clutter-free and boost up its operation speed using Junk File Cleaner.
We have gone through various user reviews to get you the best cleaning apps for Android as well as iOS. We hope they meet your expectations and help you maintain a cleaner and faster mobile. If you have come across any other cleaning apps that are good enough to be mentioned in the above list, then please mention them in your comments.
We would update the list as per your suggestion.