People like to customize their personal computers and laptops as per their own choice. One of the best ways to customize your system's look is by choosing the right theme for it. But sometimes the security protocols of your systems' OS do not allow you to go for third party themes. When Microsoft launched Windows 10, many bugs and glitches were discovered by users and one of the main cons of the OS was that it did not allow screensavers from third-party sites. But there are tricks to bypass this restriction and we will inform you about it along with the best Windows 10 themes.
There are only a few valid applications available online that can bypass the Microsoft restrictions so that you can install various third-party themes. One such program is the Ultra UXThemePatcher; just install it in your system and then you can use any Windows 10 theme you want on your system. Let's look at some of the best Windows 10 themes available: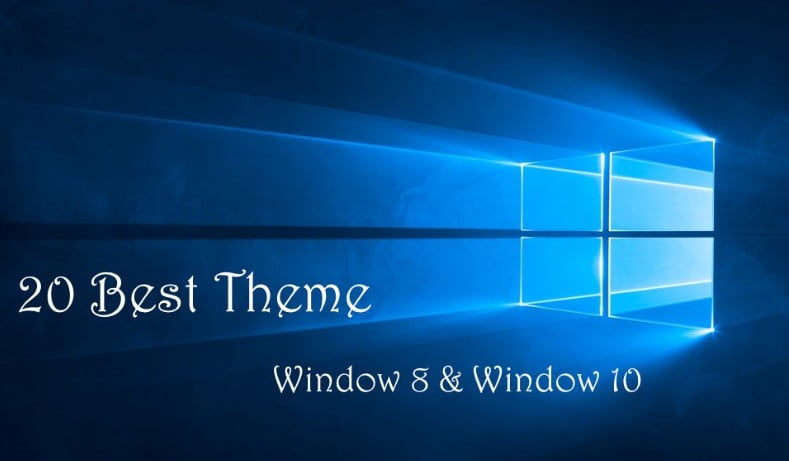 Oxford:
Looking for cool and easy to understand Windows 10 skins? Oxford is the one for you…simplicity at its best but not the usual boring stuff, it can make your PC look cute and fun. You can download it from the link provided below and install it in your system to enjoy its delightful graphics.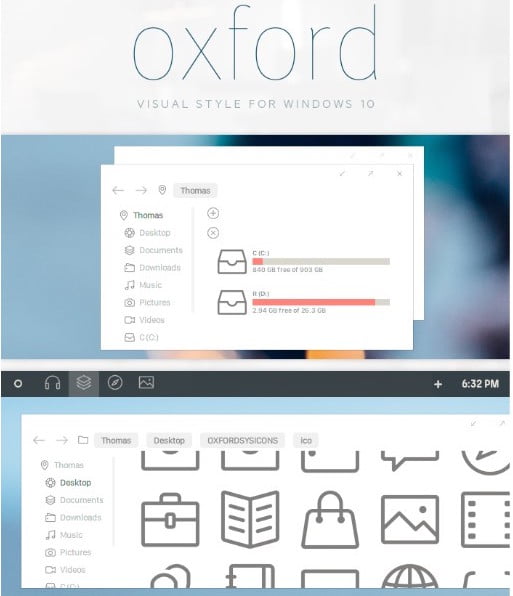 Mac OS X EI Captain
If you are one of those who wishes to own a Macbook but can't afford one, then you can try this amazing theme which will make your Windows 10 screen look like that of Mac. Just like Mac, this theme will make your folders and apps appear on the bottom tab of your screen.
Do not forget to check out amazing calendar apps for Mac if you want your life a little more organized…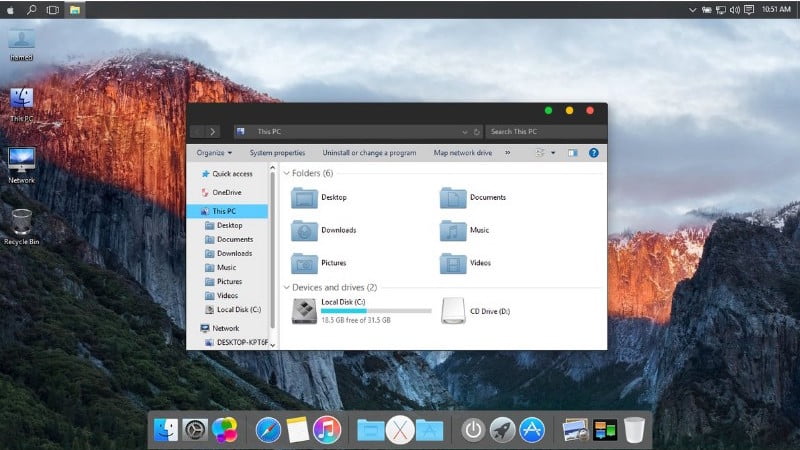 Dark Blue
If you have a keen likeness for the color blue, then go for this Windows 10 skin or theme. It covers various shades of blue and make your screen look very classy. It contains 16 blue themed HD wallpapers that you are going to love. The theme is also supported by Windows 7 and 8 systems. It is quite simple in its looks and is also small in size when compared to others in the list.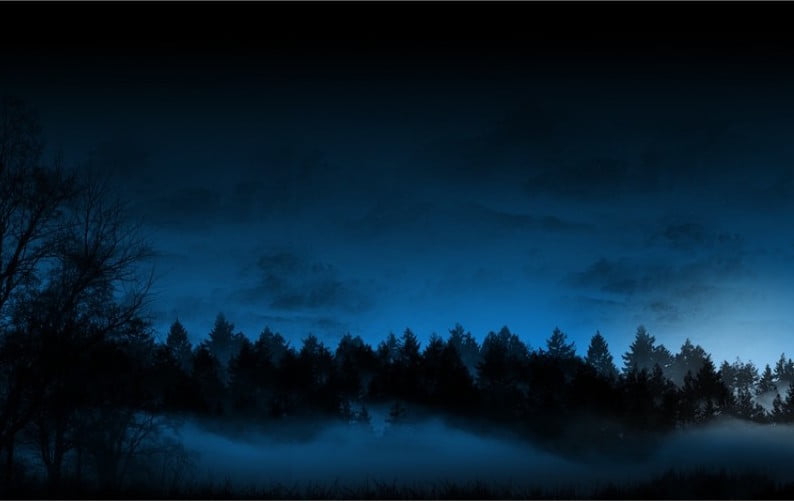 Aero Glass
Sheek and classy, this Windows 10 theme is compatible with all Windows version after 8. It has various features like giving glass look to your windows borders, blurring the content behind the borders of tabs to improve UI experience, alter the level of transparency, change the border style, MSStyle themes, and DWM API compatibility make it a popular choice.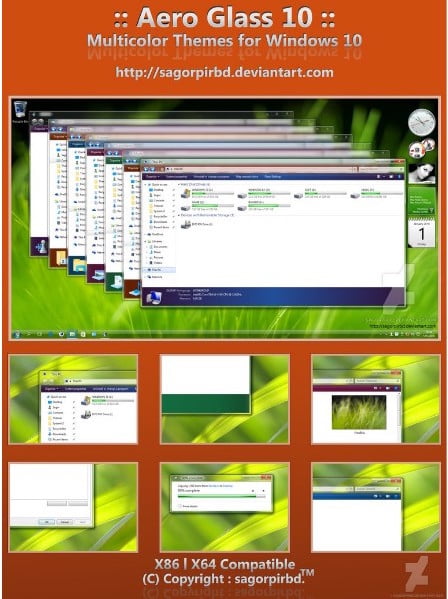 Flattastic
One of the best Windows 10 themes is this colorful theme named Flattastic. It has got colorful backdrops with blocks of building and sky. It has got four versions depending upon the main theme color:
Flattastic-Blue
Flattastic-Green
Flattastic-Orange
Flattastic-Pink
Start is back
When you switched over from Windows 7 to Windows 10, you must have been missing some of the prominent features of the version 7. For example, the start button interface for instance. The Start is back theme will get you the feels of Windows 7 in your Windows 10 system. Apart from the start menu and taskbar experience of Windows 7, it has got many additional features to flaunt.
Ades
This one is specifically designed for Windows 10 OS. Your icons will appear like Mac icons and fonts look pretty. But make sure that you install the right one in your system else your system might crash on the implementation of the theme. Your system must also support third-party themes for installing this Windows 10 skin.
Stardock Start10
This is yet another Windows 10 theme that gives the system a Windows 7 look. People who are more familiar with Windows 7 might face a bit of trouble while switching to Windows 10. Themes like this can help you adjust with the changing screen type. It makes start button appear in Windows 10 and its enhanced search settings makes it a popular choice among Windows 7 lovers who have switched to 10.
Hover Dark Aero
Listed among the best themes for Windows 10, the Hover Dark Aero has got six versions, three of them hide the common bar while the others show it. Read the installing steps and instructions carefully and then go ahead with the theme application. Just like the other themes listed here, this too needs the Patch UXtheme program to successfully apply in the system.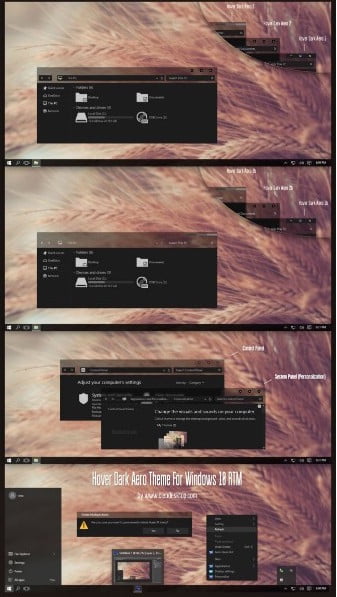 Ubuntu Skin pack
Ubuntu is one of the most popular operating systems used around the globe. If you are acquainted with Ubuntu but your system runs on Windows 10, then you can make your screen and icons look like that of Ubuntu with the help of this Windows 10 theme named Ubuntu Skin pack. Make sure all your older themes are deleted and the UX theme patcher is installed in your system to enable third party themes.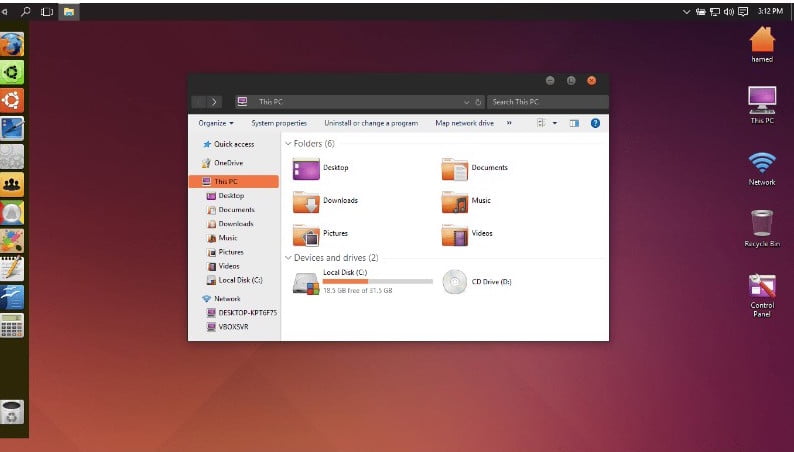 Yosemite Dark & Light
It is certainly one of the best Windows 10 themes of all times…thanks to its amazing graphics and smooth user interface. It has got 16 variants, 8 are dark themed and the other 8 are light themed. Then again it is sub divided into groups of 4 on the basis of address bar color and visibility. It is compatible with Windows 10 running on x64 and x86 systems.
Silk
It is a custom Windows 10 theme that is simple and high on productivity. No distracting elements are gonna divert your mind in this amazing theme. A very smooth, simple and colorful theme, Silk can be downloaded easily into your system. You can check out the below screenshot of the screen with Silk theme applied if you have doubts about its looks.
Aero 7
With colorful graphics and eye-catching icons, the Aero 7 theme is quite popular among Windows 10 users. This amazing Windows 10 theme is compatible with 32 bit and 64 bit systems. There are three popular versions of this theme, basic, square and clear version each with its own specific set of features. You can try out the preview before applying the complete theme to your system.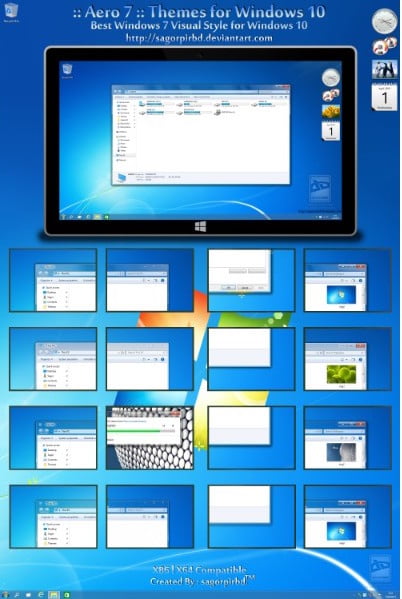 Vanilla
Also available for Windows 8, this theme for Windows 10 gives a very refreshing and light look to your system. It has visual graphics similar to that of online cloud services. The theme gives a borderless look and can be easily downloaded from the below-provided link.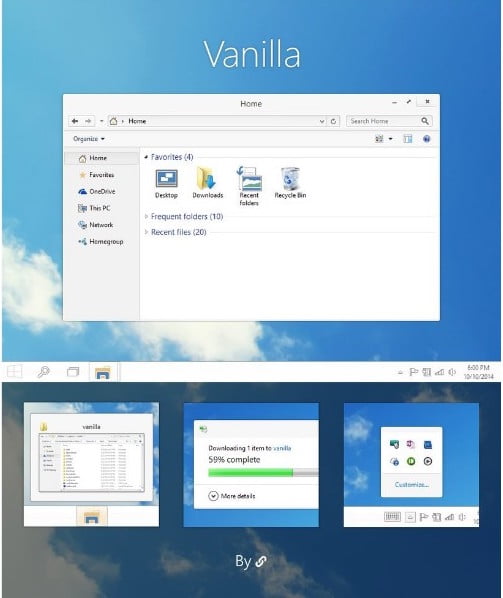 Penumbra 10
Sheek and edgy, this theme for Windows 10 has got very appealing neutral colors. You must have Old new Explorer, Ultra UX theme patcher and Open Sans (included in the download in the 'Font' folder) in your system before applying this theme. Make sure you have the right version of Windows 10 else you might come across system issues while applying this theme.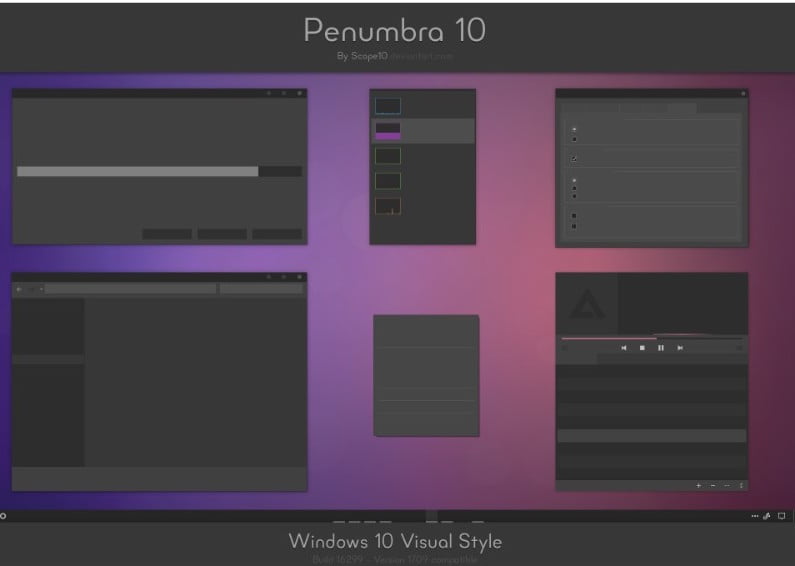 Game of Thrones Windows 10 theme
For all those Game of Thrones fans out there, this is the one for you! From the vengeful Cersey to the beloved John Snow, from the Mother of Dragons to the witty Tyrion, all popular characters of the book or TV series are included in this theme. Dive into the 7 kingdoms with this spell-bounding Windows 10 theme.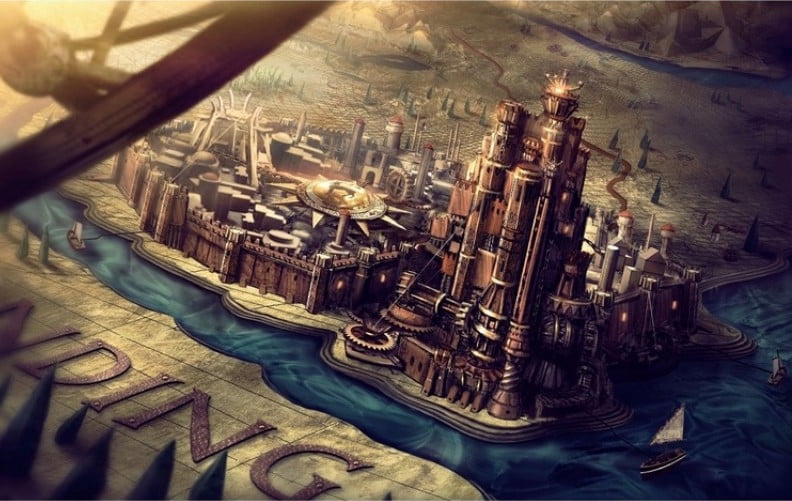 FootPaths Theme
Some people find the pictures of footpaths and roads very motivating and soothing. If you are one of those, then you must try the Footpaths theme for Windows 10. Footpaths, road trails, forest trails, roads between farms etc. are some of the elements of this alluring theme. Walk through the wooden steps of North Frisian Islands, Germany, or through the walled lane in Ribblesdale, North Yorkshire, England, through this amazing theme.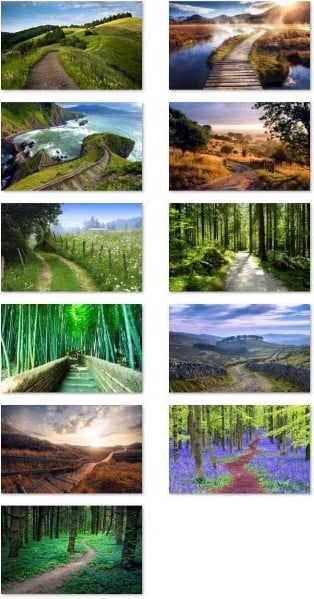 Hastpy
A very simple yet appealing Windows 10 theme, Hastpy has got 6 versions with hidden common bar and 6 with visible common bar. Read the installing steps and instruction very carefully before installing the theme to avoid any kind of disruption.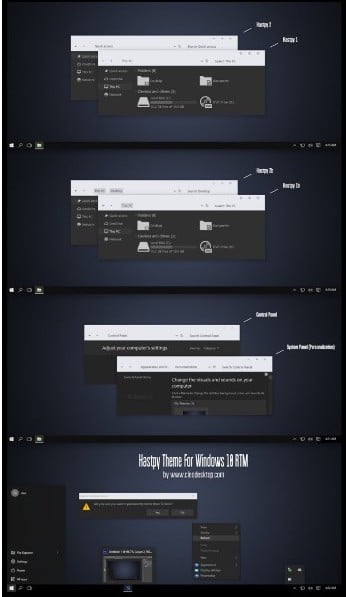 DiversityX VS
Not a very wow kind of theme but yes, if you love simplicity and organized display, then you can go for it. Some users have complained about system crash while using this theme but that will only happen if you don't have the patcher already installed in your PC. Do give this Windows 10 theme a try.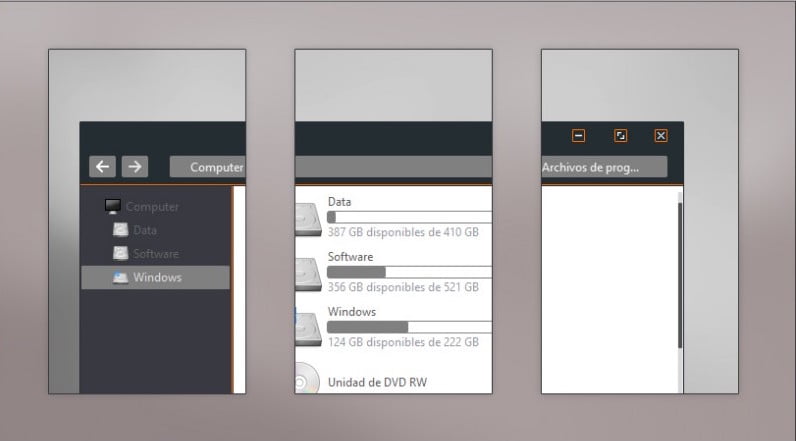 FFox
Offering 12 versions, this sultry theme for Windows 10 systems has got sexy but not offending wallpapers and screensavers in it. Teens love this theme and why not? It is compatible with both x64 & x86 systems and can be downloaded from the below link.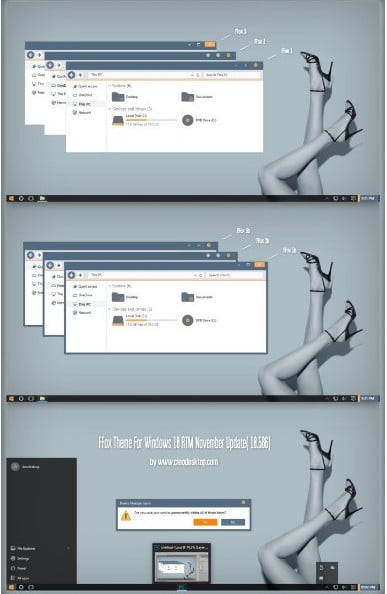 We hope you liked our collection of the best Windows 10 themes. If you have come across anything better, do let us know through your comments so that we can amend our list. Give our article on Notepad hacks a check if you want to know some jaw-dropping tricks and hacks using a simple application like Notepad.