Do you want to convert the printed characters into a digital text? Is it tough for you to solve this problem? Don't worry as we are here with a solution to this problem. To convert the printed characters into a digital text there is few Optical Character Recognition (OCR) Software. These OCR Software will help you to convert the printed characters into a digital text. All these OCR Software has the ability to assist you to search and edit the document in the word processing program. OCR Software makes the work easy of converting the scanned documents and PDFs into the most powerful one. If you want the best result then start using this software. Below we have listed top free OCR Software for windows.
What is Optical Character Recognition (OCR Software)?
Optical Character Recognition is the mechanical conversion of images of handwritten or printed text which converts into machine-encoded text. OCR is a technology which recognizes the text inside the images like scanned documents and pictures. OCR Software is used to convert any kind of image which has written text on it into a readable text.
Early, in the 1990s, OCR became popular while trying to convert the historic newspapers. From that time the technology has improved too much.
For example, you are having a receipt which you printed years ago and now you want to put it in a digital format. And at the same time, you don't want to retype it. In this type of cases, OCR Software is used.
Best Free OCR software in the Market
So, here we have brought a list of Optical Character Recognition software which is free of cost in the Market. There are few Software which is paid, but why to pay when you are getting free software. So, let us have a look at the Optical Character Recognition software.
1. Microsoft OneNote (Free)
Microsoft OneNote software is free of cost and it does not charge any money. It can be used as an OCR to extract the text from the Images. In this app there will be an option of "Copy Text From Picture", this allows you to convert the text from the images. It is very simple and unique, you just need to insert pictures to OneNote software and do right click and choose "Copy text from Picture". Then it will save the text to the clipboard, you just need to paste the text in Microsoft Word or anywhere you want. Microsoft OneNote does not support any columns and tables.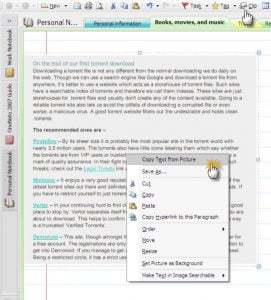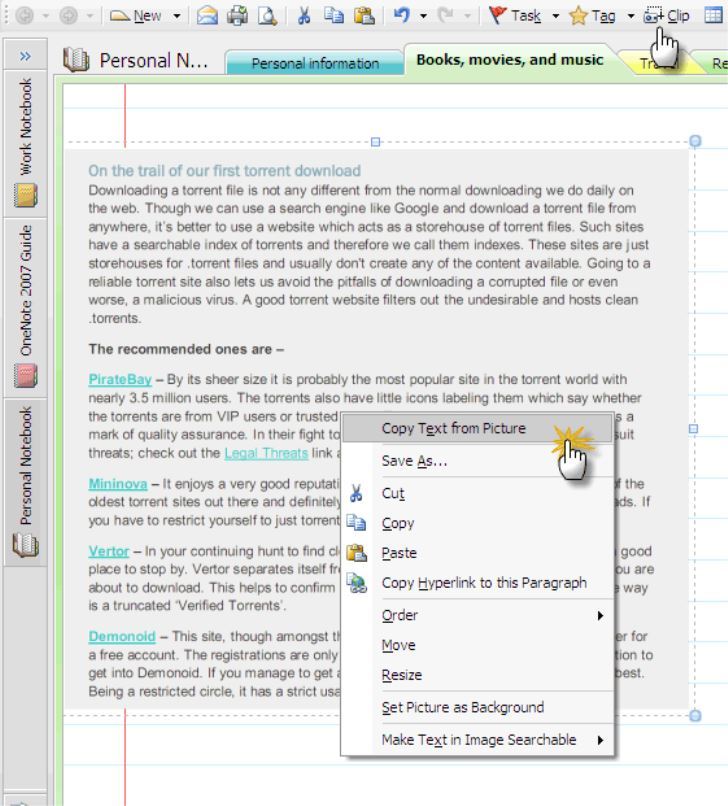 2. Simple OCR (Free)
Simple OCR is a tool which you can use to convert the hard copy into text files. When you have handwritten documents and you want to convert them into editable text files, just use Simple OCR software. However, this app has some restrictions as it is free for only 14 days. But the machine print is free and it has no restrictions on it. In this app, there is an inbuilt feature of spell checker which you can use to check for the differences comes in converted text. Like, Microsoft OneNote, Simple OCR also does not support columns and tables.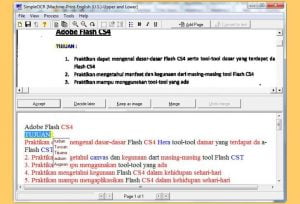 Pros:
You can use this software for Windows 8, Windows 7 32-bit and 64-bit.
It is free for non-commercial purposes
Free to use and can edit from the ba_x_se.
Cons:
There is a problem in recognizing formats
The text conversion is not helpful
Also Read:
3. Free OCR
In the Free OCR software, Tesseract engine is used and it was created by HP. Now Google is maintaining the Tesseract Engine. It is a very powerful engine and is one of the most accurate OCR engines in the world. It supports TWAIN devices like image scanners and digital cameras. You can use Free OCR software to extract the text from the pictures. This software also does not support tables and columns.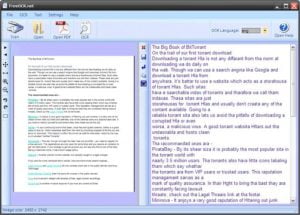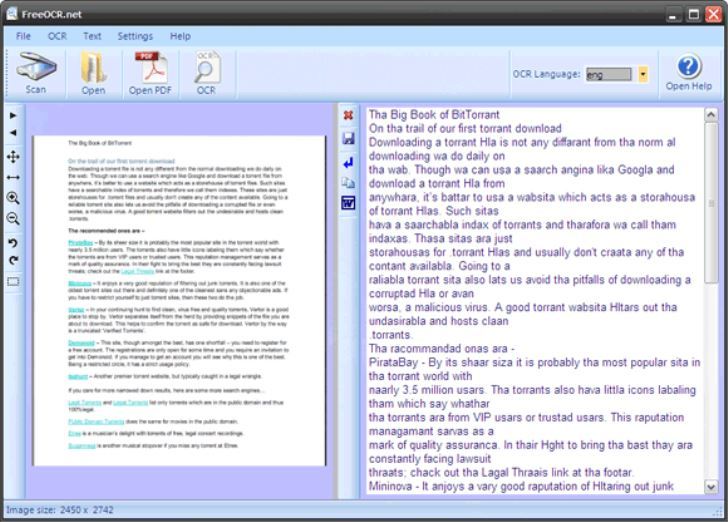 Features and Functions:
Free OCR is a text recognition software which converts the images into text edits.
Has the ability to take any picture and scanned the document then convert it into an editable document.
It has a simple interface.
Pros
Free of cost
Can be optimized to work with any type of scanner
It allows zooming in the part of the image where you want.
Cons:
No recognition for formatting
No option for setting the text language
It does not support PDF and Multi-page files.
4. Boxoft Free OCR
Boxoft free OCR is a freeware and is easy to use. It is capable of analyzing multi-column text with high accuracy. This software supports languages like English, Spanish, Italian, Dutch, German, French, Portuguese, Basque and many more. Free OCR software allows you to scan the paper documents and easily converts them into editable texts.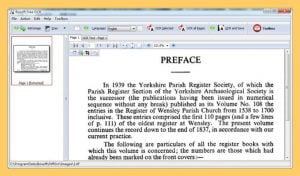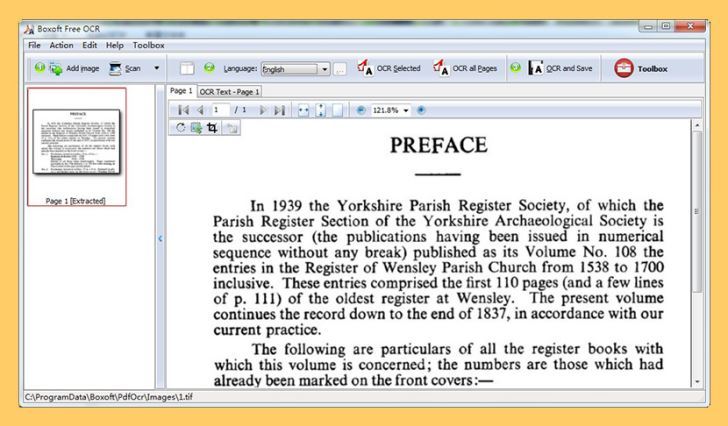 Features and Functions:
You can use this software to extract any kind of image.
Has the capability to check the multi-column text and supports different languages.
It does the work of scanning the documents, very fast.
Pros:
In just one click it scans the text from the selected page.
Saves the OCR text as a Zip file or TXT file.
To edit the OCR text, place side-by-side windows.
Can recognize multiple languages.
It is straightforward and is easy to handle.
Cons:
This software can't extract handwritten text
No option for PDF files.
5. ABBYY FineReader Online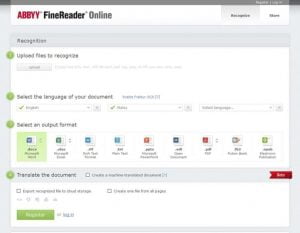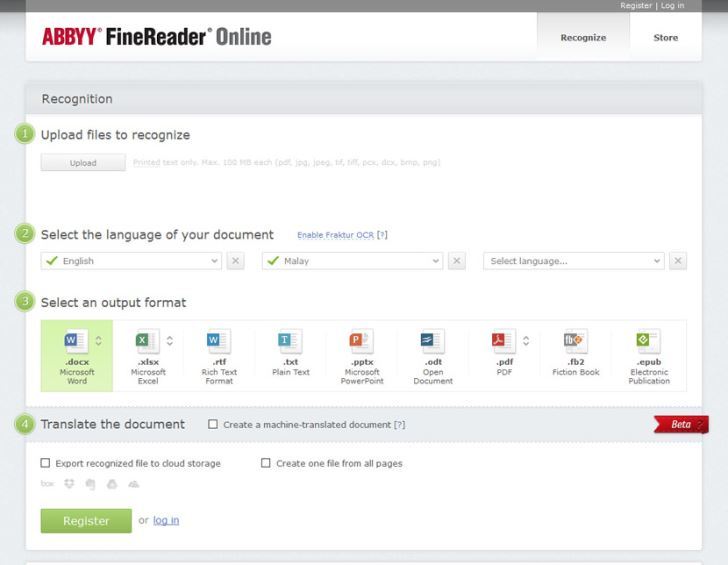 FineReader Online supports many files which other software does not. Files like PDF, JPEG, JPG, PNG, DCX, PCX, TIFF, TIF, and BMP are supported. And the output files which are supported are PDF, Word, Excel, e-Pub, and Powerpoint.
There is a free version available which allows you to convert up to 10 pages once in a month. First, it does requires a registration which is free of cost. If you want to convert more pages in a month then you can subscribe to the paid version. The subscription per year starts with $49 for 2,400 pages and $149 for 12,000 pages per year. There is an unlimited version also with a fee of $169.99.
6. OnlineOCR.net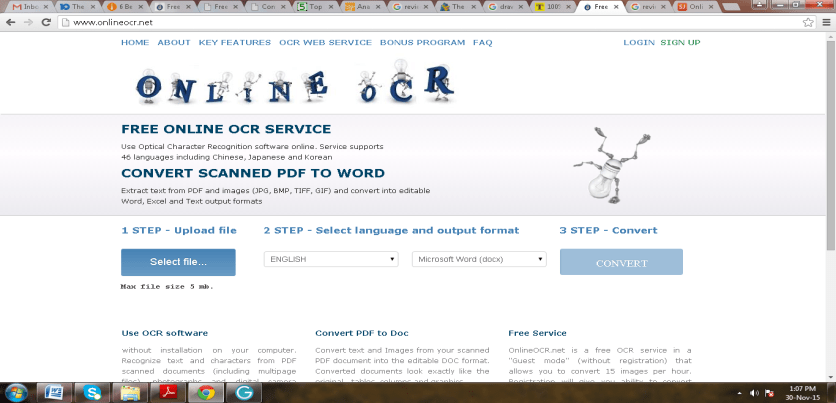 Features and Functions:
It is a free web-ba_x_sed OCR which helps you to change the scanned PDF documents, faxes, etc.
You can edit and search the electronic documents like Microsoft Excel, Html, Rtf, Txt, Microsoft Word.
Pros:
OnlineOCR.net supports 46 languages. Most of them are Western Languages and Asian.
Does process documents which are written in different languages.
It is free of cost and helps to avoid retyping.
Cons:
The maximum input files size is 100.
Difficult to download multiple files in a zip folder
When you choose free service, it lets you to convert 15 images per hour.
Does not give permission to features like recognition of large images, Zip, etc.
Also Read:
7. To-Text.net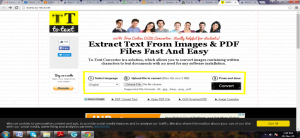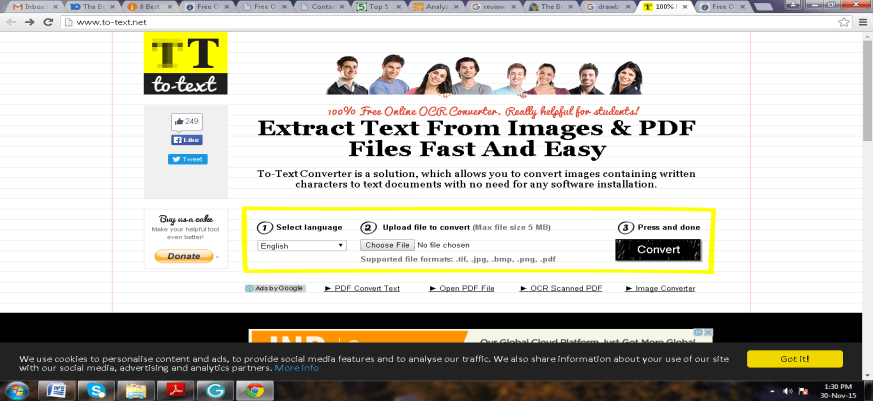 Features and Functions:
This is a free online service and you can convert PDF files to the text and also JPEG to TEXT.
Scans images in an editable documents
Can convert books into an electronic format which helps in retyping activities.
It supports multiple languages which can easily be converted to text format.
Pros:
This software is very simple to use. You just need to upload the file to get the result.
Free of cost and gives a great service when compared to other OCR.
Saves times as you don't need to retype the texts.
Reads multiple languages.
Cons:
This app is good for big documents not for the regular ones.
Sometimes the software gets slow.
It does not go along with all the languages.
8. gImageReader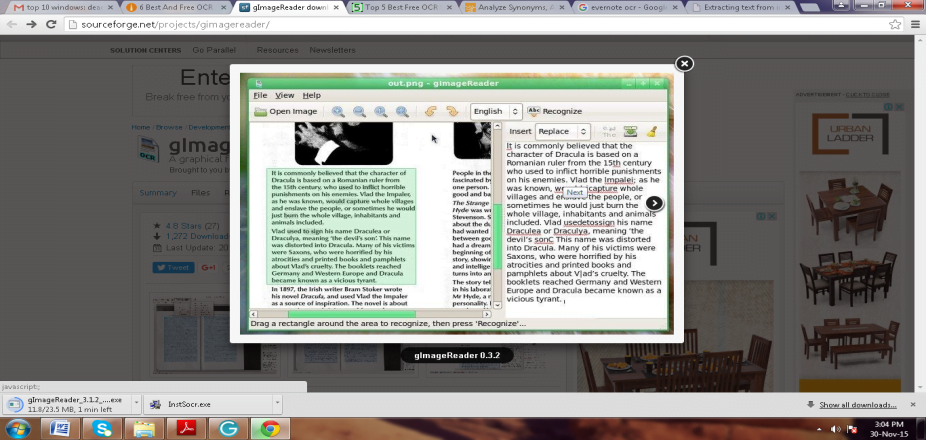 Features and Functions:
An open source OCR software for Linux, Windows.
It also uses Google's Tesseract OCR engine
gImageReader extracts the text from images and scanned documents.
The PDF files come with automatic page layout detection.
Pro:
Can manually adjust and define the regions
Supports multipage PDF documents
There is a spell checking output text.
Cons:
Supports only text output
Does not recognize formatting
It is complicated to install the new language.
Also Read:
9. Wondershare PDF element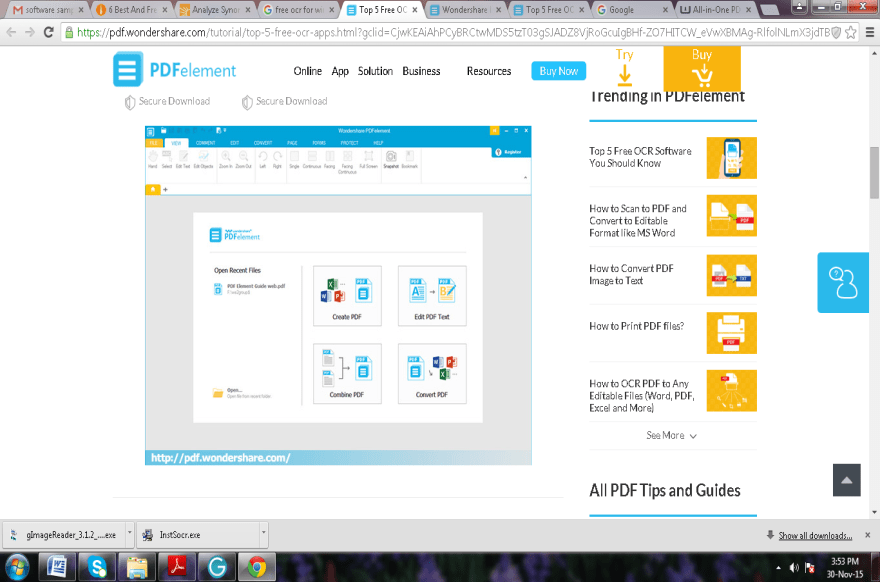 Features and Functions:
· This is an all-in-one OCR desktop tool.
· Users can edit the scanned PDF files directly along with the options of editing PDF texts, images, ob_x_jects and many more things.
· It helps to search, edit, insert and do the needful formatting.
· It can resize and remove images.
Pros
PDF Files can be reused
Scans PDF easily and converts to editable Ms. Word, Text, Excel, PPT
Supports multiple languages
Saves time
Cons:
Sometimes it is slow but overall it works perfectly.
You can protect files with a password but sometimes the process is very long and it wastes a lot of time.
10. Google Drive
Features and Functions:
It takes your uploaded images and PDF files to scan them
Uses computer algorithms to convert it into a google document
A free web-ba_x_sed OCR.
Pros
Supports almost 65 languages
Preserves most of the format
Best work for the images with High resolution
Cons:
Only few Google users knows about this software
Maximum size for the images are 2 MB
Takes time to upload
Oriented documents are recongnized. (So before you use this tool rotate them in a correct orientation)
CONCLUSION:
In the market, there are so many OCR software programs which can convert text from images. This saves a lot of time of yours as you don't need to retype the document and waste your time. A good OCR software should do a great work as it should maintain the layout, text format, fonts. So, here in this article, we gave you a list of the OCR software for windows. Use this software if you want to convert your image text into a printed document.
We hope this article was helpful to you. Share it with your friends and stay tuned to us for more updates.
Also Read: