Inventory control software is an advanced platform that provides solution for organizations that strives to manage and control their business. Fulfilling consumer's expectations and managing the inventory adds extra responsibility for organizations which can drain the management to extreme. Organizations look forward for more advanced software that can handle inventory accurately, eliminate overproduction, overbooking, wastage and cost reduction.
Inventory control software helps to keep a track of all information, maintain the most effective stock levels and simplify pricing for products. There are so many, free Inventory management software available in the market. But only a right inventory management should be the first choice if organizations wish for their business success.
Online Inventory management software helps any business in overseeing and tracking large amount of physical inventory. This software is a cost-effective option for small businesses and experts always suggests the use of such Small Business Inventory software.
There are various factors with added qualities that help to choose the buyer the best Inventory management software. This article seeks to guide you through choosing the right free Inventory management software for your business growth from the options discussed below:
Also Read:
1. Fishbowl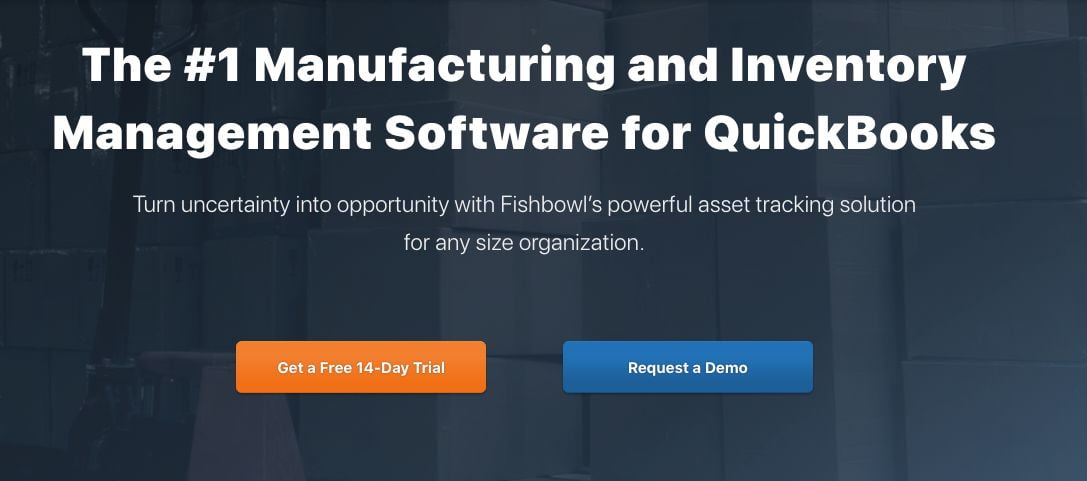 There are so many challenges faced by small business owners in start-up of their business. This includes securing & financing, finding and meeting customer's expectations and most importantly managing inventory. There are many inexpensive options available for them that are available at free of cost to provide them their accounting solution. Fishbowl is among the best free Inventory management software for small business. Certain key features of Fishbowl are discussed below:
It is accessible on

desktop computers or

remotely from virtually

any device or Web browser.

It has the ability to

Track your inventory

across multiple warehouses and locations. Also, it

sets ups automatic reorder points

for every part in your inventory.

It can easily generate and receive work orders

on a multi-level basis

like pick, pack and ship orders quickly. Also, this softwar

e seamlessly integrates with QuickBooks, Xero, Salesforce, Magento, Amazon, UPS, FedEx, and many more.

You are allowed to

enjoy all the barcode functionality

you need i.e., generation, printing, and scanning.
2. Zoho Inventory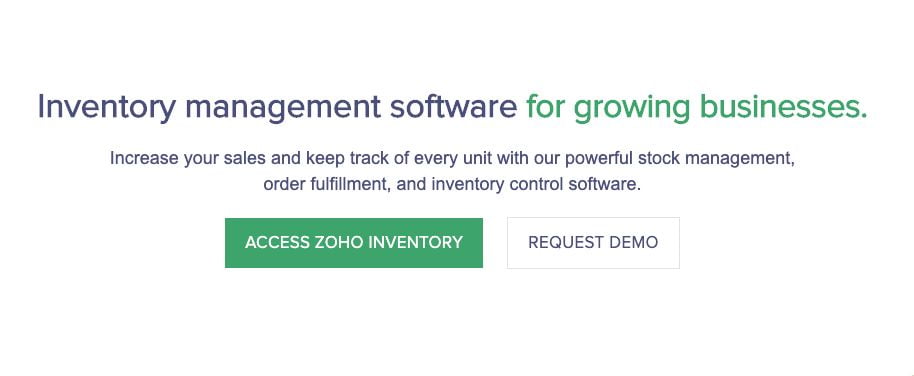 Zoho Inventory is one of the best online inventory management software that simplifies business operations and enables them to effectively manage, purchase order, sales order, shipments and inventory. The free version of this small business inventory software offers demo to new clients to evaluate its important features. It lets you select and manage shipping providers for your orders. The key features of this software are discussed as follows:
Zoho is

GST-ready inventory management software

that saves business GSTIN and auto-populates itself as soon as there is a purchase, sales, invoicing or billing. It is a fully-packed,

AI-powered system

with item-kitting features that can be customized to suit every business.

This management software is a

cloud-based inventory

and warehouse management solution for SMBs.

Zoho Inventory management software integrations help in

managing sales over digital marketing platforms

like Amazon, eBay, Etsy, or Shopify. They can efficiently manage offline and online orders with this integrated order management system.

It is equipped with an

end-to-end tracking system

that helps in tracking the movement of each item from warehouse to sales point.
3. Sellbrite
Sellbrite is online inventory management software that proves to be efficient in overcoming the biggest problem of overselling in a business. It is one of the most classified business inventory software that comes with a user-friendly platform by offering enterprise-level inventory management features and helps the business in establishing a balance between stock, sales, and purchase orders. The key features of Sellbrite are provided as follow:
Sellbrite software system offers centralised inventory management from one

easy-to-use interface

for the businesses that deals in hundreds and thousands of items.

Through its unique

automatic inventory adjustment features

, this software system also lets the business handle its FBA quantities across all other channels

It is one of the best

small business inventory software

available in the market that provides

user-friendly advanced features

to save its customers from overstocking

Its

multi-channel inventory control

feature aids the business in tracking inventory, automate orders routing between various warehouses and provide complete warehouse control.
Also Read:
4. Dear Inventory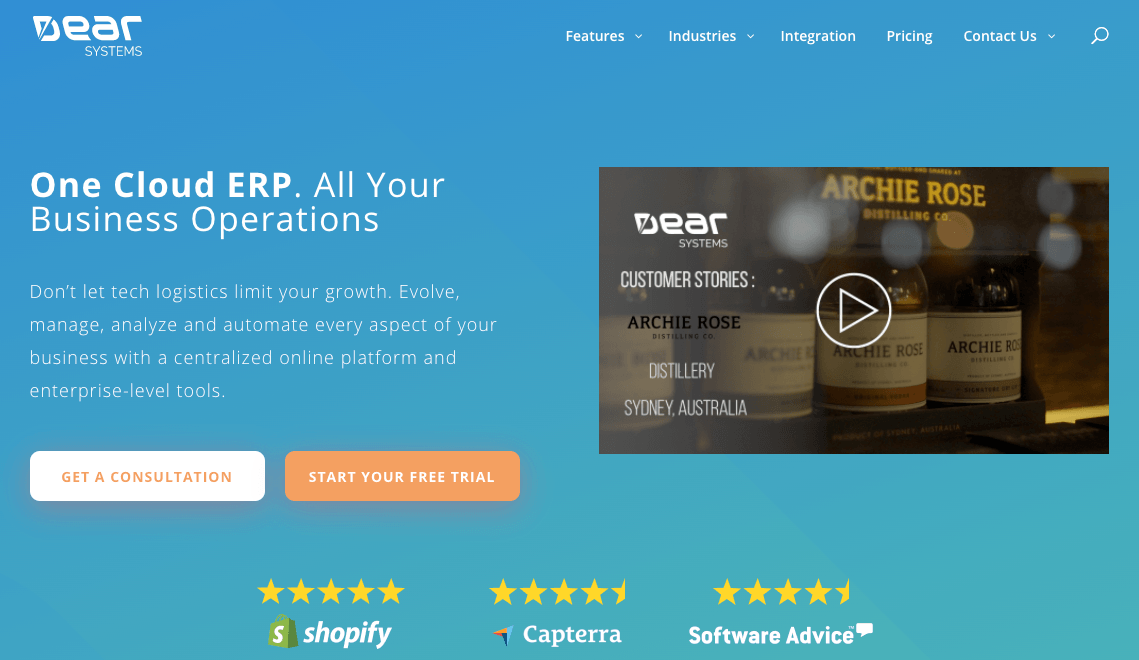 DEAR Inventory control software manages all your business operations, warehouse management, accounting, purchasing, manufacturing, and various other functions on a single platform. This inventory software is a seamless, easy, affordable, and efficiently active platform which empowers business in effectively managing biggest investments and get up to date inventory knowledge. It is available for 14 days trial period that enables the customers to analyse its features and integrate wisely. Its key features are:
This extremely full-featured inventory control software seeks to manage, analyse, automate and evolve every aspect of your business with a

centralised online platform

.

This is one of the best inventory software in the market which

upgrades your traditional ERP models to high speed

and cost-effective true cloud ERP software.

Additionally, DEAR Inventory

simplifies the challenges

faced by wholesale level production management with its impeccable features. It offers access rights to management for specific locations, drop-shipping, transfer stock between locations, stock adjustments, purchase, and sales history, reorders stock level and unlimited bin location.

This software also

provides analytical reports on product

availability, inventory movement, product price list, stock level, reordering, stock-crisis, inventory aging, and batch expiry, job costing material and finished good reports.
5. Multiorders
If you wish to integrate your business system with an advanced multi-channel inventory and order management system then Multiorders is the best choice. It seeks to offer perfect workflow for its customers with its fully advanced features. Most importantly, this inventory software understands the importance of time and save you from switching over numerous sales channels. This multichannel e-commerce and inventory management software is easy to use, affordable for Small businesses and is available for trial that helps you understand its usability. Some of Multiorders keys features are:
It

integrates smoothly with all sales channels

– both offline and online, manages orders, optimizes workflow solutions, connects shipping carriers, prints labels, manages pricing and stock levels.

The inventory control software

connects all the shipping orders

on various carries and helps you manage the stock with just one click.

It

automatically updates

orders and inventory levels through tracking features. It updates pricing, stock lists, tracking information with a single click.

Further, with the use of Multiorders software businesses can

easily integrate with multiple online sales

channels like Amazon, Big Commerce, eBay, Etsy, and others.

It has a unique feature that it can

automatically imports consumer information

, purchase history, and order details that help in managing future orders as well. It has the ability to manage orders and the inventory at the very same time.
6. Zenventory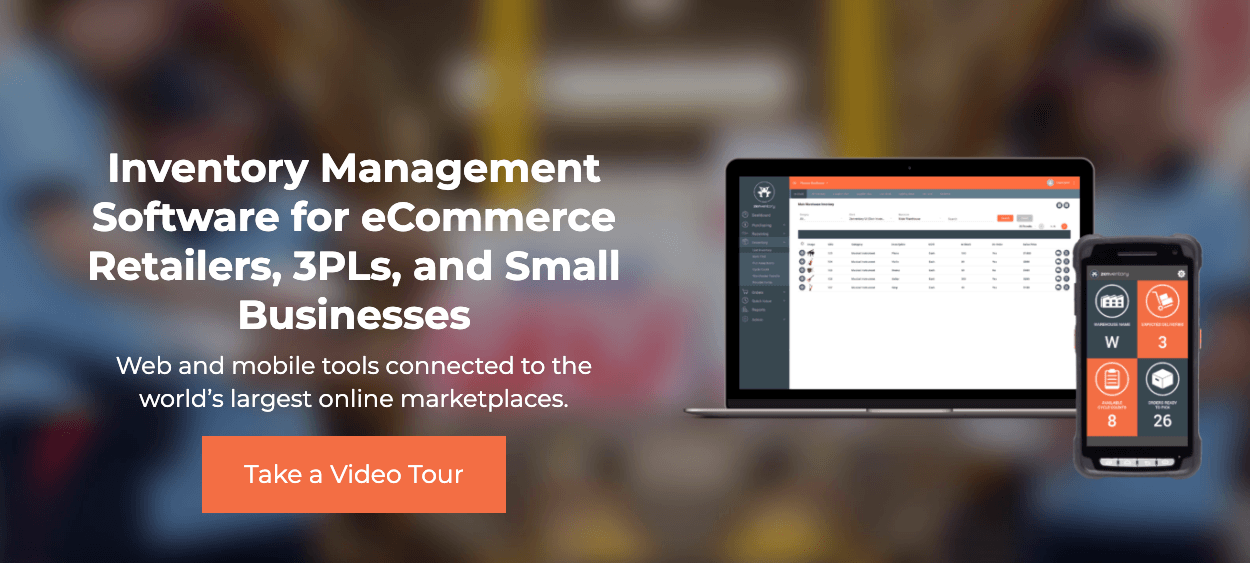 Zenventory is one of the best small business inventory software that delivers with a time-saving, simplified, efficient and cost-effective solution to manage orders and inventories on a cloud. This inventory management software offers a user-friendly platform that is specially designed to support small businesses that wants to compete in the market with progressive workflow. It is available for trial period in order to make the users understand about the importance of the features it provides. The Key features of Zenventory are discussed as follow:
This software comes with

unlimited user access and multiple warehouses

offers at no additional costs. It is mobile-friendly inventory control software and can work on any desktop with no requirement of software to maintain it.

This software offers

cloud-based platform

and facilitates its users with dynamic features like item management, vendor management, cycle counting, inventive par level, and kitting, multi-warehouse ready and low-stock alerts.

Zenventory allows connecting any device, tablets, and mobile apps to

efficiently track goods movement

. With the use of this software, it has become easier to locate stock on multiple locations and improve picking efficiency.

This multi-channel ready software comes with

highly customisable features

and helps the business to integrate the solution wisely.

It facilitates to choose warehouse locations according to business requirements,

eliminate majority errors

regarding pick process, and stay on top with stock level alerts.
Also Read:
7. ZhenHub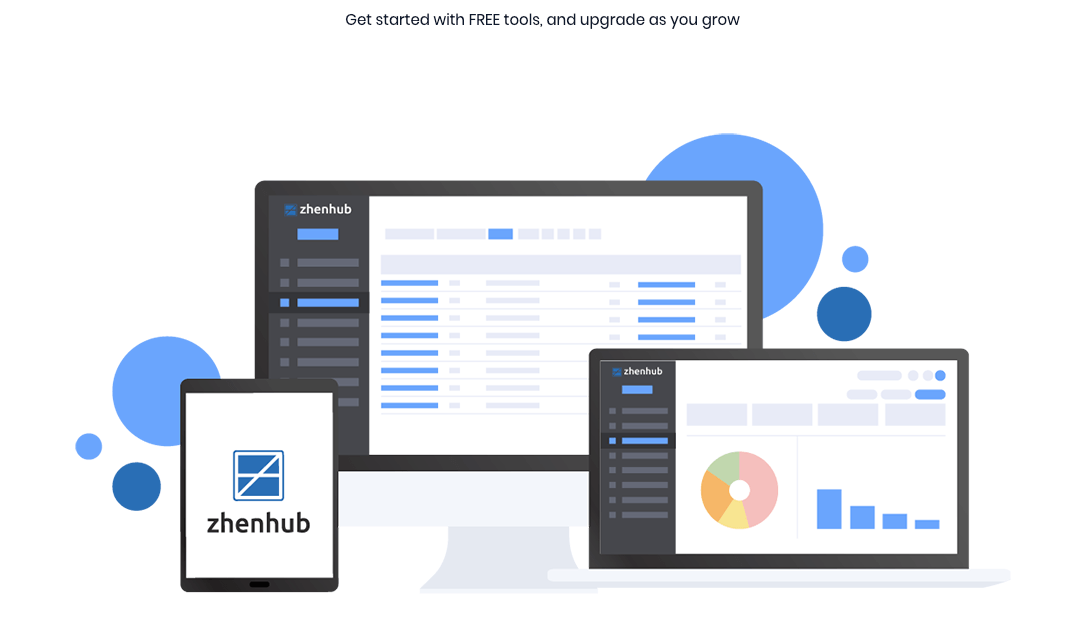 ZhenHub is Small Business inventory management software which has a cloud-based logistics and inventory management solution, especially for small and midsize businesses (SMBs). The free version of this software offers efficient inventory tracking, shipment tracking, and warehouse management. Some of the key features of ZenHub are discussed as follow:
ZhenHub's USP has the feature of

shipping management functionality

that integrates with multiple shipping solutions such as FedEx and DHL. It lets the users to manage, schedule, and track orders from these providers.

This software can be easily

integrated with a range of third party eCommerce platforms

in order to synchronise sales and the streamlines the order processing workflow.

It offers eCommerce retailers to

automatically fulfill their orders and automate

their fulfilment process from a single dashboard.

The shipping process can also be automated within its user-friendly platform, allowing orders to be automatically processed and shipped as soon as they are placed on any one of the connected eCommerce platforms.
8. Sortly Pro
Sortly Pro is Online Inventory management software. Its cloud-based inventory management solution helps businesses of all sizes and is really helpful towards small business. Sortly Pro free version supports one user and lets the users manage up to 100 transaction entries per month. To manage more than 100 entries per month user can upgrade the free plan to Advanced or Ultra plans. The key features of this inventory control software are provided as follow:
Sortly Pro's USP is its

product tagging and cataloging functionality

that lets users create product catalogs with up to eight photos for each item.

The free plan of Sortly Pro software offers

QR code tagging and scanning, user activity tracking, document management, and customized branding

.

It helps in remotely tracking as well as managing inventory and re-orders.

The product's barcode and serial number functionalities helps the customers to

track inventory movement more efficiently

because they were able to implement barcodes easily.
9. inFlow Inventory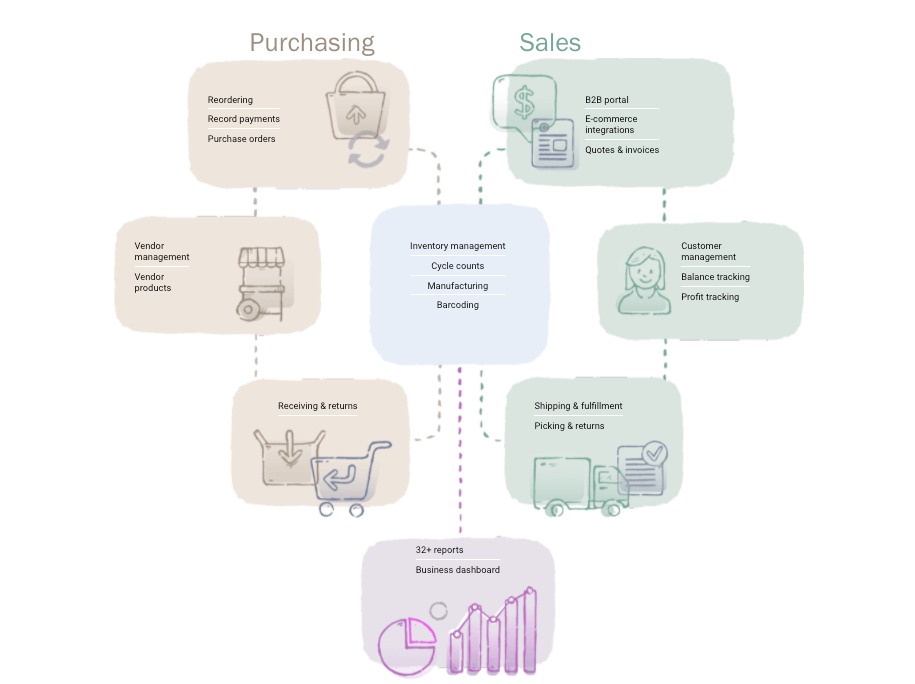 InFlow is among the top free Inventory management software. It suits businesses of all sizes and is the best use for small business. The free version of inFlow inventory solution includes features like barcoding, cost management, sales orders, purchase orders, and count sheet functionalities. With the help of Inflow's initiative UI, you can easily manage all the items, warehouses, suppliers, and deliveries. The key features of this software are provided as follow:
inFlow's

unique selling point (USP)

is its payments tracking functionality, which provides real-time details of all the completed and pending payment transactions.

The free version of this software

facilitates with separate user logins

, bills of materials (BOM), work orders, and product serial numbers management.

It also has the unique feature of

Product's inventory forecasts

that is helpful in curbing the instances of over-orders and inventory shortages.

inFlow offers a clean and straightforward interface that makes it easy-to-use software for beginners. It is cloud

-based inventory management software

that makes it incredibly functional in managing

purchase orders, sales, and inventory.
10. Boxstorm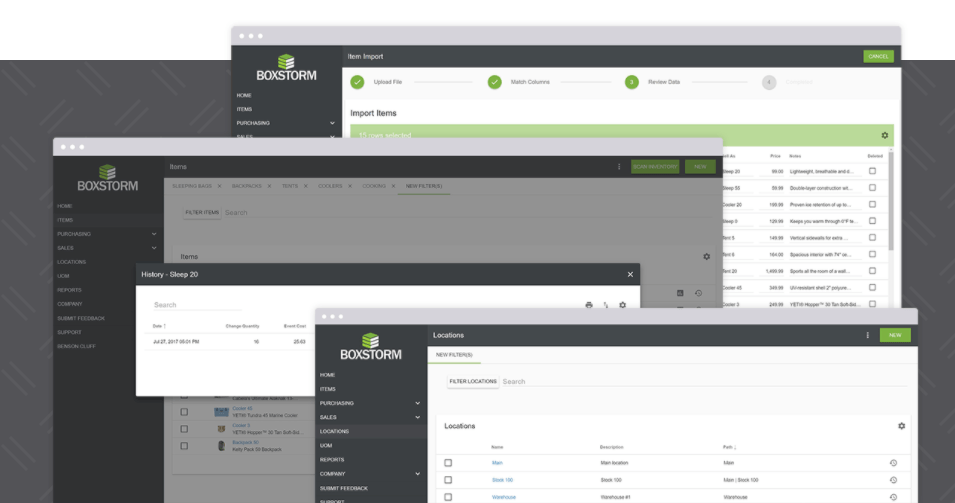 Boxstorm is Small business inventory software that comes with 'Forever free' version. It is recommended for small businesses as it has the feature to blend vast functionalities with excellent integration. This free inventory management software is quite simple to use and shares connectivity with QuickBooksOnline. The key features of Boxstorm are provided as follow:
It helps the retailers to

easily manage their inventory

on the go from any mobile or desktop device.

It is the best

Cloud-based inventory management

and provides solution to those customers who do not manage multiple warehouses.

It provides most for small business owners with its

extensive import and import functionality

, detailed inventory tracking, readily available customer support and training access, all at affordable cost.
Conclusion
Any business should go for such inventory software that is inclusive of all far-reaching management software that will help them in understanding consumer demands, overstocking elimination, resource waste reduction, and boosting the company's profit through better sales strategies. And a right Inventory Software Solution should always be the choice of a company that will automate its work process effectively in business management. if you are looking for offshore software development in Ukraine then check out their website for more detail.
Also Read: