Without the Internet, our Computers, Smartphones and all the smart devices become dumb. So, having an Internet connection is very important on your device. When one does not have an internet, at that time sharing an internet connection between the device is very important. If one device has an internet connection, other devices can also be connected to that. We have this feature available on our mobile phones. Most of them know about HotSpot when one does not have an internet connection they ask their friends or anyone to on HotSpot on their device. However, this feature was first available on Windows with a software called Connectify. From a very long time, Connectify was developed and brought many advanced features like Dispatch, File Sharing and much more. So, let us see some of the best Free Connectify Alternatives For Windows. 
In olden days, there were just wired Internet Connection. And it was hard to share the Internet with someone. With Windows 7, sharing Internet Connection was easy, but if you use the software Wifi HotSpot, it was easier to use. One of the most popular software to create Wifi hotspot is Connectify. But what if you are not happy with Connectify software? What are the other options rather than Connectify?
Here we have brought the list of Free Connectify Alternatives which can help you.
Connectify Software
Connectify is a good software but the main problem of the software is the pricing. There is a free lite version of Connectify, but this lite version is restricted. Most of the features in this version are hidden. If you want to use those features you need to pay for it. For Connectify there are two paid versions, the Max and the Pro. And the prices are very high Pro is of $34.98 and Max is of $49.98. Another problem with this software is the User Interface, from past couple of years, they made the UI very complex and is very hard to find out what is in and out for all the beginners.
So, to solve all the problems, we have brought a list of alternative software which will help you to share your Internet connection. You can replace Connectify with this alternative software.
Best Free Alternatives to Connectify
1. OSToto Hotspot
It is a software which allows you to create a Wifi hotspot. There is a secure internet connection with WPA2 security. This software is available for free and supports all the Windows Platform.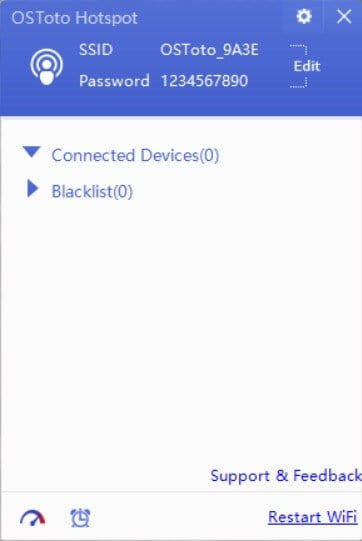 OSToto hotspot is the best tool for creating Hotspot on Windows. However, the developers have removed the software from the official website, as now you can't download the software from its website. But still, you can download the last supported version of the app which works properly. This software has all the features and has the ability to create Hotspot, blacklisting device, and use WPA2 PSK security protocol.
Also Read:
And there is also a feature of a timer which you can set to automatically switch off the hotspot and allow the hotspot to run even when you are using PC.
2. Baidu WiFi Hotspot
Another best alternative of Connectify is Baidu Wifi Hotspot which has lots of nice features. It is a free software and can create WiFi Hotspot to share your Internet. Baidu Wifi Hotspot is available for all the Windows Version. This software automatically detects your Wifi adapter and creates a virtual network to share your Internet Connection. You can also create a blacklist and block the devices by adding it to the list.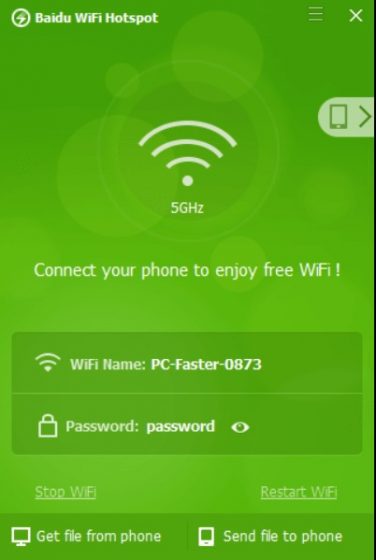 3. MyPublicWifi
With the help of MyPublicWifi, you can turn your Laptop or Computer to a Wifi wireless access point instantly. And you can share the Internet with the nearest devices. You can also use MyPublicWiFi software for creating a temporary wireless network setup which separates from local area network. And in this software, you can keep a track record of all the URL pages which are visited by using MyPublicWiFi.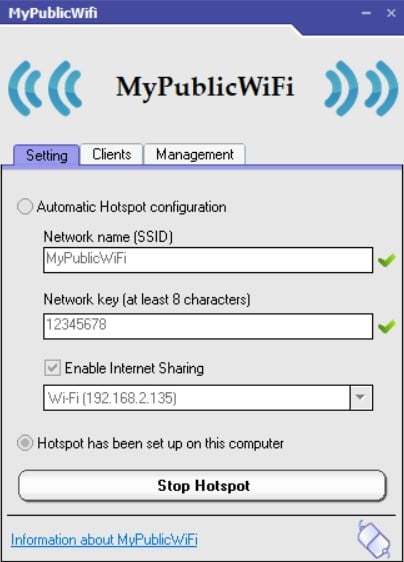 It is supported in Windows 7, Windows 8; both 32bit and 64-bit architecture. MyPublicWiFi is completely free of cost.
Also Read:
4. LionScripts WiFi Hotspot Creator
LionScripts WiFi Hotspot is a simple software with a free version and a paid version. It just converts your Windows machine into a Wifi Hotspot. The software is very easy to use and set up the connection in just a few clicks. If you are looking for a simple software then this is the one.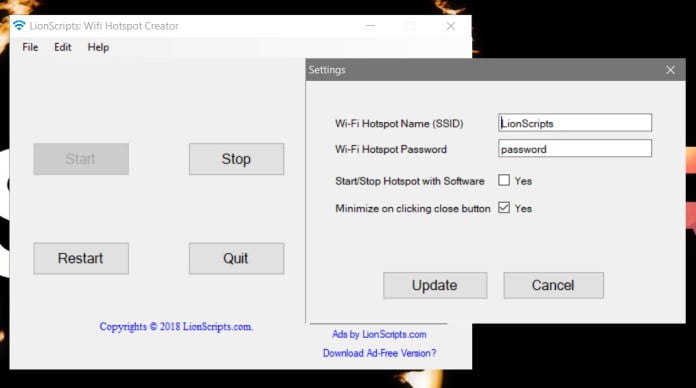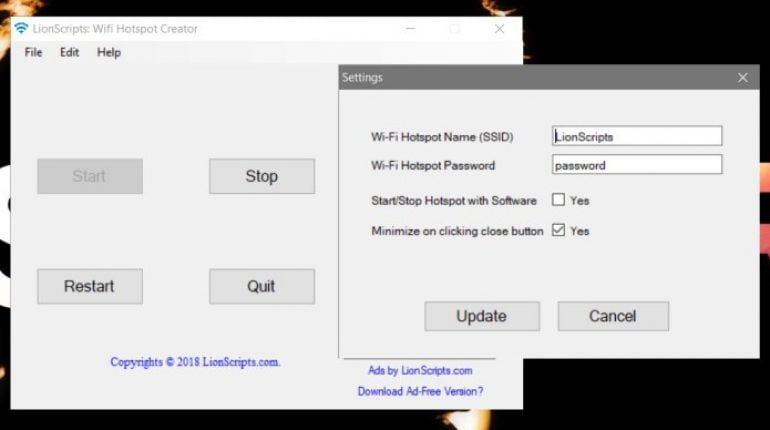 The software is available in both free and paid version. The difference between the two version is that the free version shows ads and the free version does not show ads. It is supported by Windows 10, 8, 7, Vista and XP.
For paid version you need to pay $11.
5. Thinix
 

WiFi Hotspot Creator

This software has all the features of Connectivity. It not only allows you to create the safe and secure hotspot but also lets you to monitor and check all the things of your hotspot. One of the best features of Thinix WiFi Hotspot Creator is the Auto-Start Hotspot. This feature allows you to share the internet connection even if you are logged out of your device.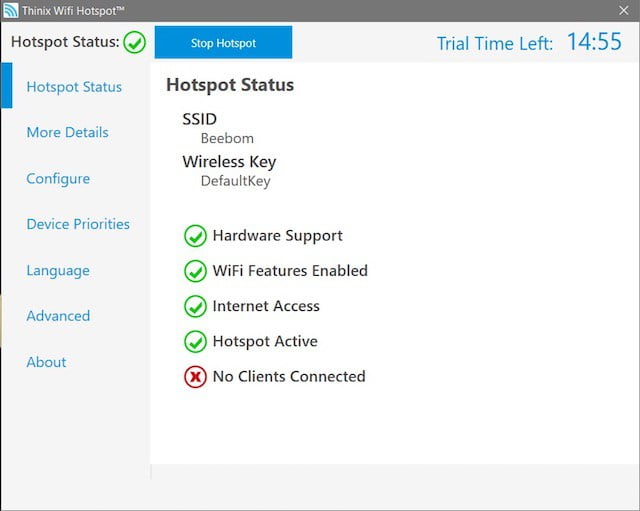 Features of Thinix WiFi Hotspot Creator are multi-language support, connection identification and connection prioritization, profile creation for easy and automatic connectivity, and more.
It is supported in Windows 10, 8, 7 (doesn't support Windows 8 RT and Windows 7 Starter Edition).  
For the paid version you need to pay $12.95.
6. Maryfi Virtual Router Software
Maryfi Virtual Router Software is the best free software to use on Windows 7. However, it runs on all other versions. The User Interface is very easy to use and simple. Easily you can share any internet connection or Wifi Networks to PCs, smartphones, or tablets. And the best part is it helps to share the Wifi Connection which your computer is connected to. With Maryfi software, the user can share any internet connection wirelessly including a cable modem, a cellular card, or another Wifi network.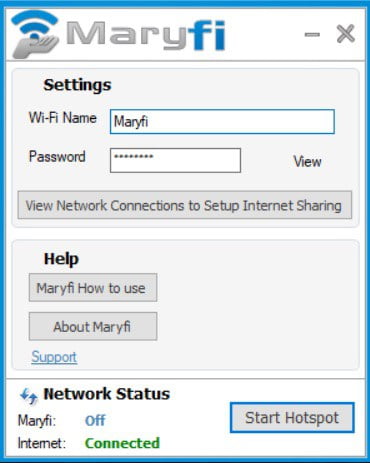 This software is freely available and is compatible with Windows XP, Windows Vista, Windows 7, Windows 8, Windows 8.1.
7. Virtual Router Plus
Using Virtual Router Plus, create your own network and turn your computer or laptop into a Wifi router and then connect your Smartphone, tablet, or computer. This software is very easy to use and you don't need to install it. Just select a name and set the password to get connected. Virtual Router Plus is an open source software. You can share your internet with other devices by using its Windows wireless hosted network technology.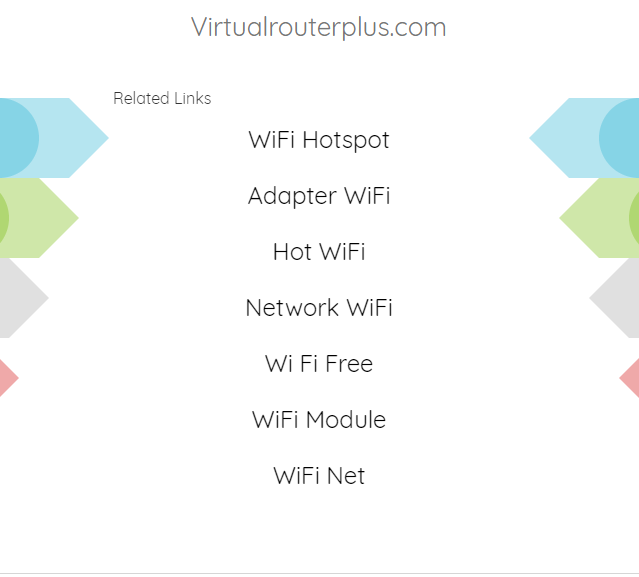 Compatible to Server 2008 R2, Server 2012, Windows 7, Windows 8, Windows 10; for both 32 bit and 64-bit configurations.
8. Winhotspot
Winhotspot is also called WindowsHotspot. It turns your computer into a Wifi hotspot at the same time at any place and any time. There is a built-in bandwidth meter which keeps a track of internet usage. It also shows the client  P and MAC addresses of the devices which are connected under separate tabs.
It is Compatible with Windows 7, Windows 8 and Windows 8.1 and is free of cost.
9. mHotspot
If you want a freeware software then mHotspot is the one which is the best. mHotspot turns your computer in a wireless hotspot software within no time. You can share your internet with all other devices. One of the best and unique features of mHotspot is that it enables your pc or laptop to work as a repeater. Means, laptop or PC can extend the wifi network range after creating an additional wifi network.
The plus point is that it lets you connect up to 10 gadgets and gives you access to in-app internet option. You can also see the connected devices and details like IP address, Mac Address, Name.
mHotspot software is free of cost. It is compatible with Windows 7, Windows 8 and Android.
10. WiFi Hotspot Pro
Wifi HotSpot Pro is a Microsoft app and it works only with Windows 10. So, before you download the app first upgrade your windows version to Windows 10. It is very easy to use and is free of cost. You can setup the Wifi hotspot with the software in just three simple steps.
Compatible with Windows 10 /8 /7.
CONCLUSION:
So, these are the Free Connectify Alternatives by which you can create Hotspot on Windows. There are many software which can be replaced by Connectify. All these software helps you in creating Hotspot by using Windows. Depending on your requirements, choose any software from the given list. If you don't have the router to create Wifi but want to use the Internet then you can create the Wifi hotspot with the help of this Software.
If you know other good software then please let us know in the comment box below. Stay tuned to us for more and latest updates.
Also Read: