There are many peoples who have large hands with big fingers and thumbs. These types of people may face problem while using the keyboard on their Smartphone. So, what is the solution to this problem? What will be the best thing to write easily on the device screen? Don't you worry as we are here to help you out? There are developers who solved these problems by making some android apps. Yes, there are Best Android Keyboard App For Big Fingers. You can use these app and make your work easy. 
Daily we use Keyboard app on our phones to text, post anything on facebook, Instagram, WhatsApp. We cannot even imagine the smartphone without keyboard. Not everyone needs Keyboard which has big fingers. This app are dedicated to the persons who is having small screen phones and big fingers. Because almost all companies have their phones with big screen size so in that almost no one face problems like this.
Other peoples who can not afford Big screen size phone they can use this app. We are sure that this apps will help you to overcome your typing issues.
7 Best Android Keyboard App For Big Fingers
1. HUGE KEYBOARD
Huge Keyboard app is perfect for those who have big fingers. In this keyboard, you can increase or decrease the size of the keyboard if you are not comfortable with the actual size. There are multiple languages, characters, sound, emojis in the app. You can also change the keys of top and bottom row in Huge Keyboard app. It also supports themes and has abbreviation editor. To change the language you must swipe the spacebar from side to side.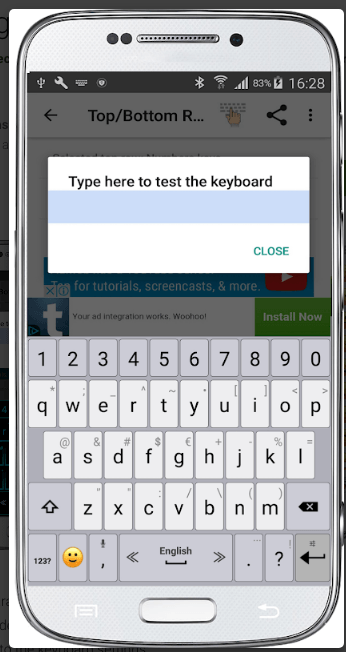 This keyboard app has premium version also which costs only $0.62. In the premium version you can remove ads if you want. As you buy a premium version you can unlock premium themes.
You can change the size of the keys
To get in the keyboard settings, long press the "ENTER" key
Select any theme from the themes of the Huge keyboard.
Change the sound and vibration of typing
Has different emjois
And also has Display Settings, Typing Settings, Dictionary Settings.
Also Read:
2. MessagEase Keyboard
The developer of MessageEase Keyboard says, it is the fastest keyboard for Android. MessageEase keyboard is different keyboard from the regular keyboards. It is not a QWERTY keyboard. There are nine large keys, which has all the alphabets arranged in a different style.
This app looks difficult to use but as you use it once you will be familiar with it.  MessafeEase Keyboard is the perfect keyboard for those who have large fingers.
3. LARGE BUTTON KEYBOARD
Large button keyboard is the simple keyboard with no extra features, like, auto correct, emojis, sound, themes. There is no setting page available on this app. As it has the large keys, it is easy to type for all of them who has large fingers.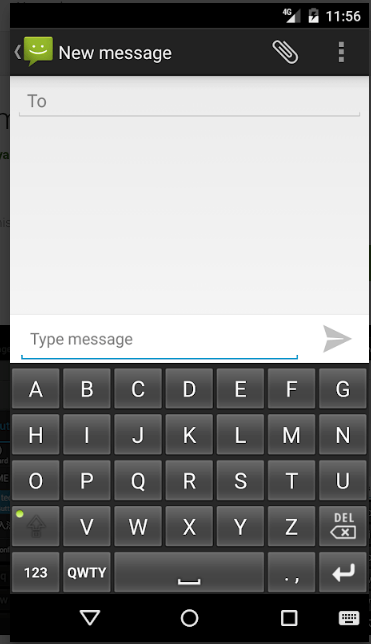 Interestingly, the keys on the app are arranged in the alphabetical order and if you want the QWERTY layout, then you can change it by tapping on the QWTY button. QWTY button is on the left bottom side.
Pros For Using Large Button Keyboard
No fancy gimmicks
It has a simple layout
Has large buttons which helps in typing properly
Also Read:
4. BIG BUTTONS KEYBOARD STANDARD
Big Buttons Keyboard app is also a simple app which does not have emojis, auto-correct, and word prediction. But however, this app allows you to change the keyboard height and also supports the key sound and vibrations.
You can avoid those small buttons keyboard on your smartphone and enjoy the most interesting smartphone keyboard layout.
This app has large numbers and punctuation buttons. It makes everything easy on your smartphone. As the buttons are bigger it is easy to read. The Big Buttons Keyboard DELUXE version is also available at $2.99 in which you get themes, emoji, voice-to-text microphone, word prediction, large cursor keys & more.
5. 1C BIG KEYBOARD
1C Big Keyboard is the perfect keyboard for big fingers and small screens. This app uses the whole screen of your phone. It has a QWERTY keyboard in which each row is split into two.
You can reduce the size whenever you want. It also allows you to change the font shape and size of the keys.
6. TouchPal Keyboard-Cute Emoji,theme, sticker, GIFs
This keyboard is a new keyboard with fun emoji. TouchPal Keyboard works on tablets aslo and is one of the coolest big button keyboard for Androids. In this app you can change the size of the keyboard and can also change the layout to floating mode, split, or one-handed.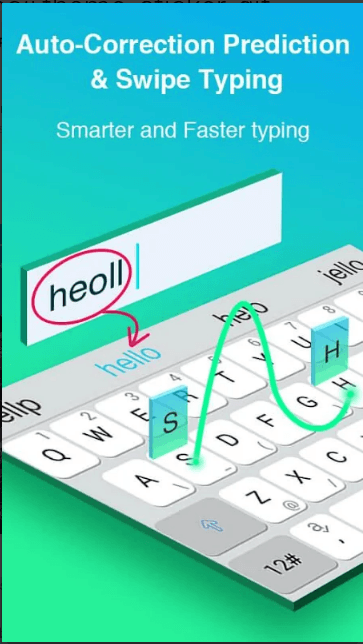 This app has features like the other keyboard has like, auto correct, themes, different languages, gesture typing, GIFs.
Pros:
You can type message with single hand
Number of row available all the time
Voice typing
Glide typing
Funny emojis like Yawn face, wink face. Choose any of them and send it.
7. CHROOMA KEYBOARD
Chrooma Keyboard, is a simple, fast keyboard with a colorful twist. This app has a built-in GIF keyboard, one-handed mode,and supports different languages. Chrooma is powered by an artificial intelligence and it allows you to increase or decrease the size of the keys. And it also has the basic features like other keyboards, like auto correct, swipe typing, predictive text. And this app has a built-in proofreader.

However, Chrooma keyboard automatically changes the color on the basis of the active app. You can also on the night mode of the keyboard.
Conclusion
As you have seen the post we have explained six apps which will help you to get keyboard with big size keys. Almost all apps are good for the use. If you found any other app that we have not listed please comment below we will update that app in our list. If you liked any app you can direct download from the given download link. Finally, we would like to say that if you have any friend who is having big fingers and getting trouble in chatting then do share this post with them.