Despite the strong reliability of computing hardware, one always needs to consider the risk of failure that could arise out of any environmental damage or a malicious activity. It is a matter of great importance for the windows user to ensure by all means that their data remains safe with them in all situations such as technology failure. The requirement of Backing up the data on your server and maintaining it in format that is easily recoverable is a fundamental part in any business.
It is still difficult to manage your data backups. Hence, Best backup software for windows is always preferable as it allow automated managing back up tasks by just letting everything run and save smoothly in the background with no external help.
There is a number of free backup software for windows available in the market and you need to discover the one that fits best for you. This article seeks to inform the users about the best free versions of backup software for windows that are available. Below are the discussed some of them, so let's take a glance:
1. Acronis Cyber Backup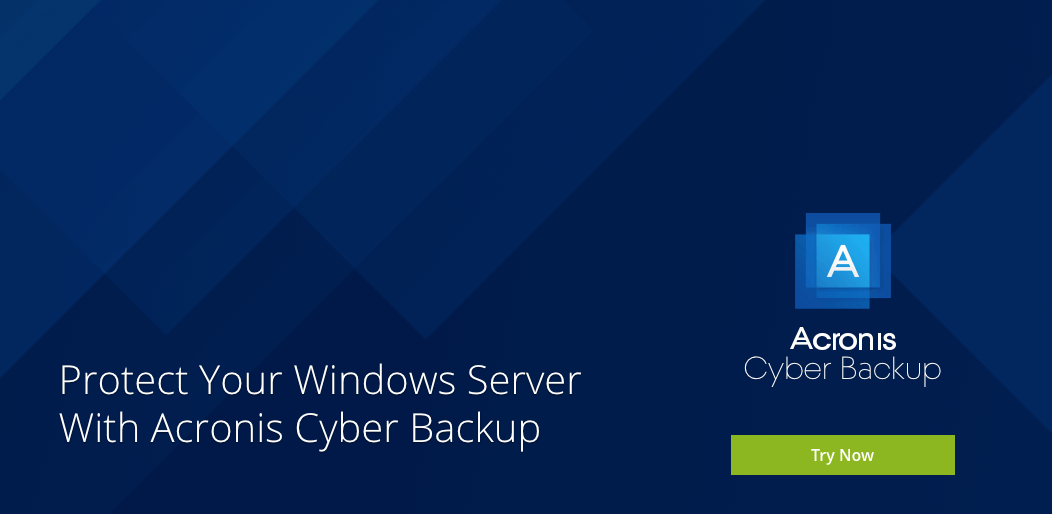 Acronis Cyber Backup is one of the best free backup software for windows that prove extremely helpful in one's business. It is like an edition of Acronis True image but is made for windows server. It is a subscription based backup solution but comes with a 30 day-free trial.
Acronis Cyber Backup runs complete backups on your server environment and can easily recovers the entire system, programs and specific files on Windows server. It essentially offers three services: backup, cloud storage and disaster recovery. These three services can be used individually or altogether as a bundle. This cyber backup often fascinates people running large or small business that look for their data safety at all costs.
Acronis runs on both Windows server and Linux and runs as virtualization over either Hyper-V or VMWare. One can use this service by Acronis to back up to network attached storage, a cloud storage service, a storage area network, tape or another local server, which could be the Acronis's Cloud storage service.
Here are the following some of the key features of Cyber Backup by Acronis:
It works with

any Windows server

through Virtual, physical or cloud.

This service helps in

saving your backups anywhere

, be it, NAS, SAN, tapes, disks, Acronis Cloud, Azure, AWS, and Google.

It is essentially used to

recover the data

that you need such as urgent files and folders, drives, recovery of entire system or Microsoft application data.

Acronis service is a

scalable backup solution

as it manages windows server environments from a centralised web UI.

This also helps in

backing up of data which is in use

by capturing the current server state through use of Volume Shadow Copy (VSS).
You are allowed to back up your virtualizations directly if they are run by Hyper-V, Red Hat Virtualization, VMWare and VSphere.
You can back up your virtualizations directly if they are run by Citrix XenServer, , Hyper-V, Linux KVM, Red Hat Virtualization, and Oracle VM Server. Through Cyber backup solution many of your application servers can be mirrored directly including Oracle databases, SQL Server, SharePoint, Active Directory and Exchange server.
The interface of this Cyber backup software by Acronis is browser-based and is easily accessible from any location provided that the host server is connected to the internet. It is to be noted that Acronis produces a version customized to MSPs and backup software for personal use as well.
2. AOMEI Backupper Server
AOMEI Backupper Server is excellent backup software for Windows server. It is a free window server backup software. The key features of AOMEI backupper server are discussed as follow:
This backup server solution provides

complete backup solution

for entire system, files and folders, incremental and differential backups and for disks and partitions as well.
This service provides

versatile backup

locations as in CDs or DVDs, NAS, external drive, cloud drive or local disk.
It has feature of

hot backup

. This helps in creating backups without turning off windows server or interrupting with the current application. This way one can work smoothly while backups running in the background.
It can

restore and clone

the entire system or recover any specific files or as duplicate backups.
This software comes with

extra utilities

of creating a bootable recovery environment. It can also encrypt, split or compress backups.
Also Read:
3. Paragon Backup & Recovery Business
Paragon Backup & Recovery Business is the perfect Windows Server backup software especially for mid-sized and small companies. This software is the server edition of Paragon Backup & Recovery. This one is paid windows server backup software.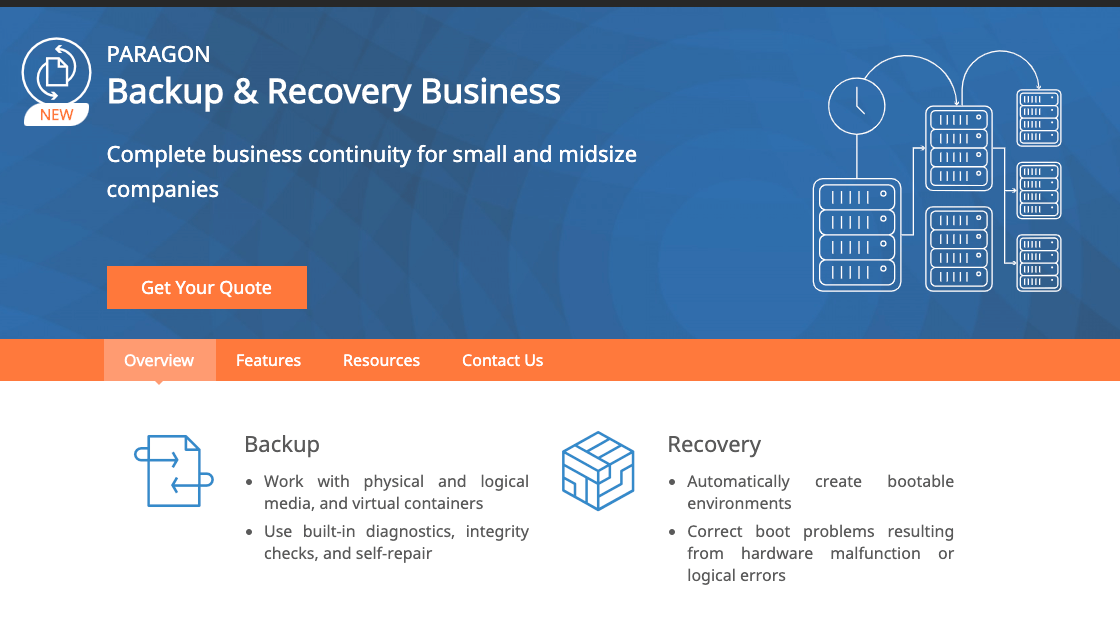 The essential features of Paragon Backup & Recovery Business are provided as below:
One of the key features of this excellent software is to provide with

comprehensive and extended backup solution.

This server software supports both physical and logical media with virtual containers.

This software solution comes with

flexible restore options

for specific files and folders, full disks or partitions and applications.

It helps in

Windows server recovery

by creating a bootable server environment. It can also fix all boot errors.

It works as

Backup management tools.

This software can automate administrative tasks and can be used in securing the Windows server environment.

This software creates low impact on the system and network. This one is

optimized for performance

and provides with integrated end-to-end security.
4. NovaBACKUP for Servers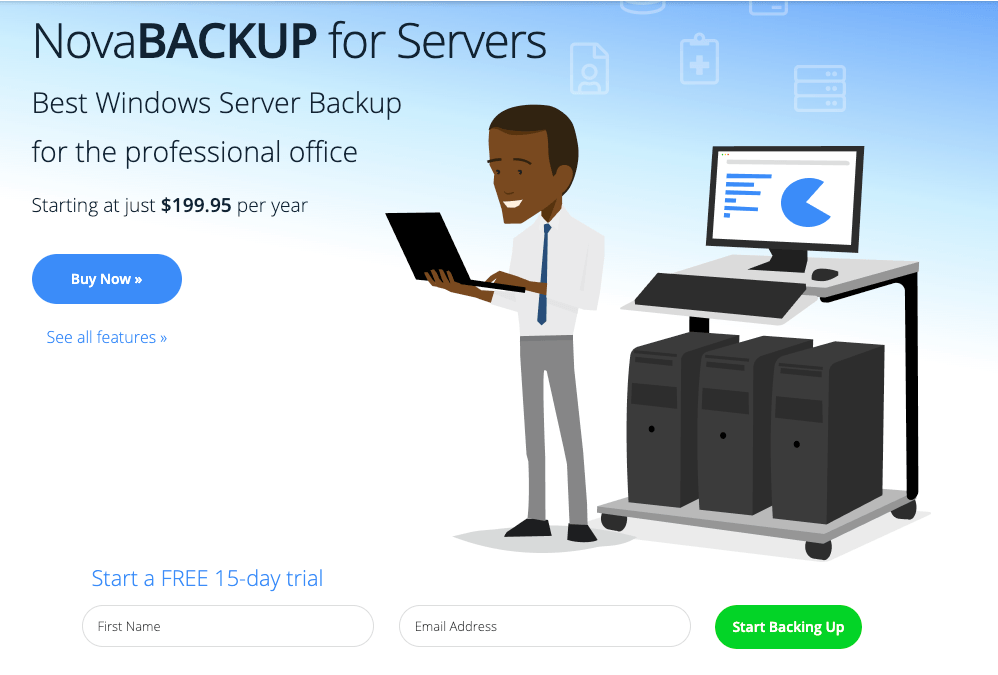 For offices and small businesses purpose, NovaBACKUP for Servers is among the best free backup software for windows. This software comes equipped with a bundle of authentic features that helps in creating and managing backups for Windows server. It is also a free window server backup software available for customers. The key features of NovaBACKUP for Servers are:
The software provides with

Cloud storage

with which you can protect your Windows Server environment from ransomware.

It has a feature for

automatic backups

where it schedules the windows server backups to run automatically in incremental or full mode.

This provides with the feature of

easy and fast data restore

. Through the help of this software you can recover completely the entire server system from the backup to any Hyper-V environment.

It is also equipped with the unique feature of

Disaster recovery scenario

that can save the server in case of technology failure or disaster. You can follow the 3-2-1 backup rule to save your server in case of disaster.
5.Windows Server Backup
Windows Server Backup is the default Windows Server backup software solution, 100% free, that we simply can leave unnoticed. This software was introduced in 1997 providing backup solution that is integrated and accompanied with all the Windows server editions.
This backup software suggests that the user must use third-party apps support tape drives on recent operating system. It is easy and reliable for customers to depend on their own operating system to handle matters concerning backup of data. Some of the key features of Windows Server Backup are provided as follow:
As this software is

built into windows server

itself, you need not have to bother about installing anything. It comes ready with your windows server environment.

It has

full compatibility

in working with all the Windows service editions. There is no such requirement of extra configuration steps.

This software also features with

automated backup solution

. It instructs the tools in server system to automatically backup and recover the data.

It comes with a unique feature of

Volume shadow copy

where it can easily copy the currently used files and applications.

It also has

multiple backup modes

such as incremental, normal, daily and differential backups.
Also Read:
6. Bacula Backup Software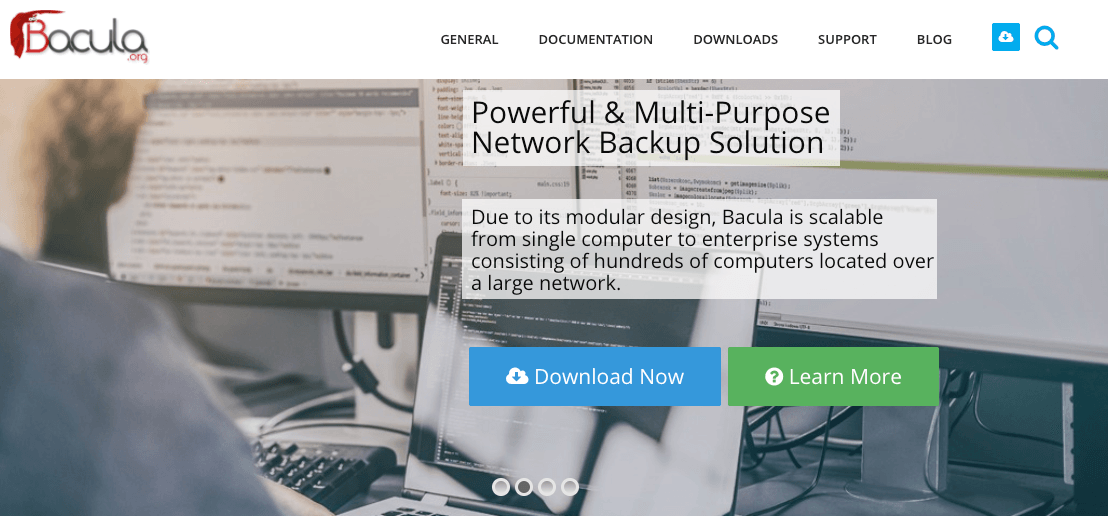 Bacula backup software is a free and open source backup utility for Linux. The source code is also available for Windows and Mac OS. This software package is inclusive of five elements that are: i) a graphical interface, ii) a store manager that runs on the backup servers and iii) receives and iv) return files and v) a file manager to manage data transfers. Some of the key features of Bacula backup software are provided as follows:
This software has a module that can

replicate or clone the databases

for its safety.

The operating processes with this software can be

automated through a scripting language.

Though it doesn't

encrypt data transfers

but you can slot in a third party system for encryption through the help of scripting language.

This software also provides for implementing both

full and incremental backups
7. Quest Backup and Recovery Software
Quest backup and recovery software was used to known as Dell Software until 2016. The Rapid Disaster Recovery tool is one of the main features of the Quest software.

This backup software can be installed on Windows Server, Ubuntu, Linux, RHEL, SuSE, CentOS and Debian but not on core versions of the operating system. Some of the essential key features of this software package are:
This software system can easily

replicate and manage recovery

for VMware, ESXi and Microsoft Hyper-V virtualizations.

The software can

backup data from cloud servers

such as Google, Amazon S3 and Glacier, Rackspace, Microsoft Azure, or any OpenStack implementations.

The

backups are capable to be saved to a disk to a remote site

, to cloud storage or on the local site.

The interface for this backup system software is

browser-based

, which gives easy and fast access to your recovery server from anywhere.
8. Veeam Agent for Microsoft Windows Free
Veeam Agent for Microsoft Windows Free was early known as Veeam Endpoint Backup Free. Unlike most of the above mentioned backup package that were only home-user friendly, Veeam agent is primarily known for its enterprise solutions. Nonetheless, Veeam also offers a free window server backup software for home users.
Besides, Veeam Agent can be used for Windows servers, workstations and devices running in the public cloud. This software system completely supports Windows 10 and Windows Server 2016. However, it does not officially support anything older than Windows 7 (SP1) or Windows Server 2008 (SP1).
Veeam Agent has one of the most renowned backup solutions in the market today and if you're looking for a free backup of your servers running on for VMware and Hyper-V this one is an ideal choice and you should definitely try this one. It renders much more functionality than as far discussed. Some of its key features are provided below:
It can create a

full backup of VMs and restore

everything including files, folders, and settings.

It allows users to

migrate between the hosts

even if you do not officially use vMotion or Storage vMotion.

Veeam Agent is freely available online and is a reliable source for users to backup their data and information.
9. EaseUS Todo Backup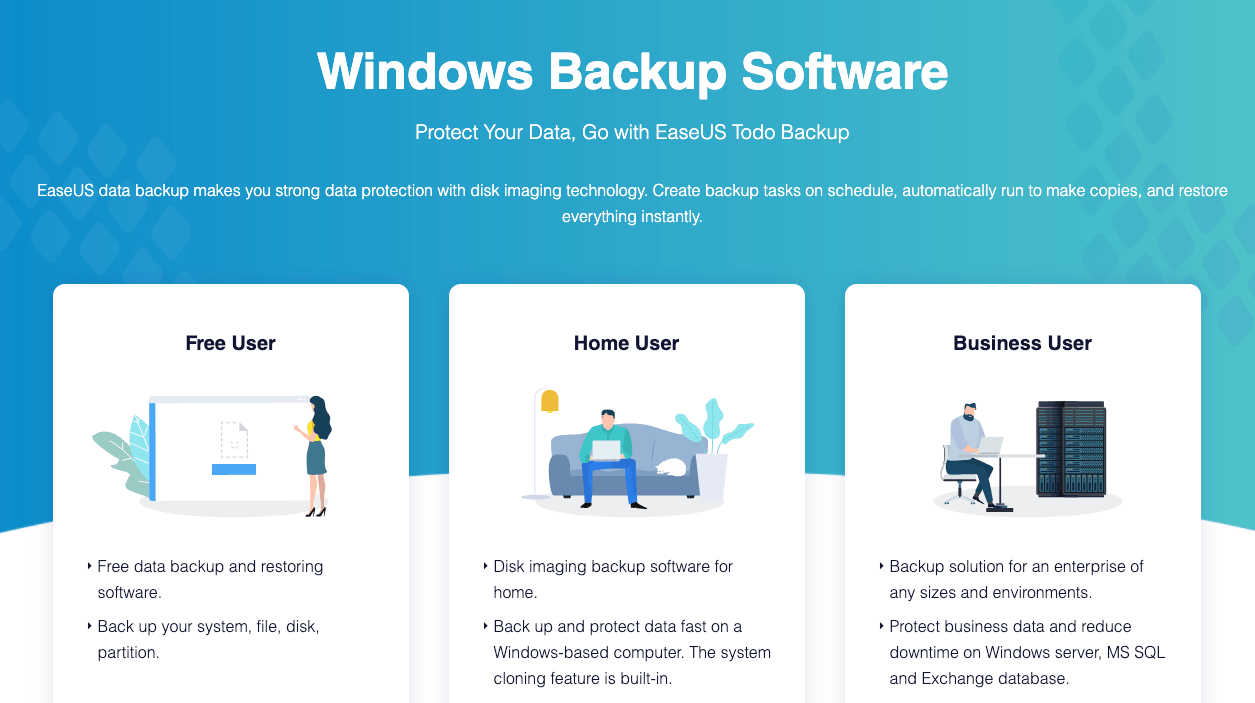 EaseUS Todo Backup is one the most fully featured and trouble free backup software for windows server known in the market. It makes it easy for the users to use the backup utilities on windows. Once you have explored its features you will get to know the quality it possess.
Similar to Macrium Reflect, EaseUS Todo's features is categorised in three different flavours i.e., full, differential and incremental. Also, the imaging comes with an option to create a Linux-based boot disc that is really handy and prepares for when the worst comes to pass. It allows users to even backup Android devices. Some other key features of EaseUS Todo Backup are mentioned as follows:
While the software allows users to

schedule and perform custom backups anytime

, by default, it performs a full backup each week and differential backups every half an hour in case it detects any change in the system.

For added security, the software allows you to

encrypt the full system images

that can be compressed at a fairly high level so as to occupy less space on the disk.

You

can also split large disk images into smaller segments, and set passwords to

protect your data

from being spied on by any unauthorized person.

There is another cool feature in the system that it has the

Image Reserve option

. It allows users to delete or merge old system images to help save drive space.
The best feature of EaseUS Todo Backup is its ability to clone the system disk that help to migrate your Windows installation to another HDD or SSD. This feature is fairly common for most backup utilities, but is only available in their premium or paid versions. However, unlike most of them, EaseUS Todo offers this significant feature in its free version, which makes it apt choice for free backup software on Windows.
10. O&O DiskImage Backup Software
O&O is well-known for creating some of the best Windows tools which are easy and simple to use. Their latest product DiskImage is no behind with the excellent features it possesses. If you are looking for powerful and user-friendly backup software that provides you endless options then must go with O&O DiskImage. It's essential features are discussed as follow:
This free backup software for window allows

creating backups of all the drives in one click

and you can also select certain folders and files.

This system also has an option to

clone the system image

which is great. In short, a user can move from one PC to another without any need to change Registry, your Windows preferences, Services and more.

O&O DiskImage offers an option to

encrypt your backups to protect your data from unauthorized access.

It allows creating

Differential or Incremental backup

if you choose to get the premium plan.

You can also create Windows-PE based recovery media which helps to boot your Windows backup as a bootable drive.
Though O&O DiskImage does not have a free version instead, but it still offers customers a 30-day free trial period. So you can use it for cloning disks, creating mirror images, imaging disk partition and more within the trial period.
Conclusion
Microsoft has tried its best efforts to ensure data protection in Windows server with all possible solution. Regardless of that fact, some server environments are simply just too complicated and incompatible for its inbuilt software. For such cases, one has to take the recourse of a trustworthy and Best free backup software for windows comes with perfect solution.
There are a lot of invaluable documents stored on servers such as Client files and folders and many other valuable documents that cannot be left unguarded. A user must use the appropriate tools and system to ensure their business security with a fast and easily recoverable backup experience.
Further, it is advised that do not over buy or install above mentioned free windows server backup software. The features that you do not need may add complexity to your system and may slow it down. If you intend to backup to a newly purchased external hard drive, explore and look for the software that ships with it.
Also Read: