The Voice changer software refers to a device that is designed to change the tone or pitch of a user voice or add distortions to it. The software is specifically used to record audio and share the same with other people via Gmail or social media websites such as Skype, Discord, Steam, etc.
The voice changer feature in this software occurs due to a built-in interface that covers a wide range of voice effects to apply in real-time with multiple voice variations. You can manually change the pitch, tone, frequency and other aspects of your voice which feels just great, especially if you are into gaming or streaming services.
If you are also looking for Best voice changer software for windows, then your search end right here. In this article, we have handpicked top 18+ Voice changer apps with their essential features. The list comprises of both free (open source) and paid software. So, let's dive in further:
Voice Changer Plus App
Voice Changer Plus is one of the best voice changer apps ever that you can use to change your voice in fun and amazing ways. The app envisages dozens of fun voice effects and background sounds. Additionally, you can also play the voice backward.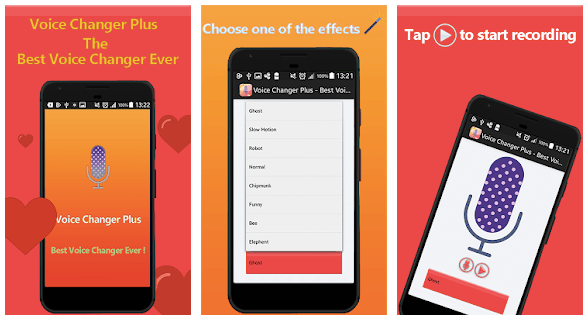 You can save and share your recorded audios freely and even open the saved recordings to layer on more fun effects.
The app has Trim control feature with Full VoiceOver support.
Ios and Android App
Voicemod
VoiceMod is among the best voice changer software for windows users to modify your voice online. The software supports various online games notably, Minecraft, PUBG, Fortnite and is also great option for chatting and streaming online on software like Skype, Discord, Twitch, Stream Deck, and VRChat.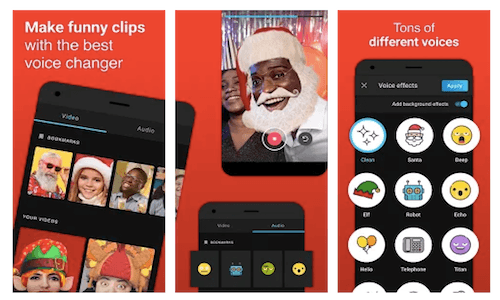 It modifies your voice in real-time with simple SDK and has tons of varied collection of voice types and effects.
The software enables you to load audio in MP3 of WAV files and is available for free.
Supported Platform: Android, Windows PC,
Also Read:
Voice changer
Voice Changer app provides an online platform for users to transform their voice and add distortions or effects to it. With voice changer, you can easily customize the voice effects as per your need and can add such effects to make your voice sound like a real thing.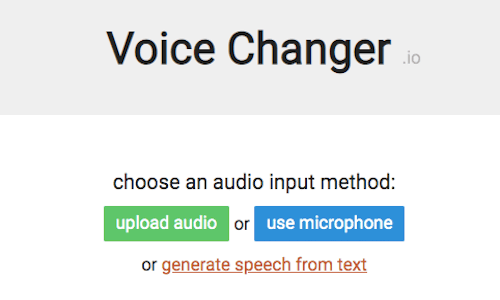 The software supports lots of voice effects and also enables users to change voices in a pre-recorded audio file.
You can record your voice using a web browser or microphone and can upload the audio files stored on the hard drive.
Supported Platform: Voice Changer Website
Voice changer with effects
Voice Changer with effects is considered the most comprehensive android app to change your recordings by adding numerous voice effects. Then you can save the new voice to your phone's memory to use it as an alarm clock, notification sound, ringtone, etc.
The software support 40+ effects and enables users to share their recordings with others via email, WhatsApp, etc.
While you can save the recordings, you can also create an image with sound.
You can even create a voice from a simple text.
Supported Platform: Android
Best Voice changer [Free]
Best Voice changer app enables you to change your voice easily and add effects to it with just one tap. It is a free program that supports WAV, MP3, and other file formats. The software has numerous effects that give you wide range of options to try on.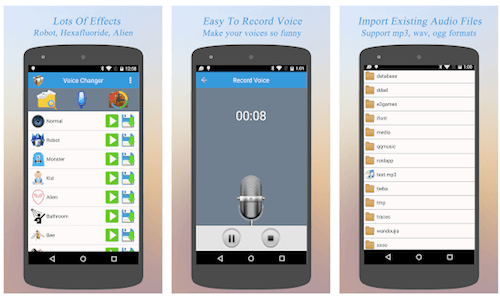 The final result of your voice with applied effects is shareable with other through Facebook, WhatsApp, Twitter, and Line.
The app enables you to record your voice or select a pre-existing audio file to change its voice.
Supported Platform: Android
MorphVox
As the name suggests, MorphVox is designed to amazingly morph your voice in a video in real-time. The app follows the natural principle of voice i.e. either Man, women, or a kid voice to change the given voice accordingly.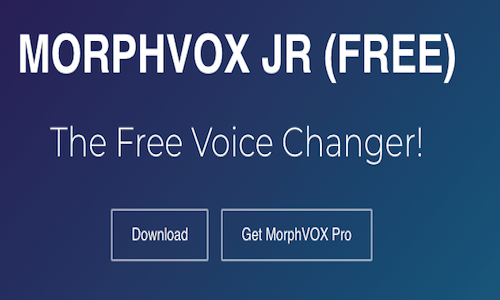 MorphVox has a high-quality voice changing facility.
This voice changer software can be used during live conversation while you are on a phone call or chatting with others online.
MorphVox consumers less of your CPU usage. It is paid software; however the trial version of the app is also available.
Supported Platform: Mac and Windows
Voice changer
Voice Changer is the best mobile app to change your voice by applying multiple effects on the audio files. The app is quite intuitive to use and can generate amazingly funny effects on your voice.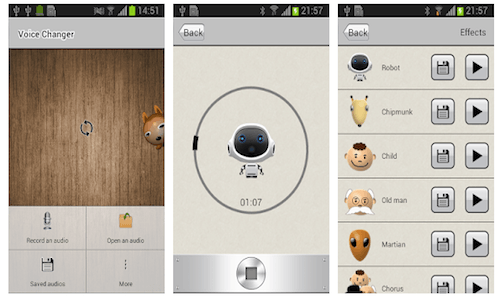 You can apply effects on both recorded and pre-existing audio files and also view and edit the saved ones.
The audios can be shared with others through Bluetooth, or using social networks. Also, the app enables you to apply the effects multiple time to generate numerous of effects for your voices.
Supported Platform: Android
RoboVox Voice Changer
RoboVox Voice Changer is a voice recorder and voice changing app that uses vocoder technology to transform your voice to sound funny, scary, evil, musical, or like robots. The app offers 32 different voice effects with pitch and modulation settings.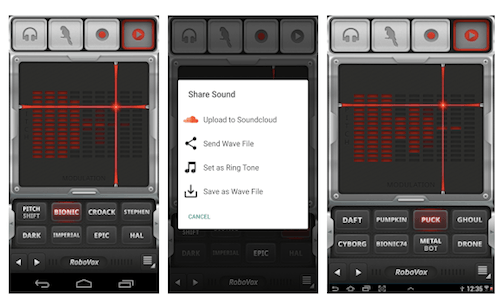 You can share the resultant audio via email as WAV files or directly on SoundCloud, a online audio distribution platform.
The app has various real-time modes like real-time, parrot, and recording. You can also set your result as ringtone.
Supported Platform: Android
Also Read:
Skype Voice Changer
Skype Voice Changer is free voice changer software, a proprietary of Skype that is baked into your Skype call and conversations to change your voice as required with real-time effects. The software is easy to use and can be used with a computer generated voice.
The app enables quick transformation of the sound of your voice and to record the Skype conversations.
The inbuilt effects lets you speak with a computer generate voice on a call.
Supported Platform: Windows
Voice Changer Voice Recorder- Super Voice Editor
Voice Changer Voice Recorder- Super Voice Editor is a mobile device app that supports wide range of effects and enables users to customize custom parameters to get the best sound effect. The app improvises your voice by applying high quality sound effects.
It offers enhanced quality voice effects for singing.
The app can be used on messengers and phone calls to apply the supported effects and then send the result to others.
Supported Platform: Android
MasqVox Voice Changer
MasqVox is a voice changer app for chat and Skype. The software can be used easily to record and change voices in real-time, and is therefore, best for both online chatting and gaming. It envisages different types of human and cartoon based voice effects for fun.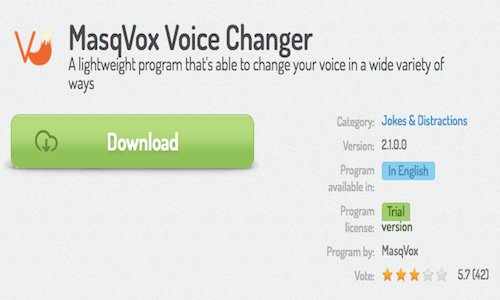 MasqVox is a lightweight application program that can be used to transform the sound of your voice in various ways.
The app is compatible with Windows OS and has simplistic design and intuitive user interface.
Supported Platform: Windows
Clownfish Voice Changer
Clownfish Voice changer is a multi-platform program that can be used to change your voice in any application on your PC that uses a microphone. It supports various notable apps like Skype, Discord, Viber, and TeamSpeak.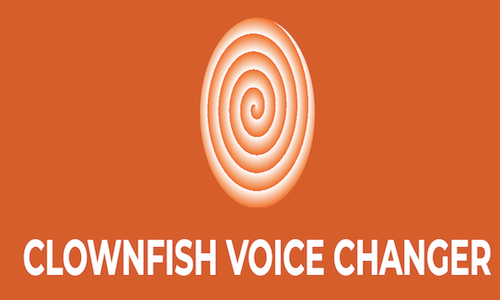 Clownfish is efficient in modifying your voice in steam, therefore, a perfect option to use in all your favorite games.
It has multiple voice options with different pitch of notes including of Male, Female, Kid, Robot, and Alien. It doesn't support addition of voice effects by default, but provides an easy guide on where to find and install them.
Supported Platform: Windows
Super Voice Changer
Super Voice Changer application is best voice changer software for windows that alters the given voice in real-time for simulating female or male voice. The app works with all audio software and supports various versions of the Windows OS.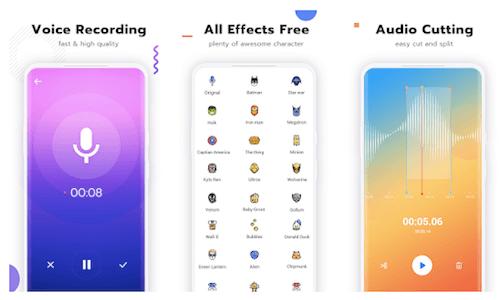 In Super Voice Changer, you don't need any additional settings to change the voice of the system automatically.
You can enable the app while chatting online with your friends, and it will automatically function to change the voice.
Supported Platform: Windows
All-in-One Voice Changer
All-in-One Voice Changer software is just an upgraded Skype Voice Changer app that works on the same principle but also enables users to link it to other IM tools such as QQ International and Yahoo Messenger. It is specifically developed for online chatting.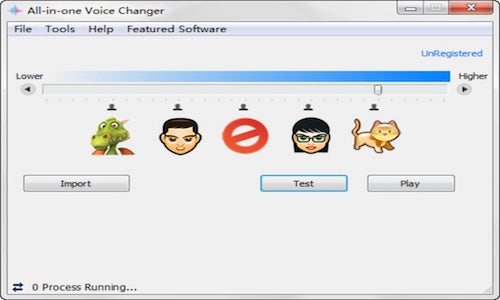 You can change the voice type even in mid conversation to make things funnier.
The app features with slide bar that you use to change the pitch of your tone and then you can also preview each change until you get your final choice.
Supported Platform: Windows
Voxal Voice Changer
Voxal Voice Changer is a free software program that can be used to alter user's voice in every app that uses a microphone that means all your favorite games are exclusive in this list. The app offers tons of voice type and effects.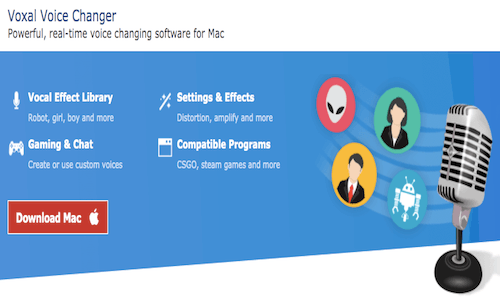 Besides altering your voice tone in real-time, it also enables you to change the recorded audio by applying the cool voice effects.
The program is quite lightweight and consumes less of your CPU storage to not affect the performance of your system.
Supported Platform: macOS
AV Voice Changer Software Diamond
AV Voice Changer Software Diamond is an extremely easy to use application program to be used for changing your voice in real-time by applying effects. The application displays all the basic features that make it just easy for the users to work on the main menu.
You can directly record the audio with added effect on it. The app further allows you to export the recorded audio to mono files with no glitches.
It also has pause button enabled so you can take interval breaks.
Supported Platform: Windows /7/8/8.1/10 (32-bit and 64-bit)
Fake Voice
Fake Voice is a simple to use voice changer software with intuitive interface. This app is just perfect for those users for whom timing and speed is the main key in a situation. It covers a lot of voice changer effects that lets you change your voice anything ranging from a little baby to a quite older person, or even cartoon voices.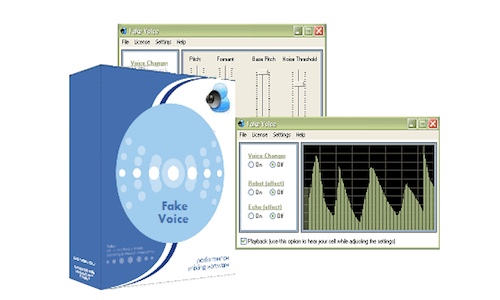 Fake Voice has bunch of sliders that users can play until they get their preferred result.
It allows real-time playback so you will be able to hear the changes take effect and make adjustment as they function with multiple sliders on your command.
Supported Platform: Windows
Voice Master
Voice Master is free, useful voice changer software for windows that offers a lot of variations in voice effects and also enables then users to customize their fake voice to a wide extent. The app is quite easy and straightforward to use.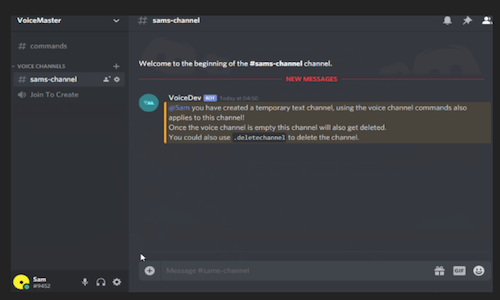 You change your voice pitch in only using a single slider.
The app works in combination with messaging services such as Skype.
Voice master is a slick program that will require less free space than most of the other voice changer programs.
Supported Platform: Windows
Final Remarks:
The software market teems with more than thousands of voice changer programs, and selecting the best product out of it depends on your individual preferences. To make your effort easier, we have gathered all the information on voice changer apps in this article.
The aforementioned are some of the finest voice changer software that you can find online. You can pick one in accordance to your suitability and intended use. So, enjoy this amazing feature of voice changer apps to create a new voice for your YouTube or for Gaming Trolling and have fun!
Please don't forget to share this article. Thank-you!
Also Read: