Wunderlist is the most popular to-do list and reminder apps. This app is very popular because it brings everything at one place which a person might need from an app and it is very easy to use. But Unfortunately, Microsoft announced that the service has been closed in favor of its own to-do list app. Now, what will you do who were using Wunderlist app? Do not worry as here we have brought the similar app to Wunderlist which can help you out. Must check out the Wunderlist Alternatives which you can use instead of Wunderlist. All these apps are quite similar to Wunderlist and are easy to use.
What Is Wunderlist?
Wunderlist app is a cloud-based task management app which allows users to manage their tasks from a tablet, Smartphone, Computer, and Smartwatch. It is free and is also available in a paid version for more features and known as Wunderlist Pro which released in April 2013. The Wunderlist app was created by Berlin in 2011. Then in June 2015, Microsoft bought the company when the app had over 13 million users. However, in April 2017, Microsoft announced that thee Wunderlist app will be discontinued in favor of To-Do.
Pros of Wunderlist
Easy to use
 Create numerous list
 Share information with other people
Cons Of Wunderlist
Syncing can be an issue
 Reminders can't be included unless there is a date as well for most lists
1. TickTick
One of the best alternative to the Wunderlist app which works like Wunderlist. TickTick app almost has the features from Wunderlist including support for lists, sharing lists with other TickTick users, setting a reminder for anything. With the help of TickTick app, you can comment on tasks and attach notes and files to the item on a to-do list. It is an app which is free of cost and is very easy to use.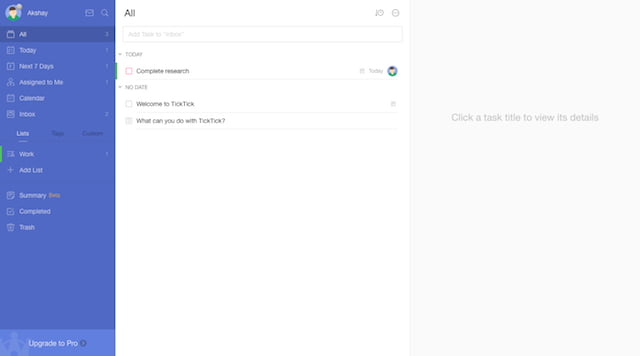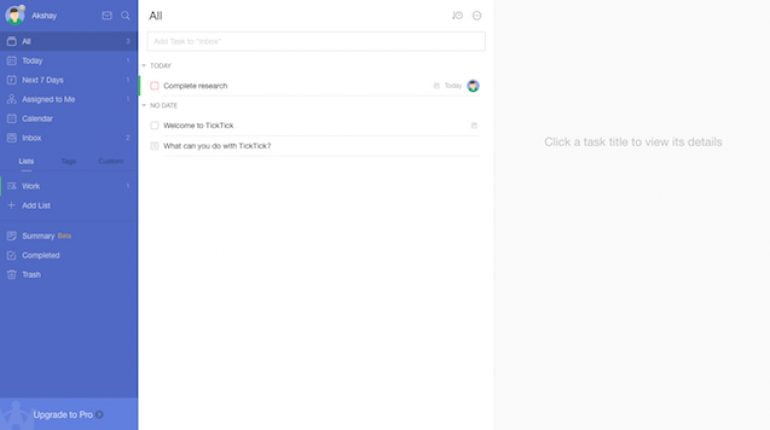 The best thing about the TickTick app is it is available on almost every platform, so you can easily use the app on any device or any platform.
Also, there is a Premium Version of the service which supports the additional features like Checklist Description, Custom Smart Lists, Siri and much more.
Availability: Android, iOS, Mac, Chromebook, Web, Chrome, Firefox 
Get Started ( Pro version available for $2.79 per month)
2. Any.do
Any.do is also the best Wunderlist alternative app which you can use. It has almost all the features which are there in Wunderlist so it is easy to use. If you are a regular user of the Wunderlist app then easily you can use this app also. This app comes with list Support, which means you can create multiple lists for different types of reminders and to-dos. You can also share lists with people whom you want. For example, you can share your grocery list with your wife, and a vacation list with your whole family. It also allows the users to break down the task in smaller subtasks to make it easier to manage.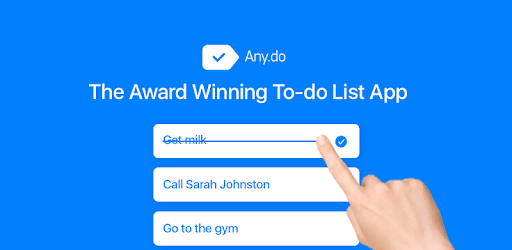 As you share the lists with your team members, you can do comments and notes on the task to talk to each other. Any.do app also allows the users to attach files to make the task easy. You can also do delegate tasks to team members so all of them knows what they should do and how can they work faster. Any.do is just like Wunderlist app with multi-platform support.
 Availability: Android, iOS, Web
Get Started   (It is free of cost)
3. Remember The Milk
The name is awkward but it is a highly useful to-do list and a reminder app which can be replaced with Wunderlist. Remember The Milk is just like Wunderlist as it supports multiple lists, and you can separate your to-dos and reminders by projects. And you can also share these lists with other users of Remember The Milk (RTM). And you can represent the tasks to different users by making things like Project management easier.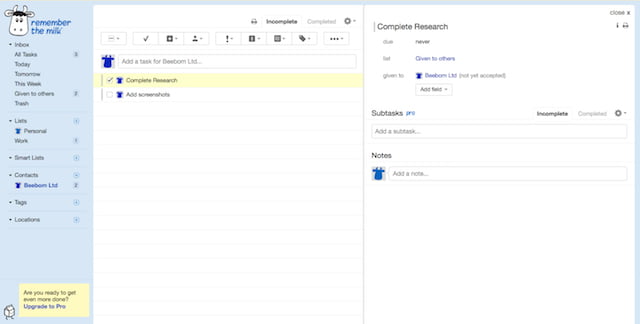 RTM does not support for attaching files to reminders and does not support comments, it does a very handy "Notes" feature which can be used as comments. This app offers a Pro Subscription which gives support for subtasks, unlimited sharing of lists, widgets, badges with the ability to sync with Outlook. If you want you can subscribe to Remember The Milk Pro version for $39.99 per year.
Availability: Android, iOS, BlackBerry, macOS, Windows, Linux, Web
Get Started (Pro upgrade at $39.99 per year)
4.Toodledo
Toodledo is another Wunderlist Alternatives which you can try. This app is free of cost for Android while the iOS app costs $2.99. The Toodledo app supports lists like Wunderlist, but that feature is called "Folders". All the other features the app shares with Wunderlist are Reminders to get notified about to-dos, sharing and collaborating for easy teamwork, attaching to-dos files and much more.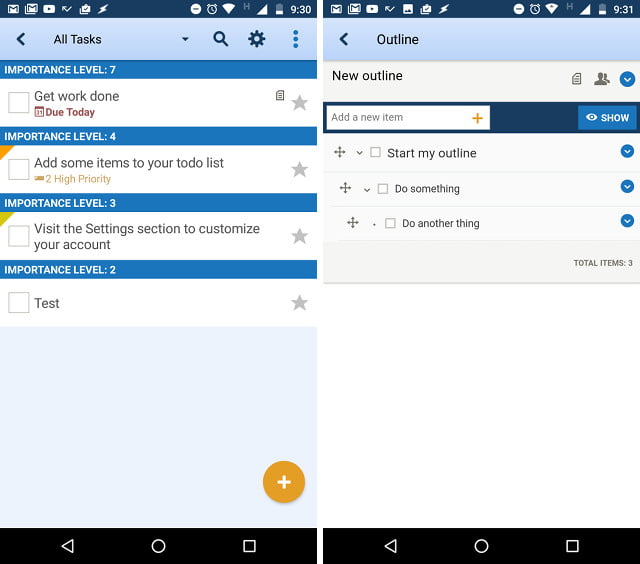 In starting, the app does not have a user friendly interface but once you are used to the app it will be a powerful app for task management.
 Availability: Android, iOS, Web (with in-app purchases in the iOS App)
5. 2Do
The 2Do app is another best app which can be the best Wunderlist Alternatives. You can use this app to create to-do lists and reminders for your personal and professional use. 2Do app is free of cost and comes full with the Wunderlist features like has the ability to add Reminders to tasks, Notes to note down the important things about to-dos and also has the ability to add images and audio.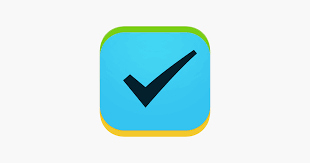 But unfortunately, the app does not support features like Sharing and Collaboration, Delegation. And the other features that the app brings are Tags to add context to the to-do, Quick Entry to add tasks faster, and much more.
Availability: Android, iOS, Mac (Free, paid Mac app at $49.99)
6. Trello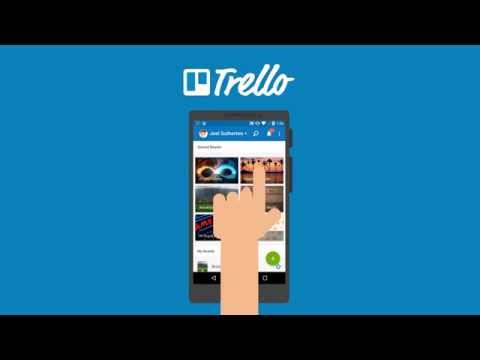 Trello was planned as a project management application so it can easily serve as a powerful to-do list and a reminder app also. This app has almost all the features which are offered by Wunderlist including Lists, Sharing and Collaboration, Reminders. And it also supports adding Notes, Files, and much more to every card in the app. It is just like Wunderlist where you can even delegate the tasks to different users who are collaborating on the list.
The Trello app has an advanced feature set and may appear a bit daunting to use at first. So, first spend a couple of minutes in the app then you will understand the app properly. It is a widely accepted application for a project management, to-do lists, and reminders. This app also has a paid version which supports unlimited integrations with services like GitHub, Evernote, and much more. It also supports attaching files up to 250 MB and a 2-factor authentication.
Availability: Android, iOS, Web (with Business and Enterprise plans starting at $9.99 per month)
7. Todoist
Another well-known to-do list app is Todoist which is one of the apps which you can consider as a great Wunderlist Alternatives. It is very similar to Wunderlist, Todoist is a free app to download and use. It has a list feature like Wunderlist, but it is called "Projects" in Todoist. And you can assign different to-dos and also a reminder to projects to classify them properly.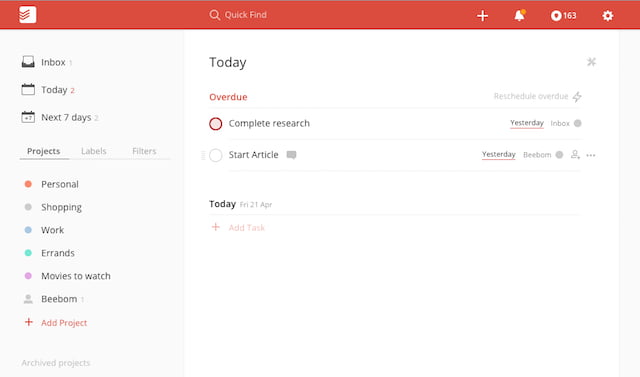 One negative side of Todoist is that there is no support for Subtasks, and features like Reminders, Comments, Files are covered under Todoist Premium service. And the Todoist app includes sharing and collaboration features, and the app is cramped by the lack of delegation support.
Availability: Android, iOS, macOS, Windows, Web, Chrome, Safari, Firefox (with a Premium plan available at $28.99 per year)
8. Google Keep
Google Keep is also the best alternative to Wunderlist and it is free of cost. It is a note taking application which can be used on multiple platforms like Android, iOS, macOS, Browser, etc. In this app, the note can be auto-saved across the users Google account on PC, Mac, or iOS device.
Availability: Android, iOS, macOS, Windows, Unix, Browser
Get Started
9. WeDo
WeDo supports all the platforms like Android, Web, and iOS. The interface is clean and easy to use. To each task, you can attach files in WeDo. As it is a new app but they have a good interface so all the users can send their suggestions to improve the app. You can add groups, and for each group, you can add members. It is something like Trello Boards, but I think its better. This app is free of cost.


But this app does not support multiple reminders.
Availability: Android, iOS, Web.
10. SynapBook
SynapBook app only supports Android and desktop OS, but not iOS. By Using the tree structure, you can structure the content. It supports pop-up notes which can be used like simple Windows Sticky memo app. It is free of cost.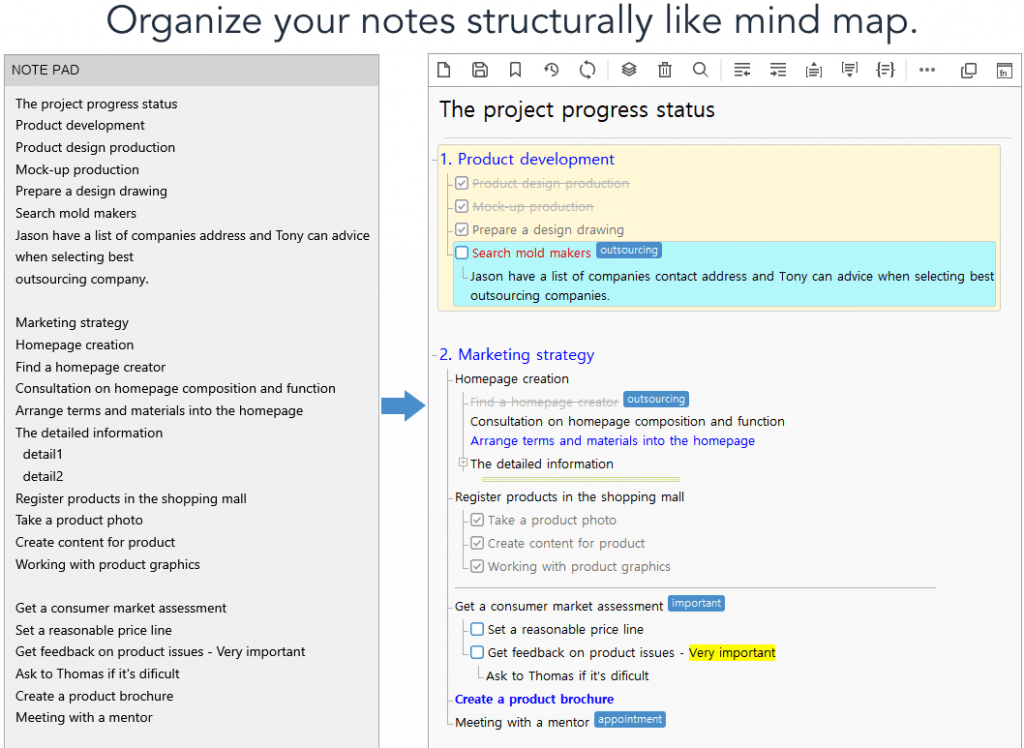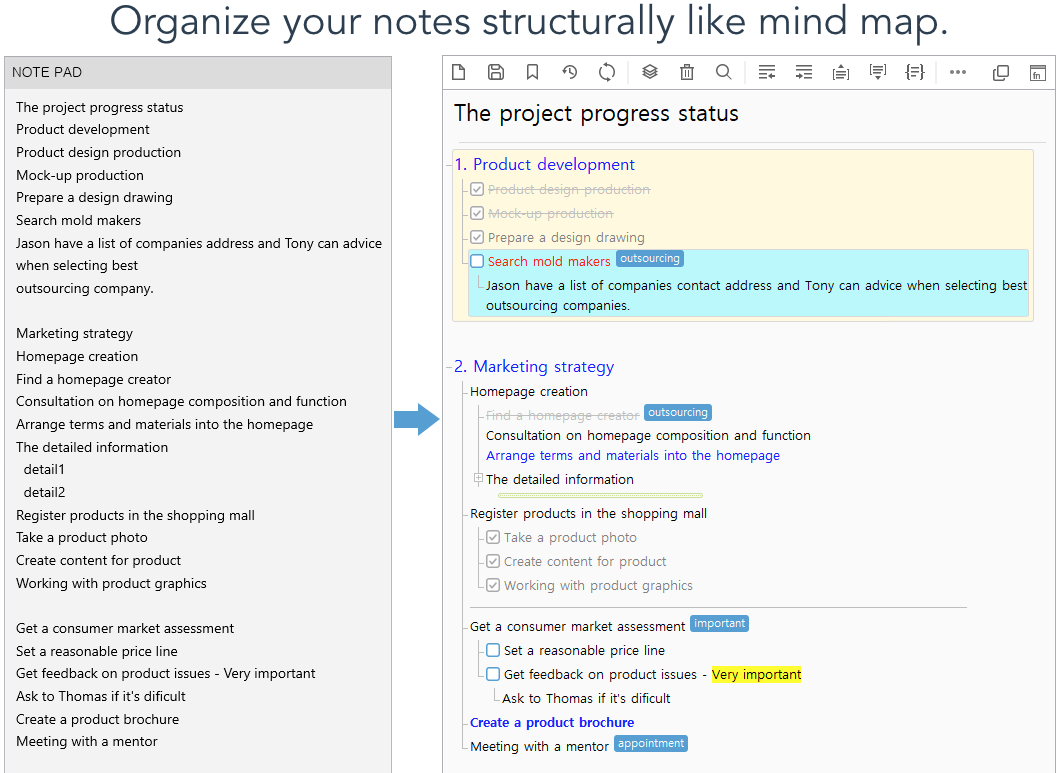 Availability: Android, Desktop
CONCLUSION:
So, these are the best alternative apps of Wunderlist. Most of them are almost similar to Wunderlist and has the same features also. We have tried our best to gather the alternatives of Wunderlist we hope you all like it. All the apps have free trials and then some are paid so you can check it once all the apps. We would like to know your thoughts on Wunderlist and the alternatives of the app. If you know more alternatives which are best please let us know by commenting below.
Also Read: