FileZilla is one of the most popular FTP File Transfer Protocol. Recently, it came under a lot of fire from all the users because it is hosted on SourceForge. SourceForge has the reputation for packaging bloatware with all the apps. This didn't go well with lot of people so they are looking for best alternative software. Here we have listed the 10 best Free FileZilla Alternatives which you must try.
What Is FileZilla?
FileZilla is an FTP which allows you to transfer single files to a web server. For a long time, File Transfer Protocol was the standard for website design. Those who prefer coding websites in HTML, FileZilla is a useful option for them. This software is an open source and is completely free to download. It was specially designed for Linux but also works on multiple operating systems.
Pros of FileZilla
It is completely free to download and use
Can transfer files over SSL for added security
Best one for the beginners and also for experienced people
Cons Of FileZilla
FTP is becoming outdated
Secure transfers are not the default
Features of FileZilla
Supports multiple languages
Works on Mac, Windows, Linux
Full featured FTP client
Transfers single files or batches to FTP server
Check out Best FileZilla Alternatives
1. Cyberduck
Cyberduck is the best alternative to FileZilla and it also has a good and easy User Interface. Using this app is very easy, even if you are using it the first time you won't get any problem. You can download Cyberduck app for free and the users can donate to the developers if they want. Except for FTP, this app can be used with a variety of protocols, like SFTP, WebDAV, S3, Google Cloud Storage and more. This means, with Cyberduck you are all set for all the web development needs.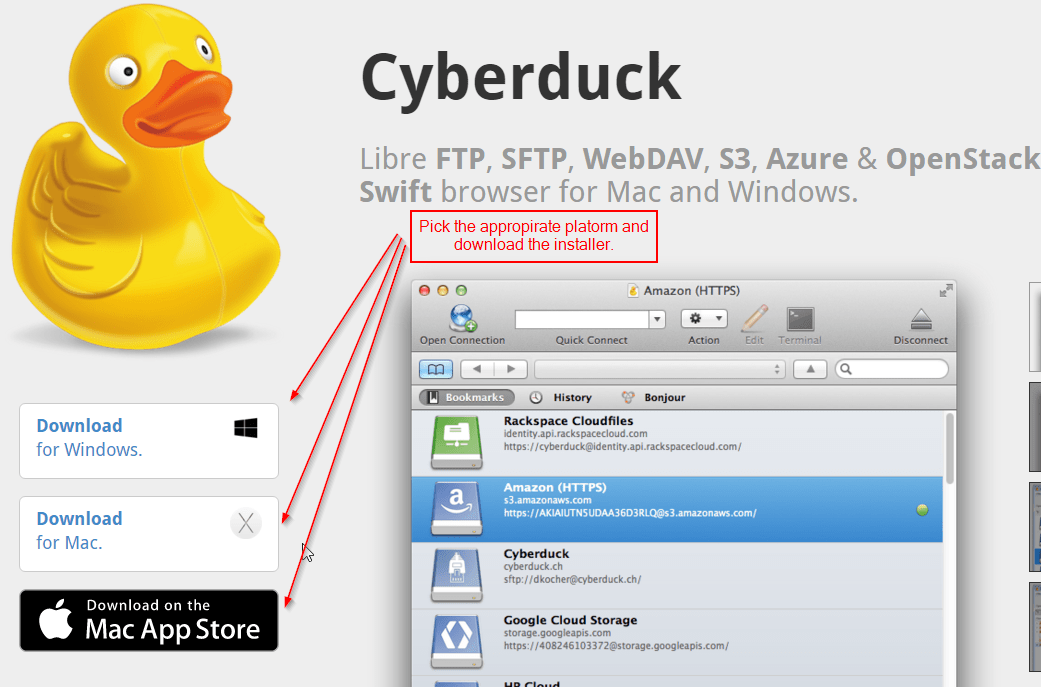 It has lots of cool features from that the more notable ones are it has the ability to open any file over FTP with any third party editor. This app offers you to select your editor of choice to edit the files.
Availability: Windows and Mac as a GUI client, Linux distros as a CLI utility
Also Read:
2. ExpanDrive
This app offers a cloud backup service for iOS and Windows which receives the regular updates and the bug fixes. ExpanDrive works like a USB drive to the cloud. To update your files from anywhere on your computer the program works silently in the background. You can directly log in to your cloud storage to upload documents and this app allows you to work from the app or Browser Save function to keep your files to the cloud. Once you connect your cloud storage to the app, the interface makes saving to cloud no different.
Availability: macOS and Windows
3. Transmit
Transmit is mostly recommended by all Mac user. It is a gold standard in Mac FTP clients and those who are looking for feature-rich FTP client it is the best one. This app works great and the User Interface is also very good and easy to use. Apart from FTP, it also supports protocols like S3, WebDAV, SFTP.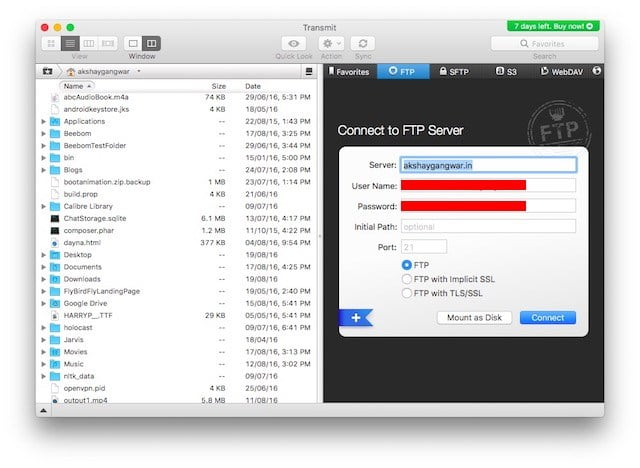 If you want to use this app you can use it free for 7 days then you need to pay $34. Transmit app has the ability to add local, folders as the favorite to the app. Allows the users to get one-click access to all the folders. It also increases productivity and gets rid of time it takes to get to the folder by completing the path. You can also directly jump to the parent directory for any folder.
Availability: macOS
4. WinSCP
This app is free to download, yes you don't need to pay any money. WinSCP is for Windows, just like the Transmit is to Mac. The app is one of the most famous FTP clients for all the Windows. The app works great and has lots of interesting features. This app supports protocols like SFTP, SCP, and WebDAV. In this app you can do live editing also, means simply you can edit the files on the server. It does this by making a temporary copy of the remote file on your system. And when you save the temporary file it will automatically upload it to the server.
Availability: Windows
Also Read:
5. Beyond Compare
Beyond Compare is the best alternative to FileZilla. This tool is provided by Scooter Software compares and the difference between individual files, folders. Like many other licensed programs, this app offers extra features for its Pro version, with 3-way Merge. It has the ability to work from the command line as a file syncing service across the device.
Availability: Windows, Mac OS, Linux.
6. CuteFTP Pro
Another great FTP client, but it is expensive, especially the user interface is not as good as compared to its Mac Competitor. If you are on Windows, then this tool might be something which is worth it. It also supports SFTP, WebDAV, and S3. In this, you can also add Servers to the tool to save them in the app. This tool has a 30 days free trial then you need to pay $39.99.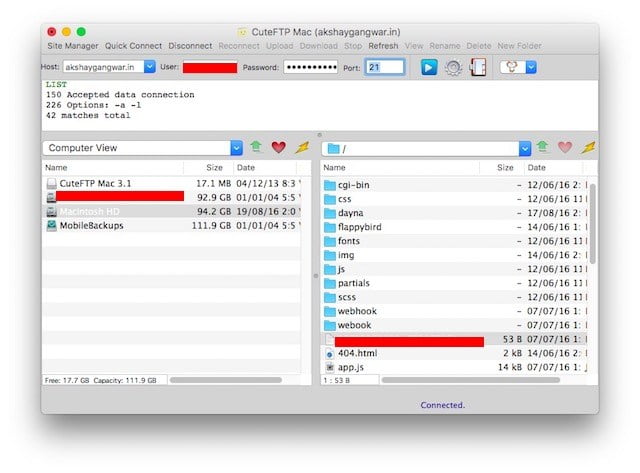 Availability: Windows, macOS
7. FireFTP
FireFTP is an add-on for Firefox but then also works well. If you want an FTP client that is free and works inside your browser then FireFTP will fulfill all your needs. Even SFTP is supported by this app and if you need a secure connection to the website it will help. And the Add-on offers a great and simple User Interface which makes the work done. Between your local machine and the remote server, you can upload and download files by clicking on the buttons of upload and download. Or simply do drag and drop. It is a free app to download.
Availability: Firefox
8. CrossFTP Pro
CrossFTP Pro has a great feature set and supports the protocols, SFTP, FTPS, WebDAV, S3 and lot of others. This tool is available on Mac, Windows, Linux distros. The User Interface is a bit well. And it also supports live editing of a file, so simply edit the files which you want. It also supports tabbed mode to connect multiple servers at one time. The users can extract, compress and browse archives with the offer support for character encodings like Unicode, CJK, much more.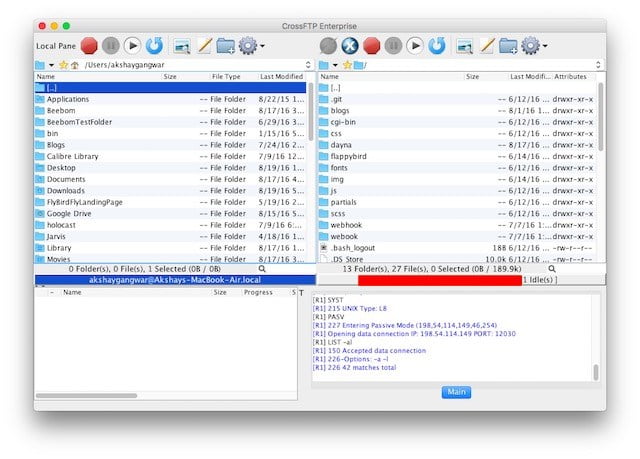 This tool has a free trial and then you need to pay $24.99.
Availability: Mac, Windows and Linux distros
Also Read:
9. SuperPuTTY
SuperPuTTY is an open source and a free terminal emulator app which supports many protocols like SCP, SSH, SFTP, rLogin and Telnet. There is support for making raw socket connections.
Availability: Windows, Unix, Browser
10. Bitkinex
Bitkinex is a free app but the problem is the official support only offers up to Windows 7. The concept is different if you have been using FileZilla but it is easy to understand and use it. It uses the data sources which you can connect to and transfer files in your computer and remote server.
Availability: Windows
CONCLUSION
If you are using FileZilla then you can use it as it is a good app. Here we have given you a list of some of the best alternatives to FileZilla which will help you out. All these alternatives are the best one to use. So try it out. If you know more than tell us. Stay tuned to us for more.
Also Read: