For everyone, the concept of taking back up of your data is popular. As the data is very important for you which is in your computer. The best way to take back up is cloud solutions and the other solutions which are easily available in the market. Crashplan is the great option for all the users, but everyone can't afford it. The price of Crashplan is very expensive so, it is better to see a good alternative for Crashplan. So, let us see the list of Crashplan Alternative which you can use to take back up of your data.
The Process of taking back may take time when you do it for the first time. Crashplan is the best service which is available but the company has shut down its consumer-focused product. If you are a regular user of Crashplan then you might have got an email which says the closure service and the free extension of 60 days. So, let us find a suitable Crashplan alternative which is the best one. Check out our good list of best Crashplan Alternative.
Best CrashPlan Alternative 2018
1. iDrive
iDrive is the best alternative Crashplan on this list. With iDrive, you can also take back up of your mobile phones and this feature is not available in Crashplan. The files which you take back up are secure as each of them gets own encryption key. This means, if one file is compromised, the other one is safe.
iDrive software is faster than CrashPlan and this is another reason to choose iDrive instead of CrashPlan. The useful features of iDrive are a local backup, backup scheduler, shipped restore, seed loading. Seed loading means, ship your files on a hard drive to the cloud backup. To get all the service, you need the data of at least 100GB.
For one year, iDrive is free and then it is chargeable at $99.50 per request. For most of them, this software is the perfect one.
Pros
No limit on device backup
Provides backup for iOS and Android both.
Back up your data from multiple sources
Cons
The iDrive is a little bit difficult to use
two-factor authentication is missing.
Pricing: Free, Personal starts at $52.12/year
Also Read:
2. Backblaze
Backblaze is another Crashplan Alternative. It is the most famous cloud solutions which are available. The Backblaze is also a paid software, first 15 days are free and then you need to pay just $5 per month. In this software, you get unlimited storage and backup. It easily accesses the files by using mobile and it also provides 128-bit AES encryption and two-factor authentication. The Backblaze software has no bandwidth throttling.
Backblaze is an amazing software of cloud solution with more good features which you may not get in other software.
Pros
Unlimited backup
It provides lots of features to everyone
The software is cheap
Can use the Backblaze on multiple platforms
Has two-factor authentication
Can be used on Windows, macOS, Android, iOS
Cons
The software is only limited to one computer.
An encryption is not end-to-end.
Pricing: $50/year, 15-day free trial
3. Carbonite
Carbonite is a great online data backup service for cloud backup solution. It provides unlimited backup. You can also backup your photos or external hard disk drive. The software is easy to use service. You can choose to go with recommended settings or customize it yourself. As you choose, your files will be backed up. Overall the setup is very easy to use in Carbonite.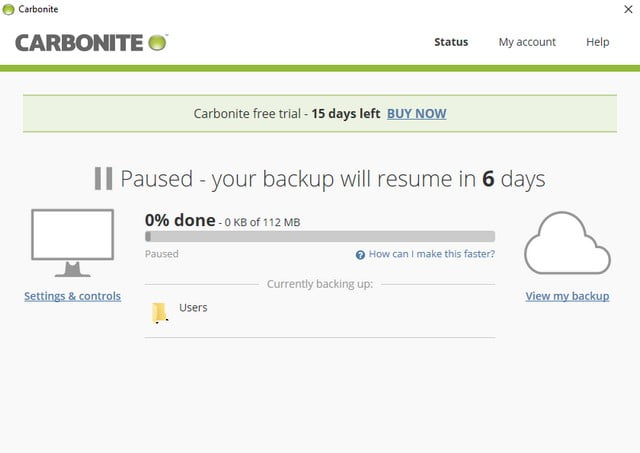 For all the starters, the backup process is slow and does not work faster on slow internet connection.
The company offers courier recovery service.
Pros
Provides an unlimited backup plan
The company offers courier recovery service
Users can backup file by type
Can backup your photos and also your external hard drive.
Cons
The backup process is slow.
There is no plan for monthly subscriptions.
Pricing: Home starts at $59.99/year, 15-day free trial
Also Read:
4. Duplicati
It is an open-source with its source code uploaded on GitHub. Duplicati is licensed under the GNU Lesser General Public License (LGPL). This software is totally free, you don't need to pay anything. In this, you can choose the level of security which you want for your data. From the two the built-in 256-bit AES encryption or an external GNU Privacy Guard (GPG) you can choose any. And you can also, specify the time and days of the week when you want to back up.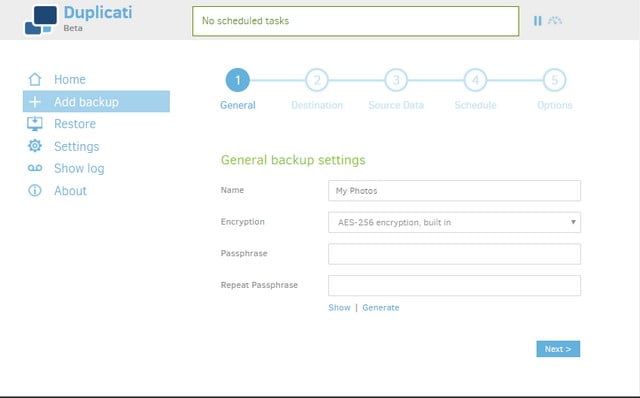 It works with standard protocols like SSH, FTP, and WebDAV. And also works with popular services like OneDrive, Amazon S3, Google Drive, Box.com, Mega, and many others. Dulicati provides you a great service and gives lots of options to choose. It works in Windows, macOS, Linux
Pricing: Free
5. DropBox
It is the popular cloud storage software which offers seamless syncing files for all the platforms. It works on Windows, Mac OS, Android, iOS, Browser, Unix.
It is free of cost.
Pricing: Free
6. Acronis True Image
Another best alternative of CrashPlan is Acronis True Image. The user Interface is very simple so that you can use it easily. However, it requires a half gigabyte of storage space in your drive for installing it properly as it copies all the files at once. This software provides the interface which is clean and uncluttered.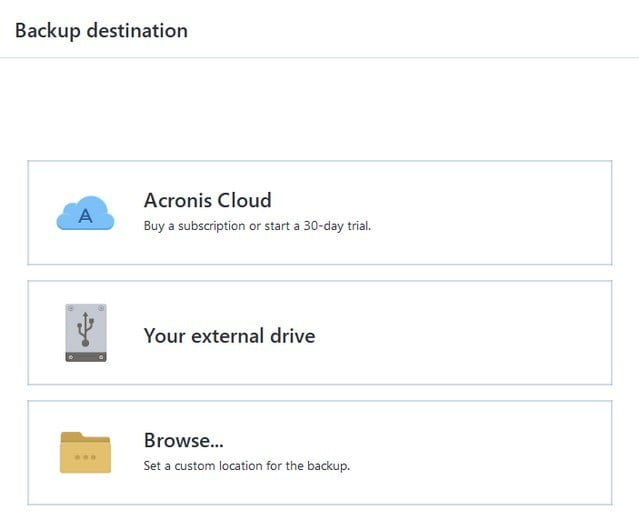 Pros
Has many different services
The User Interface is excellent.
Focuses on security
Supports iOS, Android and other platforms
Cons
It is expensive.
Pricing: Starts at $49.99, free 30-day trial
7. SpiderOakONE
After reading the name SpiderOakONE you might get confused but in reality, this software is very good. It provides cloud solutions to all the customers. It also has the ability to backup unlimited computers. There is a good back up speed but make sure you have a good internet connection.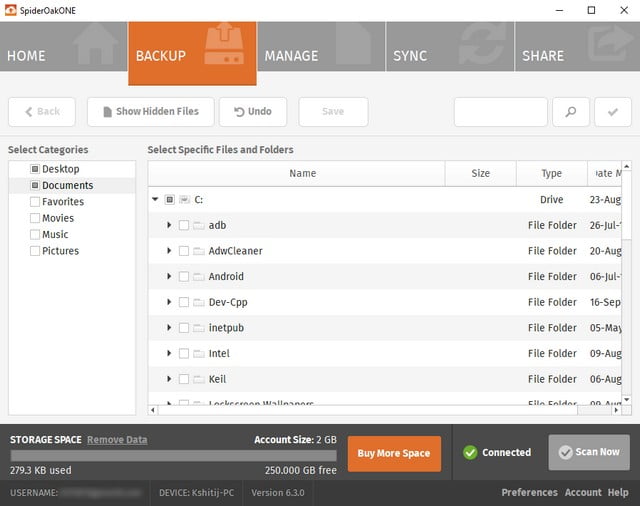 SpiderOakONE has the ability to back up unlimited computers.
The encryption options are great.
Sync Files across multiple computers.
This software is a great cloud solution and is the best alternative to CrashPlan. However, it might not have features like support for NAS backup, mobile backup, but overall it has an excellent service.
Pros
You can backup for unlimited computers
upload speed is very good
It offers private encryption
The user experience is excellent
Cons
No Support for mobile Operating system
Does not perform NAS backup
Pricing: Starts at $5/month, free 21-day trial
8. ElephantDrive
ElephantDrive is the best alternative to CrashPlan which helps those people who don't want to spend lots of money on expensive cloud solutions. This software offers free 2GB storage for those people who are not going to upgrade a lot.
And if you want more then the Pro version starts from $9.95 per month which is good as other cloud solutions are much expensive. It supports Linux, MacOS, NAS, Android, and even iOS aside from Windows.
ElephantDrive supports almost all the OS.
It offers free 2GB storage which can be upgraded to Pro version anytime.
The user interface is very easy to use
The users will get the security options with 256-bit AES encryption. The files are stored at multiple locations, so in case you lose your data you can easily get it back.
Also Read:
Pros
Most affordable cloud solutions
Simple interface
Has security-oreinted features
Cons
The interface is too simple for its own good.
Pricing: Free for 2 GB, Pro starts at $9.95/month
9. Resilio Sync
For those who are looking for a back up for smaller files, this is a great software in many ways. It works better than other software. With this you can back up your file, get a sync key, and then use the key on other computers. Resilio Sync offers unique cloud sharing capabilities. The software is available on multiple platforms and is capable of many hard hitters.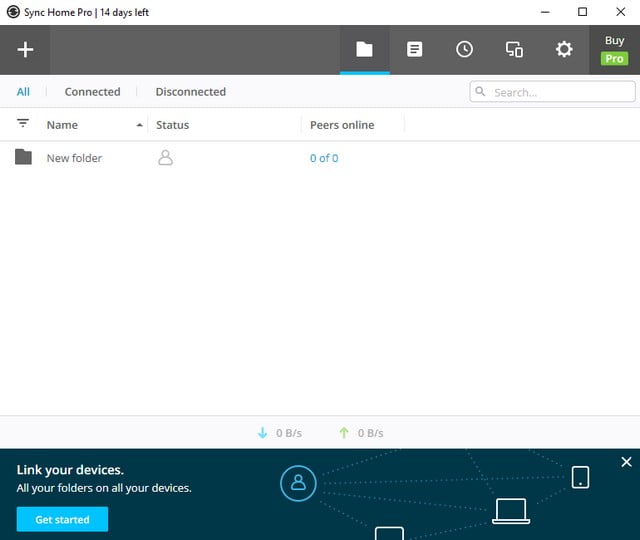 In Resilio Sync you get 14 days trial but if you want more then you have to pay $59.99 for the pro version. In pro version, you need to do one-time payment.
Pros
Offer unique take on cloud solutions
It is very easy to understand
Runs on almost all the platforms
Good for those who want to back up small files
Cons
The pro version is expensive for many people.
10. Mega
In Mega cloud storage software, you must create an account and get 50 GB free on end-to-end encrypted cloud collaboration.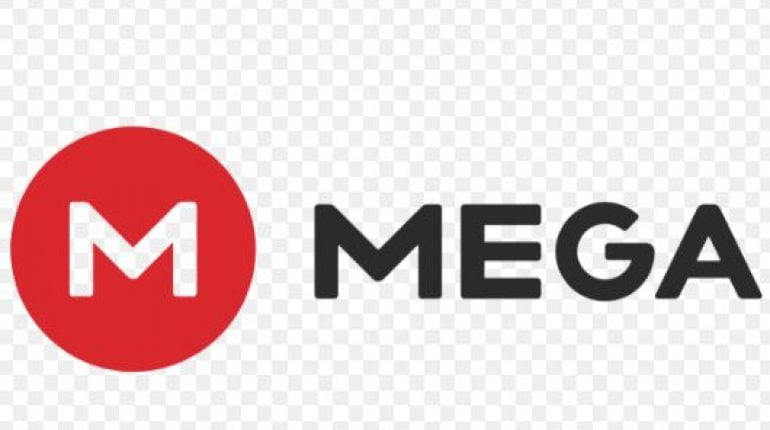 Price: Free
CONCLUSION:
So, if you are looking for the best alternatives of Crashplan, these are the best ones. We have gathered all the best alternatives of Crashplan 2018 and made a list. We hope you like this article and is helpful for you. Stay tuned to us for more.
Also Read: