Gmail also was known as GoogleMail which managed by Google. Gmail is a free email service which purely depends on advertising. Gmail is available on the web, Android, and iOS. Gmail first started on 1 April 2014 and officially end testing phase on 7 July 2009. Gmail was Created was by Paul Buchheit. He has also build FriendFeed.com latter it was acquired by facebook.com. According to Wikipedia article, Gmail has 1.5 billion Users in February 2017 which is huge in comparison to another email service. in this article, I will guide about How To Create An Account on Gmail step by step in 1 mints.
What is Gmail
Gmail is free to email service which is available in 71 languages. It was Launched 13 years ago but still leading the world in term of Email service.
What You need to Create Gmail Account:
A computer with Good internet Speed
Web browser (Chrome or Mozilla)
You can also create Gmail account on Mobile or tablet
How to Create Gmail Account on Google Chrome Browser
Step 1: Open Gmail Official Website
Open Gmail.com by Typing www.gmail.com on Address Bar or you can simply go to Gmail through Google search. then click on create the new account.
Step 2: Fill Your Personal Information
You need to fill the required information First name, last name, password, date of birth and most important is username (will be used for your email id name ) and This form is also asking Your current email address – if you don't have any email id then you can fill your friend or girlfriend email id.
This feature is very important because if you forget your password than Gmail will ask for recovery email id and they send password reset link on this account so this is very important and you need to enter correct email id.
[irp posts="3216″ name="8 Best Free Online Text Message Bomber For Iphone & Android"]
once you fill all the information then simply click on Next Step (bottom of page)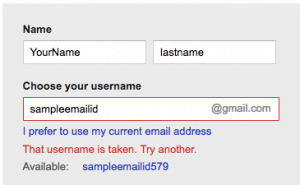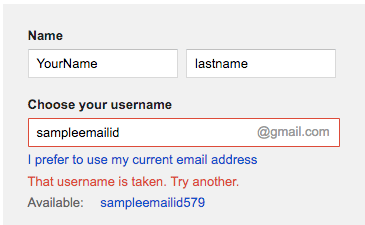 if your desired username is not available then you must try with some unique name with some number like your sachinyadav1233 or yadavsachin456
I am pretty sure that if you try with name and number than username must be available.
Most of the time spending on username selection because most of the time your desired name is already acquired by some old user so you have to think of the new username and this process keeps consuming your time.
if you want to save your time and create gmail account in less time than try username with some name & number.
Step 3: Final Step
You need to click on I AGREE button which appears at the bottom of the pop-up window. if you don't see any button please use your mouse and rotate above pop up window to the bottom than I AGREE button will appear.
[irp posts="130″ name="[HD] Free Download Facebook Comment Pictures in 2017″]
Step 4: Verify Your Account with mobile number.
if never create any gmail id from your computer then you don't need to do anything else. Your gmail account is successfully created but if you are creating gmail id in public IP or any cyber cafe then you have to enter your mobile number for security purpose.
Step 5: Congrats Gmail Account Create Successfully
This was the last on How To Create An Account on Gmail step by step guide which comes to end. You can send test mail to your friend, family or anyone. You need to click on compose box which exists on the left side of email dashboard.
How to create Gmail account in Hindi