Online music streaming websites are mostly used by the audience and it is also a cause of hatred among music labels and recording studios. The online music streaming sites and Copyrighted digital media does not go well together. Just like this, the Grooveshark music streaming site became a victim of lawsuits which filed against hosting copyrighted content. So, those of you were using Grooveshark now can't use it as it is not working anymore. Now, what should you do? Look for the alternatives of Grooveshark and get the same fun like Grooveshark app. So, we have brought the list of Grooveshark Alternative which will help you out.
What is Grooveshark?
Grooveshark was the popular site for online music streaming which was created in 2006. On this platform, all of them used to stream music which was uploaded by the other users. This music streaming app allowed the users to upload their tunes, organize them in the playlists and lets the other people to listen to music or download it. It was working properly but then entered the scene after iTunes went mainstream and Grooveshark is now shut down just like the Napster app.
The idea was straightforward and the people shared media with others just as YouTube or SoundCloud does. But the problem started when the record labels got issues with lots of illegal hosting content on the music website. And because of that, they shut down the online music streaming website.
So, this is the reason why Grooveshark website was shut. Now, as this website is no more we need to see the Alternatives of Grooveshark. Here is the list of Grooveshark Alternative.
Best Grooveshark Alternative
1.Soundcloud
One of the best alternatives to Grooveshark is Soundcloud. Soundcloud is the best online music streaming website with lots of popular artists like John Mayer and many. All the popular artists upload their music tunes on this music streaming site. There are lots of great features of this app and it allows free users to create and upload the tunes, stream songs, and can create favorite playlists. However, the free users are limited to 180 minutes only for audio track uploading but the premium users can do unlimited services on the site.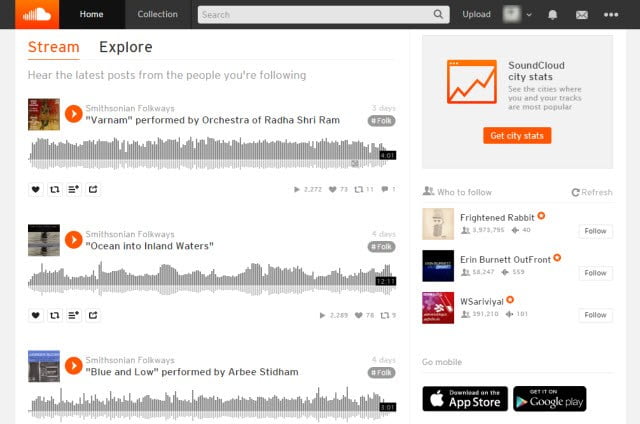 Soundcloud website gets huge traffic from worldwide through its loyal fans and it discovers new artists and stream music with friends. Listening to music with friends from Soundcloud is very easy and it is the best Grooveshark Alternative.
Supported Platforms: Web-based, iOS and Android.
PRICE: It is free for regular usage. $6 per month for PRO Plans and $15 per month for PRO UNLIMITED.
2. Last.fm
Another great online music streaming site is Last.fm which can be the best alternative to Grooveshark. Last.fm lets the users upload their own music to the website and can create playlists, share with friends and can also track the artists and events. One of the best choices for music streaming on the website is Last.fm as it has great features like top charts, social media sharing, music recommendations and you can stream online music on your phone also. If you want to remove ads and wants to filter stations then you need to buy a premium subscription package.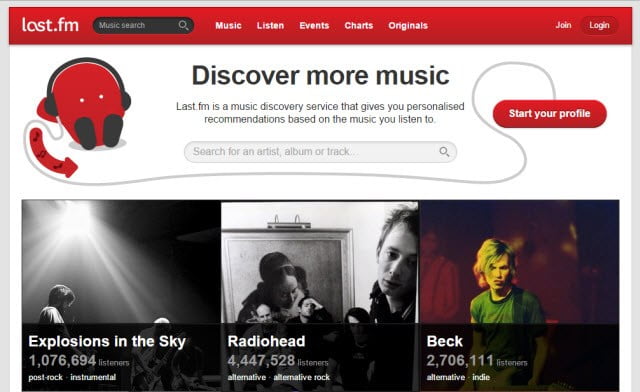 Supported Platforms: Web-based, Windows, Mac, Android and iOS.
PRICE: Free for regular users. For subscription, you need to pay $3 per month.
3. Spotify
Spotify app is mostly preferred music streaming site in the worldwide which offers the creation of a playlist, radio stations, favorite artists, and much more. It also offers and supports ten of third-party services and it makes the integration smoother. On this app, you can share your discoveries with your friends and listen to music together. For all the free users there are limited features and it is ad-based while the premium users will get all the features ad-free. For a month you need to pay a $9.99 premium package.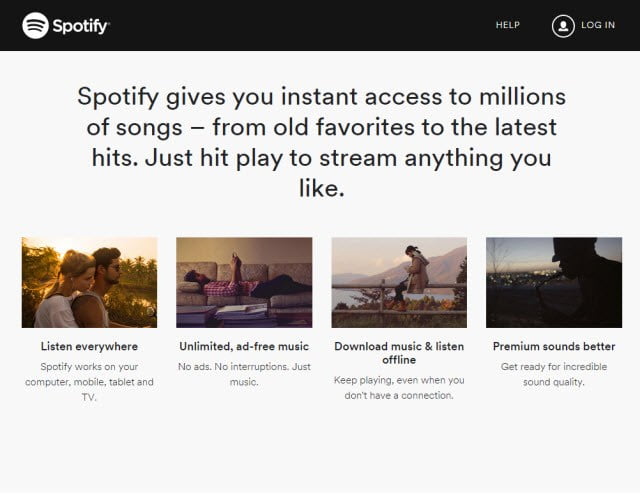 You can also listen on offline mode to listen to your favorite tracks on your device. Spotify app is not yet available in India.
Supported Platforms: Windows, Mac, Android, iOS, Windows Phone, Symbian and Blackberry.
PRICE: $9.99 per month for Premium plans and free for regular users.
4. 8tracks
8tracks allows the users to create playlists within 8 tracks in it. It could be personalised with titles, cover art, tags, and keywords which makes it easy for other to show your favorite music. This app also allows the users to access their YouTube or Sound cloud link and it depends on the license of the track.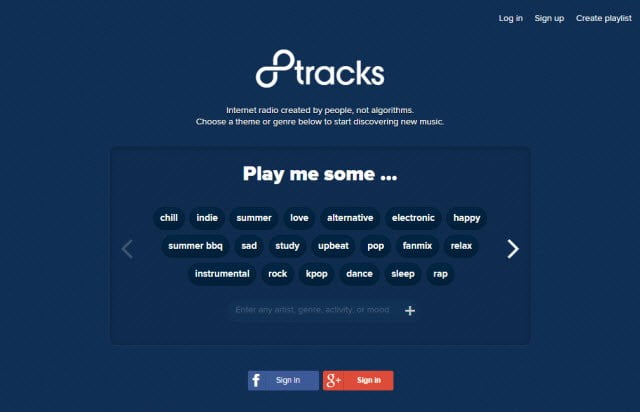 In 8tracks the free version has the limits for the users from skipping more than 2 tracks from the playlist and also does not give permission to listen to the playlist for more than two times until 8 hours have gone. There is no legal issues with this app.
Supported Platforms: Android, iOS, Blackberry, Xbox, Windows 8, Mac OS X, Mobile web UI, etc.
PRICE: $25 for 6 months and free.
5. Google Play Music
Google Play Music is available for all those users who have a Google account. It allows people to upload their music collection. To a single library upload your personal music collection. Upload music files from any folder or add your iTunes library and all your playlists. And whenever you add new music to your computer it will be automatically added to your music collection online.
Supported Platforms: Android, iOS, and Browser
PRICE: Free for 30 days then pay Rs. 99 per month.
6. Vibe Cloud
The services of Vibe Cloud are similar to Grooveshark. Vibe Cloud offers the extensive search, upload, download the functionality like Grooveshark. It does not imply the DMCA laws and a possible legal dispute. There can be a problem in future for those users who are using this network. There is a strong database of music and an HTML5 player to listen to the tracks which you upload. The songs can be downloaded from the playlist.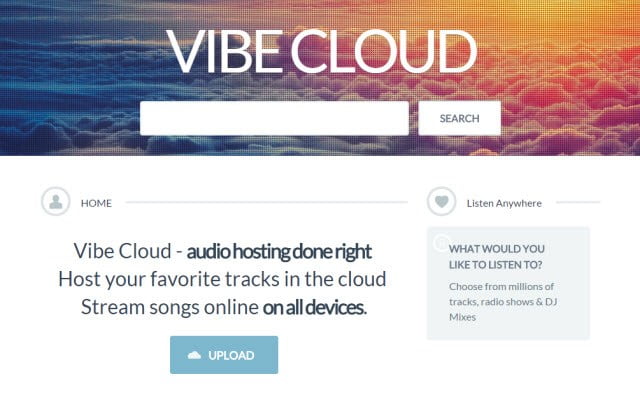 Supported Platforms: Web-based player
PRICE: Free
7. Apple Music
The Apple Music app combines the personal iTunes library with this music subscription service. All the music which you have purchased from iTunes store or synced from other sources will be available in "Library" tab. There are more than 50 million songs available on Apple music which are ad-free. Here you can download your favorite music and play it offline whenever you want. You can also import the music from CD's to a computer and synced over. It is well organised by the album, artist, or song. You can easily create the Playlist. It is the best superior streaming service. There are few negative points also like sometimes playlists can be lost when you synced the phone. If your phone is wiped, all the important music is not backed up.
PRICE: You can try it for free. And there are paid versions available.
8. Pandora
Pandora is the new online streaming app for music for mobile devices. It offers to organize the tracks which are based on genre, artist, and occasion. By browsing via available tracks you can create your own playlists. Except for the regular playlists, it also features recommendations for daily top songs, daily top country songs and other. All the registered users can personalize their own stations and allow other devices to their favorite music. The only negative point og the app is it is only supported in Australia, New Zealand, and the US because of copyright and privacy issues.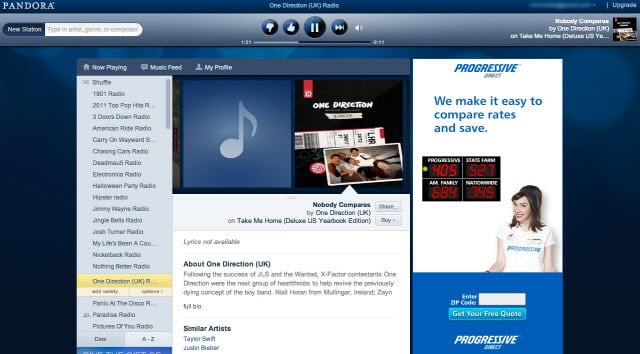 Supported Platforms: Android, Browser, and iOS
PRICE: Free and $4.99/month premium Pandora One plan.
9. Earbits
It is an online radio platform which is designed to make a dead simple for artists and all the music lovers to find them. They can create meaningful connections and there are no ads, or fees, or commercials in this app. There are over 300 channels with high-quality music and a hand picked by a team of editors.
Supported Platforms: Mac, Windows, Web, Android, Chrome OS.
10. Deezer
Deezer is a widely used app as it has over 35 million tracks in a tow and there are 6 million paid subscribers of the app. It has become one of the best music streaming services on the website. You can create a playlist, import MP3, customizations, recommendations. You need a premium subscription to get all the access from this service.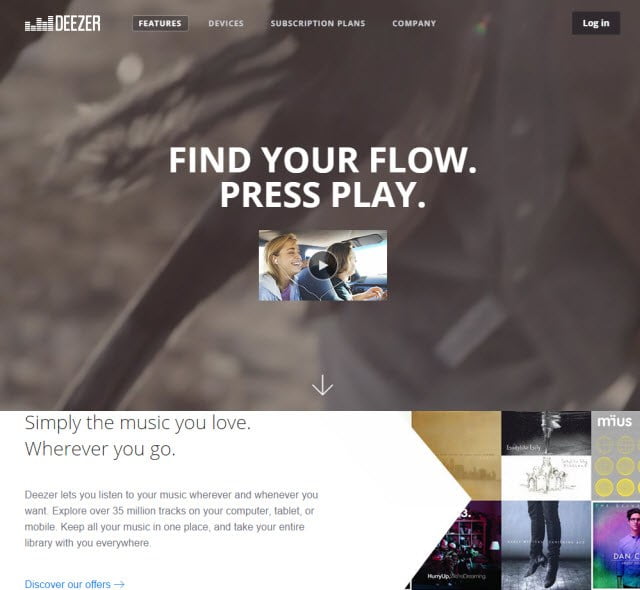 It is only available in selected cities around the world but it is quickly growing. It will bring out the top labels and recording artists together.
Supported Platforms: Web-based, Android, iPhone, Windows Phone.
PRICE: $14.99/month for the Elite plan.
Pros & Cons of Grooveshark
Pros
You get Free music streaming
Apps for Android and iOS
It has a Simple interface
Cons
No longer available as it is banned for illegal copyrighted content
Consumed more data that current services
CONCLUSION:
As we know the Grooveshark is no more available so we have brought the list of Grooveshark alternative which helps you out with online music streaming. Don't worry and just use these apps to stream music online. All these apps are the best alternatives to Grooveshark and has lots of great features better than that. So, must try out these apps.