Everybody wants to use some free Wi-Fi networks to access the free internet on their device. In the modern era, the advancement of smartphones and electrical gadgets makes human more close to the Internet and social media.
If you are searching for how to detect password of WiFi free without rooting your device then you came on the right path. We will tell you all about how to detect passwords, what is root, why we don't have to choose root for our android device and everything you must know about wifi so to increase your knowledge and potential.
Sometimes when we visit in any cafe, restaurants, hotels and at any public place, you will get connectivity to their free wifi. They provide you with free wifi to increase customer satisfaction. Then you will get connected to a network and all the information regarding that network is saved in your device. This information can be viewed easily in some Android devices but for the rest of devices, you should follow our steps and tricks to view their SSID and password. For some of the apps, you download you need to root your device and this is a very hard thing.
So we will try to provide you with only those apps which are best wifi password show app without the root of 2019 and are accessible free without rooting your device.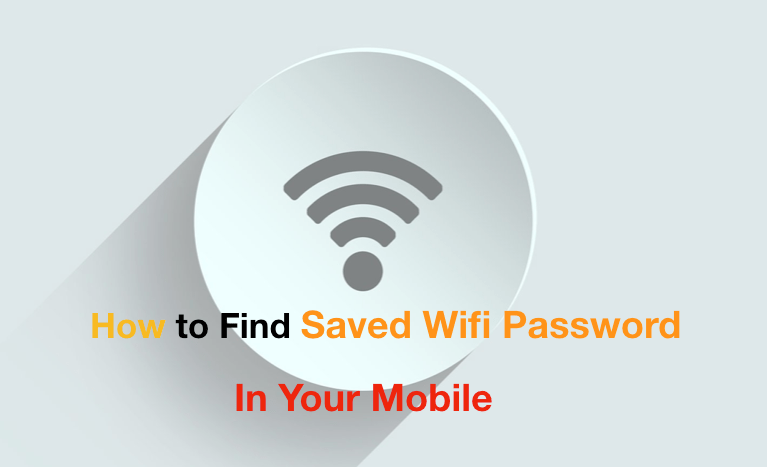 What Is Rooting
The manufacturer of your smartphones sometimes limits your device capability by not allowing you permission to your every action.
By rooting you will get all the privilege access on your device. The manufacturers have no control over you. You now are able to change your operating system and can use any type of apps.
The root can be compared to jailbreaking devices running on the Apple iOS Operating System.
Why Not Root Your Phone?
As you read above there are many advantages of rooting your device but else we suggest you not to root your device because of the following reasons. By rooting the warranty of your device voids. The manufacturer does not allow you phones repairing if it ones rooted. Also, all your payments receipt and bills became a paper only. After rooting your device performance is decreased due to an increase in the number of viruses and malware attacks on your device.
Also Read:
Method 1: Get password through WiFi Password Recovery App
this method is very easy and simple even school boy can do this. in this step you only need to download WiFi Password Recovery tool app from Google Play Store. their are so many app which do exactly same thing just for example.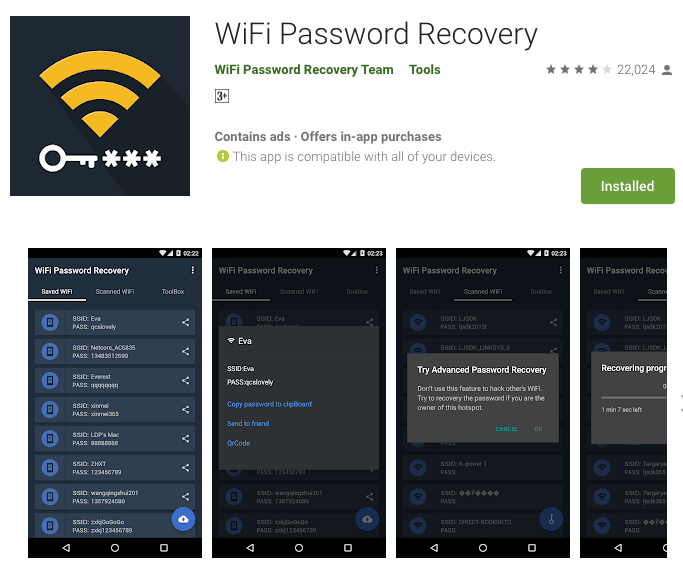 We have tested this app and it require root option mandatory. if you mobile is rooted then you can try this.
Method 2
Using ES File Explorer

Without Root
Update: All blog write old content about ES file explorer. this file explorer remove the function of root access which allow us to read the wifi file. ES Explorer is deleted from Google play store.
ES File Explorer is one of the best files explorers for Android. It will be helpful in accessing android core files very easily. It also options you to manage system files. Here we will tell you some steps by which you can easily find the passwords of saved wifi networks. It is used as a WIFI password recovery in android without root app.
Step1
First of all, the very necessary thing is you have to download ES File Explorer and install this all from your play store or from your browser and install it.
Step2
After installation and security- scanning open the app and provide it with all the permission which it needed. And press the continue button.
Step3
Now open the tool panel of the app and enable the option Root Explorer. By this, you will be able to locate and edit files.
Step4
Now, search for the next folder named data in your device and then click on data and folder and choose the folder named misc inside the folder data.
Step5
Under the misc folder locate the folder wifi and then open the file 'wpa_supplicant.conf' file via built-in text / HTML viewer.
Step6
This is the final step you need to follow. After opening the HTML file search for SSID and PSK. The SSID is a network name and PSK is
its password. And connect to the network whenever you want.
Method 3 : Steps To Hack A Not Saved Wifi Without Rooting Your Device.
If you want to hack new wifi in your neighbourhood but you don't have its password saved in your device or you never till connected to the device. Then this app WIFI WPS WPA is very helpful for you because of it works well on both your rooted and non-rooted device.
Step1
First, you need to install the app WIFI WPS WPA from your android play store or you can find it easily on google. You have to only search the app by name on your browser.
Step2
Now install the app and gave it permissions which it requires for its working. Open the app and it will automatically start scanning the available WIFI networks.
Step3
After searching, you will be available with a list of available WIFI networks. You have to select the one to which you want to connect keeping in mind one most important thing that if the colour on the right side lock of the network is red, then it cannot be connected. You are only allowed to connect green colour lock networks.
Step4
Now tap simply in the green colour network and then an info popup will appear where you have to click on connect option.
Step5
The next popup will come with you two options whether your phone is root or not then you have to click on not root option.
Step6
Next popup will provide you with a list of pins which are useful for full access of the network. Choose one from them and tap on connect (root) option.
Step7
In this step, the pin attack will start and it may take a few seconds.
Step8
If pin works successfully then you will get the password of the network, simply copy the password and connect to the network.
Step9
If the pin fails to connect try with some another pin you will definitely connect to the network in some time.
These steps seem to be time-consuming but when you try them it will not take more than 10 minutes for the first time.
Also Read:
How To Get The Password Of Saved Wifi
Now we will tell you some more methods to decode your saved wifi network. For these methods, you need to install some apps in your android device.
Method 4 :
this method, you need laptop and have to connect your phone using a USB cable.
You will also come to know that how to find wifi passwords on android without root by using the method of ADB drives. The main key concept behind accessing a password is that you have to fetch the files of passwords from the phones without rooting your device. For this method, you also have to follow the instructions or steps given below.
To access the files from your device you have to become a developer by going into your device setting and scroll down and click on About Phone and again scroll to find Build number and tap on Build number. You have to click on it five to six times until the popup says you are a developer now.
Step 2: Enable Debugging
Now again go back to settings choose developer options and turn on USB debugging in your Android device.
Step 3: Install ADB drives
Now download and install ADB drives on your PC or on a laptop. Then you need to download and install platform tools from the internet.
Now open the folder where you have installed the above-mentioned tools. By default, they are found in disc C, where you can search platform tools. And then Right-click on platform tools and select the option open command window here.
Step 4: Start ADB
Now connect your phone to the PC. And then open a command line and type adb services and press enter. If it works then you will see a device in this list.
Step 5: Get your WIFI Password
After completing the above-mentioned steps type: adb pull /data/misc/wifi/wpa_supplicant.conf
This will automatically take your file from your phone to local disk C of PC.
Step 6: Open the file in Notepad
After opening the file in your notepad you will get all the information about your saved wifi networks.
Method 5
View Saved Passwords Using Wireless Router IP
It is one of the shortest and easy methods to know the saved passwords on your android devices. In this, you need to know about the wireless router they use. Here you have to follow the below steps to find the saved wifi networks on your Android.
Step1
First, if all you need to check the wireless router you are using and go to its administrator panel. If you do not know anything about your wireless router then you can find information about it on your browser by typing the address 192.168.1.1/192.168.0.1′. And you will get it here.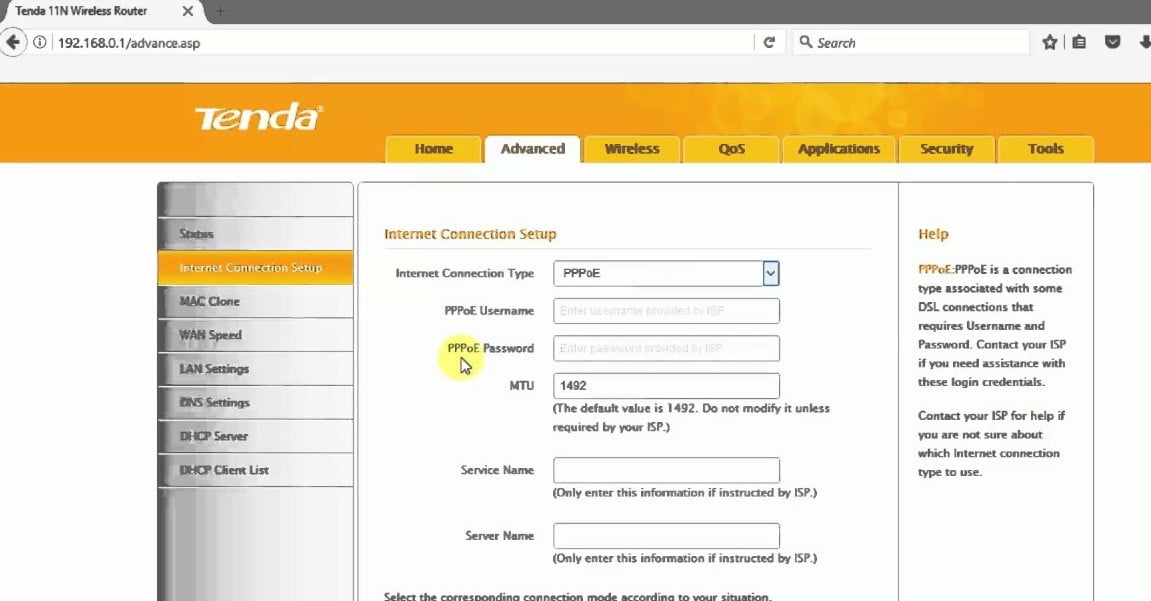 Step2
Next, if it asks for a username and password then by default mostly both username and password are an admin in routers.
Step3
Open setting page of the wireless router clicks on wireless and next on Wireless security. Then see the saved password of the wifi network that you wanted and use them free.
Method 6
How To View Saved Wifi Password Without Any App
If you have any problem in installation of any tool or app then you can try this method which is described to you. So that you don't have to face any kind of inconvenience.
For this, you have to follow the steps mentioned to you properly.
Step1
Connect to your saved wifi network for which you want to know the password by clicking on the network name. Then click on tap to share your password.
Step2
Now you will see a QR Code on your screen. You have to take a screenshot of the QR code. For most of the devices, you can capture a screenshot by "volume down + power button". Or you can take a screenshot by moving your three fingers similarly in a row.
Step3
Don't try to compress and crop the image because by doing so the quality of the image can be compromised and you are not able to decode the QR code.
Step4
You have to open the website https://www.inliteresearch.com/
Step5
Now you will see an option to choose file while scrolling down. From this option select the image of the QR code and upload it in the website.
Step6
After the code is decoded you will see a simple text of name and password of the WIFI. Copy the password and connect it to your device.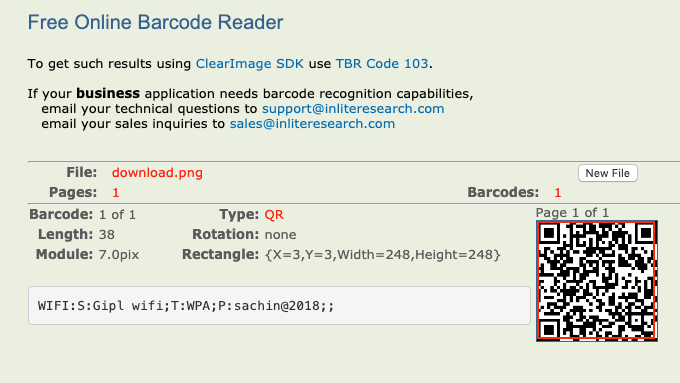 You can use the QR code to connect the WIFI by any other device. You have to open the scanner in your other device and scan the QR code. Now you will also get the password of WIFI Network. It will help you to connect the same WIFI from any device.
Bonus Tips
if you don't want to share password with your friends or family than you can create QR code and than share that QR code with other so they can easily content with your wifi but never know the password of your wifi router.
https://qifi.org/ this website help to create QR code from your given data.
Conclusion
From the whole article, we came to know that if you want to access your saved WIFI password from your device you don't necessarily need to root your phone. Rooting the phone has many disadvantages also.
We provided you with many methods to know the password of the saved network by downloading an app or without downloading the app. You should follow all the steps properly and connect to your desired network.
Also Read: