It is summertime, and there is already a rise in mercury levels. To add to the misery, frequent electricity cuts make us sweat more. Buying the best inverter in India will be the best way out of this situation. And when you do, it is crucial to buy the right one depending on your usage. Moreover, it is crucial to understand the different types of inverters available and then select the best inverter in India with alternatives such as home UPS.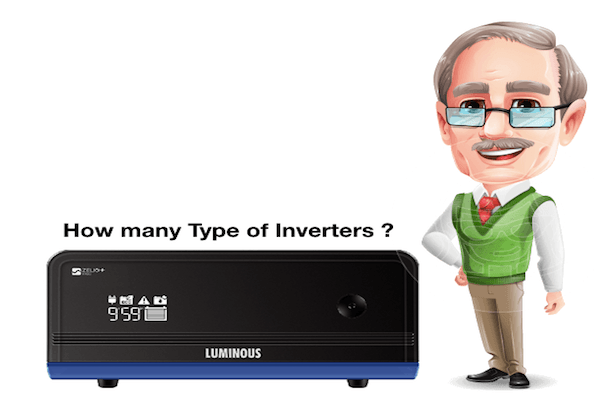 1. High Capacity Inverter
High-capacity inverters are a great choice if you encounter regular power cuts in your home or workplace. After thorough research, find the best inverter in India to operate heavy loads of pumps, air conditioners, commercial establishments, and refrigerators, among other appliances.
HKVA or high-capacity inverters are an adequate power backup solution that ensures low maintenance and high reliability while being an excellent alternative to polluting diesel generators. Several iCruze super inverters providing high-quality, consistent power backup solutions for office running and sensitive equipment are supplied by reliable brands like Luminous. In various VA ratings, the iCruze scale of India's best inverters is 2.8 KVA to 12.5 KVA. In the iCruze range, the number of batteries used depends on the voltage level at which the inverter is equipped for operation.
2. Integrated Inverter
In a non-separable inverter plus battery combo. An integrated Li-ion battery powers the unit of such an inverter. Unlike bulky, dated inverters, these inverters' ultra-modern style is so sleek that you can proudly show it off in your home. The contemporary look of some of the best inverters in India goes so well with every interior. Their environmentally friendly batteries are highly efficient.
They charge 3 times faster than the lead acid battery and stores 15% more energy. These will last up to ten years and are virtually maintenance-free and fully sealed. Also, most of them come with exciting connectivity features where user can download the mobile app and see real time performance status of inverter battery on the phone.
3. Connected Inverter 
Wi-Fi or Bluetooth devices will track the working of these best inverters in India for home use. You can easily download the mobile application available on IOS and Google Play store from a smartphone and attach it to an inverter to track your inverter battery's output statistics. In terms of backup, they provide real-time data communication, percent load running on the inverter, percent battery charge, input voltage, etc.
Leading brands like Luminous offer Zelio UPS Power inverter series, one of India's most intelligent connected inverters. They are affordable, and you get state-of-the-art features such as digital display, Mains By-Pass switch, and MCB security.
The Zelio related inverter series consists of 2 series of power inverters, a) Zelio Wi-Fi b) Zelio- i 
4. Premium Inverter
This finest home inverter in India provides real-time data communication through an intuitive LCD display in terms of backup, battery charge percentage, input voltage, etc. Today, in the inverter industry, there's a new segment – Home UPS. They are equipped with safety features like the Mains by pass switch and MCB for short circuit protection
5. Standard Inverters
They are the largest selling type of inverters in the market with LED's to signal various running and fault indicators. They are efficient can run house or shop loads easily, yet are available at economical prices. 
Now that you know about the types of inverters in the market, make sure you understand your power requirements before investing in one. You can check out brands like Luminous to get your hands on the best inverter in India. 
Also Read: