In today's time, the Fax machine is outdated as we can easily send and receive the files via e-mail or through other services. Even though the fax has gone out of fashion, still it is an important form of communication for the official documents and contracts. There are very less people who do fax in these days. As there are many PC software and services which replace the fax machine. Many of you are not aware of How To Fax From Computer For Free. So, here we are going to tell you a few easy ways to send a Fax from a Computer. Check out the easiest ways to send a Fax from a computer. 
Best Simple Ways on H

ow to Fax From Computer
1. Connect Your PC To Your Phone Line With Windows 7
Yes, you can connect your PC to your Phone Line and can use the faxing tools by the different operating system.
First, click on Start in Windows 7 then go to All Programs, Windows Fax, and Scan and then press ENTER.  Then Windows Fax and Scan will appear.
Make sure the Phone line is connected to the computer then click on New Fax which is at the top left corner of the toolbar. Then follow the wizard to connect to the phone line.
Now, enter the destination number and fill the new-fax form and type in your message and then attach your documents.
After you are done by entering a message and attaching documents click on the Send button to send the fax.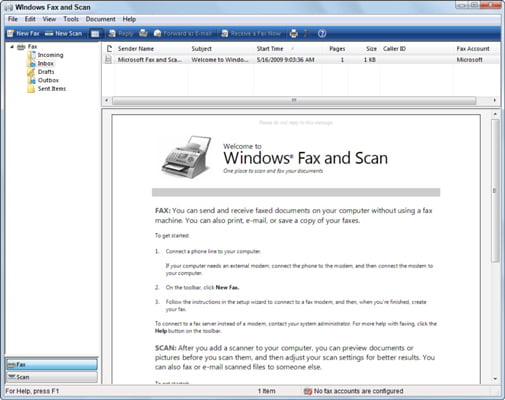 Most of the PCs have phone jacks and here we will show you another way to connect your Phone line and fax. These phone jacks are used to connect to wired internet in those areas where no wireless internet is available. And you can also use these phone jacks to send a fax. Just connect an active phone line to your computer's phone jack and then open the fax software on your PC. On every PC the faxing software is Windows Fax and Scan and is built-in in all the computers. On Apple, it is called Fax PDF tool which can be found under File and then Print. You can check out how to get free internet at home.
Also Read:
2. Using an Online Service
If you can't connect a phone line to your computer then you can use any online fax service which is easily available. You just need to upload the document which you want to fax and specify its purpose. There are many online services which allow you to send some data for free. Here we will show you how it works by using the FaxZero service.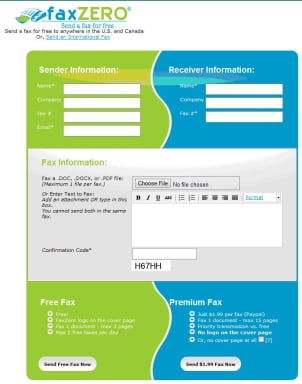 Follow the given steps:
Step 1: First go to the website FaxZero and fill out the required information of the sender and receiver.
Step 2: Then click on CHOOSE FILE button and upload the document which you want to send.
Step 3: Type the confirmation code which appears on the site and it verifies that you are a human.
Step 4: Now, click on Send Free Fax Now.
3. How to Send and Receive a Fax in Windows 8
You can send a Fax in Windows 8. Follow the steps to know how to send and receive Fax?
Step 1: Firstly, you need to connect an active phone line to your Computer's phone jack port
Step 2: Now, use the shortcut of Windows Key + R and open a Command Window
Step 3: Type in to open Windows Fax and Scan
Step 4: Click on NEW FAX
Step 5: There type your fax in the body of the message or do copy paste of any images in the window. If you want you can attach the documents to the message like we attach the documents to an email.
Step 6: When you are done Click on SEND the message to whom you want to send
4. How to Send and Receive a Fax in Windows Vista
In Windows Vista also it is very easy to send and receive the fax. Just follow the steps.
Step 1: The first step is the same in all Windows, you need to connect the Phone Line to your Computer's Phone jack.
Step 2: In Start menu search for Windows Fax and Scan and then press Enter.
Step 3: Now, Click on New Fax
Step 4: Fill all the details of the fax and type any information or copy, paste whatever you want to fax. If you want to attach a document to the message attach the file just like we do to an email.
Step 5: Then Click on SEND. You are done.
5. How to Send and Receive a Fax in Mac OS X
Just like Windows, Mac OS also has an in-built faxing feature. So, here is the step by step guide on how to send and receive a Fax from your Mac OS Computer or Laptop.
Keep in mind, if you want to fax from a Mac OS, your Mac needs to have a modem connected to a phone line. Remember if the modem is connected to a phone line then the Apple computer is automatically configured to send the fax.
Also Read:
Follow the steps to send a fax from Mac OS.
Step 1: First choose FILE> PRINT
Step 2: Then click on PDF and then Fax PDF
Step 3: From Printer Pop-up menu choose your Fax machine ( If you get an error saying "No Fax Modems were Found" then you have not connected your fax modem correctly or you are using unsupported fax modem. )
Step 4: After you set up your fax machine open the Fax PDF tool and type the fax number of your recipient in the TO field. From your address book just copy the number and paste it.
Step 5: Few of the systems require you to dial a prefix to contact an outside line so if you need this then type prefix in the DIALING PREFIX box
Step 6: If you want to create and attach the cover page to your fax then USE COVER PAGE
Step 7: Make sure you select the correct fax device from the Printer menu
Step 8: If needed change the Fax options under the Print Options menu
Step 9: DONE! Click on the Fax button to send the fax.
6. Faxing from Macs and Apple Computers
First, open Safari or Mac email client and browse to the email service providers website
Make a new email
In the email, enter the fax number of recipient@ then your online faxing provider.com
You must attach your documents in PDF format or also in .DOC and .DOCX files if you have Office for Mac
Then click on "Send". Your online fax provider will transfer your files into faxes.
Faxing from a tablet, smartphone, or other mobile devices
Sending a fax through a mobile device is very easy when you are faxing from a tablet or an iPhone. It is the main advantages of signing up for online faxing. Wherever you go you can edit, review, send, receive documents. As you have an Internet on your device you can fax anytime.
CONCLUSION:
So, these are easy ways to Fax from a computer. As these days no one uses a fax machine because of the new technology which brings new and easy ways. But there are few people who use fax machine so if you also wants to fax but don't have a fax machine then try out these ways. We have shown different ways by which you can fax from a computer or Mac. Try it out.
Also Read: