Since the technology of the Android phones has been evolved there is zero chance you can lose your data even when you are deleting them. How to recover deleted photos from Android phone is an easy task lately and can give you accurate results.
The more the images are complex the worst the situation may become for most of the users. Hopefully there is software that can easily restore all the deleted pictures in a matter of minutes without threatening their quality.
How to recover deleted photos on Android phone for free?
This is a hard question since most of the Android users are not used to create safety backups of their precious files and pictures. This is where the most competent software in terms of applications that can be downloaded take place and thrive.
A short list of the products that are capable to help you retrieve your photos is the following: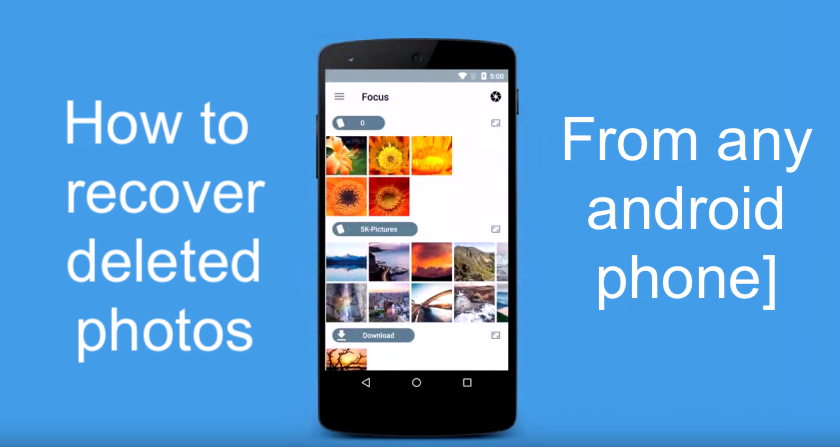 1. DiskDigger for Android.
Much more research has to be done to find a reliable application to recover lost photos from an Android device. Most of the apps are not able to search the internal memory of the smart phone but there are some brilliant exceptions.
The DiskDigger app is being downloaded to your smartphone for free and can be compatible with all editions above 2.2 that is the basic one.
This application has a basic menu that will help you retrieve your pics following some simple steps. When you are running the application, the internal memory will be scanned, and your pictures are going to be undeleted. Then you can transfer them to your inbox and start copying and storing them to a safe place.
The DiskDigger can do Basic and Full Scan according to the special needs of your smartphone. It is obvious that the full scan will give you more accurate results and can retrieve all kinds of files from the internal memory. However, in order to access the memory, you need to have the master pass that is not readily available for all users of Android devices.
Overall, the DiskDigger application can be easily downloaded to your Android smartphone and make you restore your photos in a short period of time with great precision and absolutely for free.
2. Recuv App –
Revolutionary program to restore lost photos on your Android device. In case you are using a memory card the Recuva application would be the most suitable for you. It is a free a shareware application that is commonly used among the Android users and has helped a lot of them restore their lost data at a glance.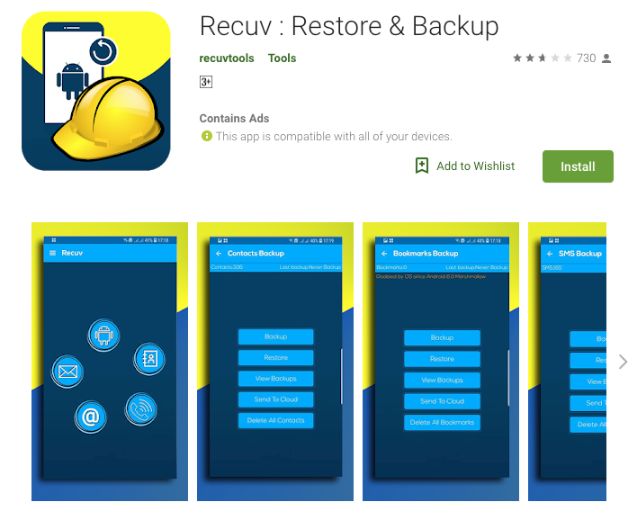 It is highly recommended for memory cards restoration trials since it can easily enter the core of the memory. The Recuva application is not good for restoring photos and other files from the internal memory of the smartphone. It can work only in memory cards except if you can download it as a separate file in the Internet Explorer and play it on a different device that the one you want to retrieve the files.
The function of the application is pretty easy:
when running it does a full scan in the memory card sectors and restores the folder's structure. This ends up in success since the Android names on pictures files are never lost so you can easily have your deleted pictures back.
Another useful feature of Recuva is the deep scan that dramatically increases the chances you are getting back your precious deleted pictures files.
To make the story short, Recuva can easily recover your deleted photos from memory cards in Android smartphones and other devices using a smart wizard that can guide you through the whole process. Chances are that even a beginner can easily retrieve his own deleted files with no special knowledge when using the Recuva application.
Also Read:
3. Dumpster App
This is the application that specializes in restoring files that where carefully transferred to the recycle bin of your device. This application is free to download and has a special tutorial section to guide you through the whole process.
The Dumpster application is short in memory needs so that you can easily download it in any smartphone no matter how limited your memory would be.
The program gives you general advice on keeping your precious photos in special backups or cloud storage. This will help you for next time.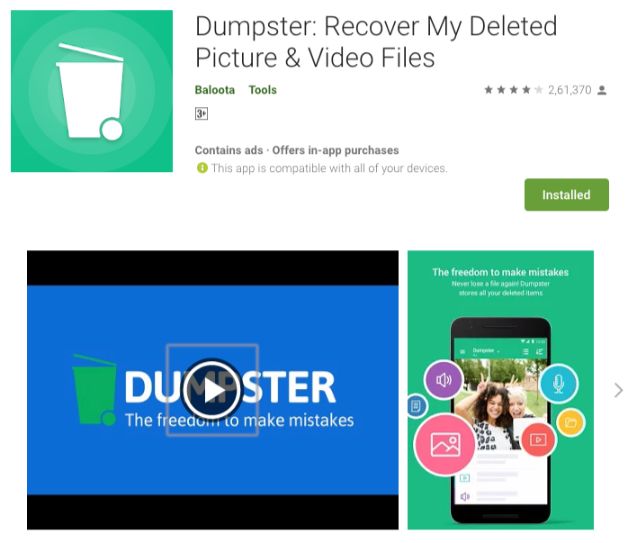 Dumpster works both on internal memory as well as memory cards. It can enter in your recycle bin file sequence and restore all recently deleted files including your valuable photos.
There is a great suggestion that you always use Dumpster in the future since it handles both the internal memory and the memory cards. It constantly creates (every hour) a new backup for your files as well as a secure recycle bin totally controlled by Dumpster.
Not only, will you restore your lost files, but you will also create a defensive shield for the future so that you will never be threatened again to lose your photos.
4. GT recovery.
This newly presented freeware software has been considered as the best data recovery Android software. It can easily restore your accidentally deleted photos in an Android device with no need to a computer connection. On the other hand, it can only work efficiently on root devices.
This application is good for restoring photos when you simply accidentally delete them from the internal memory or the memory card of your smartphone. In case of memory card formatting it can also give you the solution and restore your lost pictures.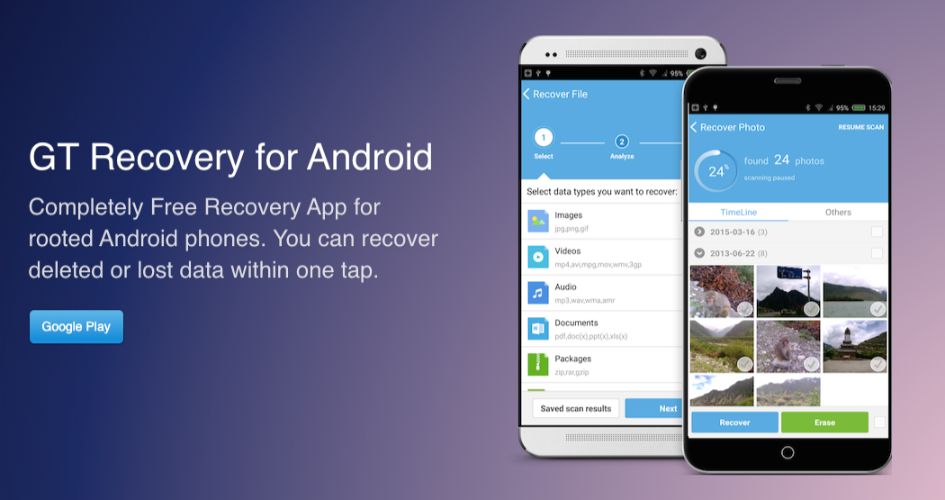 Some of you may have performed a hard reset to your smartphone. The GT recovery application can help you in that case too.
The application has a main menu where you need to select your case of file deletion. Then the program automatically runs the scan in the memory card. After the scanning procedure has been done there is a presentation of the list of all found items ready to be restored.
Finally, you have to carefully mark the files that you want to recover and mention the folder you want them to be safely stored.
As you can realize the GT recovery program works with all types of formats offering you great independence. It has an easy to understand interface with a tutorial program option. You can also preview the results of a special scan and even run the application from an SD card for your own ease.
Finally, GT recovery application can scan all the devices that are connected through a USB to your scanning device and restore files on them as well. The GT recovery application is well-known among Android users and can give reliable results in a short period of time.
We have mention popular question from google question hub which ask by so many user so these question will help user in some way so if you like the question
Q1. How do I recover permanently deleted pictures?
Answer: Modern Android smartphones have special features that give you the chance to identify lost pictures and restore them back to secure folders in your device. This procedure can be easily performed using special software that are most of the times free to download in their basic version.
These programs are specifically made to gain access to the internal memory of your Android device as well as other storage places like the external disks and the memory cards.
When performing scans these applications can find the traces that all pictures files are leaving behind when getting deleted. There is no chance you are not going to identify any trace of your recently deleted files. They are kept inside the memory and waiting for you to retrieve them.
The applications are taking advantage of the main architecture of the storage files that where securely made for not being able to erase when getting stored. According to the type of file (JPG or other) the applications can easily find the lost photo and securely store it to the designated file.
Q2. How do I recover permanently deleted pictures from my gallery?
Answer: Gallery stored pictures are easier to find since they have a special Google sequence when stored. That is why most of the restoring applications presented before are having a direct access to your galley path files when trying to restore your lost photos.
Most of the people are storing their pictures in galleries. This is easier for them since they can have access to their full photo shooting diary without special knowledge. This file path is easier to identify when some picture is accidentally deleted.
The modern applications gain direct access to the gallery that has been created and maintained under Android programming and operating system. The recovery application is searching for certain cracked or hidden files (ghost files) existing in the memory path of the gallery storage system.
Then you can easily pick the ones looking like those that you have recently deleted. The application gives them the old name and securely stores them in a separate folder as well as the gallery folder.
There is no way that you can lose a deleted photo when it existed on your gallery file path since Android has placed a lot of secure lock to defy all deletion actions by your part. Remember that programmers have as their primary goal to maintain and not to delete the information. And photos are precious parts of this information kept on the memory cells of your smartphone!
Q3. Do photos stay on Google photos if deleted from phone?
Answer: The photos that you are accidentally deleting from phone are staying in the Google photos since you are using Android applications to retrieve them. Any time you are using these apps a special recovery storage unit is formed inside the internal memory of your device.
This is where copies of your Google photos are remaining so that you can never lose them or delete them in the future. Once you use the recovery applications your forfeit your chance to remove them from the memory cells unless of course you perform a general format on the device.
Google photos primary intention would be to secure your photos so that you can have access to them using your username and password. That is why it is extremely important to secure your passwords since this is the only code needed to give access to your Google photos no matter what kind of device you are using.
Q4. Can you get back photos you deleted permanently?
Answer: Photos that have been permanently deleted can be securely restored to your device using some of the applications stated above. The list is non-exhaustive, and you can also find numerous other applications that can easily recover all the lost photos to your smartphone or other Android device.
There is no permanent deletion of pictures with the use of the state-of-the art technology of modern applications. All these apps are gaining access to the internal memory as well as the memory cards connected to your Android device and can trace all broken or renamed photo files.
Once this identification procedure has been completed then you have to manually choose the files to be restored in a secure place. Usually, separate folders are made to store your lost pictures.
Some of the newest Android applications are having a direct connection to the Google photo cloud so that you can have a mirror image of your restored pictures there. This is the ultimate safety for your pictures since there is no way to lose them no matter how hard you try to delete them.
Conclusion
Today there are numerous of applications that can be downloaded for free and give you access to your lost of deleted pictures. As long as you are working in an Android environment you can feel safe and secure that your intellectual property is not going to be lost.
Android OS has been particularly designed to provide extra security for the sensitive picture files that are most of the times affected by accidental deletions, formats and hard resets.
Hopefully programmers are well aware of that and can keep vital traces of all files in special parts of the memory. This can help you find all your lost photos and revive your memories right away!
Also Read: