Android Launchers are an easy option to customise your android phone according to your needs. In the Play store, there are many android app launchers easily available. It is not an easy task to chose one launcher for your phone as there are many options available for us. Here, we have made one list which consists of few best App launchers which will help you to customize your android device according to your needs. The best thing about this post is that we have found a few best and free android launchers. You do not have to pay a penny and you are good to go. So without wasting any time, let's check those Free Android Launchers to Customize Your Phone.
Some Popular question related to Android Launchers which asked by people over google. we have collected some important question which relate to Android Launchers.
Q1. Are launchers good for Android?
Yes, launchers are safe but not all the launchers. You don't need to worry if you are using any Android Launcher as most of the launchers are safe. However, the launchers just give a better look to our OS. So, before downloading any launcher just check out their ratings, review, details, and description.
Q2. Are launchers safe?
Yes, most of the launchers are not harmful. The launchers do not clear any of your personal data when you uninstall it and it just gives a look to your OS. There are few popular launchers which are the best ones to use like Nova Launcher, Apex Launcher, Solo Launcher, and much more.
Q3. Do Android launchers use more battery?
Yes, it is possible that your Android battery gets more used. The default launcher in the Android device always uses less Battery than other third party apps. So, if you want to save battery then you should not use any Launchers. However, if you want to use a launcher then go for it, but it will use more battery as it runs over the default one. So, overall we can say yes, Android Launchers uses more battery.
Q4. Does Nova Launcher slow down your phone?
No, Nova Launcher does not slow down your phone. Though it uses a little bit more battery, but there is a difference between slow down the phone and battery usage.
Q5. Does using a launcher slow down your phone?
No, using a Launcher does not slow down your phone. Just check out the launcher before using it, then you won't get any problem in your phone. Use the best Android Launcher and check out the review, ratings, and all the details before using it. Then you won't get any problem.
Now, let us check out the best free Android Launchers which one can use on their Android Smartphones. From the given list choose any one launcher as per your need and start using the launcher on your Android.
Also Read:
List of Best Free Launcher For Android
1. Nova Launcher
One of the best Android Launcher which you will find on Google Play Store is Nova Launcher. Nova Launcher is the best and smooth launcher app which is used by most of the people. The Nova Launcher app is fast, efficient and lightweight app. The dock customisations, notification badges, are supported by Nova Launcher. In this launcher, there is also an option to show the frequently used apps as the top row in the drawer of the app. There are so many gestures available on this launcher.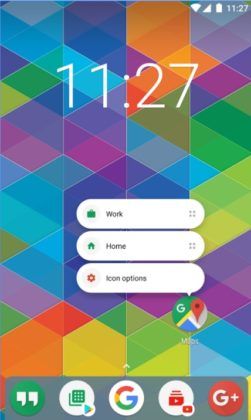 In Nova Launcher, there is also a support for app shortcuts which are seen in Android Nougat. It has both free and paid version available. In the paid version one will get all the features and is the best one to try out. The prime version of Nova Launcher is of $4.99.
Features of Nova Prime Version:
Gestures,
Hide Apps
App Drawer groups
Custom Icon Swipe Gesture
2. Apex Launcher App
The Apex Launcher App is one of the best and stunning Launcher app with so many themes, and icon packs. One can download the icon packs and themes from the Google Play Store. Apex launcher is a lightweight launcher app for all the Android which is optimized for Smartphones and Tablets. This you won't find it in all of the launcher apps. In your app drawer with the help of Apex launcher, you can add up to 9 home screens which are customized and hide apps in it, which you don't want to use. According to the title, installation date, frequently used the app this launcher sort out the apps.
If one buys the pro version of Apex Launcher then they will get more options, a powerful app drawer, and so many other features. Apex Launcher is one of the best and fastest launcher app available on the Google Play Store for Android.
Apex Launcher Paid Version Features:
Powerful drawer customisations
Unread count notifications
Convenient icon gestures
More gesture options
Additional transition effects
Enhanced folder support (bulk add, merge folders)
Advanced widget options (widgets in dock, overlapping widgets)
For Prime Version, you need to pay $3.99.
3. Smart Launcher 5
Another best Android Launcher is Smart Launcher 5 which is a lightweight and a fast launcher app. Smart Launcher 5 app's drawer has a sidebar which divides the apps according to its category. In the first step process, only it will ask you for all the default apps which you use, so, you won't get a problem later by the default apps notification.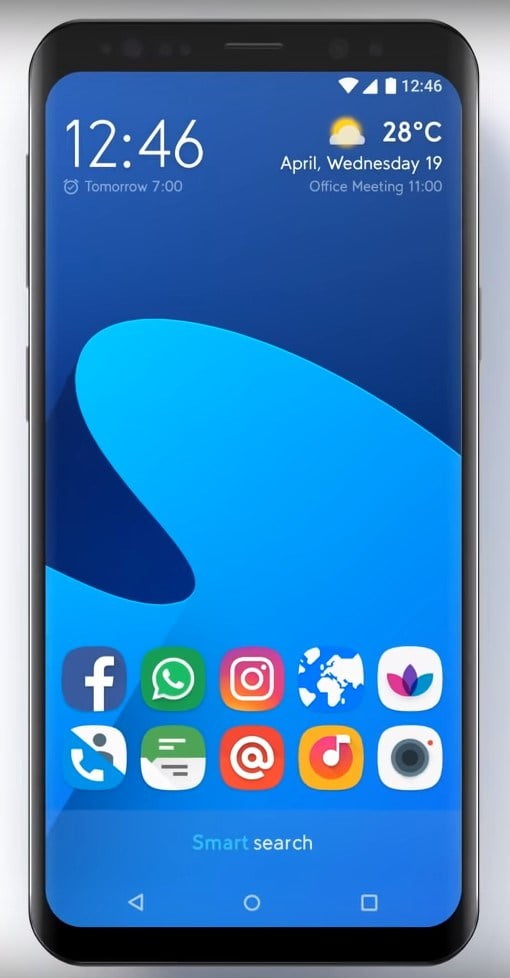 This launcher app has the ultra-immersive mode where one can hide the navigation bar to get more space. There is an ambient theme of this app which changes the theme color based on the wallpaper of the phone. The gesture support is present, in the free version you will get limited gestures but you can unlock more gestures when you buy the pro version of this launcher app. However, there is one downside of this app that shows Ads in the free version.
Buy the pro version of Smart Launcher 5 at $4.49.
Features of Smart Launcher 5:
Ambient Theme
Adaptive Icons
Automatic App Sorting
Ultra Immerse Mode
Smart Search
On-Screen Notification
Protect your apps
Wallpaper selection.
4. Microsoft Launcher
Microsoft Launcher is also known as Arrow Launcher. This launcher app is the most stylish and fast Android launcher app with so many customisations from the Microsoft itself. It updates new wallpaper every day. The home screen of the device is decorated with the Microsoft Timeline features "Google Cards". The recent panel of the device shows all the recently opened image or any recently used contact.
The Microsoft Launcher app shows that it gets synced on the full Microsoft account. One can get a personal feed, and can also see your search results and so much more. There is only one downside of using Microsoft launcher which is this launcher does not allow much customisation as other best launchers do.
Microsoft Launcher app is a completely free app to use. You don't need to buy any premium version by paying money.
5. Pixel Launcher App
On the Google's Pixel phones, the Pixel Launcher is the default launcher app. The Pixel Launcher app is the clean, fast, attractive app. It has lots of features like notification dots, the present weather located, intelligent app suggestions, and also the quick access to Google search. This one is only available for Google's Pixel devices.
Features of the Pixel Launcher App:
Swipe right from your home screen to see personalised Google cards
Quick access to Google Search on your primary home screen.
Swipe up on the bottom Favorites row to find your apps from A-Z.
App Suggestions bring the app you're looking for to the top of your A-Z list.
Long-press on apps that support shortcuts to jump right into where you need to go or long-press on the shortcuts to drag them to the home screen.
Also Read:
6. Evie Launcher App
The Evie Launcher App is specially designed for the performance and is the fastest Android Launcher app. There are so many users of this app who are switched to this app because of its smoothness. It has a universal search feature which allows the user to search within the apps from one place. There are so many different home screen shortcuts available and customization. You can also customize your app drawer and a folder grid.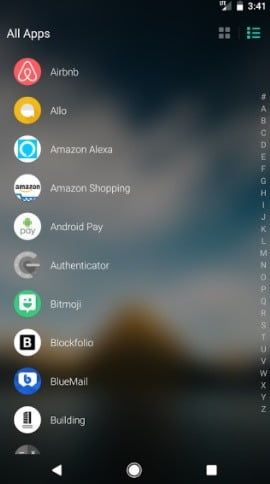 Evie Launcher app is the best and the top Android launcher app as there is a fact which allows you to choose from different search engines. There is only one downside that it does not have many gestures. This app is a lightweight launcher app which gives the best speed and simplicity.
You can use this app for free, you don't need to pay any money to use this app.
Features of Evie Launcher App:
Choose a search engine (Google, DuckDuckGo, Bing)
Lock home screen icons
Show more local results in search
Frequently used apps in search
Android O notifications
App drawer and folder grid customisation
7. Niagara Launcher App
For all those who are looking for the minimalistic launcher, Niagara launcher app is the best option. It has less clutter of apps and options. As this launcher is not filled with options and settings, it is the fastest Android Launchers available on Google Play Store. As this launcher app is focused on the de-cluttering your Android space, the app has clean sponsored ads or bloatware.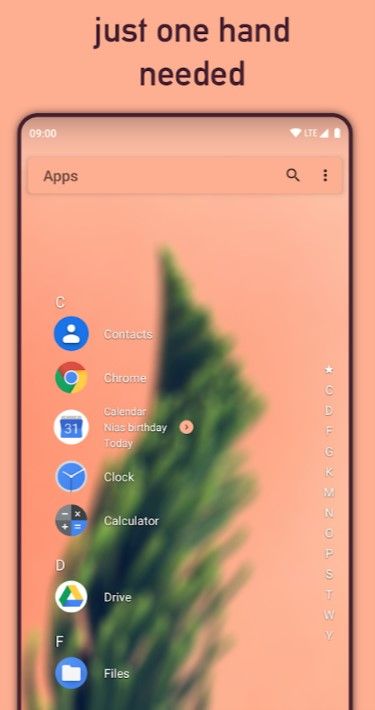 If you want more customisation option, then Niagara launcher app will not suite you. However, the design of this app is stunning. You must try out at least once.
Features of Niagara Launcher App:
Niagara App Drawer
Notification Previews
Hide apps
8. ADW Launcher 2 App
ADW launcher app is the fastest, easiest app to use. It offers so many customizable options. The User Interface of this app is the best one feels like stock Android. To change the interface color according to your wallpaper, it supports the unique feature. Additionally, there are icon badges, app indexing on the app drawer, launcher shortcuts, and so many other useful features.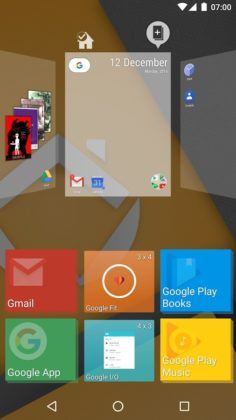 The developers of the app says that the possibility which you will see it is approximately 3720 to 1. One make and modify the widgets with their own colors.
The app is free to use as there is no paid version available for this.
Features of ADW Launcher 2 App:
Support for Android 7.1 launcher shortcuts (limited support on older versions down to 5.x)
Added new icons effects section. You can choose image filters and compositions. Awesome!!!
Dynamic UI colouring using wallpaper colors.
The new way to manage screens. Hold down an empty area of the desktop.
New way to add widgets and shortcuts.
A new way to change the wallpaper, lock/unlock the desktop or access settings. Hold down an empty area of the desktop and choose the option.
Added fast scroll app drawer style.
Added indexed fast scroll app drawer style.
Added some desktop transitions.
Added new section to configure icon badges.
9. Google Now Launcher
Google itself has developed this Google Now Launcher app. It is an in-house app and is targeted for the non-pixel device. For all the users who do not like the pre-installed launcher can prefer this app and get a great Android experience. The popular Android launcher adds the Google Now Launcher card by just swiping right on the home screen. The search bar design can be customized from the home screen only.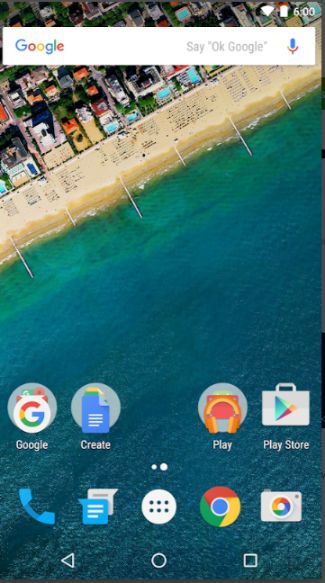 This app launcher is combined with the smooth app drawer, app suggestions with top work efficiently. The only negative point of this app is there is not much customisation which you can do with the Google Now Launcher. The app is completely free to use.
Features of Google Now Launcher:
Swipe right from your Home screen to see Google Now cards that bring you just the right information, at just the right time.
Quick access to Search from every Home screen.
Say "Ok Google" to search with your voice, or tell your phone what to do: send a text message, get directions, play a song, and much more.
A-Z apps list, with fast scrolling and quick searching of apps on your device and the Play Store.
App Suggestions bring the app you're looking for to the top of your A-Z list.
10. Rootless Launcher App
The open-source project to get all Pixel Launcher features is a Rootless Launcher App. If you want to try out the Android Pie launcher features then you must try out Rootless Launcher App. While all the other launchers are not customizable, this app has all the features which are found on any Google Pixel device. Rootless Launcher App is completely free to use, there is no pro version available.
Features of Rootless Launcher App:
A search bar at the bottom
Wallpaper based theme selection
Regular Icon Packs
Adaptive Icon Packs, such as my Google Icons
Icon Shape selection on Android 8.0
CONCLUSION
So, with this we end our article. Here we have listed top and free Android Launcher Apps. Use any one of these apps and get your device look better. There are pros and cons of using launchers. Before using any launcher, check out its review, ratings, and everything then only start using the app. For more updates visit our site daily.
Also Read: