Fax is one of the best technologies in use for a long time for the transmission of hard copy documents by telephone lines without any delay. It first read the document you want to send, convert the information into electrical impulses and you have to send the information to the other fax and then it will produce the same document.
These devices are extremely useful in business and in office work also. These are the best way to transmit your data to another point. These devices make us much faster and we don't have to wait overnight for couriers.
Nowadays internet faxing is more popular because it lets you send the information without the use of a fax machine. Now you can use email for transfer of any type of documents. Although you can use your smartphones or laptops to send a fax. You can send a fax by your device, no matter which device are you using. Today we will discuss the best iPhone fax app.
These devices are the best for your Mac device and are easily available to you. Also, we are going to provide you with links for the apps which we discuss in our article. These apps support fax for nearly all countries in the world. All of these are the best free fax app for iPhone to download. Here are all the best apps which will be helpful for you in your work.
1. eFax- Mobile Phone Fax app
This app is known as a pocket of Fax machine. This app has its own cloud service. You can receive, send, sign, store your faxes online anywhere on your device. Using these apps you don't have to wait for busy signals and you also save a million trees because its cloud allows you to keep your data remain safe without the use of paper.

This app is trusted by over 11 million people and it allows you to communicate in approximately 3,500 cities worldwide, 46 countries and 4 continents. This is the reason for which you should try this app. If you want to use you can install it directly by clicking the link given below.
Features of eFax Website:
Electronic Features
You can now simply drag your signature stamp into the document without any problem.
Large File Transfer
You can send large files such as high-resolution images, promotional videos, sales presentations, and more without any limit on email through this app.
Voicemail conversion
This app now makes audio files of your voicemail. So that you can't get bored.
Cloud storage
You can store your data files online on cloud storage.
eFax PDF Converter
You can convert your fax into PDF as your requirements.
How To Use
Use of it is very simple. You have to install the app and proceed accordingly. For more information, you can watch the video.
Also Read:
2. iFax – Send & Receive Faxes
ifax is a mobile application used to send and view fax on your device. This app was founded on the 1st of July, 2008. And it is working very well till now. It is made by a company in the private sector. This website is ranked 669,708 among all over the world's total website based on its 42,671 monthly visitors.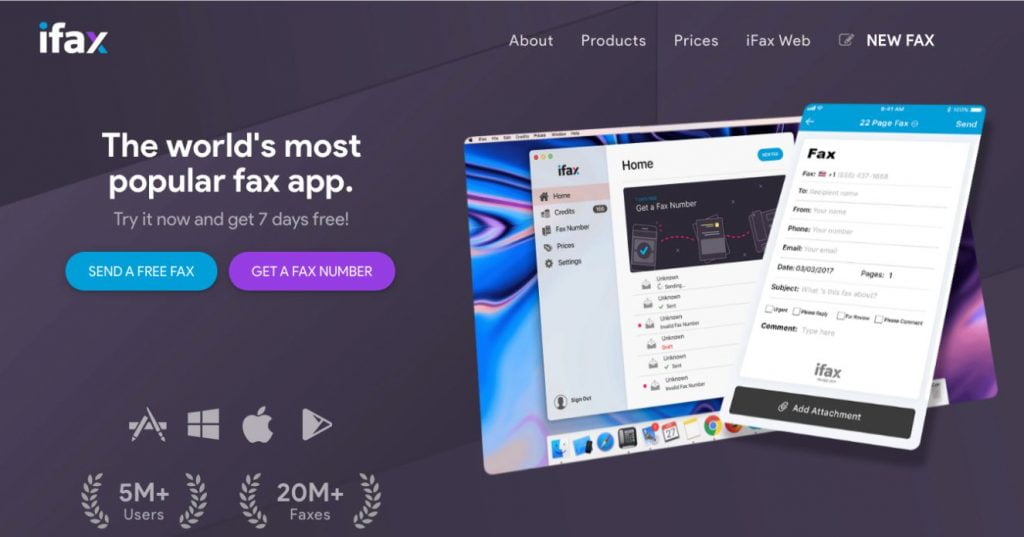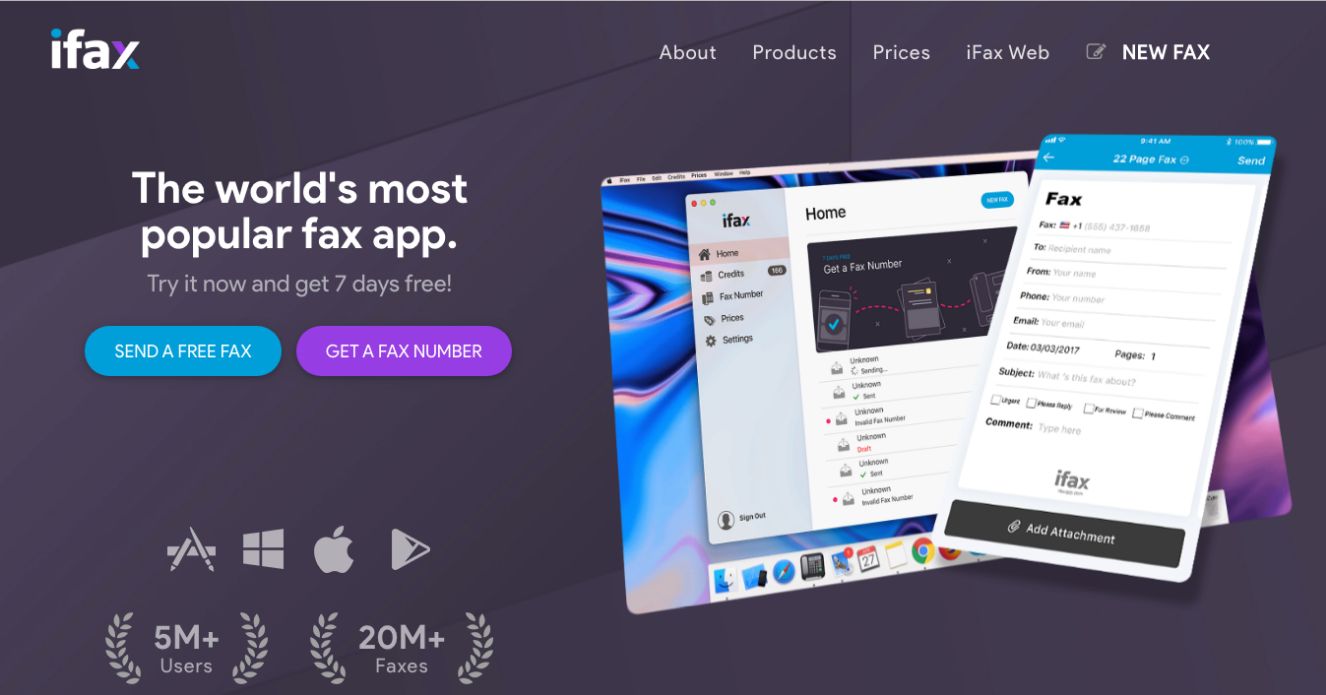 It is developed by Maplewood. It is more fast and simple. Send a fax in less time than sending an email. You don't have to login necessarily to operate it. Also, you don't require any fax machine for its operation. You can download it by using our direct link given below.
Link 1 for iOS:- For IOS
Link 2 for Mac:- For mac
Features
Pay per article is the main feature of this app or if you want you can buy credits by on offers to claim extra discount.
You can get free faxes by referring it to your friends.
It has its own scanner and supports all type of image formats.
t also provide cloud storage.
It works well with mobile data and gives you a real-time status of your faxes.
3. FaxFile – send a fax from iPhone or iPad
This app is suitable for iPhones and iPads. This app is used to dial both toll-free and non-toll-free numbers. It also has its own built-in. This app is very useful and is a highly rated app. Its seller is Actual Software Inc. And its size is 67.5MB it supports English language. It is free of cost available. It works very well in USA/Canada.
Features
It supports PDFs and images of all formats.
It has a very nice feature which lets you send multiple files simultaneously.
It also has its own cloud.
It has also its own scanner which is very effective and uses to direct scan and send it to later by Fax.
4. MaxEmail Fax
Max email is owned by J2 globals. And it mainly redirects all its customers and traffic to eFax. It has also over 11 million users worldwide. It is also based on the email service and is very useful for everyone.
Features
It also supports contact number saving. While sending a Fax you have the option to select a number from the existing list and you can add a new one.
It is the only platform where all your needs are fulfilled on your device. You can now edit, send, and receive your faxes.
You are also a feature to add a signature tag on your document. You can also add a photo of your signature to.
It also has security options to keep safe your data from worms.
Like much top class feature, it also exhibits its own cloud. Where you can keep you all data to prevent accidental loss of data and it is always helpful if you are changing your device.
Also Read:
5. Boom Fax
This app is very useful for sending faxes from one device to another. It is one of the best iPhone fax apps. This is outstanding for sending faxes of single pages and faxes of multiple pages to. It is the desired app you want for your device because it doesn't require any kind of fax machine and telephone lines for its working.
Features
Top Quality, it is best known for its top quality because it sends faxes without causing any harm to your documents. You only have to click the image of the document and send it through this app. Also, receiving faxes through this app give you the best quality.
This app is one of the best while checking security reasons. It doesn't save your documents on the server and doesn't leak your information.
It also supports PDFs for transmission.
It saves your lot of time because you can Fax from anywhere using these devices.
It also supports faxing in many countries. We are providing the names of them for you.
United States, Canada, United Kingdom, Japan, France, Germany, Brazil, Israel, India, Portugal, Italy, Hong Kong, Puerto Rico, Australia.
6. Fax Burner: Send & Receive Fax
It is a free app running on multiple Apple devices. It is known to convert your iPhone into a Fax machine without using any device. It is the best phone Fax app for you. It only supports US numbers. It works for 24 hours a day and the best in their work.
Features
It provides you with the feature of contact integration. It lets you save a list of numbers where you want to send the faxes.
It also allows you to add cover pages and templates in your device.
These apps also allow you to add your signature stamp on the document.
These apps also provide you with cloud storage.
7. JotNot Fax
It is just similar to all the apps which we have discussed so far. This app is one of the best apps to answer your question about how to receive a fax on iPhone. It also sends files are on your browser very quickly and effectively.
Features
You don't have to waste your time anywhere.
You have to download the app and it will convert your iPhone into a fax machine.
It does not support the transfer of PDFs files to a Canadian and United state user.
It will automatically calculate the charges for sending the files from your device to another device.
To download the app click on the given link.
Also Read:
8. Breezy – Best Print and Fax for iPad, iPhone
Breezy is the only app which provides you with two major feature. One of them is that it will work as your fax machine and secondarily it is used as a printer. It allows its users with many options regarding printing.
It is best because it charges its customers in credits. Which user should buy from the app and are known as Breezy Fax credits. After reading its reviews I came to know that it is an awesome app.
To download it you have to click on the link given below.
9. PC-Fax.com
It is the best app from my point of view because it converts your device into a virtual Fax machine. The main feature of it is that it provides you with the largest platform for sending the faxes in 50 countries all over the world. You also don't have to do any registration. Just install the app and you are ready to rock. It is free for one page per day and if you want you can buy more from the app.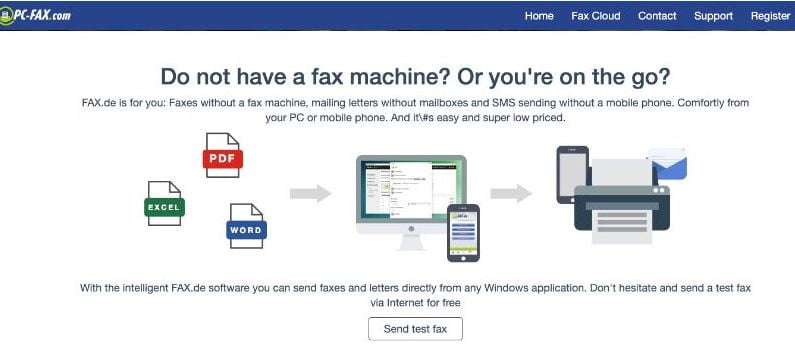 Features
As I mentioned above it is free for once per day.
You can buy a monthly subscription in 5 euro with the best number.
It also lets you upload your documents directly by using iTunes. Your documents will remain saved in the document -container of the app from where you can easily send it to your contacts whenever you want.
You can download the app by using our direct link given below.
10. Genius Fax
This is also a very simple and good app but it is not available worldwide. You don't have to go to the boring fax store no more. This app is much better than them and can be used by anyone. Because of Its normal and easy interface which can easily understandable by anyone.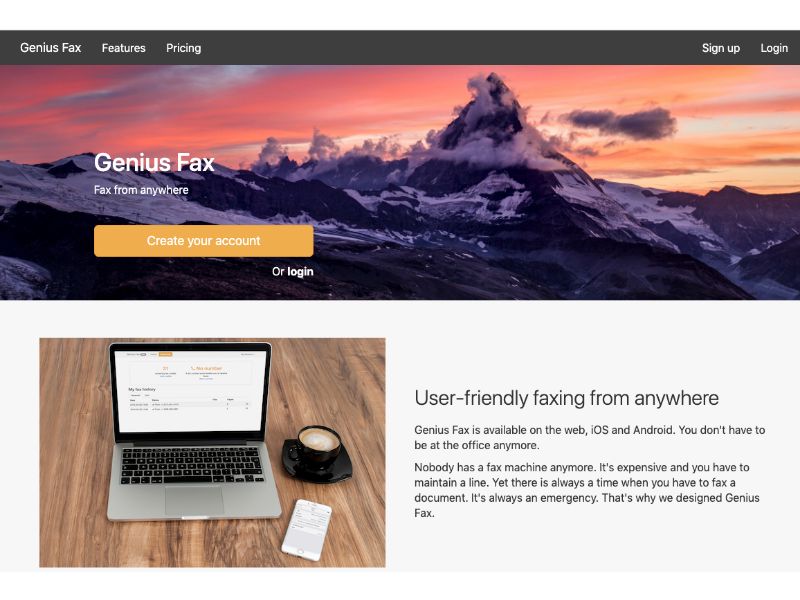 It has many plans which offer you to select according to your choice.
Features
It offers number for 1, 3, or 6 months at USD4, USD11, or USD21 respectively.
Sending and receiving one file is charged as USD0.99 per page.
It also provides you with free cover pages for your documents.
If you are interested you can buy a small number as possible at just $3.49 per month.
It is useful to send faxes to many international locations such as the US, Canada, UK, Japan, France, Germany, Argentina, Israel, India, Portugal, Italy, Hong Kong, Puerto Rico and Australia.
You can download the above app by just clicking on the given link.
These are the top or best 10 apps for you to work on your Apple device. We have given you above a list of apps ask with their important feature if any. This will help you a lot for selecting the right app for your work.
We have also given you the links to download or install the app directly. If that link does not open or redirect.
You have to only copy the link and paste it to your browser. I hope you are able to get something from our blog Technologers.com. Keep Sharing and visiting.
Also Read: