Everyone wants to listen to music in his/her busy schedule to take some rest in his stressed life. We love to listen to music while we are travelling outdoors or during a workout in the gym. Listening to music makes us feel comfortable and energetic.
Music gives a soothing feeling and very helpful in controlling depression. Music is the first hobby of every person.
But every time when we want to listen to music there may come some problems due to poor internet connections and some apps which charge you for listening to music.
As we know the iPhone is one of the best smartphones in today's era and we too know most of the apps that are available on Apple play store or iTunes are paid apps. But in today's article, we will discuss with you those brilliant apps for the iPhone which are not only free to use but you can enjoy offline music through these apps.
App to listen to music without wifi or data is my favourites because while travelling the Internet connections don't remain smooth throughout the journey. So when you have nothing to do during the journey, you can listen to music offline.
Check out Free And Paid Music App For iPhone
1. Spotify
Available free in the apple store lets you enjoy the free music any time without internet. Download Now
Why Choose Spotify
Allow you to add 15 playlists featuring up to 750 songs without any subscription.
Offers many Podcast, including originals.
Free to use both on mobile and tablet.
You can create your own playlists.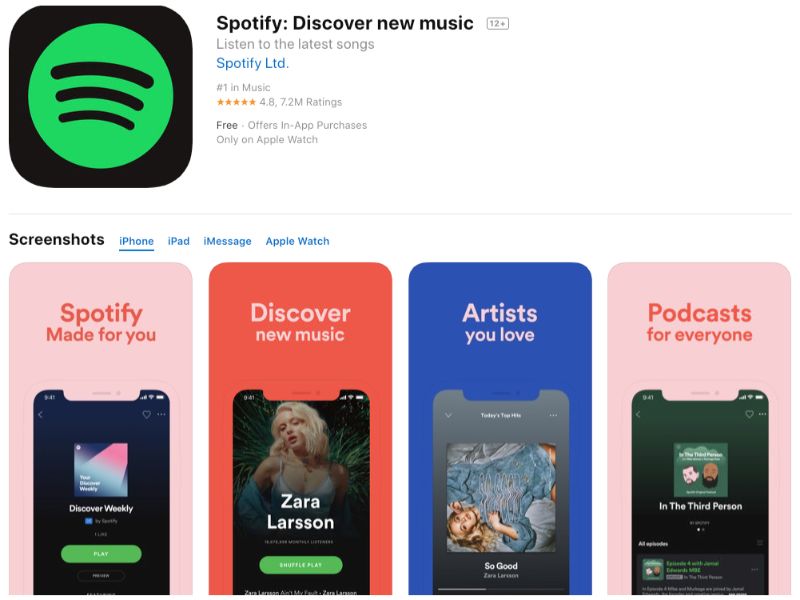 Premium offers
You can add up to 3,333 songs in offline mode.
Gives you better sound quality.
You can share your favourite playlist to anyone.
Get updates related to all new songs and playlists.
Why Not Choose Spotify
You can skip a maximum of 6 songs per hour.
Must need a user account to listen.
Show ads without premium.
This app is available for all types of devices like Android, Windows, Mac, and Linux.
2. Groove Pads
Developed by Music Breath, especially for your iOS device, is the best app to listen to music offline free on iPhone. Download Now
Why Choose Groove Pads
Make professional-sounding music with this app.
Created by professional musicians and DJs.
Many electronic kinds of music styles.
Many samples and loops
You can adjust the beat according to you.
Provides you tutorials for music creation
You can create and save your music.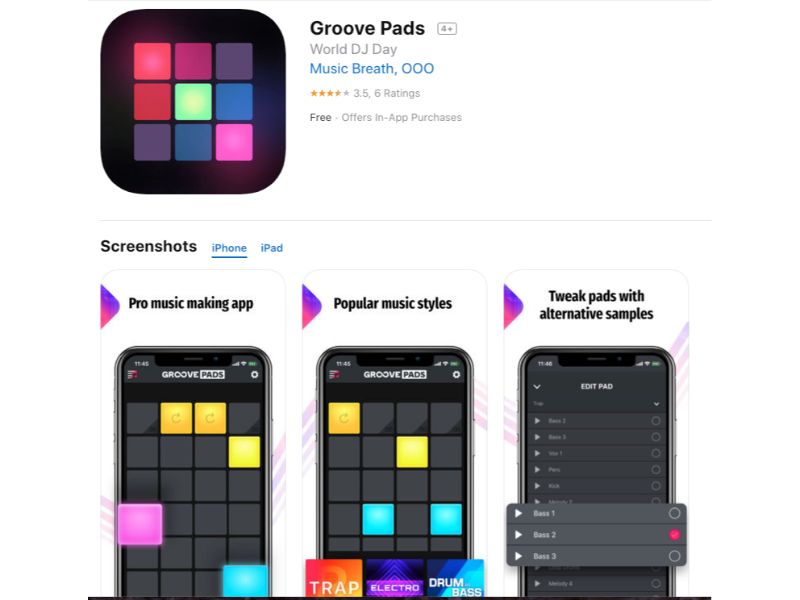 Premium Offers
There is no premium offers and subscription available for this app.
Why Not Choose Groove Pads
This app is only available on the apple app store and there is no extra benefits of the app.
Also Read:
3. Google Play Music
The best-featuring music app provided by Google LLC. It is the best free music app to listen to music without internet and wifi facility.
This app is smarter than others it automatically suggests you new songs and playlists according to your location and your previous interests. It is designed with millions of songs and thousands of playlists for all situations. Download Now
Why Choose Google Play Music
Provides you with songs based radio
Allows you to access freely thousands of playlists created by experts.
Recommends songs based on your taste, location, activity, mood and more.
You can store up to 50,000 songs at no cost.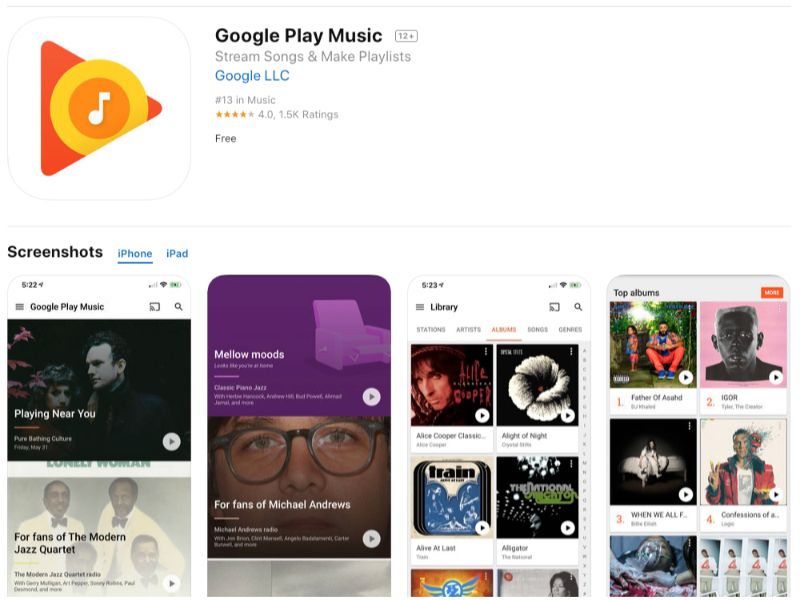 Why Not Choose Google Play Music
So many ads without premium.
Free only in the US and Canada
use GPS continuously lead to a decrease in battery life.
Premium Features
Uninterrupted listening without ads
Free YouTube membership along with this membership.
The best family pack- gives access to a maximum of six members subscription at a low cost.
4. Apple Music
The official app from apple to listen to music for free without the internet. It gives you the option to make your personal offline playlists to listen to songs offline.
You will see a three-dot button alongside every song, playlist, and album. You can tap there to download any song and make it offline to listen anywhere whenever you want free without any internet. Download Now
Why Choose Apple Music
Gives you a smooth performance
Stream more than 50 million songs.
You can create your own playlists and libraries.
Create your own profile and follow your friends to know what they are listening to.
It gives you recommendations based on your previous playlists and your taste.
You can watch exclusive contents, like documentaries about your favourite artists, the original TV show, and concert films.
Premium Offers
As this app is an official app from Apple so it's all content is free for every iPhone user.
Why Not Choose Apple Music
All the features and availability may vary by country.
5. LiveXLive
This app can be used to listen to your favourite music and live streaming performance for free in one app. It is powered by slacker radio and is the best suit for your iOS device. Download Now
Why Choose LiveXLive
Free access to music and all events
Hundreds of interactive and attractive music stations
You can easily download and share your songs with your friends
Music recommendations based on your taste and activities
You can create your own stations and playlists
Live video streaming of festivals around the world.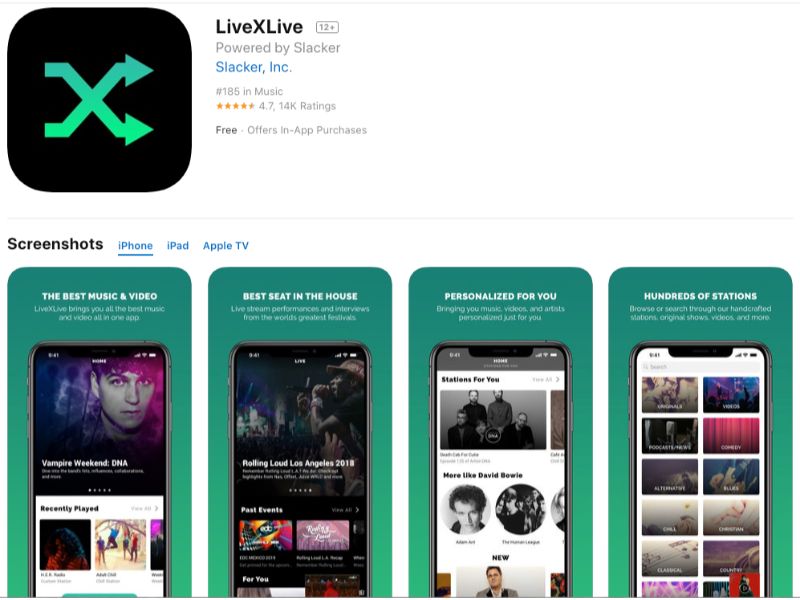 This app is now showing his worth and used widely by its users. It has the best average rating on apple store. It has 4.7 stars out of 5 from its users.
Premium Offers
There are two subscriptions available LiveXLive plus($3.99) and LiveXLive premium($9.99).
Why not Choose LiveXLive
The only similar problem with this app is that it shows adds during listening. You can get rid of the ads if you get a premium package or subscribe to the app.
6. Gaana
Best for the Indian user, the Gaana app provides its users to listen to songs offline without any internet. Songs on Gaana are very easy to download. You can download each and every song available on the app. Download Now
Why Choose Gaana
Songs are available in all Indian regional languages.
It had handcrafted playlists in it including romantic, sad songs, Devotional, Rocks, Rhymes, Bhajans and many more you love.
Playlists by artists also available on Gaana app.
High-quality music streaming
More than 30 million English and Bollywood MP3 songs.
Daily updates of new music in all libraries.
Available in 10 different languages
Unlimited mp3 download for free
Ad-free music
You can synchronise your songs to five devices at a time.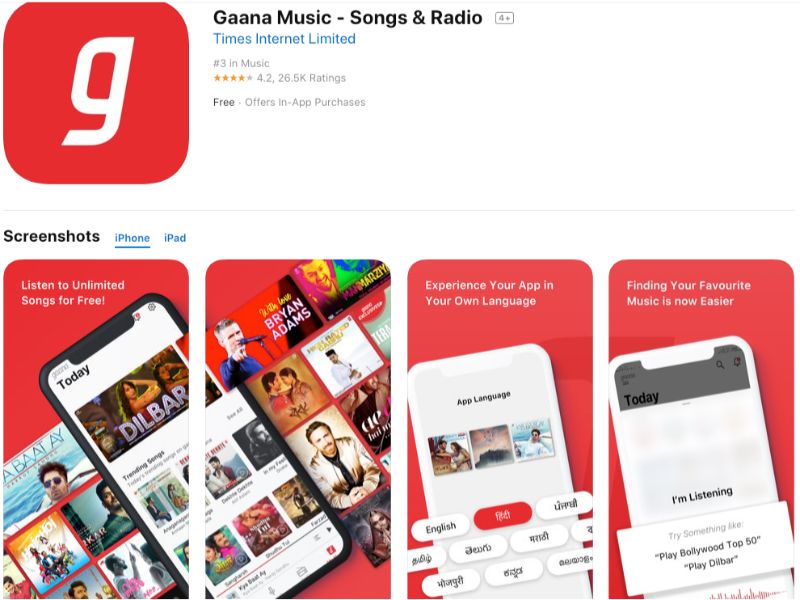 Premium Offers
Subscription pack available at an amount of INR 120 per month in India and at $3.99 per month (outside India).
Why not Choose Gaana
This app show adds without buying any premium package.
These are six apps that allow you to listen to your favourite music free without any internet connection on your iPhone or other Apple devices. There are some more apps of similar category which allows the same thing but charge you with some fees. Below we are providing you with their names and some description of them. You can download those apps to enjoy offline music.
Also Read:
7. SoundCloud
The app developers constantly upload new music and libraries to the app. It is the largest platform to listen to music. In this app, there are more than 180 million tracks are available for you. Download Now
Why Choose SoundCloud
Access to more than 120 million tracks from artists all over the world.
Give you the suggestions and recommendations according to your listening habits.
You can connect with your friends and can share your playlists with them.
You can create your own playlists for parties and other functions.
SoundCloud Go is the Premium Version of Sound cloud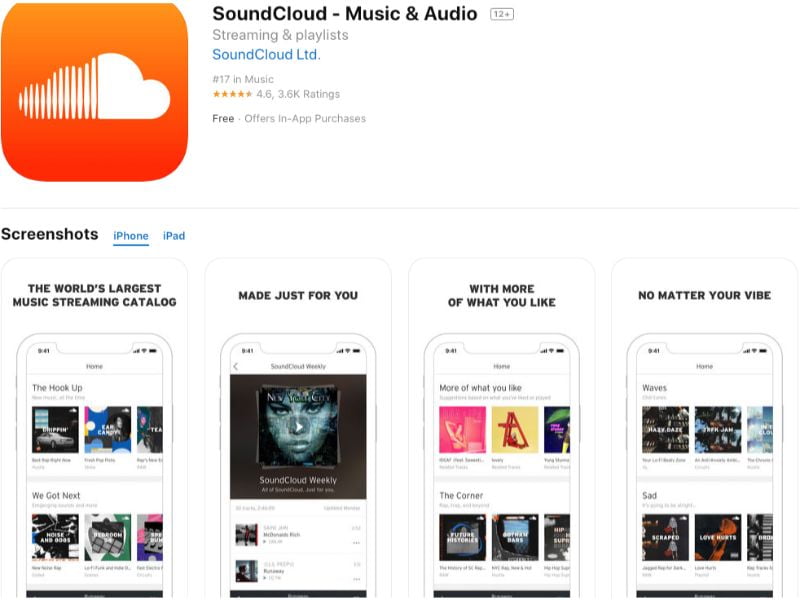 This is a small subscription pack available at a price of $5.99 per month. You can get some additional features through this subscription.
You can download and save your music offline.
Gives you an ad-free experience.
There is another subscription SoundCloud Go+ available with a free trial of 30 days and after that, you are charged with $12.99 per month.
Why Not Choose SoundCloud
As mentioned above this is a paid app so if you want to listen to music offline you must have to buy a pack.
8. Deezer: Music And Podcast Player

(Currently Not Working in India)
Another similar app to SoundCloud for listening to music offline at some cost on your apple device. Download Now
Why Choose Deezer
Gives you biggest global hits with more than 53 million songs.
Gives you personalised recommendations.
Gives you previously designed playlists and you can create your own playlists according to your choice.
You can share your personal playlists with your friends.
You can add any song to favourites by just tapping on the song.
Discover podcasts, radio stations, and audio channels.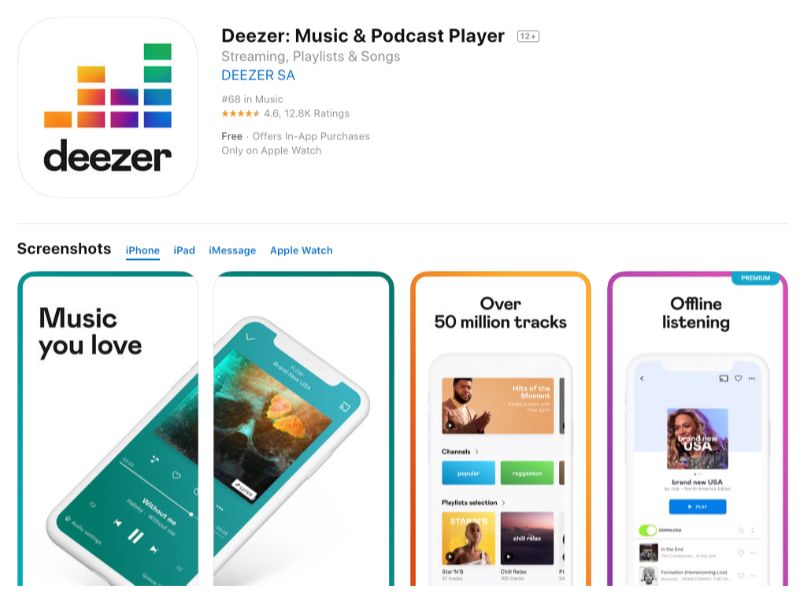 Premium Offers
There are some features which you can access only through buying a subscription pack. The subscription pack gives you the following benefits.
Ad-free music
Allow you to download music offline to listen anytime and anywhere
Unlimited skips
No problem of shuffling
Best sound quality( 320 kBps)
The music player can be connected with Amazon Alexa and another connected device.
You can cancel your subscription at any time.
Why not Choose Deezer
This app shows so many ads and not allow you to listen to music offline for free.
9. Musify Pro+
The free app for your iPhone device to hear music free in one tap. It also allows you to listen to live concerts and another program from all over the world. Download Now
Why Choose Musify Pro+
Single tap music streaming
You can search for an artist, DJ, songs and remix.
Playlist manager
You can listen to songs before adding them in playlists.
Continue playing on the lock screen
Allow background music playback
Top class media player
Automatically play next song.
Best for iPhone 7 and 7 plus.
Rated 4 stars out of 5 on the apple app store.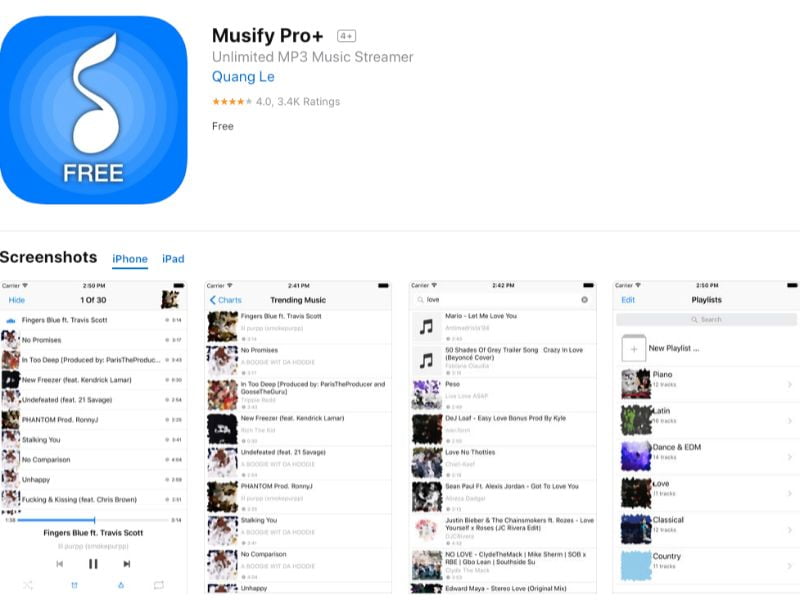 Premium Offers
No premium packages are available for this app. These apps all services are free for all iPhone users.
Why Not Choose Musify Pro+
This app does not allow you to add your favourite songs in playlists till you have not written any review about the song.
So many ads disturb your experience
Conclusion
In the above list, we have provided you with the top 9 apps that allow listening to music on an Apple device. All the apps provided to you are true and are confirmed from the Apple Store. We have provided you with all the information related to them and charges of them if you want premium access.
Also Read: