In this generation, almost all of them uses mobile phones. In these days, no one carries a separate DSLR camera or other cameras to take pictures and videos. As all of them have smartphones they use it to take pictures and videos in the smartphone itself. All the smartphones have in-built camera app to take pictures. However, this default camera app does not have many features to get the best pictures. Luckily, there are so many apps which helps you to take the best pictures with all the features. So, here we are with a list of best Camera Apps for Android to take the best pictures.
All the Smartphone comes with a camera app with some features. But the default camera app on the phone does not have all the features which you want. And this can be a problem with serious photographers. As the default camera app can only capture good photos, but if one needs to edit that picture you can't do it. There are so many different reasons to use the camera apps rather than using the default camera.
As nowadays, most of the youngsters are mad in taking pictures and video in different pose or effects. For all those who are crazy for taking different types of pictures these camera apps are the best ones. So, for all of them this list can be helpful as we have gathered few of the best Camera Apps which helps you to take better pictures and also can edit your pictures.
Before we get into the details, here we have brought few questions related best Camera Apps for Android.
Check out these few questions and clear out your confusion on using the camera apps on your Android device.
Q1. How can I make my Android camera better?
On Android phones, one of the most used functions is its Camera. Before taking a picture make sure the lens is clean from the fingerprints and dirt. To see better photos, must try out other cameras apps so you get to know the difference. If you are crazy to take pictures with different effects then it is better to use the Camera apps which we have listed below.
Q2. Which app is best to take photos?
There are so many apps available on the internet which you can use to take photos and videos. Apps like B612, Candy Camera, and other apps are popular to take photos. Before using any app first check out the reviews, ratings, description, and all the details of the app, then only download it and start using it.
Q3. How can I make my photos look better?
Make your photos look better by using the best camera. If you have the best phone then your photos can be clean and best. If your phone's camera is not good then use any app to take pictures or edit your pictures to make it look better. To edit your pictures and videos you need to use the best camera app, as in the default camera app you can't get all the features to edit the pictures and videos.
Q4. What app is everyone using on Instagram?
Everyone is using FACE APP on Instagram. The Face app allows the user to edit their picture and make them look young or old. As the pictures look so funny, now the Face app is trending on Instagram. If you also want to try out then download the Faceapp from the given link. DOWNLOAD FOR ANDROID, FOR iOS.
Now, let us check out the best Camera Apps which you can use on your Android device. Here is the list of Bes Camera Apps for Android.
Best Camera Apps For Android
1. Google Camera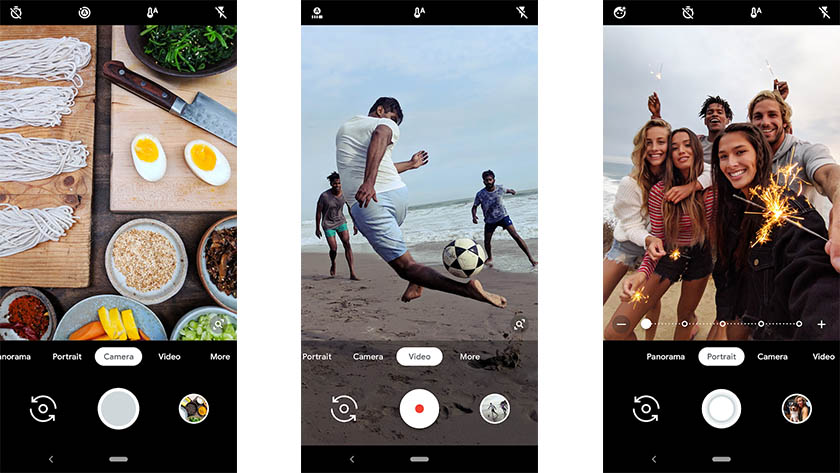 Google Camera app is the official app from Google. The Google Camera Android app is a built-in app in all Google Pixel Devices. You will find Google Camera on almost all google devices. This app has less but effective features.
There are different modes available like lens blur mode, slow motion (supported on few devices) video stabilisation and much more.
There is only one negative point of this which is its compatibility. One can use this app on Android devices which has Android 7.1.1 and above.
2. Camera 360
One of the most popular camera apps for Android is Camera 360. This app is free to use and you can take pictures in this app like a pro. There are different varieties of "Cams" with lots of effects. One can also insert the effects directly to the pictures when you capture it.
However, the app is not much active as compared to other camera apps. At first, you will find it hard to use but once you properly get used to it, it will be very easy for you.
The features include motion stickers, photo editor, in-app photo gallery, and much more.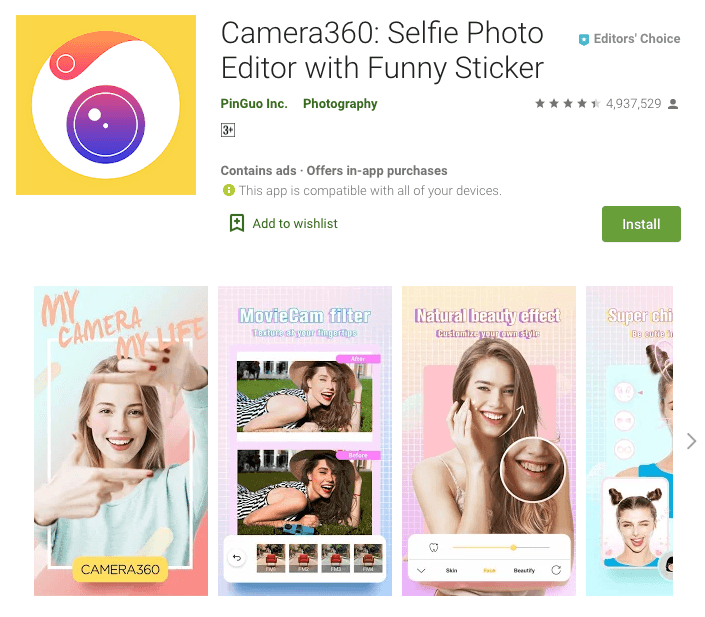 3. Cymera
Cymera is a popular and older camera app available for all of you. This app focuses more on the main features. You will get lots of filters, stickers, special effects, and other features on this app. You will also find a beauty camera mode on Cymera. With the help of this app, one can add or remove any feature from your face and body.
In Cymera one can also do small edits in the pictures. This app is free to download and if you want more features then you need to buy a pro version of the app.
Also Read:
4. Footej Camera App
Footej Camera App is the latest camera app and is the best one. The user interface of the app is very clean and easy to use. Apart from that, the app has almost all features which one get from the best photography app.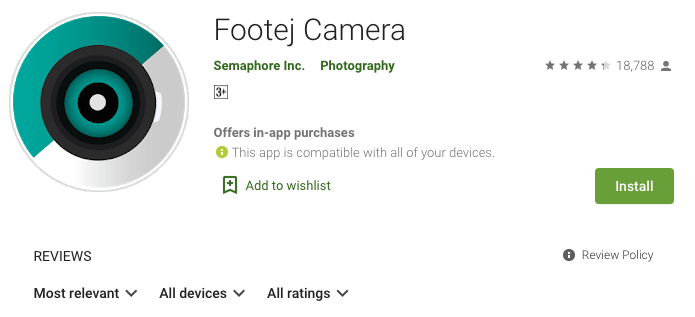 Footej app uses Android's camera 2 API for all the devices which supports API. It also gives you access to manual ISO, animated GIF, slow motion video recording, burst mode, RAW format and much more. There is a free version available and also a premium version in which you get high-quality JPEG pictures, a time-lapse interval of more than 10 seconds and much more.
5. Open Camera
For Android devices and tablets, Open Camera app is the best app as it is fully featured and a lightweight app. This app is completely free to use and you don't need to purchase anything. All the important camera features are available and the app is open source app.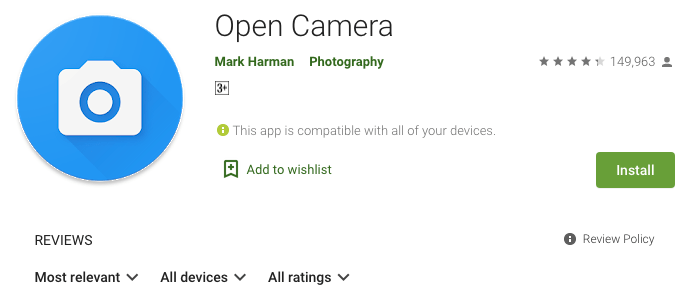 The Open Camera app supports scene modes, focus modes, HD video recording, auto stabiliser, configurable volume keys, has support for an external microphone, HDR, and much more.
Additionally, the Graphic User Interface can properly optimize for all the users. Overall, we can say that the Open Camera app is the best Android camera app which you must try out once.
6. Candy Camera
One of the most popular camera app which is used by so many people. The candy Camera app is the free Android app which is the best one for taking selfies. You will see so many filters and the beauty functions in the app like makeup tools, stickers, face slimming, and much more.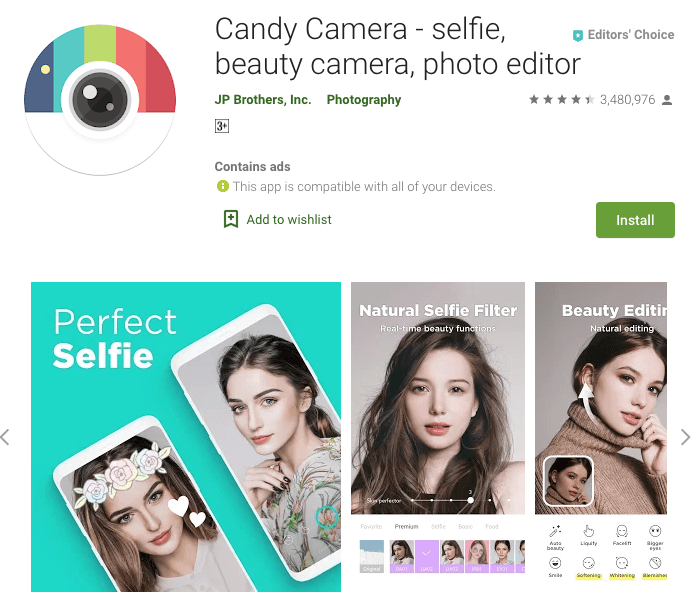 One can also take selfies, snapshots and also can create a collage of multiple photos. This app is enough for the selfie lover and is not the app for a proper photographer. The candy camera app is available for free and it contains ads.
7. Z Camera
Z Camera is the most stylish camera app which has a huge number of filters. There are so many editing tools available on this app. The User Interface is also amazing and the app is very easy to use. You can first preview the filter effects before taking a picture or capturing a video. Other features which are available are photo editor, HDR, tilt-shift mode, beauty selfie, and much more.
As the app gets updated, now the new update has got the AR stickers, swap face features, muscle building, hairstyle editor, 3D tattoo effects, etc. The in-app purchases price is very expensive.
Also Read:
8. A Better Camera
Another best app is Better Camera app. This app creates high-quality photos and has all the advanced functions like multishot, HD panorama, HDR, and a night camera, and much more. It has the feature "Best Shot" mode which automatically identifies the best photo once you take pictures. There are lots of advanced features available.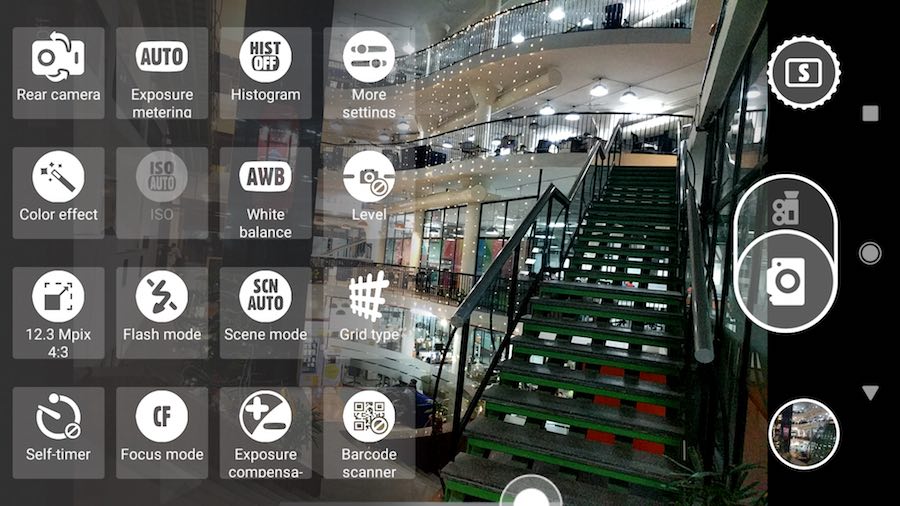 One of the most useful camera Apps for Android is Better Camera. Even in videos, there are few features available. Time Lapse, Focus lock, white balance lock and much more.
9. Camera MX
To get the best camera app for Android you don't need to pay money and Camera MX app is the proof for you.
Camera MX app has a clean and great user interface which is very easy to use. All of the users can easily get how to use it. On this app one can take photos, videos and can also create "Live Shots". It is similar to the feature Live Photos on iOS devices, it mixes the photo with a small video and creates movement.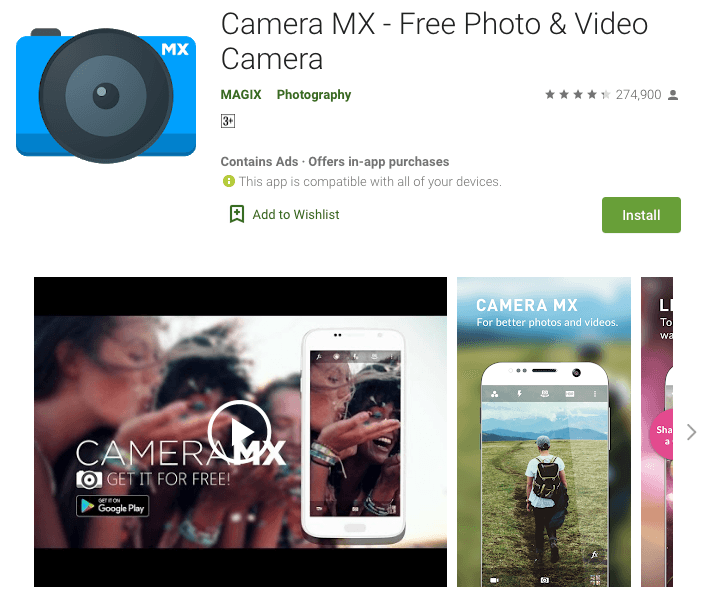 In Camera MX app, the "Shoot-the-Past" burst mode allows you to check the shots which you took before you pressed the shutter button. One can also pause video recordings and apply real-time cuts and can also preview effects on any photos while shooting. One can also edit pictures in the app only.
10. Pro Shot
Pro Shot app is available for both Android and iOS devices. This is the app which turns your smartphone into a DSLR camera at a cheap price. Pro shot gives you photos just like DSLR in different configuration modes like manual and automatic. You can also do settings just like a DSLR camera.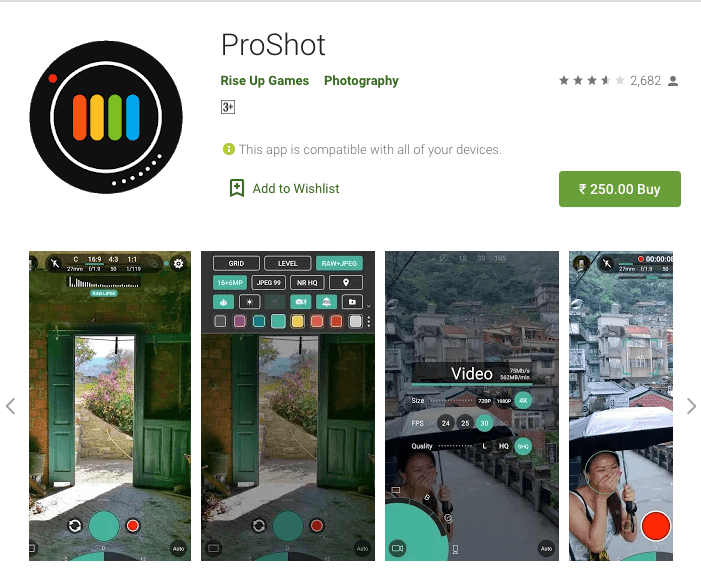 With the ProShot app, one can also do Video recording up to 4K resolution. The two modes Burst mode and time-lapse modes help you to capture the moments quickly.
It has a paid version for both Android and iOS. For Android one needs to pay $3.99 and for iOS $4.99.
11. Bacon App
Bacon app is the acceptable decent camera app. There are manual controls available like white balance, focus, ISO, and much more. There is also a support for RAW and DNG with the JPEG format. Bacon App has support for manual controls on the devices which does not support Google Camera API. All the devices support this app. There are best features like GIF, Panorama mode, timed shots and much more.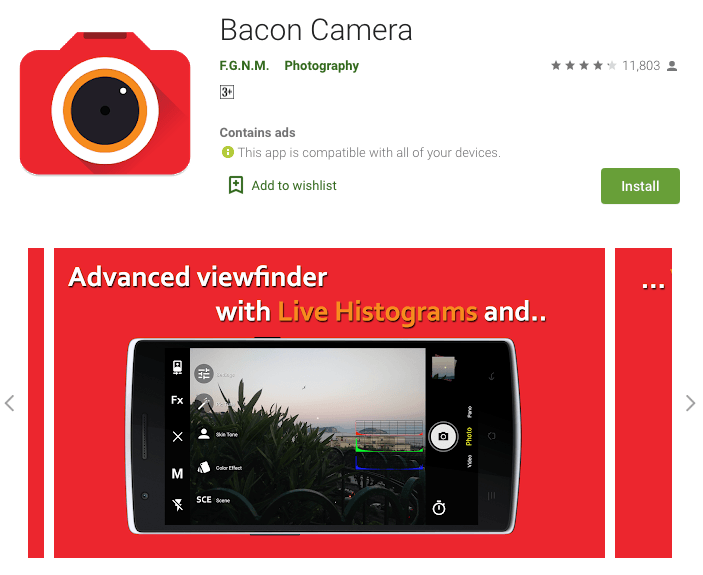 The Bacon app is the best one and it also has a paid version which is surprisingly cheap. The Pro Version is of $1.99.
12. Manual Camera
Manual Camera app works so well and the user interface is also so easy to use. This app is similar to a real camera so one can say that pictures would be coming out so perfect. There are great features available on this app. It has manual controls for white balance, ISO, focus, and much more. In Manual Camera app, one can also shoot in RAW mode also. There is a paid version available for this app for which one needs to pay $2.99.
13. Snap Camera HDR
In Snap Camera HDR one can take pictures with fun amateur effects. There are manual controls for ISO, HDR, White balance, and much more. It also shoots with a RAW feature. There are effects like, borders, live filters. It has a Pro version available for which one needs to pay $1.99.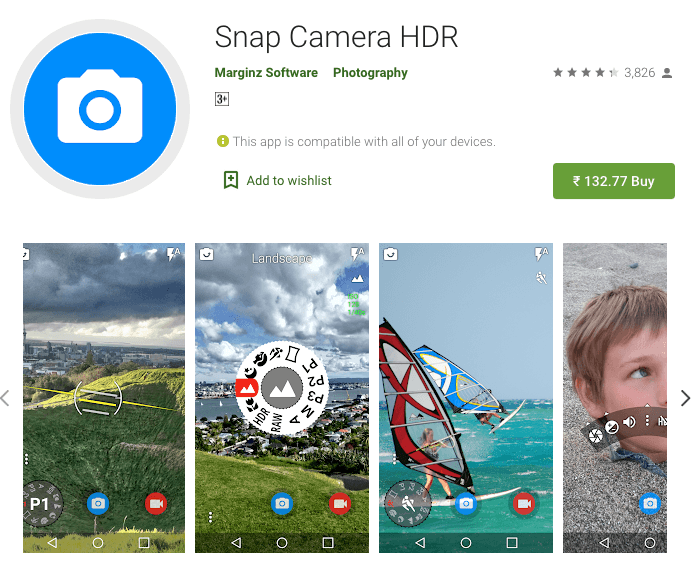 CONCLUSION
So, this is the list of the best and free Camera Apps to take pictures on your Android devices. If you really want to edit pictures and videos then use the given apps. As the default app does not have all the features to edit the effects and everything, it is better to use the best camera apps. If you also want to take the best pictures on your Android device then must use one of the given apps from the above list. For latest updates stay tuned to us.
Also Read: