Are you planning to start an online business or website? Then you might know that what will be the first thing you have to decide.
Yes, you are right, it's your server that plays an important role in the growth of any website. It's your server that makes your website appear online and impacts its speed, performance, and security.
When you look outside, you will find two types of servers available out there. One is a virtual private server, and the second is a dedicated server.
But for your website, you can choose only one between them. So here we are with this guide so that you can see that which one wins in this battle and proves to be the best server for your website.
FAQs
Q. Are dedicated servers better?
A: Yes, we can say that dedicated is better and improves the performance of the website and application. If your website deals with heavy traffic, then dedicated servers can save you from handling site crashes and other problems.
Q 2. How do I know if my server is dedicated or VPS?
: Finding that whether your server is dedicated or VPS or very simple. You just need to navigate through your home and then check the memory and disk space of your device.
From there, you can identify that whether your website or applications runs on a dedicated server or on VPS.
Q3. What is the virtual private server used for?
A virtual private server is used for hosting websites so that they can appear online. It is one of the necessary things for any website or online business.
On the virtual private server, the speed, performance, and security of a website lies. So it plays an important role for the websites.
What is Virtual Private Servers
So let's begin with the first candidate of our battle, that is VPS or virtual private server. A virtual private server is a hosting that hosts a website or application from a centralized or parent server.
Here all the servers share the same environment or a server. With VPS, users can get access to the root server and install applications and can change the environment without involving the hosting provider.
This type of server is great for game makers, SaaS providers, and programmers. With that virtual private server is also excellent for the companies that need more than shared hosting.
Also, the companies that are looking for secured and cost-effective hosting can try this option. In simple words, we can say that VPS is a hosting where many companies use isolated instances on the same hosting server.
But then also they remain separate from each other and don't affect each other. By this, companies can access their server environment from anywhere and at any time.
The companies have allocated bandwidth and storage irrespective of other companies on the same server. So unlike shared hosting here, the performance of the companies didn't get affected.
This hosting is famous among users for the affordability and security it offers. It is simple to use, cheap, and at the same time gives you access to your root server.
What is Dedicated Hosting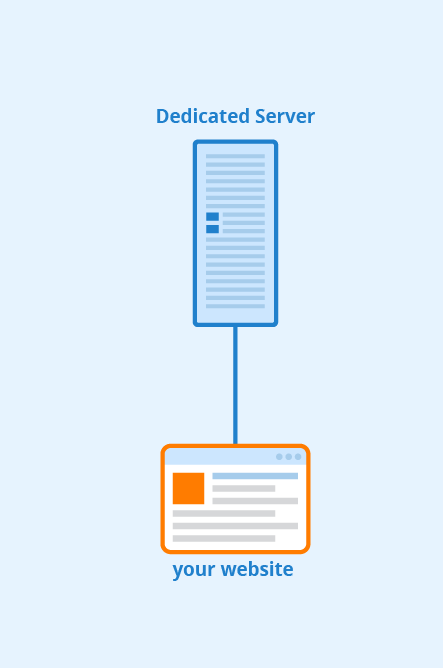 Our second candidate of battle is dedicated hosting. In some instances, it is like the first one and in some completely different.
It is a hosting where an entire server or servers are dedicated to a single company. There, unlike VPS, hosting companies don't share the same server.
With this server, the users get complete control over the server. So they can optimize and modify it according to their requirements in terms of security and performance.
With the physical server and server environment, they will also get associated services and technical support. This technical support is offered by the hosting provider for maintaining the server.
As the companies own the server, so its staff has control over it. They can work on it, optimize its performance, operating system, and applications.
In terms of flexibility here, companies can easily change their server configurations. And with that, they can add new software applications and change the resources according to their need.
Not only the entire server, but the company has more dedicated hosting. It will also have access to all the networks, memory, hard drive storage capacity, and processing power.
The Battle: Who Is the Winner
Till now, we have talked about our two candidates for the battle. And they have their own features and characteristics.
While both are popular and used worldwide, we are looking for the best for you. As the future of your online business and website is depended on the type of hosting you choose, so it's better to choose the best.
For that, first of all, you need to check some criteria and tick them right. They are security, performance, scalability, reliable hardware resources, and efficient data delivery.
Now both the hostings offer you all of them or might some of them. So that is why here, a comparison between them becomes necessary.
By this comparison, you will know that what you get when you choose one between them. That is why here we are with this battle where you will get only the best for your business.
In this battle of two hostings, VPS VS Dedicated, we compare both of them on various grounds. So now, let's dive into the battle and see who wins.
Performance
Our first ground of battle is performance, and here we see where we get the best performance. When we talk about the performance of a server, we generally talk about the time was taken by the server to load the website and run it for users.
The quick is the performance, the more is the website is appreciated and drives traffic. So the performance of the server plays an extremely crucial role for the website.
Here one more point to ponder over is the fact that with more numbers of visitors, the server needs more speed. Because when there are few visitors, the load and running time of the website will be quick.
But as the number of visitors keeps increasing, the server has more visitors to load, and that can make the performance of the server slow, and hence the website becomes slow.
Now in virtual private server hosting, users first have a single server environment that is meant for fewer visitors. And as their visitors increase, users can add new environments to the same server.
But in dedicated hosting, the users get a huge server environment at first. So they don't need to add other server environments even if their visitors increase massively.
With dedicated hosting, you have fewer resources, but your website never slows down. And in virtual private server hosting, you have more resources, but when your visitors' spike, your website will slow down even if you add multiple sites or environments.
Allocation Of Resources
The next ground of our battle is resource allocation. Not to mention in virtual private server hosting, you will get hosting on the same server with other companies.
So that means you have to share your server, its storage, resources, everything. Although that doesn't impact the performance of your website, it is not guaranteed too.
While in dedicated hosting, you have the whole server. You don't have to share it with any other party and no sharing with anyone.
But with dedicated hosting, you may have fewer resources as per the server. While in virtual private server hosting, you may have shared space but have access to more resources.
In a simple way, we can say that with dedicated hosting, you have fewer resources with the entire server. And in virtual private server hosting, you have more resources but shared space in the parent server.
Customization And Configuration
In hostings, there are two more divisions of plans. They are managed and unmanaged plans. With managed plans, you get the things set up, and in unmanaged plans, you have to set up things.
However, managed plans cost more than unmanaged plans undoubtedly. So in both the hostings, you will get both managed and unmanaged plans, and you can choose.
Talking about customization here also both the hostings let you customize. Whether it's virtual private server hosting or dedicated hosting, you can customize the resources according to you.
Security
When we are dealing with online businesses and websites, we can't leave them at bay. We know there are so many threats that can harm our website today.
So one of the essential things that becomes a major ground for the battle is security. By choosing the wrong option, not only the data of the company but also of the visitors will be at stake.
In virtual private server hosting, although your website is very secure, the guarantee can be taken about others. So if the security of other websites is broken, then other websites of the same server can also become vulnerable.
However, in dedicated hosting, you have a high degree of protection. And more importantly, you are responsible for your own security.
In dedicated hosting, the security of your website will not be at risk because of the carelessness of other websites like the virtual private server hosting.
But in both hostings, you can install your own security applications. They will make tighten up the security of your website.
Scalability
This word seems to be new at first, but every user must be aware of it. Scalability of the server means the extent to which the server can support the growth of the website.
Understand this in simple words, suppose today you have few visitors on your website. So you don't need any extra website or server environment.
But in the future, when the number of visitors on your website increases, it may slow your website you don't expand your server. So whatever server you are choosing, VPS or dedicated hosting, it has to be scalable to your need.
Now talking about the virtual private server hosting, here you can expand your server. Here you can start your website with less space, and when your website grows, you can expand your server.
But if you are looking for maximum space, then this hosting will disappoint you. Because here, you can't hit a great reach even after adding new environments.
Whereas in dedicated hosting, you already have the highest reach. Here you don't need to add any work environment even if the number of visitors on your website increases many times.
In dedicated hosting, you will get a very large space at once. And that is with all the resources, performance, and security.
Price
If you are starting a website or online business, then the cost factor is an important ground for battle. You have to choose your hosting, keeping in mind your budget.
Here dedicated hosting is a little bit expensive for users and companies. As here, a high level of security, performance, scalability is given, so it has a high price for that.
But virtual private server hosting is very much cheap in comparison to dedicated hosting. As here, you are sharing your server with others, so you don't have to pay high.
Although VPS can be a cheaper option to dedicated hosting. But then also here you have to share your server, which means compromise on security, performance and other things.
The Winner
Till now, we have discussed virtual private server hosting and dedicated hosting. We have also seen the battle between them, and now it's time for concluding the winner.
Well, as you have seen yourself that it is a tough fight between and it's hard to conclude any one winner. Why because both of them have their advantages and disadvantages.
So although we can't make anyone a winner, we can draw some meaningful results. And these results can help you to choose the best hosting for you.
Virtual private server hosting is affordable but low in security and performance. So the businesses that don't need a high level of security and don't have much traffic growth then they can go with it.
Virtual private hosting is best for those who don't want to spend much on hosting. And also doesn't have a problem with security and performance standards.
While dedicated hosting is for those for whom budget is not a big problem. If your website and online business are grown enough and the price range of dedicated hosting suits you, then it's best for you.
checkout complete  list of Hosting service Providers
After discussing the hostings, let's also share few words about the hosting providers. Here we are giving you the list of hosting providers that offer both VPS as well as dedicated hosting.
this is my personal favourite they provide extraordinary support and VPS & dedicated service at a very cheap price.
Free to transfer existing websites and VPS to Namecheap, unlike competitors and 30-day money-back guarantee
The top hosting provider in our list is this, which is the first choice of the users. It has ranked top in our list because of its cheap plans.
When you search out there, you will find its pricing plans very cost-effective. With that, it also has a great uptime of 99.99% that claims to be the highest uptime.
Also, with great price and uptime, you will also have excellent disk space and features. Its other notable points are its help and support, which is powered by a dedicated team.
Another hosting is our list is this which is best for its technical support. Like others, it also has a decent uptime of 99.95%, which is still very promising.
With that, you will also get massive disk space and other features. Its help and support team is the highlight of the company.
Here you can get help and support 24/7 through your phone, knowledge centre, live chat, and ticketing system. You can also claim here money-back guarantee.
Last but not the least hosting provider in our list is this, which is excellent in features. Here you will get an uptime of 99.97% and many features.
With that, you will also get a free domain name, massive storage space, and bandwidth. In help and support, you have a support of a technical team and a money-back guarantee of 30 days.
Our mission is to simplify cloud computing so developers and businesses can spend more time creating software that changes the world.
Vultr computes features 100% SSD and high-performance Intel CPUs. See why all clouds are not created equally.
HostGator is a global provider of web hosting and related services. Founded in a dorm room at Florida Atlantic University by Brent Oxley, HostGator has grown into a leading provider of Shared, Reseller, VPS, and Dedicated web hosting.
HostGator is headquartered in Houston and Austin, Texas, with several international offices throughout the globe.
BigRock is a leading provider of web-presence solutions to small businesses, professionals and individuals. We provide our clients a complete suite of products that help them establish & grow their online presence.
Accelerate innovation with our simple, affordable, and accessible Linux cloud solutions and services.
It's easy to manage, affordable, scalable and reliable, Help you reduce complexity and time to launch on the cloud.
Also Read: