Today we are witnessing a digital revolution when everything is becoming digital. Similarly, organizations are also going with this digitalization.
But here, what they need is a platform where their teams can collaborate. Team collaboration is the need of every organization that wants to achieve the peak of success.
And when everything is acquiring a digital form, how we can expect less from team collaboration. Well, it may amaze you, but it's true, now various teams in a company can collaborate digitally.
Now you might be thinking that online team collaboration can be expensive. But hold on to your horses because online team collaboration at low prices or even for free is possible.
If you want to know the free online collaboration tools for small businesses, then you are at the right place. Here you will get a detailed list of digital collaboration tools.
FAQs
1. What are the best online collaboration tools for students?
As education is becoming digitalized now, many apps are available out there which serve as online collaboration tools for students. Some of them are Yammer, Edmodo, Popplet, and Google Classroom, to count a few.
17 Best And Free Online Collaboration Tools
Finding the best thing in the crowd is just like finding a needle in a haystack. But with us, you don't need to do any hard work on searching for the best collaboration tool for your organization.
Here we are presenting you a list of the best collaboration tools, which are also free.
The first collaboration tool that has got the first position in our list is this. and it has achieved its first position in our list because of its features and functionalities.
Here you can add unlimited team members for collaboration and exchanging messages. These messages you can send privately as well to all.
With messages on this platform, you can also share files as it offers you 5GB of storage.
Here you can host video calls for everyone or for a particular team as you want.
To augment your productivity, it comes with many built-in productivity tools, including shared notes, calendar, reminders, to-dos, polls.
It also offers simple and quick integration with a number of applications such as Jira, Google Drive, Google Calendar, Twitter, Asana, MailChimp.
So you can manage all your tasks and make your teams organized for better working and all these things you will get for free.
All of us are well aware of the name Microsoft that defines its brand and its features itself. It is the best and leading company to provide software solutions for offices.
And now it comes with an all-new collaboration software tool that helps in organizing the teams of the organization.
Although we know about its products such as Word, Excel, and Presentation to count a few, this software by the company is all new.
Here companies can add up to 300 members on a single platform where they can collaborate with unlimited messages and different channels and search.
Not to mention it also offers unlimited audio and video meetings with their recording and transcription, up to 250 members.
Here team members will get a storage space of 10GB for team file storage and an additional 2GB space per user.
What makes it unique is its innovative features, more than 140 applications, and service integrations with Office 365 services and OneDrive.
Another best and free tool for collaboration is here, which is well known for its innovative techniques. Here you will get every tool needed for your teams and company.
This software offers messaging channels for team communication and collaboration.
It can accommodate unlimited users who can message each other as well to all the members.
Also, here you can host video conference calls and take a report on the work progress.
Its dashboard is intuitive, and you got everything on your left and handy. So with its elegant and easy-to-use dashboard, you can manage your work effortlessly.
For file sharing, it has 5GB of storage space and 10K space for message history, so you will never leave a thing behind.
Here you can integrate up to 10 third-party applications and tools for better working.
This tool for collaboration is a bit different because it is more for gamers. So if you belong to a gaming community or your company works in the gaming field, then it's only for you.
Yes, it's true that it is specially designed for gamers, but it can also be used by others for team collaborations.
Here what is different is that it has all–in–one voice and chat that can be thought of as an always-on radio channel to talk to your team members.
So with chat messages, you can also use this for real-time collaboration, truly helpful when you want to collaborate remotely on shared files and documents.
Here while your video conference calls, you can share your screen too.
And what makes it cool is its text–to–speech function, which reads out for you what you have typed.
Another amazing tool is our list is this software which was launched by the founders of Facebook. So its credibility and usefulness need not any sort of introduction.
What makes it stand apart in the crowd is that it is enriched with features as well as its dashboard.
It got a handy dashboard from where you can easily see your upcoming projects and tasks, get real-time progress and status updates, and important files.
This tool is specially designed for team collaboration so that a team can meet here and view their upcoming projects and deadlines, and can work together.
To increase productivity, it has to-do lists, file views, calendars, project templates, user inboxes, and the best part here is that it can be used through smartphones too.
Here you can sort out the tasks on the basis of assigned date, priority, due date, or as you like.
Also, here you can create subtasks, update the task description, set tasks dependencies, update task progress, and assign tasks vertically.
It can integrate with many applications for video conferencing for other functions, such as Zoom, G Suite, Dropbox, Office 365, and many others we can count.
If you are looking for a full package of features to collaborate with your team, then your wait is over. It is your one-stop destination for your company and to organize the teams.
This software has the potential to manage your several tasks simultaneously so that you can work on several projects at the same time without any difficulties.
Here you have an audio and video conference call feature, where you can share your screen with your team members.
To manage all the projects at the same time, here you have a scheduling feature with a tracking progress feature by which you can track down the progress of your team.
Not to mention it has unlimited chats and message search history with unlimited users and guests.
Here you can also share the files and documents and can edit them. You also have unlimited pages and folders and up to 2GB of storage space.
Additionally, it has a calendar and surveys by which not only you can keep yourself updated with the due dates but also work to improve the collaboration.
This software is for those who are searching for a visualized collaboration tool for their teams. It got the visually focused working experience which makes the working a piece of cake.
This tool offers an all-new working platform for team members where they have various new features.
These features are summed up under the "Trello Cards" and include all the things the team needs to be handy.
Here team members can attach files, assign tasks or subtasks, add comments and write to-do lists. Users can also pin their cards to an overall project overboard.
These cards are visible to all team members, and those who are added to team boards can view, update, edit and share files on the cards.
The Trello cards have the assigned tasks, tasks updates, attachments, due dates, as well as contains conversations.
To widen up its users base, it offers many board templates for project management, marketing, remote work, and even for classrooms.
One more online tool for collaboration is this, which works online, so there are no limitations of device platforms.
Here users can create, customize and share their databases for better working.
However, it is best known for its grid view, which also resembles a spreadsheet or Excel spreadsheet. So there is no room for misunderstanding for the users.
To make the work easily manageable, it has a drag and drop features which makes the process very easy.
Here users can create tasks, reorder tasks, upload relevant files or data, set deadlines for projects, highlight the main points, upload media files, and share notes.
What makes it the best is that it is very flexible to use, so if you don't like the gird view then you can change it as like in form, gallery and many other views.
If you are looking for a great platform having mastered chat messaging, then this software is only for you. Here you will get all the features required in an online collaboration tool.
You can think it is a platform to message, share files and manage tasks.
But what makes it different from others is that it organizes various channels according to the conversation for the teams.
Here each conversation has a different pinboard for that special conversation only. In that pinboard, users can share the files, links, and notes, as well as highlight the important updates for team members.
All the team members can see the conversation on the pinboard and also have access to edit that.
Also, here users can search for external users in the database of the software and then automatically add them to the workspace.
In the chat tool, there are also last seen, read receipts features available so that sender can ensure that everyone gets the message.
For teams, it has features for creating list-based tasks, they can assign tasks, upload files, highlight important and urgent tasks, and also monitor the progress of the task.
Additionally, the software also provides a weekly report on completed tasks, updates on tasks, and upcoming projects so that teams can improve their pace.
for much online collaboration seems like a hard nut to crack, but this software is just the opposite of that. It makes collaboration between various teams effortless and easy.
This tool displays the character of both a task manager and online meeting software.
It is basically designed to simplify project management, budgeting, time tracking, team communication, and resource allocation.
In task management, there are more features, including customizable billing methods as per the fixed and hourly costs, cost of resources and materials, and cost per task.
Here users can set the task deadlines, create a to-do list, set subtasks, dependencies, and estimate the amount of time taken by each task.
In this application, many users can be given the same task to work together. The assignees of the task will receive real-time notifications for the task updates and comments.
Here real-time collaboration and document sharing are available too. Not only this but the tasks can also be categorized, tagged, users can update the task status and be given priority level.
Another software in our list is this, which is best for project management as well as is capable of online team collaboration.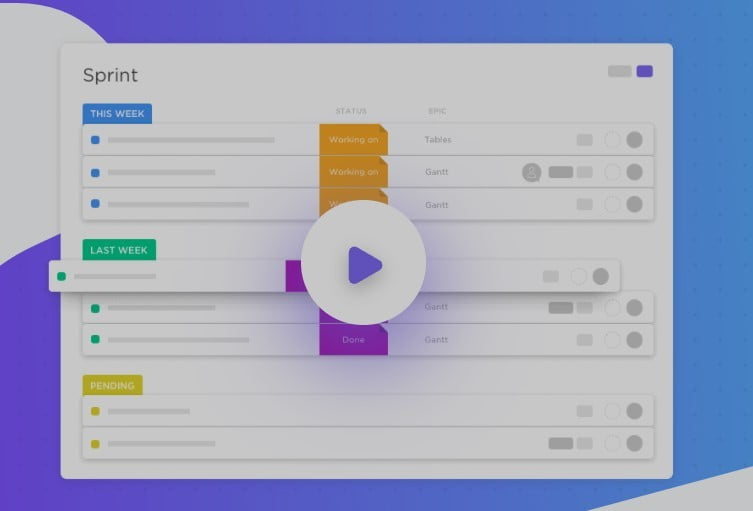 Here users will get all the features for team collaboration and project management.
It boasts of having all features on one platform where you can manage all things at once.
By using this tool, you can plan tasks, track them and collaborate with your team members.
Here you can choose your own view for tasks and dashboard, that whether you want to box, Gantt, list, or board view.
You can also create your own workflow model with the provided customizable views.
For collaboration, you can add comments to any task and documents. Even in the comments, you can paste a picture.
For the assigned tasks, you can chat with your team in real-time, get real-time notifications, and share attachments.
From task management to project management, it has templates for all, which you can use for quick and efficient working.
If you are working with Google Workspace, which is formally known as G Suite, then this collaboration tool is only meant for you.
It is more of an email collaboration tool where you can work with your team members and with other teams as well.
This software has a simple to use and intuitive dashboard, ensuring high productivity and seamless collaboration.
Herewith just one – click, you can swift for internal collaboration to advanced analytics remaining in the Gmail's native interface.
In this software, users can assign tasks in one click and track the real-time status, with using email tags to organize workload, they can reduce the pressure.
And when it comes to reducing workload, there is nothing automation, and it has that too. Users can automate workflows, assigning tasks, categorizing them, and changing their status.
Whatever you want to increase your productivity, automation, collaboration, and reporting, it has all of them. It is one collaborative tool for your workspace where you get all features.
Here you will get a perfect project cycle to follow where all the tools are combined, and also it makes a balance between your roadmap for your project and daily tasks related to it.
To manage the project here, you have Kanban-style tasks where you can work on completing the projects.
To view the progress of your projects here, you will get a project overview feature that directly gives you an insight into your project.
It has a beautiful and elegant interface that you can use to find things handy and enhance your working experience.
What makes the users amazed is its transitioning, which is the highlight of the software and makes everyone love it.
Users can create a document within each project so that different projects remain clear.
In the collaborative features, we can count team chat, discussion sessions, time tracking, and reporting on the projects.
It is a simple yet most robust tool for collaboration available out there. It has many features for your organization that extends from just collaborating teams.
Here you can create unlimited projects and manage your team members to complete the project on time by giving them access to joint projects.
You can also share the files and documents within your team and also monitor your team on the tasks, meetings, and projects.
In this software, you can also manage the contacts and track the performance of your team as a whole and of each team member with work reports.
For real-time updates, it has a real-time dashboard too, which encompasses all the tools offered by this brilliant software.
Here you will get billing, where you can make invoices using the given templates, work management, and reporting.
This software for collaboration is a full suite of features and tools that helps in better working. It facilitates the different teams across a single organization to work efficiently.
Here users can define the projects, assign them, and then set work or tasks priority.
It got a project estimation feature so that you know what are your and your team's capacity.
This software also offers reports to update you on the progress of the team, and you can improve your productivity.
With backlog grooming, you can facilitate project management by tracking the work and let you plan strategies for that.
To offer clear and simple visibility, it has a Kanban board that helps the team members to work for continuous delivery.
It also has customizable scrum boards where teams can work and increase their working capacity.
With this collaborative tool, it doesn't matter that what is your team size or how complicated it is to handle the team. It is made for handling complex teams of different sizes only.
This software is the best destination for project and task management with team collaboration; that is why it is used by the leading companies of the world.
It is very easy and simple to use with an intuitive dashboard that makes every tool appears at first sight.
To manage projects of all sizes and even complex ones, it has a well-structured working mechanism.
It divides the projects into several tasks, and then they are added in the customized workflows and then displayed on the Kanban board, which is beautifully designed.
Users can add unlimited members and can chat using mentions and comments. To smoothen the work, it stores all the information, files, and documents in the tasks.
Last but the least tool for collaboration is here, which is not only used for online collaboration but for various purposes, including project and sales management.
It is an excellent tool that has online collaboration features, with sales management, project management, and team communication.
Here teams can connect all the tasks in one place and ensure that all of them will get completed.
This tool helps by managing projects and offering scrum management, business process management, and team management.
It also has a customizable CRM which works on improving the relationship between your company and consumers.
Even if your team is distributed across many countries, then also it helps in collaborating with them chat messaging and conference calls.
It has automated workflows, too, which helps the team by saving their time and energy.
These are some of the best online collaboration tools in 2021 which you can try for your organization.
Conclusion
Today as the degree of complexities in the working environment is increasing, so is the need for some outstanding solutions which can unite all the teams of a company.
The same is done by tools for online collaboration that doesn't only manage the communication between teams and their members but also simplify their work and help in managing the tasks.
Also Read: