Today emails play great role in professional as well as personal life. When talking about any organization, Microsoft Outlook plays major role for setting communication between the employees and outside the organization. Outlook stores it's data items such as Emails, Contacts, Calendars, Notes in Personal Storage Table(PST) files. However, to make PST file data more usable on different platforms, user needs a solution that can extract data from PST file and to convert it in different file formats. Outlook PST Converter is a tool allows users to convert PST file in eml| msg| vCard and vCard (VCF).
As we know PDF is a most acceptable file format allover and vCard data file is also supported by different platforms. Therefore, user needs a tool that can migrate PST file data in formats like EML, MSG, PDF, & vCard. As there are many commercial utilities available in the market, user can get one of such tool that can perform conversion in a very efficient way. PST converter is one of these tool that feature the different options to convert PST file data in different file formats.
About PST Converter Software
There is one such PST file conversion tool in the market namely PST converter that allows user to convert PST data in different commonly used file formats such as EML, MSG, PDF and vCard.
Other then conversion, the tool has many facilities like it can perform conversion on corrupt and password protected PST file. Also the tool generates preview of data items after performing quick scan operation, it allows users to select desired data from PST file. The PST converter tool available in two different versions, one is demo version and other is complete version.
Demo Versions
The free trial version of PST converter tool is available on the official website of the company. With demo version, one can check out the different features of the complete version. However, The demo version allows conversion of only first 15 items of PST file.
Complete Version
To perform conversion of entire data of PST files, one can buy PST converter complete version which is also available on the official website at cost of $49. The complete version of tool enables user to extract data from unlimited number of PST files.
Features of PST File Converter
Batch Conversion
User can convert all or selective data item of PST file data such as emails, contacts, calendar, notes into different file formats.
Conversion In Four File Formats
PST converter enhance the usability of Outlook PST file data by converting it in four file formats such as EML, MSG, PDF and vCard. By extracting data from PST file to EML format makes it accessible on email clients like: Outlook Express, Windows live Mail, Thunderbird, etc. And, with MSG file format, user can use PST file data on any MS Outlook profile.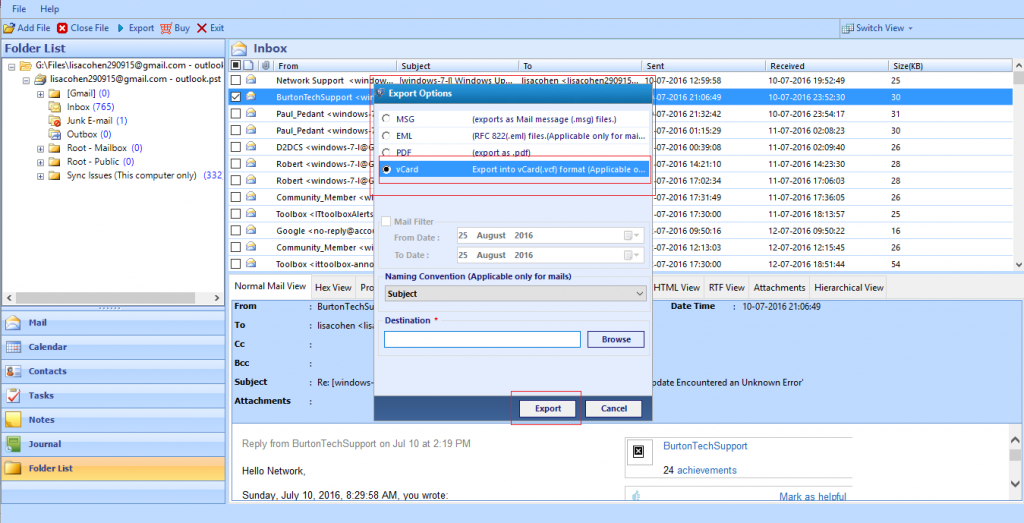 Migrate Data In PDF format
With this tool, one can create PDF file for each email present in PST file, PST Converter can migrate email data along with its attachments. It also features header option by which user can extract header details of the email in PDF by using Export Email Header option.
Migrate Contacts In vCard Format
The PST converter tool allows user to migrate contacts from PST file to vCard format as vCard is the most acceptable file format on different platforms. It allow users to create a single vCard file for all the contacts present in PST file.
Generate Preview
After performing Quick scanning, the tool generates preview of all data items which includes information like Subject, Email Id, Phone number, Calendar recurrence pattern, etc.
Corrupt And Password Protected PST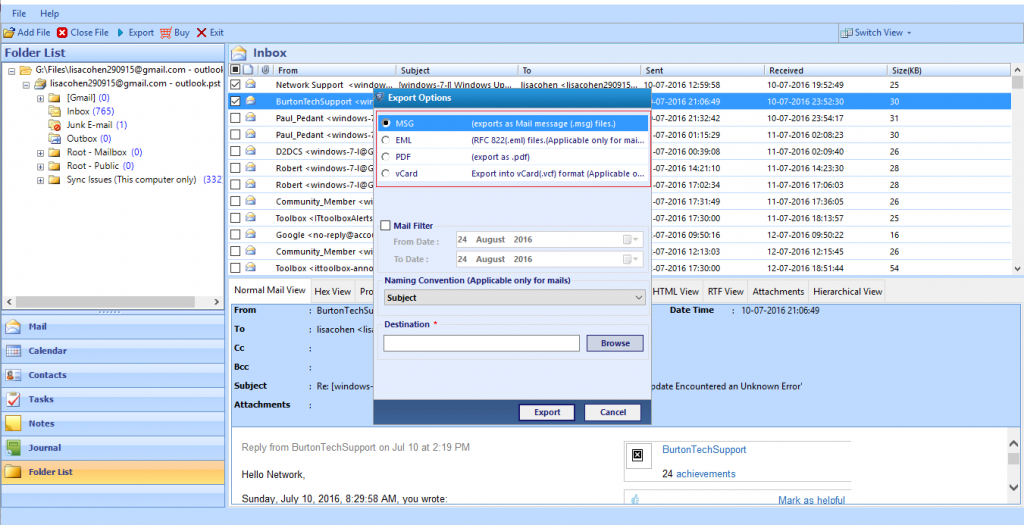 The Outlook file converter tool can perform extraction from corrupt and password protected PST files.
Naming Convention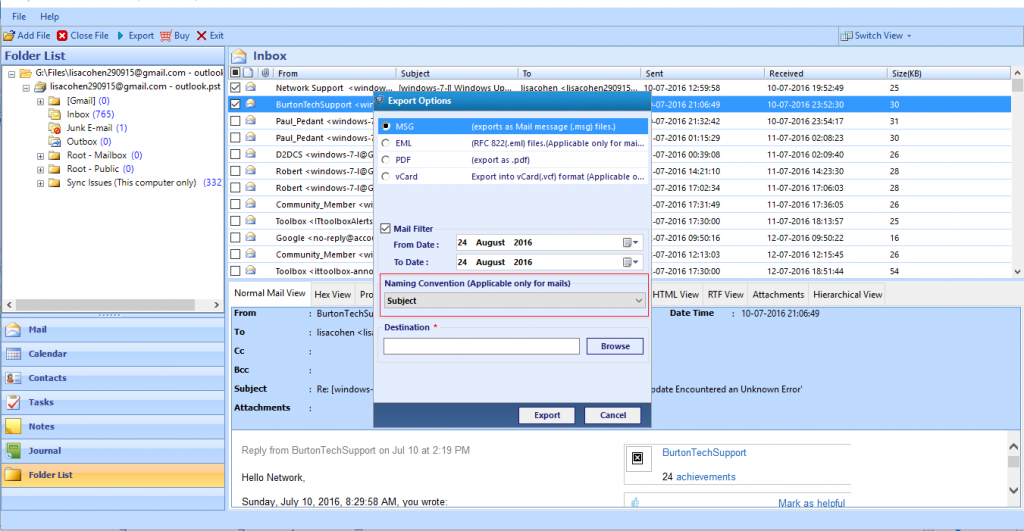 For saving PST file data items in file formats like MSG and EML, The tool offers the option to save that extracted data in MSG/EML file format with different naming convention. Saving these file with these naming, helps users to distinguish between number of save files.
Activation Prompt
Whenever, the user will open the tool, an advanced prompt will display on the screen. User can execute the software in three different ways- user can activate the purchased software, Continue with the trial version and can buy the PST to MSG/ EML conversion software license.
System Specification
Platform Supported: Windows 8.1 and all below versions
Processor: 1 GHz but 2.4 GHz recommended
RAM: 512 MB but 1 GB recommended
Hard Disk Space: 50 MB of free hard disk space
Application Prerequisites
If user is working on OS 8.1/8/7 or Vista, then they need to launch the tool as "Run as Administrator".
Pros Of The Tool
Outlook installation for performing Conversion is optional
Offers a very user friendly interface similar to Outlook interface
Convert data from Corrupt and Password protected PST file
Cons Of The Tool
Multiple PST files selection is not possible at same time.
Verdict
After considering all features of Outlook PST Converter tool, it emerges as a worthy solution for executing PST file data conversion. The tool includes all the needed features that will surely help the user to convert Outlook PST file effectively. Feature of Extracting data from corrupt and password protected PST file adds more advantage on this tool. Therefore product can be rated as 9.5 out of 10.