There are some special events and moments in people's lives that they wish to celebrate with their loved ones, which include family, friends, and co-workers. Besides the arrangement of celebrating these days, what is that one thing that should be prepared a few weeks before the actual date? That is the invitation card, which notifies people about the reason behind inviting them and identifies who is willing and available to join your day by RSVP'ing to it. While being reserved in making the arrangements, no one has time to visit shops for purchasing or ordering invitations. So what's the next best alternative? It is the free invitation maker mobile app!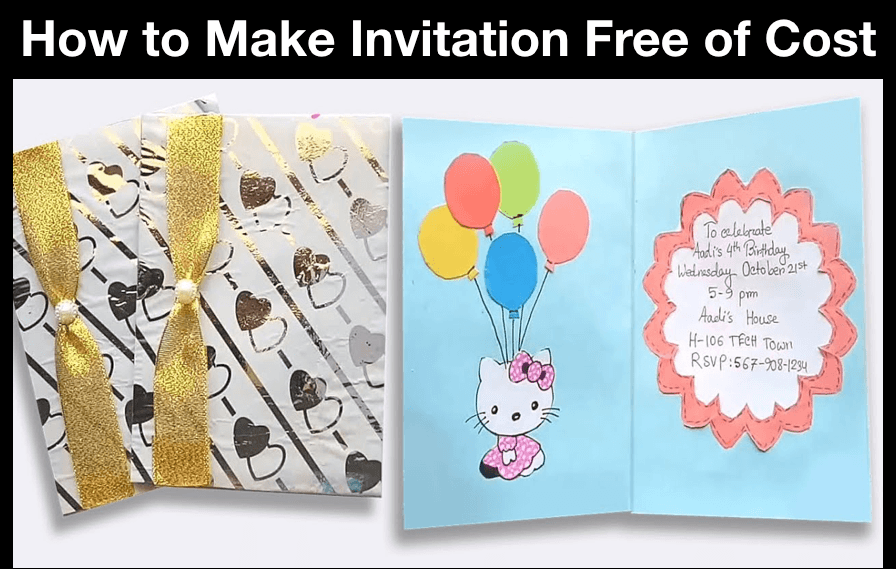 How Is Invitation Maker App the Best Solution?
The invitation maker app is the best solution for creating invites due to several reasons. First of all, it is cost-effective. It is the main reason behind declaring this app as the best way. When you hire a designer, he/she might charge you a lot, and you will also have to pay for the paper and envelopes. Spending isn't finished yet, as posting charges are waiting after invitation cards are printed. As compared to it, online invitation maker apps charge nothing from you. You can find many premia and free invitation maker apps that can make your life much comfortable. Even the premium card maker app will be pocket-friendly to you, unlike designers.
The second reason behind using the invitation card maker app is its time consumption. With designers, you will have to wait for a few days to get the job done, but on invitation maker, you don't even have to spend an hour. Creating invites on an app is a game of only ten minutes. And you would already know how quickly a file can be transferred through social media and email. The friends who will be interested in joining you for a celebration can RSVP you quickly that will allow you to make food and seating arrangements accordingly.
Thirdly, these apps come up with appealing invite templates. It means that you don't have to waste your efforts on explaining a designer what type of design you want. You can do it all by yourself! You will be able to make changes to the text and background, add text, filters, overlays, and much more with free invitation maker app.
What is the Best Free App for Creating Invites?
Well, it's up to you that what type of invites you want to create. Some free apps provide you with invite ideas for a limited number of events, while there are some that have a wide variety of invite templates in several categories.
Paperless invitation maker by content arcade apps is one the best invitation making apps you can find with your android device. You can search for this app at play store, download it, give it a try and get hands-on amazing invitation cards. The top features of this app are:
It provides brilliant text editing features. Text opacity, shadow, typeface, size, color, and alignment; everything can be adjusted.

It has 1000+ invite templates that are classified in various categories, including Christmas, wedding, anniversary, birthday, milestone, farewell, graduation, engagement, saves the date, and many others.

It has ready-made designs with titles that can be used as it is by changing names and dates.

It offers hundreds of backgrounds and stickers that you can match and use on your invitation cards.
All these features make it the best invite maker app, in my opinion. You can get this app for free, but to gain maximum benefit from it, it is recommended to buy one of its plans that will unlock all the features and templates available.
Create Invitation for Any Occasion
Whether you want to throw a surprise birthday party for your kid, sibling, spouse, or you wish to celebrate the anniversary of your parents, don't forget to create a paperless invite for gathering family and friends. The invitations you create with an invite maker will inspire your guests, and they will be eager to attend the event you are holding. The ordinary invites might prevent you from earning such a response as they are dull and don't tend to draw the attention of people.
Moreover, you might wish to give a perfect start to the new year by gathering your loved ones. Don't worry as many invitation making apps give you amazing templates of new year's eve that you can take full advantage of instead of seeking help from a designer.
Conclusion
When everything is easily manageable on smartphones, then why should we go for tiresome and troublesome tasks? Using an invitation maker app is the most sensible option as it is much easier and time-saver. Whenever any occasion or special day is approaching, make sure to create the invites with the best invitation maker app.
Also Read: