When you update a software or operating system, you need internet connection to download the update, don't you? Well, now you have got an option to opt out of internet connection's availability to update your system. Ever heard of WSUS Offline Updater? It is a tool that you can use to update your PC without even having internet connection. Mind blowing, isn't it? Before going for the link of WSUS Offline Updater download, let's get you all the details about the amazing tool.
Why go for WSUS Offline Updater?

We all know how irritating it is to update a system and god forbid if you have got a poor internet connection (which is quite common in India), then you are doomed. So, wouldn't it be better if you get the updates offline? Using WSUS Offline Updater, you can easily update your system without connecting to the web. And the best part, it is a free tool!
Also Read:
You can put all the updates of Windows into a CD or DVD or USB drive using this tool and then install them in your system. Thus, you can locally store the updates in any storage device and use it to update as many devices you want. Save your time and space using this amazing tool.
What updates does WSUS Offline Updater offer?
The tool offers almost all kinds of necessary Windows updates but to make your life a bit easier, we have listed out some of the most important ones that the tool offers. If offers software updates for all the below operating systems:
Windows XP- both regular 32 and 64-bit editions

Windows Vista – both regular 32 and 64-bit editions

Windows 7 – both regular 32 and 64-bit editions

Windows 8

Windows 10

Office 2007, 2007 and 2010
How to use the WSUS Download Updater?
The tool supports a wide range of languages; so, you won't have any problem in getting the tool in your choice of international language. Once you open This website of the tool, i.e. you will see the introduction of the tool's history and license.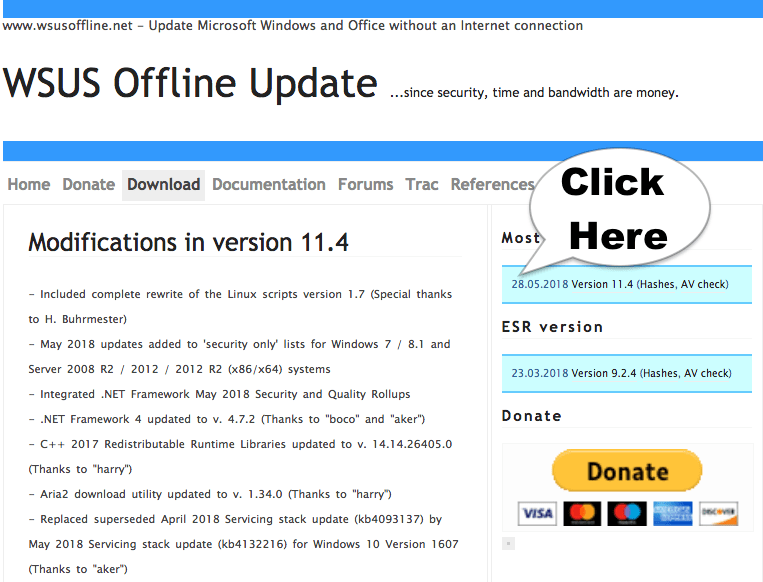 Go to the download tab and then you will be able to see the latest version of the software on the right side. Download this version and save it in your system or in a USB stick. You can also save it to a CD or DVD. And voila!
You now have all the updates of various operating systems and you can use them to update your system anytime, anywhere without connecting to the internet.
Also Read:
For using the tool, you need to have the UpdateGenerator.exe file. Download, extract and then run the file after selecting the desired operating system, office version and language you need. The tool supports a number of languages like French, Spanish, English, Korean, Russian, Portuguese, Brazilian, etc. so that you are not restricted to English.
The generator tool is split into three parts- Windows, Office and Legacy Products- depending up on what you want to update. You can choose whether to download service packs, Microsoft Security Essentials, Microsoft Security Defender or not. You can also opt for C++ Runtimes and .NET Frameworks so that they can be updated too.
—> You can Direct Download Offline Software Click Here
One other amazing thing that the tool offers is that you can update the package into an ISO image which can be written into a CD or DVD or Blu-Ray.
Open the Windows offline updater in the target system and select what you want to update. Click on start button in the launcher and your system gets updated.
If you want to opt for automating updating, then go for the "Automatic reboot and recall" which creates a temporary user account named WSUSAdmin and updated your system automatically. The account would be deleted once updating is complete.