iPaaS (Integration Platform as a Service) is a type of cloud computing service that helps businesses by making it easier to connect different applications, share data, and create workflows. In this guide, we'll discuss the iPaaS definition, what it does, and how it can benefit your business. Keep reading to learn more.
What is iPaaS?
iPaaS is a platform as a service that enables users to integrate multiple applications together. This can be done by connecting different software applications together or by connecting software applications to legacy systems. In addition, iPaaS also allows users to automate workflows between these applications. One of the benefits of using iPaaS is that it can help businesses reduce their reliance on custom integration solutions. By using a pre-made platform, businesses can save time and money on developing and maintaining their own custom integrations.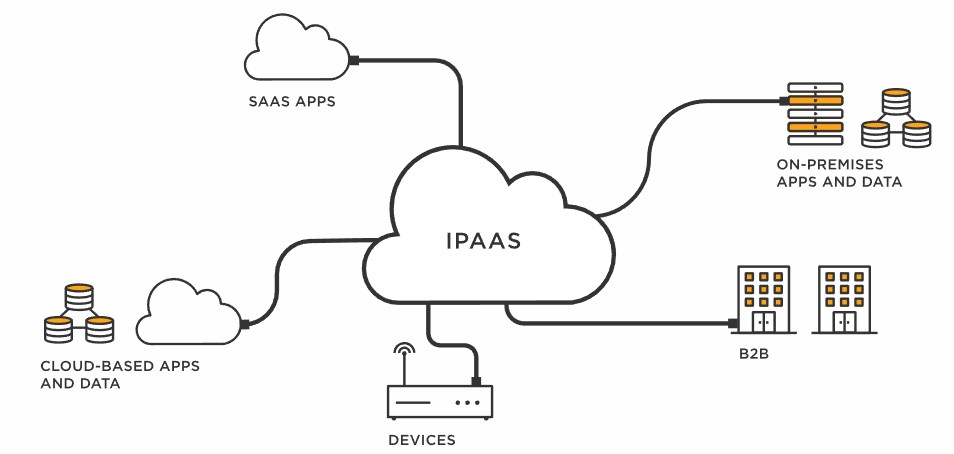 Additionally, iPaaS platforms often come with built-in features that allow for greater flexibility and scalability when integrating different applications together.iPaaS platforms are also beneficial for organizations because they allow for creating reusable application programming interfaces (APIs). APIs provide access to specific functions or data from an application. By creating reusable APIs, organizations can make it easier for other developers to build integrations with their applications. This not only makes it easier for other developers to work with your organization's applications but can also help you expand the reach of your business's products and services.
How much does an iPaaS solution cost?
The cost of iPaaS varies depending on the provider and the features included in the package. Generally, a basic package with limited features starts at around $50 per month. More comprehensive packages can cost hundreds or even thousands of dollars per month. One thing to remember is that the cost of an iPaaS solution can be offset by the cost savings you'll see from consolidating multiple point solutions into a single platform. In addition, many iPaaS providers offer free or low-cost trial periods, so you can test out different solutions to find the one that's right for you.
How do I implement an iPaaS solution?
There are three primary steps in implementing iPaaS for a business. The first step is to understand the company's needs and what iPaaS can offer it in terms of functionality and integration capabilities. Many businesses find that iPaaS can help them automate workflows, connect disparate applications, and improve data sharing between departments or external partners. It's important to have a clear idea of what specific goals the company hopes to achieve with its iPaaS implementation before moving on to the next step.
Once the company understands its needs, the second step is identifying and integrating the necessary applications into an overarching iPaaS platform. This typically involves working with a vendor or consultant who can help identify compatible applications and create a custom integration plan that meets all business requirements. Not all applications are created equal, so it's important to ensure that all of those selected will be able to work harmoniously together within the new iPaaS framework.
The final step is managing and monitoring the implementation process itself. This includes overseeing system setup, configuring settings, testing integrations, and troubleshooting any issues that may arise along the way. It's also important to establish regular reporting procedures so that management can track progress regularly throughout the implementation process.
What types of businesses can benefit from using iPaaS?
Any business that relies on multiple software applications to do business can benefit from using iPaaS. This includes businesses in various industries, including healthcare, retail, manufacturing, and logistics. By using iPaaS, businesses can reduce the amount of time and money they spend on integrating different software applications. This is because iPaaS platforms provide a way to automate the process of integrating different applications. As a result, businesses can focus on their core business objectives and not on integrating different applications.
Additionally, businesses can use iPaaS to improve data security. By integrating different applications through a single platform, businesses can reduce the number of points of vulnerability in their data security infrastructure, helping businesses protect their data from cyberattacks and other security threats. Businesses can also use iPaaS to improve the efficiency of their operations. Integrating different applications allows businesses to streamline processes and improve efficiency. This can help businesses to save time and money and improve their competitiveness in the marketplace.
iPaaS is an important technology because it enables businesses to integrate their applications and data across multiple platforms, both on-premises and in the cloud. This allows businesses to automate and streamline workflows, improving efficiency and productivity. Additionally, iPaaS can help businesses reduce costs by consolidating their applications and data into a single platform. If you think your business can benefit from an iPaas solution, be sure to reach out to an iPaaS vendor and implementation specialist.
Also Read: