If you always remain curious to know the future of technology then here is what you need to know. Do you know about augmented reality applications that are showing us our future?
No, then you have landed on the right page where you will get to know about the augmented reality applications and how they are projecting our future in front of our eyes.
And also how they are connected with the field of education and help in improving it.
Not only they are connected with the education sector but also changing its course and making it more interesting and informative even for the ordinary people.
So let's dive into this guide where you will get to know about the best-augmented reality applications for education.
FAQs
How augmented reality is used in education?
Augmented reality is a technological advancement in the field of science to superimpose information.
These applications make the real–world superimposed by using computer-generated perceptual information. So when these apps are used in learning they offer more insightful details of the subject.
How do schools use virtual reality to improve education?
Virtual reality that is also known as augmented reality improves education by highlighting the underlying details of the topics and making it more interactive.
What are great examples of virtual reality in education?
There are many examples of virtual reality that are used in education and some of them are offered by the leading names in the education sector. Some examples are Google Expeditions, and AR Kid's Kit to name a few.
15 Incredible Augmented Reality Applications
First, let's discuss in simple words what really an augmented reality application is.
So basically an augmented reality or virtual reality app connects digital visual content and in some cases audio with the user's real-world environment.
It connects the technology with the real – world and develops a better understanding of the environment in people in a detailed manner. Now it's time to move forward with our list of AR apps for education.
Our first rank achiever in this list is this application which is powered by the leading global name Google. Although it is a less known application by Google but very important for students.
It is an augmented reality application that is specially made for night gazers and astronomy students.
This app makes astronomy and stargazing fun, interesting, and most importantly informative. Why because it offers information on the stars, planets, and constellations which you see in the night sky.
In the traditional method of stargazing people have to gaze in the night for hours and then identify whatever they have seen in books.
Today they can receive whatever information they need from their phone through this app.
What you need to do is first install this app, and then hold your smartphone up facing the back camera in the direction of the sky.
Now whatever its camera lens sees in the sky it will automatically give you information on what is appearing in the camera.
Thus it makes your star gazing informative and improves your understanding of astronomy.
ClassVR is designed with education in mind providing everything you need to easily deliver virtual reality in the classroom – the perfect Google Expeditions alternative!

All-in-one Standalone Headsets
Our VR headsets are classroom-ready with everything fully integrated into them and are suitable for users of all ages.
ClassVR 5 ways
Collaborative, Explorable VR Experiences
VR provides an immersive VR learning style allowing students to explore scenes independently or collaboratively as part of a group.
ClassVR 5 ways
Create and Upload Your Own Content
Alongside the 1000s of education VR and AR resources and content provided in our portal, you can easily add your own 360 photos, videos, and 3D models.
ClassVR 5 ways
Web
Based
Portal
Our Portal provides simple-to-use tools to plan, deliver and streamline any lessons using virtual reality.
ClassVR 5 ways
Real-time Device Monitoring and Controls
Our management system provides teacher controls to ensure lessons are controlled with real-time monitoring, lock headsets and dynamic points of interest to guide exploration.
Can you believe fairytales becoming live and you can even speak to the story characters? If not then this application will surely leave you mesmerized.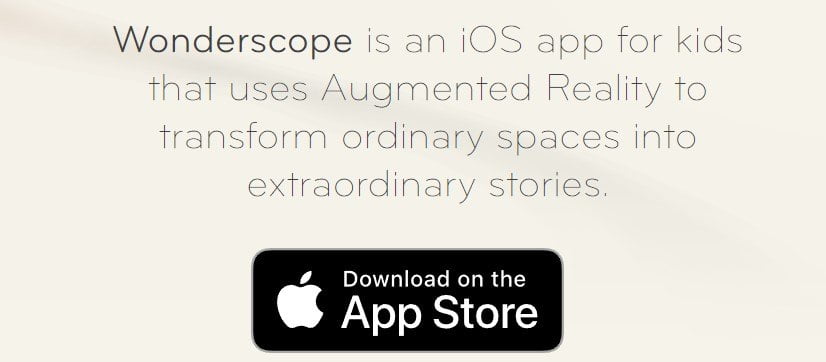 This virtual reality application is a storytelling app that is perfect for kids who love to listen to bedtime stories and fairytales.
It uses virtual reality to turn any place into real-time stories where students can learn to read through the application.
So it will not only make the imagination of kids creative but also help them in their education by improving their reading habits.
For kids, it is like a live show where they can watch and listen to stories, read them and also speak to them and ask questions from the characters.
Here is what makes it live its characters actually answer the questions and didn't kill the curiosity of the kids but strengthened it.
This application can be used by educational institutions as well as parents to make their kids creative and imaginative.
If you are looking for a content-creating application that is creative too then look nowhere because your search ends here.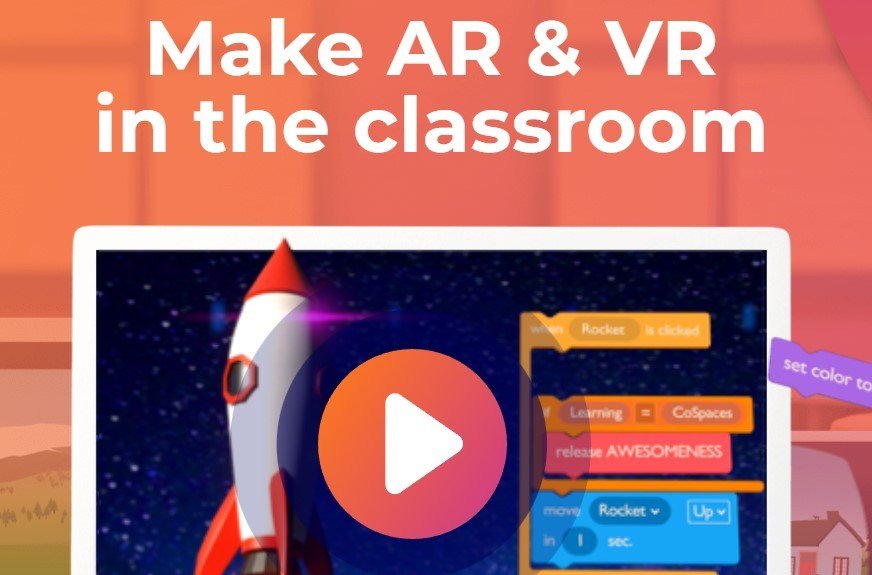 This application is made for students who want to create creative and innovative content.
Here students can create their own objects that are 3D and also can animate them by using coding.
It will engage the students by making them create 3D creations and animations.
With its AR and VR view modes, you can explore any real-time object through this app and see them as animated or 3D.
Not only that but students can also use this application as a projector by which they can project any animation or 3D object onto any surface.
This projecting can be done on any surface in the AR mode in the real – world and you can even touch the projections and hold them in your hands.
It can be possible by using the MERGE Cube which lets you touch all and any creations which you make or see.
If you liked the previous content creating AR-based applications then there is one more for you.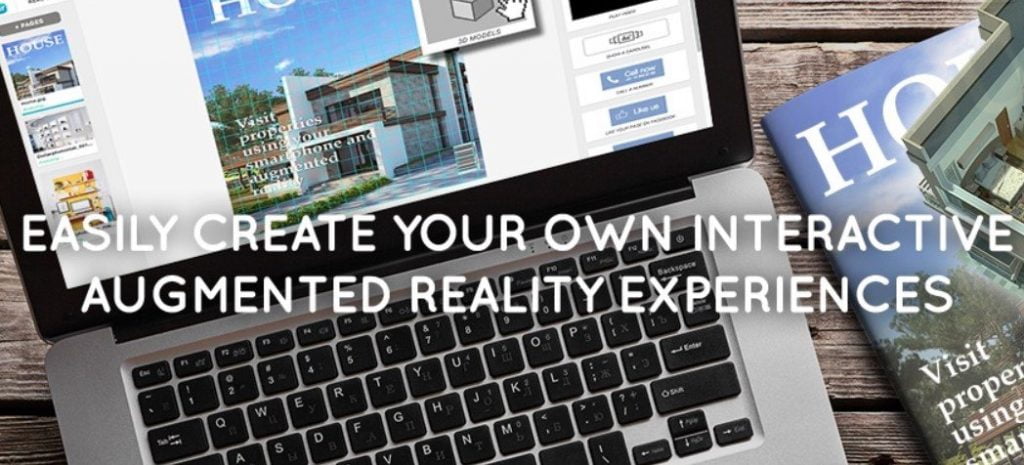 Today the demand for creative content is increasing.
So we are having more students of content writing then this app becomes a must for all students.
In this app, students can make flyers attractive and innovate any content with their creativity.
They can also show their creativity in packaging items or papers, postcards, and any other thing which they want to recreate.
This app offers a variety of modes in which you can use website links and social links.
With that videos messages, audio files, and music files can also be used.
With photo slideshow and many more to attach with your files which will make them more interactive.
Not only this but it can be used to make your paper worksheets interactive.
And also more information as you can add more information with your notes.
6.      Google Expeditions now merge into Google Arts & Culture
Another application from Google is this which is a must for every adventurous student who wants to make a career in archaeology or in a related field.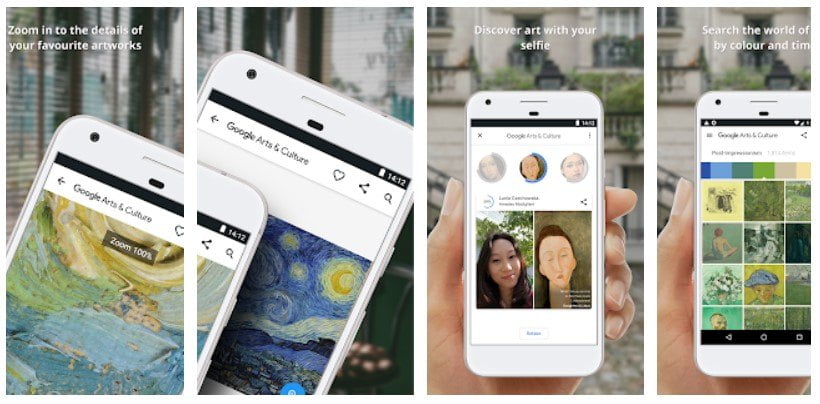 This single app can be used to handle all the tasks related to an expedition as the name suggests itself.
It offers a perfect combination between two modes that are Virtual Reality (VR) or Augmented Reality (AR).
By using this application teachers can guide their students on the 360-degree scenes and objects displaying them in 3D.
Also by this teachers can make the sites and artefacts along the way more interesting and provide them with more information.
This single application can be used in arts, science, and history and to explore the natural world.
So it has a wide usage and still extremely helpful in every field equally for making student's trips more adventurous.
As from the name itself you can guess that it is related to 3D shapes but it doesn't limit here only.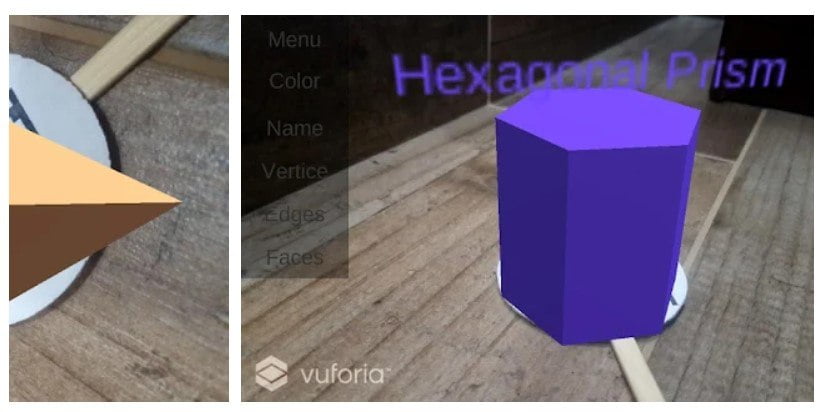 Geometry is a major division of mathematics yet most students face difficulties in understanding the topic.
The reason behind this is that geometry needs a 3D perception which often becomes difficult for students with their normal 2D perception.
This application removes that barrier and makes mathematics, especially geometry very easy and simple.
For that, it uses its AR mode where students can create 3D objects such as pyramids, prisms, platonic solids, and solids of revolution.
It helps teachers to teach their students in a better manner by showing them such 3D objects, shapes, and concepts of geometry which can't be shown in class.
So it enhances a teacher's capability and helps students to learn geometry in a simple way.
Here students can start with easy levels having simple figures and then they can move forward with complex 3D shapes and objects.
When we are talking about education and kids how we can afford to miss adventurous games out of the list.
Yes, you hear it right, adventurous games with a brilliant blend of puzzles, and many other brainstorming games.
At first, it might seem irrelevant, but it is relevant because kids can't always focus on books and studies. They need something to develop their mind in a holistic way.
The same is offered by this application which has a collection of go geo coaching, puzzles, scavenger hunting games, providing location-based experiences.
All of these are presented in augmented reality so enhances the experience further making learning fun, interesting, and truly innovative.
Do you know what makes it stand apart from other AR-based games? That is its feature where teachers can create their own games for their students.
So with this app teachers can create their interactive stories, games, and whatever they want to engage students and increase their thinking capability.
One of the most popular applications for augmented reality that can be used in education is here with us.

This app is a creative and innovative toolbox for augmented reality and helps students to give their imagination wings.
Here students can sketch, snap and scan everything in their surrounding environment.
They can convert all the objects in their environment into 2D or 3D objects or virtual reality or augmented reality.
In this way, they can understand their environment in more detail and more carefully and can even list the minor facts about their environment.
With that it also allows students to create their own 2D or 3D objects and place them in the virtual environment.
Also, students can record their creations, save them and share all the scenes with anyone like their teachers or friends.
Although you have heard about this application before, you do know that it can be used in augmented reality too.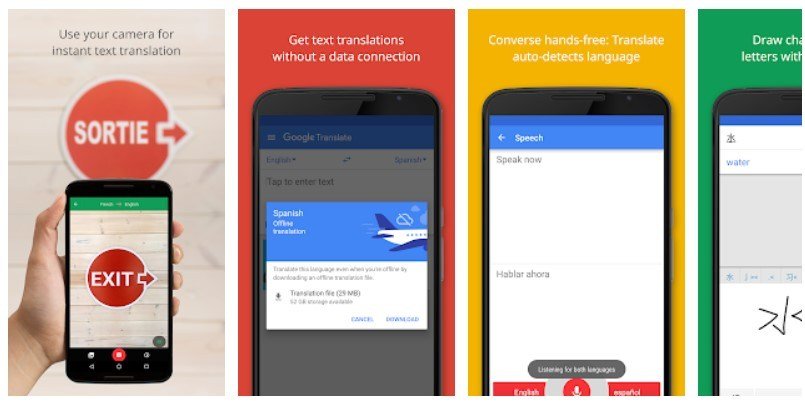 Yes, it's true, this application can be used in augmented or virtual reality.
And offers the same services as other augmented reality applications for education.
Just like other translating applications, it translates your texts in whatever language you need.
It offers a long list of international languages.
What makes it achieve a rank in AR applications is its feature where you can translate any text written on an object.
Most of the other translating apps just translate a text which can be copied to their board.
In this regard this app is different, it can also translate a text which is written on any 3D object anywhere.
You just only need to download the application, hold its scanner in front of the text you want to translate.
Within a second it will translate your text.
This augmented reality application is for science students who want to learn everything in detail.
It is an attractive and interactive science tool that uses virtual reality to help students learn about elements of science.
Here students can learn the basic principles of science and its various concepts.
And the fundamental theories of science which are taught in schools.
Through this app, students can visualize whatever they are learning in school and make a 3D picture of it.
With that, it also offers textual information on the topics which are taught in the school and has excellent graphics.
If you have a toddler and wondering how to make him learn basic things then this application is just for you.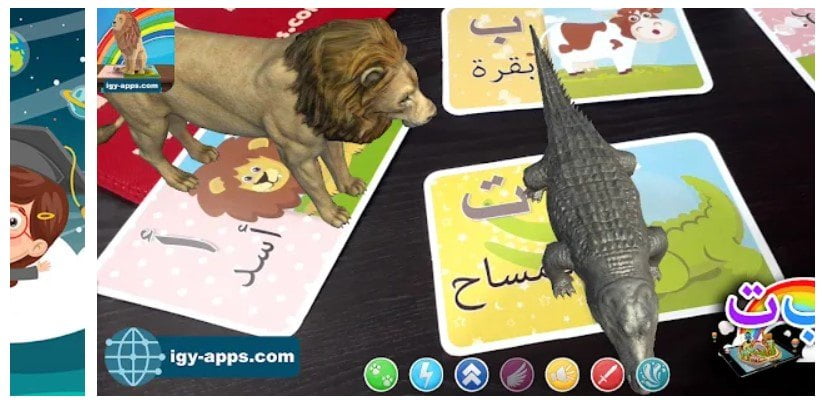 Here you will get a wide range of topics including alphabets of English, Arabic, and French.
And numbers of French and Arabic which are very easy to learn.
With that, it also offers information on solar systems, animals Dinosaurs, anything that is important for a small kid to learn.
All these things are in 3D so for kids, it's just like a real-world experience that they can feel.
All the 3D objects can be controlled by just using two fingers and their size can also be adjusted.
Here users can create their own 3D creations too using the camera of the app.
It makes learning for small kids and toddlers fun, interesting and exciting. It can be used by parents as well as daycare teachers.
13. solAR – Solar System in AR 4+
Explore our Solar System like never before in Augmented Reality. Place the entire Solar System or a specific planet in your living room or your garden. With solAR you can enjoy breathtaking views while walking among the planets and its moons.
solAR offers a beautiful 3D- experience as well in case you should once not be able to experience the Solar System in Augmented Reality.
solAR is optimised for your iOS, iPadOS and macOS devices. Once downloaded, solAR becomes available on all these devices
This application is a one-stop destination for those who want to make their kids excel in all subjects.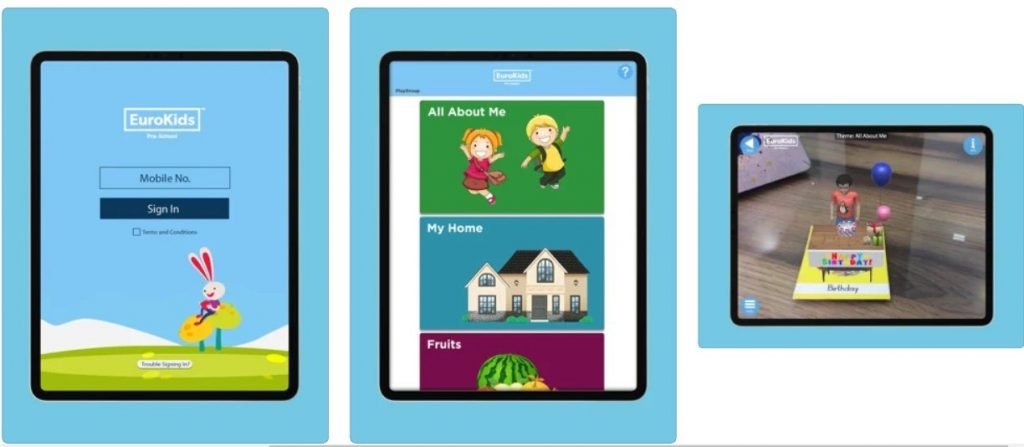 It is a general fact that for students some concepts seem difficult and hard to understand and that is where this app comes to the rescue.
With its augmented reality feature, it creates an interactive environment of learning where kids can learn with real-life experiences.
Here students will have different programs having a particular theme and in every theme, there are virtual reality-based flashcards.
For each and every theme and their flashcards detailed explanation.
And voice-over, information is also provided for all flashcards.
So students can even learn the difficult abstract concepts here without any difficulties.
If you are guessing that this augmented reality app is related to microorganisms then you are completely right.

This application offers immense knowledge of biology, particularly on bacteria which is one of the most common microorganisms.
Here students will have a massive collection of bacteria including their shapes and sizes.
It categories bacteria on their shape such as spirals, rods, and spheres.
Then present their 3D representation in front of you.
Students can access over 1200 3D scenes here and can change the language of information as well.
So it is a great app for biology and teaches students about microorganisms.
So we have talked about some of the outstanding augmented reality applications. They are very useful in education and help students as well teachers and parents.
Conclusion
When our entire world is changing and every sphere of life is becoming smart then why is such an important aspect of life, education leaves behind.
So use the augmented reality of virtual reality applications in education. And make learning fun and interactive for students who can learn better in this way.
Also Read: