Migration patterns are changing and diversifying like never before. As a result, the workload of real estate stakeholders is increasing as well.
As a result, numerous software businesses are creating rental property management apps to provide them with a sense of comfort.
These apps are made to help real estate agents, investors, and property managers remember their roles and obligations.
One can arrange their everyday chores of rental property management.
And boost their productivity with the help of software apps accessible on the market.
Therefore it becomes important to have a look at the best rental management software.
FAQ
Which app is best for house rent?
There are a plethora of applications available in the market that users can use for house rent. But before choosing any app keep in mind the needs should be better.
16 Amazing Rental Property Management Software
Without beating around the bushes let's start with our list of the best rental property management apps.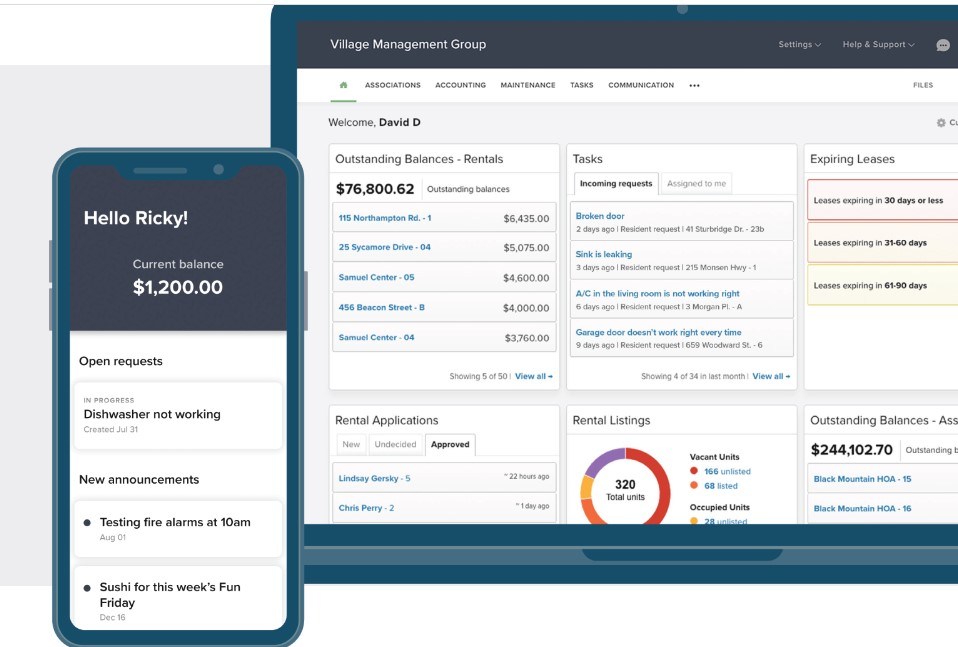 This software has bagged its first position in our list because of its overall features.
It is made for property managers by the property managers who can understand what a property manager truly needs.
Here users will get a comprehensive service along with online rent payments.
Through this app, property managers can manage association property and residential property.
It offers accounting, maintenance cycles, leasing, business operations, and community association management.
Through all these features this app successfully streamlines the property management process.
For the newbies, it has a wide range of training materials that can make them well–versed in the field.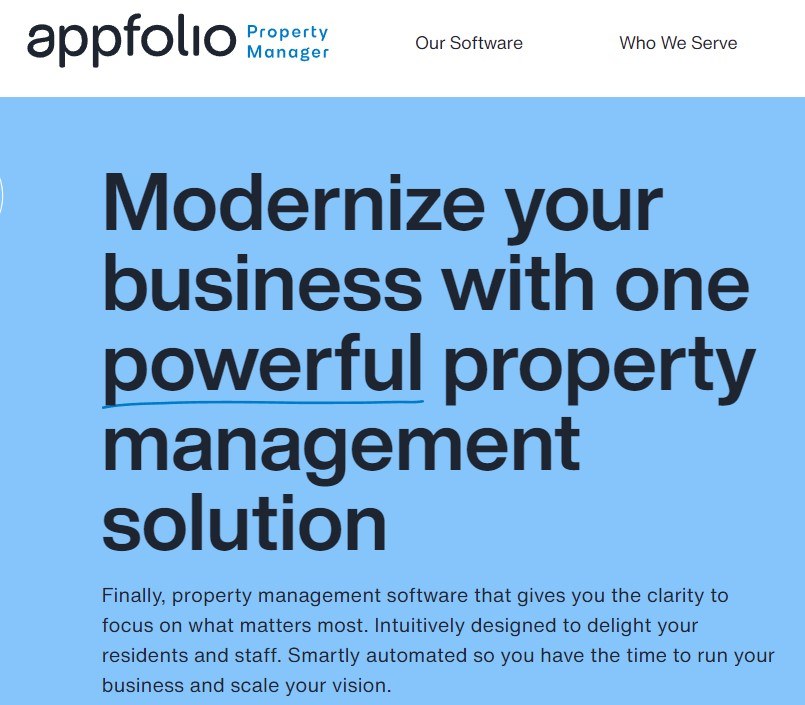 For the advanced features, this application is one of the best options to choose.
This software is specially designed for landlords who have huge rental portfolios.
So that they can control their units remotely without any tensions.
It has plans for residential landlords, commercial real estate landlords, and community associations.
With that, it supports all sorts of units and offers a mobile application too.
In the advanced features, it provides a leasing assistant and premium leads.
Along with that proof of insurance tracking, tenant screening, and utility management.
Where all this is powered by artificial intelligence.
Additionally, it has a maintenance contact center and tenant debt collections.
Also automated accounts payable, and professional websites for the property.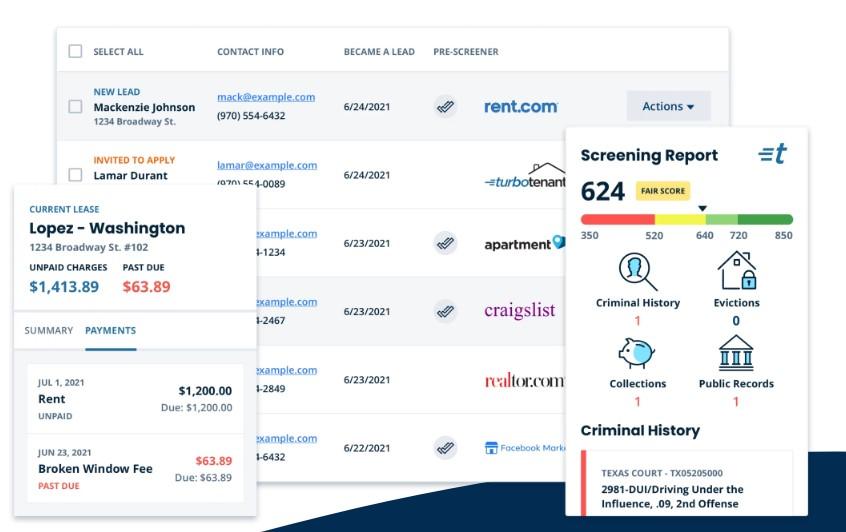 Here users will don't have to worry about the pricing plans.
Asit is one of the brilliant software for property management.
For the landlords, it is completely free regardless of their units.
So they can manage as many units as they want.
It has a straightforward interference with a simple-to-use setup.
To facilitate tenant management it offers online tenant screening and dedicated list pages.
Also bulk tenant messages just from one single inbox.
This application charges the tenants a minimal fee and offers many features to them.
Through easy and simple integration it expands its functionality and provides extra help to the users.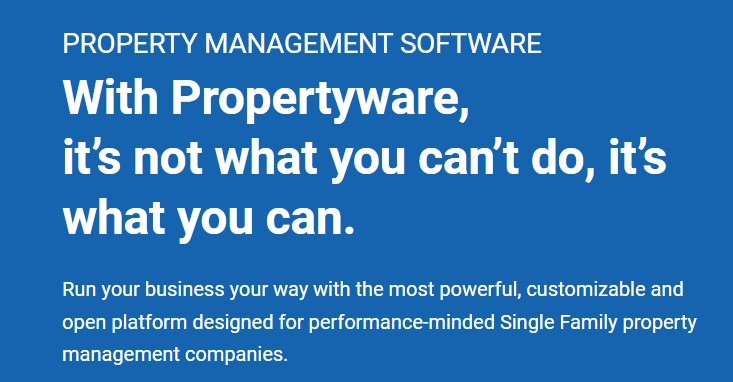 This application is made for single-family home landlords who don't have many units to control.
It can manage massive portfolios and offers multiple pricing tiers to suit everyone's needs.
Here users will simple use features and a dashboard for easy property management.
To help the landlords it has online rent collection, maintenance requests, accounting, and lead tracking.
Also, it provides vacant property marketing, tenant screening, follow-up for leads, and a separate portal for the vendors.
It integrates well with other applications and software to maximize the ease of working.
With its lead generation, marketing, and other features the reliability of other apps is reduced.
For commercial purposes, this application is an excellent option for property management.
As commercial properties have various financial complexities this app eliminates them all.
Here users will get investment management reports and large portfolio management.
With that in the advanced features lease templates and investor relations can be counted.
Also, it offers integrated accounting, tenant screening, multifamily insurance, and rent and vacancy tracking.
Credit risk management and maintenance requests are it's some of the best features.
Although it supports both residential and commercial properties.
But it is ideal for commercial purposes and has advanced features focused on that only.
Designed to give a pleasant experience to landlords this app offers simple and easy property management.
This application is perfect for landlords who have to manage only a few properties.
It offers an ideal mixture of features and prices supporting 1 to 2,000 units.
In it, all plan users will get phone and email support, renters insurance, tenant and lease management, and reporting.
With that here, users will also get income and expense tracking, tenant screening, and analysis of owner reports.
Here users can store documents and to facilitate work automate repetitive tasks.
As it is cloud-based so there is no hassle of downloading and installing the app.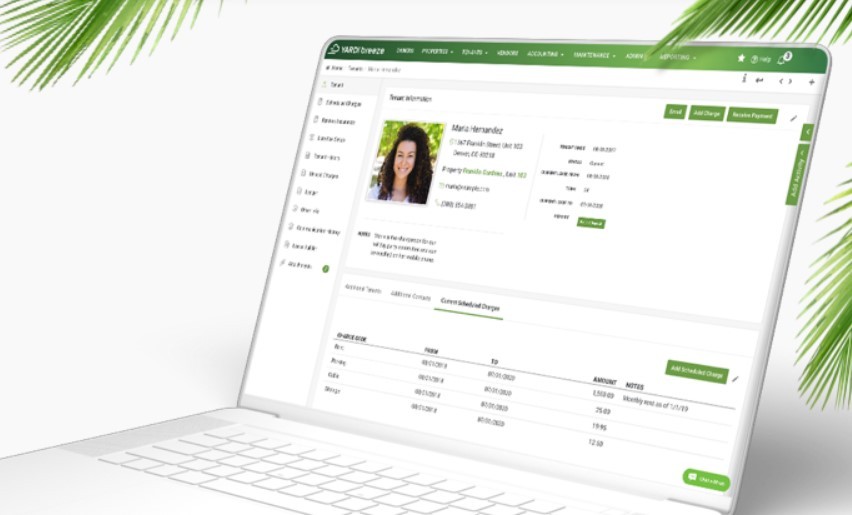 This software is a cloud-based application that is hassle-free to work with and offers easy functioning.
It has unique features that are hard to find in other cloud-based rental property management apps.
For the newcomers, it offers free training with no setup fees or any other thing.
In the features, it has built-in accounting software and rental applications.
Also, the users will get online rent collection, automated marketing, rental applications, and renters insurance.
As a cherry on the top, it provides activity calendars with tasks and tenant communication features.
And comes with outsourced payment options, and workflow sheets.
For busy and new landlords it is one of the best options to choose for property management.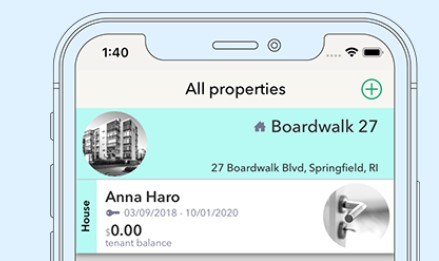 For smartphone users, this application is just perfect as it is designed and optimized for mobile purposes.
This app is quite good for online rent collection and tracking. With that, it also helps the users to generate and send invoices.
However, it is only available for iPhone users and not for Android users.
Apart from that it is good in features and offers a simple and intuitive dashboard.
Here users will also get basic accounting features and tools such as expense tracking.
It also offers the option of data backup which is a must with a mobile platform.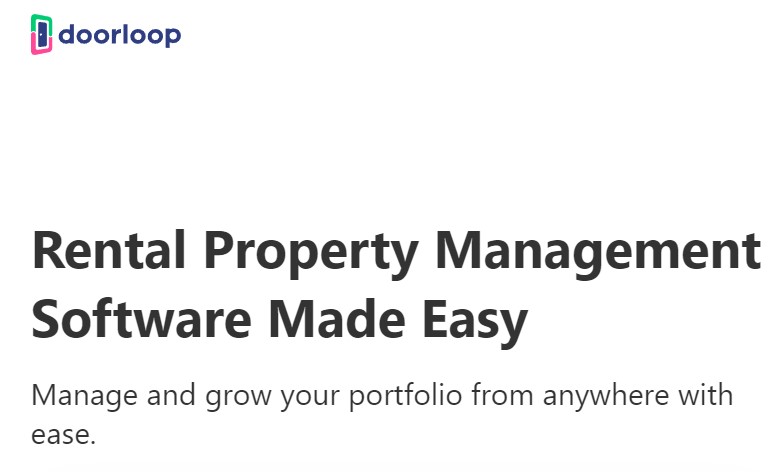 This application software is an all-rounder champion of property management.
It offers basic to advanced features that sometimes remain absent in other apps.
With remote working, it is completely scalable and saves a lot of time for the users by organizing, optimizing, and managing the properties.
Here users will get responsive and stellar customer service.
What makes this application unique from others is its budget-friendly pricing with advanced features.
In the application, users can manage property accounting and it comes with a tenant and owner portal.
It automatically lists vacant property units and conducts tenant screening and works in the background to maximize user experience.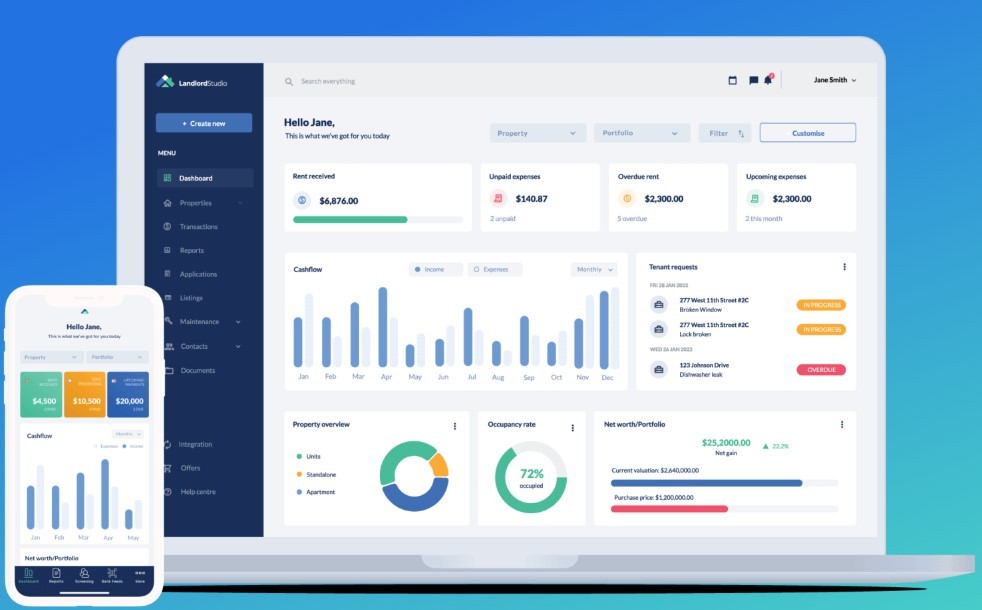 Perfect for different platforms this application runs very well on desktops as well as on Android and iOS smartphones.
It offers a decent and modern user interface that is precise and high in demand.
Along with that, it comes with genius accounting features that are a must for property management.
Here users can track rent and expenses and generate a report on them for further analysis.
This application comes with tenant screening and has different pricing plans for different needs.
It is an ideal match for users who are looking for easy and simple use of the app.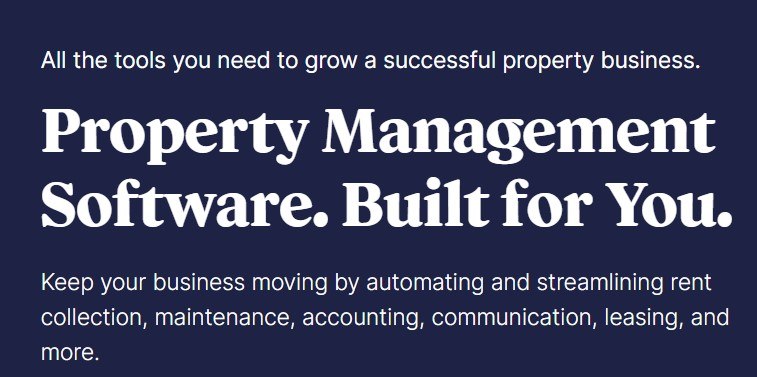 Made for true property accounting this software handles all the tasks of rental property management.
It has an intuitive interference with easy to navigate dashboard.
As some of the wonderful features, it has community features, especially for condos.
And with that for HOA properties, and multifamily properties too.
Here users can handle online rent collection and get payment reminders timely.
This app offers cash reconciliation and a tenant portal which makes it useful for a variety of people.
In the app, the best feature is maintenance management which reduces the workload.
So for the users that have many tasks to do this application can be the solution.

This application too works well with the desktop version and mobile versions.
But it is completely different from other applications because of its premium features.
It offers tons of features among which some major are accounting features and tracking features.
Here users can track online rent collection and generate a report on them.
For the owners, it has a separate owner portal and for vendors, it offers vendor payments.
To give it a more professional touch it can easily integrate with QuickBooks and many other apps.
Talking about pricing plans it offers two-tier plans one is per unit and monthly basis.
So it's up to users what they like and choose.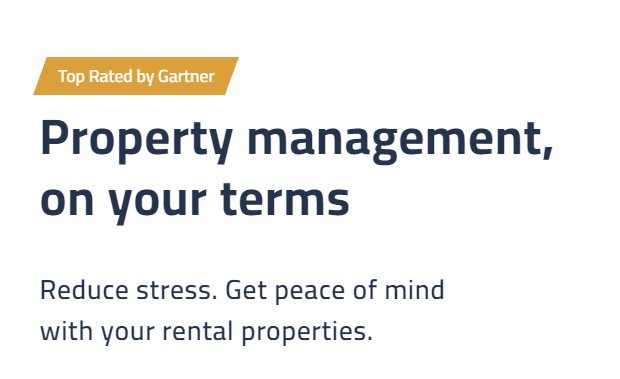 What makes this rental property management app stand apart is its interesting features.
In such unique features, one is agent match where users can contact the local agents.
It also has many leasing tools that are becoming necessary with the advancements in the real estate world.
In the features, it offers tenant screening, online rent payment, and maintenance management.
As a cherry on the top, it has straightforward cost plans that are easy to understand.
Here users will get a free trial period of 30 days after which they have to choose a pricing plan suitable to their needs.
Another application that offers laptops as mobile software version is this which is simple yet robust.
It comes with a straightforward navigation system and a clean user interface.
Here users can use tenant communication features and tools and maintenance management.
In the accounting features, it offers automatic rent payments which ease the workload.
For more professional features it supports easy and quick integration with other software applications.
However, its pricing plans are a bit expensive which can be justified.
As it has such brilliant features and tons of integrations that it offers.
So if budget-friendliness is not the issue then this app can be the perfect option.

This application is truly a one-stop destination for landlords, tenants, and servicemen.
It has three different models for the above three mentioned groups and offers quite good features for each of them.
For the landlords, it has online rent collection, and the applicant and tenant screening.
With free listing on the website, and accounting and finance-related tools.
To make tenants tension-free it offers them online rent payments, storage rental history, and payments.
Here they can make their rental applications and send maintenance applications.
In the servicepro corner specially designed for the servicemen, it comes with finding new customers.
This section offers landlords services and here servicemen can showcase their portfolio and grow their business.
Additionally, it comes with work order management and vendor payment features.

As the name suggests itself it connects tenants with the landlords directly without using any intermediaries.
Here users can find a superb balance of features like tenant screening and mobile applications.
To organize work it also comes with work order management.
It offers lead tracking and powerful reporting features which are some of the attractive features.
With that, it has a maintenance management feature and a separate tenant portal.
To connect directly with tenants it offers an SMS communication channel.
So that landlords can contact tenants.
What makes this application a suitable choice for every user is cost-effective pricing plans.
These are some of the rental property management applications for both tenants and landlords.
Conclusion
While there is a variety of rental property management software available, finding the ideal one is essential.
It is not advisable to spend a lot of time on property management, whether you are an owner or a tenant.
It has become a necessity in our busy environment. So, to keep up with the changing time, try using these apps.
They are not only a fantastic option for 'on the go folks,' but also for smart people. Who do not want to waste time on such ineffective tasks.
With these property management apps, people can reduce their workload and concentrate on other activities.
As a result, we can claim that property management software represents the real estate industry's new future.
Also Read: