If you are a small business owner then you can understand the pain of every small-sized business that doesn't have a massive budget.
Every business in its starting phase is a small business that is small in size and budget. These businesses need to expand and scale with time.
With these one more thing that a small business needs are a free application that can serve the small business owners. While it may sound strange but yes there is a plethora of free business apps.
These applications can be used by small business owners who need to scale their business even on a small budget. If you are curious to know what are these free apps for small businesses then let's dive into our guide.
FAQs
What apps can I use to start a small business?
There are many applications that you can use for starting your business even if you are small in budget. These software applications range from free business accounting to free business marketing and whatnot.
Which is the best app for business?
For business, there are many applications that can be used for the finance department, HR department, marketing, and for many such tasks. Although it's a tough competition to decide one the best app among them but it is advisable to have more than one app for business onboard.
Which app is best for business news?
When you are in the corporate field then you need to keep yourself updated on the latest trends and announcements of businesses which can be very useful for your business.
So you need to be aware of the business news channels that mainly focus on the news of the corporate world. These channels even present many business-related programs which can help you.
15 Amazing Free Apps For Small Business
Let's begin our guide with the selected free applications that you can use for your small-sized business. This one single list includes all such apps which can be used in a business.
The first software application that a business will for sure need is a finance-related app that can manage all its account-related tasks.

By having a finance application businesses can employ fewer employees which is great for small-sized businesses.
This software offers the same to businesses. Using this application they can save their money as well as time.
It is an app that is specially made for small businesses and offers the features according to that only.
Here you will have unlimited invoices with transactions and customers.
It is cloud-based so you don't need to take the headache of downloading or installing.
You can automate your cash flow and expense tracking using this application.
It can integrate with other applications such as Etsy and offers e-commerce features too.
The next most important application for a business is communication software which can be termed as the 'backbone' of the business.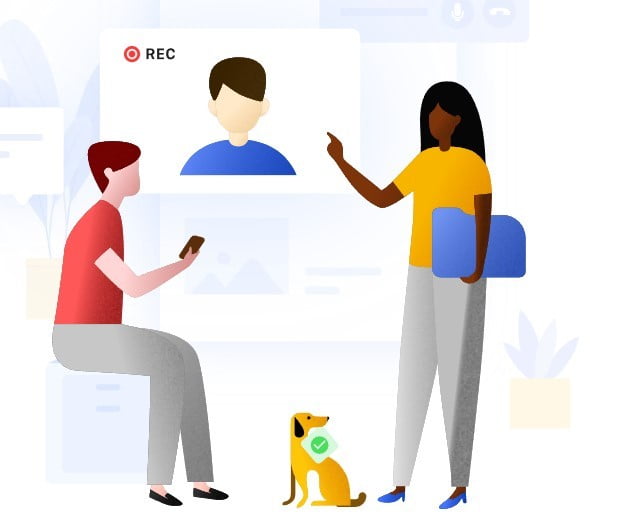 For every business, strong, easy, and flexible communication is very important as it facilitates various activities and increases productivity.
This application can be used by small-sized businesses to improve their communication.
With this app, a company can communicate with a variety of parties including teammates, clients, prospects, freelancers, promoters to count a few.
It is a versatile app where you will get streamlined tools that are hard to manage alone.
Here you will get video conferencing team messaging, with user-friendly interference.
You can even improve your meetings by using the full pre-meeting, in–meeting, and post-meeting experience.
Using this app you can add up to 100 participants in your call with up to 24 hours calling time.
It can integrate with Outlook and Google Calendar so that you can automatically schedule your meetings and after your meeting, you can create a group and take the attendance.
Even during your meeting you can share your screen, assign your team tasks and share files.
Every business that is in its initial phase can understand that when the hands are full managing the entire office becomes painstaking.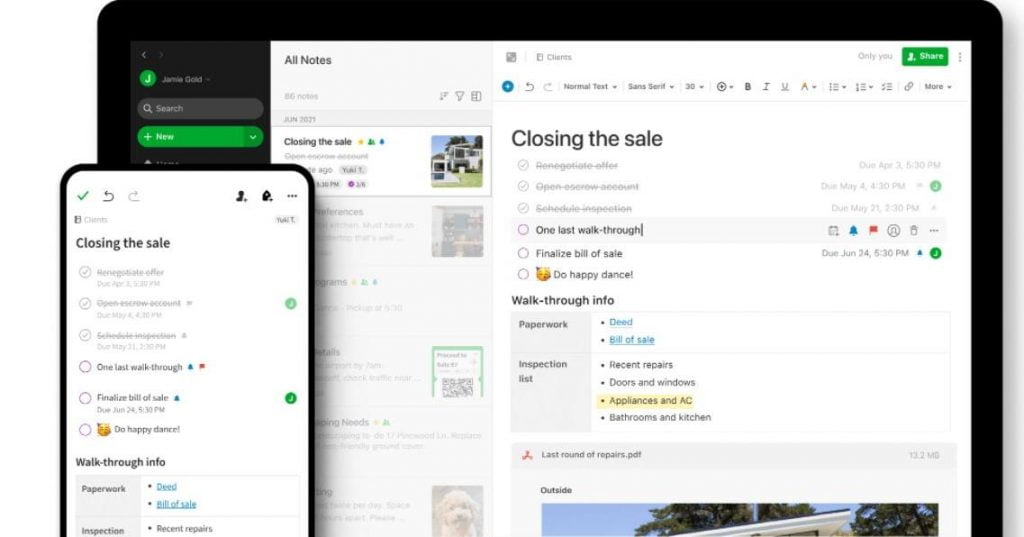 To relieve businesses from this pain this application comes to their rescue and offers more hands to organize and manage tasks.
It stands apart in the crowd of applications with its efficiency of organizing everything a business needs handy.
Here a company can organize and manage its notes, documents, recordings, and photos.
Also, the notes and other types of files can be shared with colleagues.
Team members can use the search option for quick access to documents and notes.
The drag and drop feature makes it easy to handle even for a newbie and its notebooks can be saved offline too.
This application is a must for those businesses that have remote employees.
Every business needs a storage house where it can store all its important documents that can be used in the future.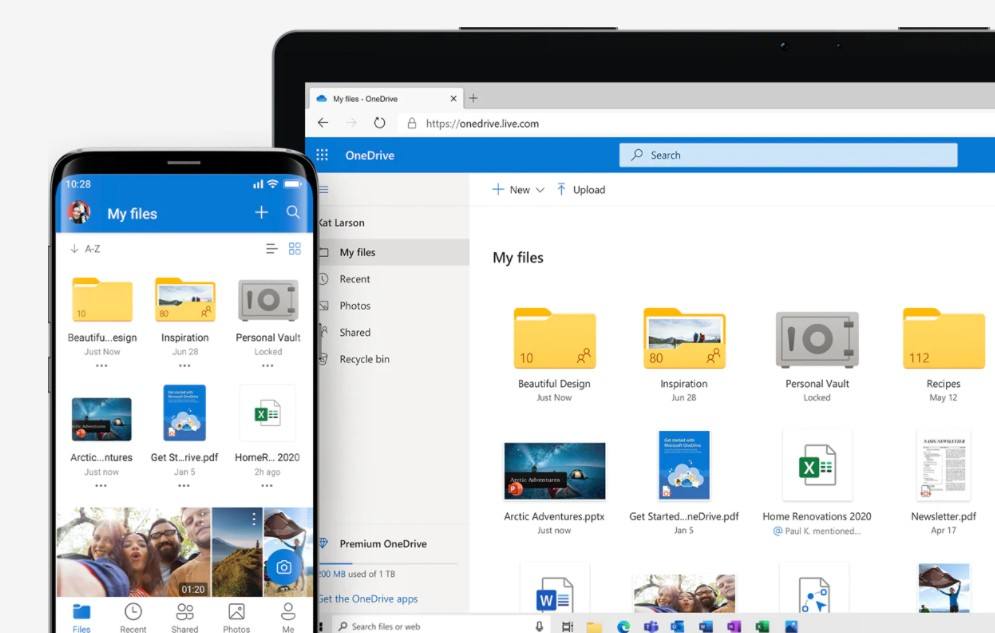 For the same, this application is excellent with its credibility and recognition in the corporate world.
If you are using Microsoft Office then you can't afford to miss this application because with that it offers you a storage space of 1TB.
Although it can store files of any format such as images, videos, audio files, recordings, documents, and notes it offers a lot more than that.
Here you edit the files without downloading them in online mode. With that offline access is also available.
You can even share the files in your OneDrive with those people who don't have this app.
It is compatible with Android, iPad, and iPhone offering multi-device access, and can integrate with Outlook too.
One more storage-related application is this which is by Google the world-renowned company for its services in business and daily life.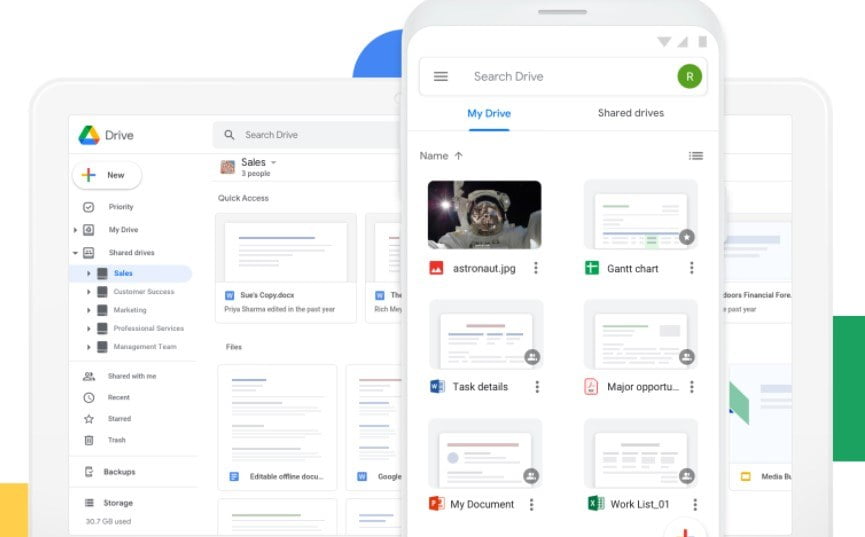 What makes this application truly amazing is that it is completely free for all of the services that you will need.
Here you can create files, save them and share them with your team members through links.
It can work online and offline and offers multi-device access, so you can use it from your desktop or mobile phone.
With these features here you will get free storage, invitation links that you can send to others for editing or downloading files.
Also here linking to other useful tools in business is very easy and simple.
One application that is best for project management and organizing work is this which works very efficiently.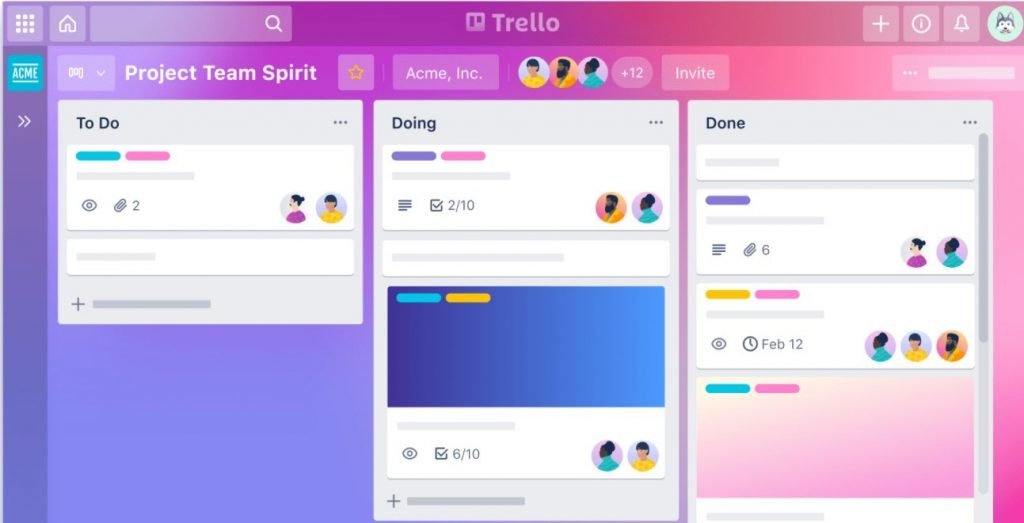 Even for a small-sized business, the list of tasks is never-ending and they need to increase their productivity so that they can accommodate more projects.
For that, all businesses need a project management application that can manage all their tasks and projects.
Here you can organize all your projects and tasks, track the progress of each task.
Also, you can set your tasks, delegate them and create your own to-do list.
It offers a customized workflow that gives them a personal touch and makes them different from other businesses.
You can simply integrate it with applications such as Slack and Google Hangouts.
If you are looking for better team collaboration and project management applications then your wait is over.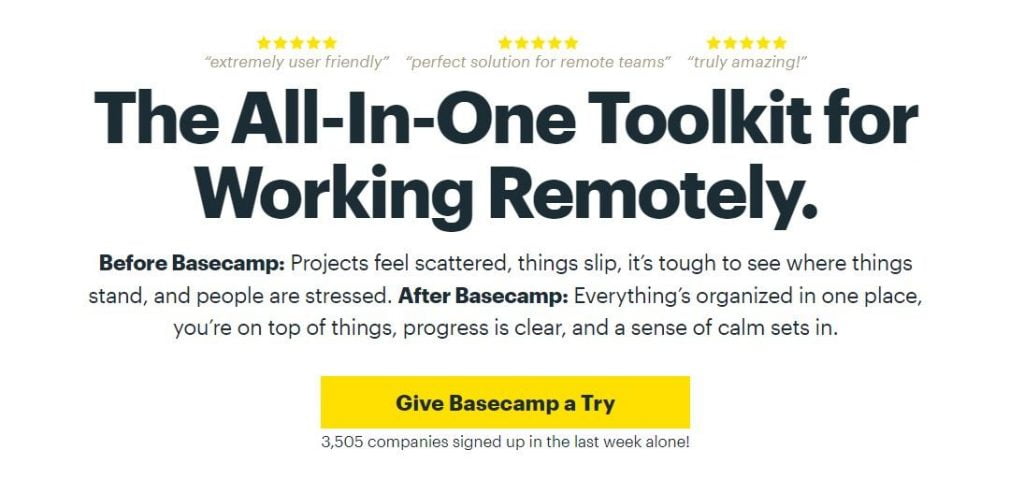 This app offers you an effective team collaboration platform from where you can manage team members as well as the upcoming tasks and projects.
It is working in the field for more than a decade thus making its reputation for performance.
Here team members can direct messages to each other for fast communication.
You can set this application according to your work so you will get notification only during your working hour.
To praise colleagues it also offers an applause button option and you can save and track the feedback of clients.
Every business needs a CRM app that can boost its customer relations sustain existing customers and attract new customers.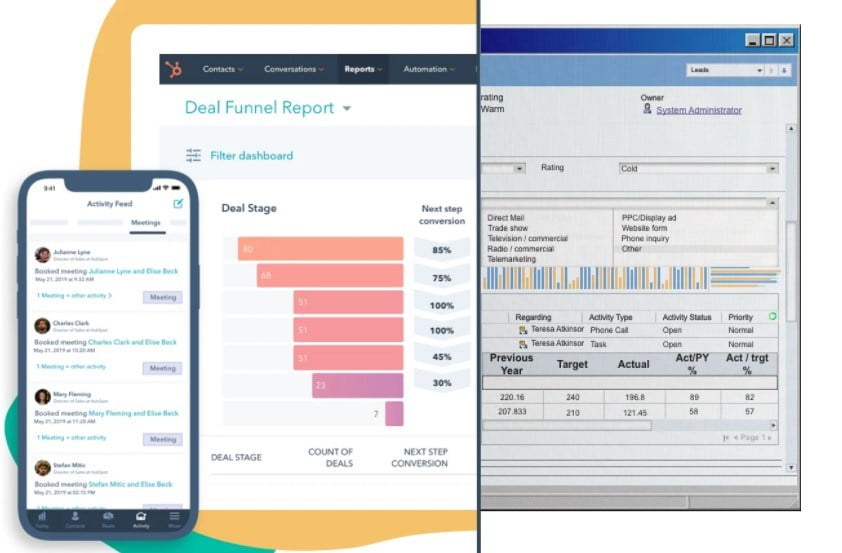 If you are looking for the same then this app is for you where you can use customer relations for the development of the business.
This app comes with easy-to-use customer relationship management tools that can help in generating sales.
Using this app you can also initiate loyal campaigns for your customers.
In this app, you will get unlimited user syncing and contacts, track websites, and record calls.
You can also use its live chat and chatbot for communication and add–on chrome email.
This application is for marketing which plays a crucial in the growth and promotion of a business.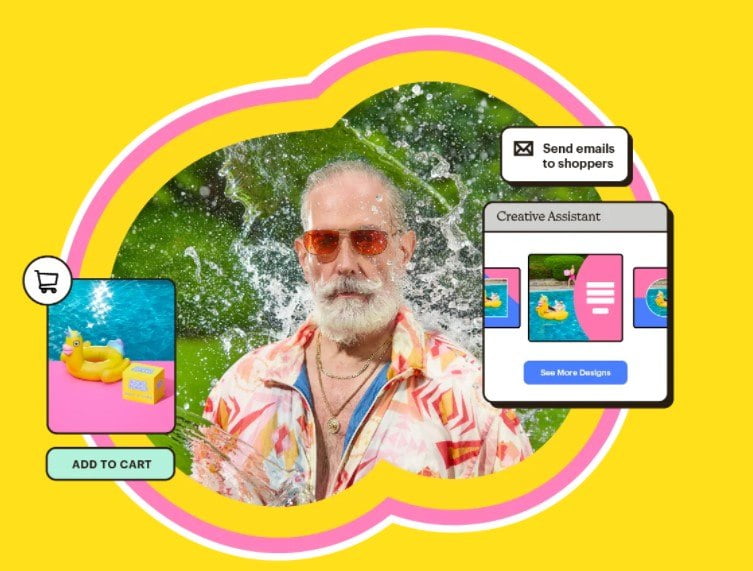 Here you will get email marketing one of the most used and common marketing options.
With its first-tier plan, you can send up to 10,000 marketing emails per month.
Its other features include easy and simple customization and a wide range of templates for newsletters and emails.
This app also offers advanced tracking and advanced analytics with e-commerce integration to WooCommerce, Shopify, and other applications.
#No. 10. Zoho
If you are a very small business or a startup with very few workers then this application will be perfect for you.
Being a software for small businesses doesn't restrict it and it can scale and grow with the business.
Here you can manage all your tasks and projects and organize your files and documents.
It offers lead management and automation in the workflow where you can select how daily tasks are to be completed.
With that here, you will also get advanced analytics which can enlighten you on how to improve workflow and productivity.
Here all your work is handled and completed with an AI assistant that makes everything a game of seconds.
For the entrepreneurs who want to expand their business all over the world then you will need this application onboard and here is the reason why.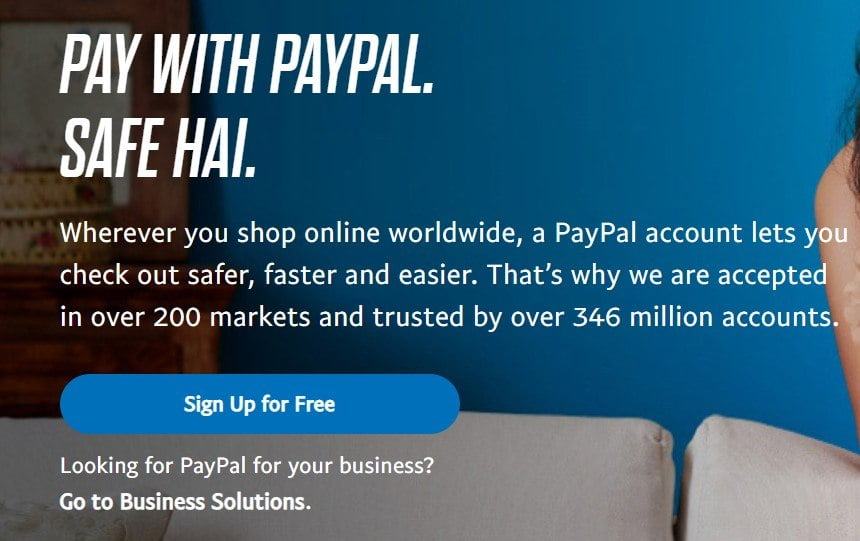 This is an app specially made for international transactions that can be completed on an individual level corporate level.
What makes this application unique is its simplicity and yet attractiveness.
Here you will not need any sophisticated procedure for signing up or for international transactions.
You can use this app for any kind of international transaction with any country in its native currency.
With that, some of its features are inventory tracking, barcode scanning, express checkout, and mobile card reader.
You can think of this application as ahead of the finance department which regulates and facilitates all transaction-related activities.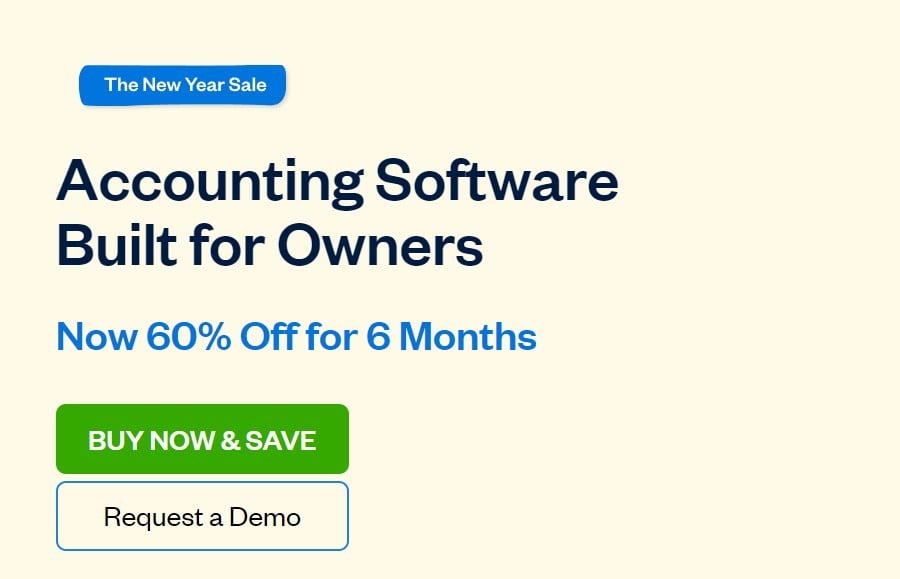 This app is specially designed for small businesses that need to manage and organize their payment-related tasks.
It is cloud-based so there is no need of downloading and install the application and data always remains safe.
You can sync with your business accounts and you can view and manage all your financial transactions.
Here with this app, you can respond to the feedback of the clients also you can check the current status of the transactions.
This application can be accessed from all devices including phones and desktops.
This is an all-rounder application for businesses that helps them in many ways and yet is free.
It is a simple, robust, and completely free application that doesn't charge a single penny for anything.
You can use this app for marketing and promotion of your business, to take help in hiring employees, and to expand the network of the business.
To begin with, you just need to make your profile on the application and within some minutes you can connect with the whole world.
Here you can send updates, follow inspirational personalities and companies, interact with them and add new connections.
If you are searching for a free inventory application then look nowhere because you have got this.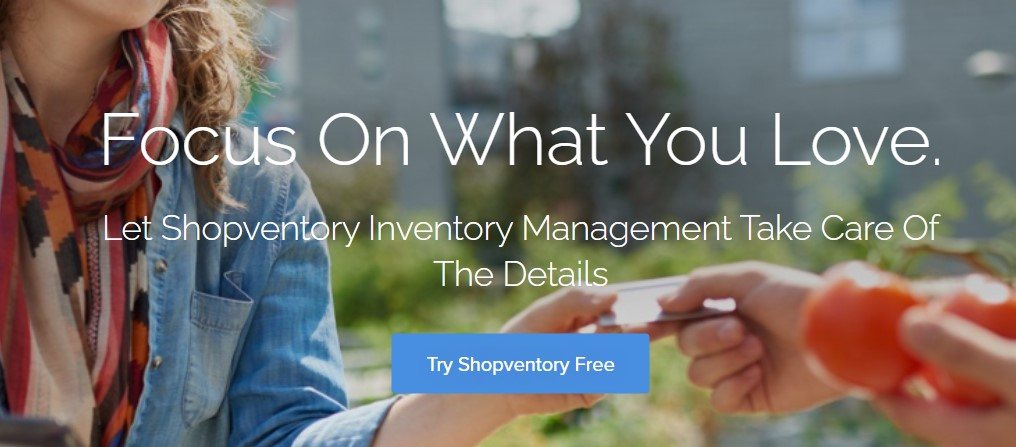 This app comes with an amazingly simple and powerful inventory solution that handles all your inventory-related tasks and manages them.
Here you can check profit margins, see sales trends, and have a compared report based on locations.
To further help you it let you know what is not much popular and selling so that you can give discount on it.
What makes it superb is its anti-theft alert which prevents any outside intrusion or theft attempt.
For payment processing tools it can integrate with applications such as PayPal, Square, Shopify to count prominent ones.
Communicate, manage, and train your non-desk employees with Connecteam's all-in-one company app. Easy to use, easy to customize, and easy to scale.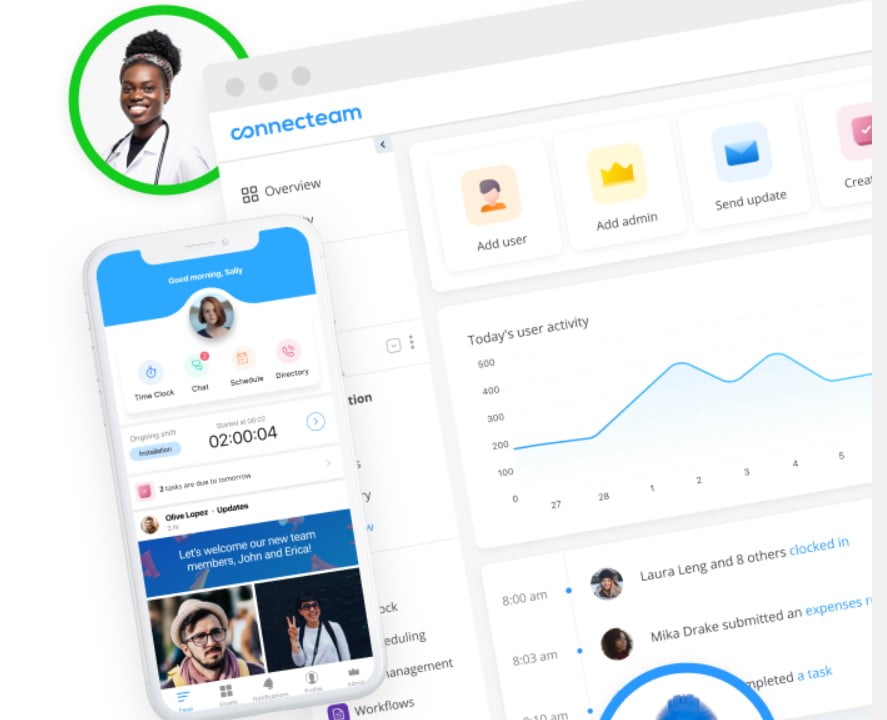 One Stop-Shop for All Business Operations
Effortlessly Communicate With Your Deskless Workforce
HR & People Management Made Easy
Full Clarity On Your Entire Business
Connect your deskless workers with Connecteam's employee app
RescueTime gives you a personal daily Focus Work goal and automatically keeps track as you work on your computer.
RescueTime tracks what you're working on and alerts you to the best times for uninterrupted work, or when you're losing focus and trying to tackle too many tasks at once.
Conclusion
Having a low budget for a business is not a limitation, having no courage to take risks is. Whether you have a small budget or a massive budget what you really need is thoughtfulness and creative ideas for your business.
The rest you can leave on such free applications that can assist you in your business efficiently. Thus choose an application for your business that can scale with your business.
Also Read: