Nowadays there are plenty of photo editors, graphic designer, and collage maker, so sometimes you may find difficult to find the right one which can meet all your desires. If you need to quickly make creations with only some minor adjustments, if you want to handle your favorite program with definitely a good graphic tool which is available online, if you want to play with the tool without the problem, the FotoJet is a good choice.
FotoJet editor offers a simple and fast editing way for you and you can make clear control of what you are going to do with your photos. Its collage maker and designer also offer a large number of pre-designed templates that allow you to quickly create collages, banners, poster, Facebook cover, etc.
Recently FotoJet updated to version 4.1, which provides you an all-in-one graphic tool for collage making, photo designing, and photo editing. In addition to the new version then brought many new resources for you to use.
Let's use FotoJet editor to adjust photo: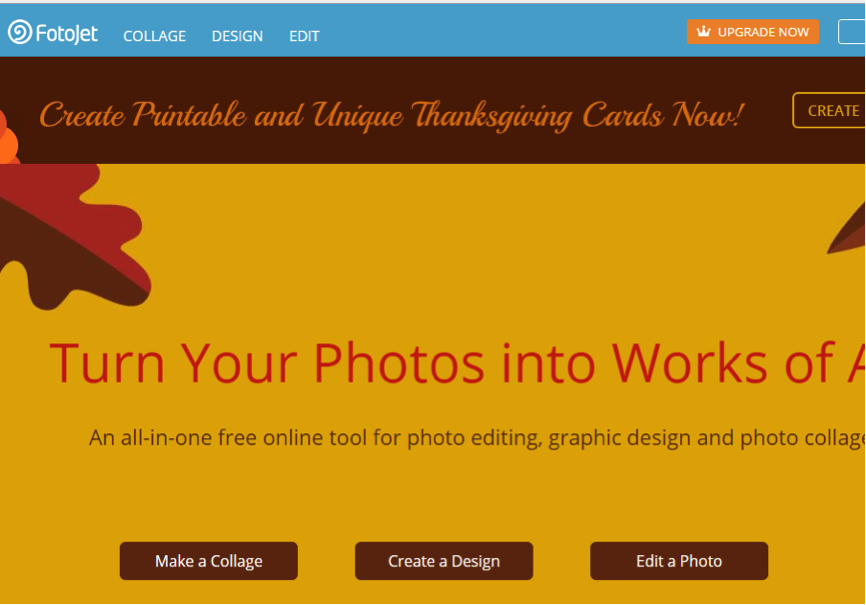 Open edit mode
Open www.fotojet.com and click the button EDIT or Edit a Photo on the homepage, and then you are allowed to upload your photo to edit. FotoJet provides you two ways to open your photo, from your computer or from your Facebook. You can finish this by clicking the Open button on the top bar. What's more, you can just play with the sample pictures ahead.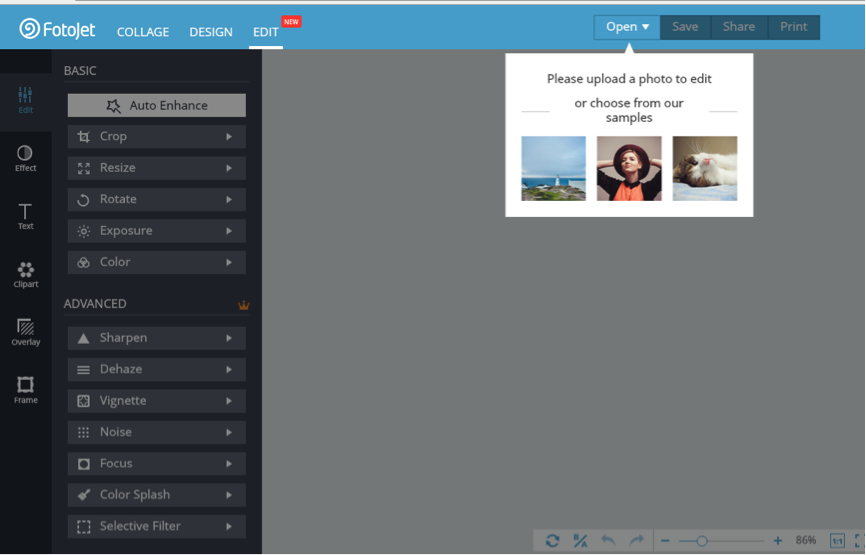 Edit photo
You can use plenty of options to adjust your photo with FotoJet editor. You can crop, resize and rotate your photo to give it a new size. Also you can make some adjustments of its exposure and color. Using sharpen, dehaze, vignette, noise, focus, color splash and selective filter to make your photo more beautiful and highlight the certain parts you want or need. Just try all the options out if you have no idea and make decision after you preview their effects. You must find some ones you love and want to use, and you will not regret to spend time on it. Clicks and drag can help you to finish them, so it is very easy to use FotoJet.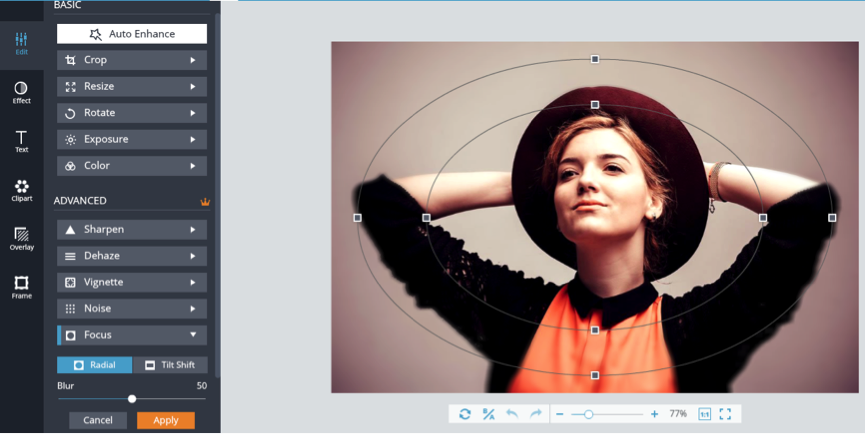 Add effect, overlay and frame to modify photo
Here, you can find many kinds of effects, overlay and frame to use. All of them are well-designed and can definitely help you to modify your photo and make them look much more wonderful and different. Move your mouse to click them and have a quick preview to see which one fit your photo most, and click apply to save it. You can also adjust its intensity as you need.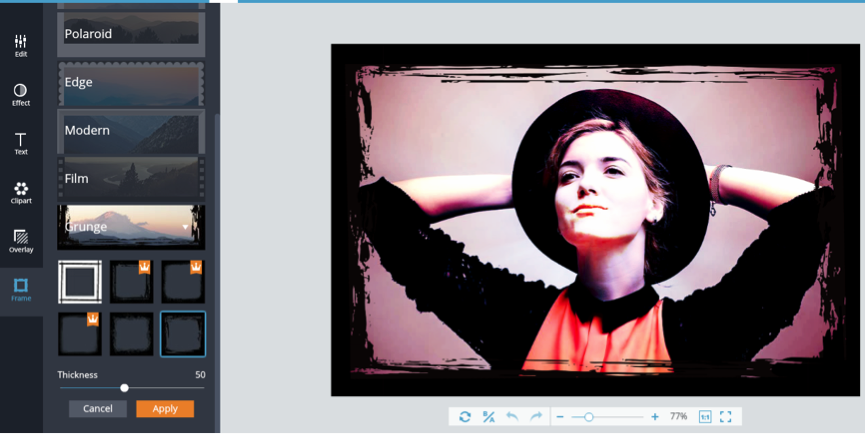 You can also add text and clipart to your creations in editor, designer, and collage maker. You can use these sample text and clipart or search from internet to use. You have the right to change their position, size, color, opacity and so on. If you need, you can make them into watermarks by adjusting opacity of them. At the same time, you can add outline and glow to your text which can improve the text effect and make it more suitable to your creation.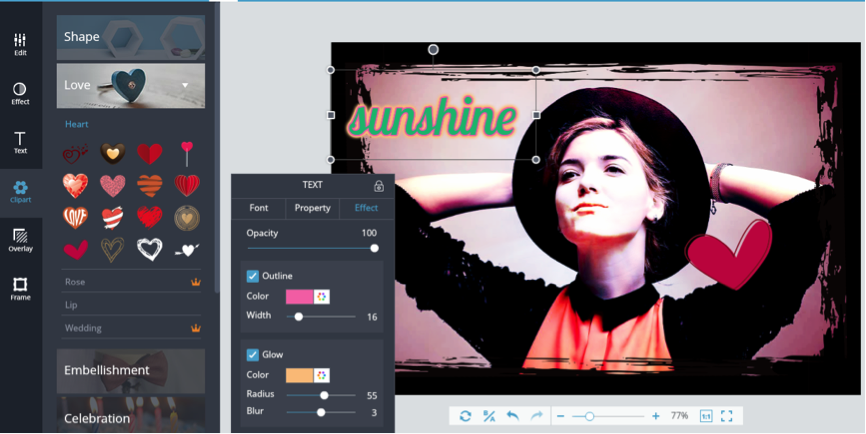 If you know how to use graphic tools such as Photoshop or other professional programs, online editor will seem wonderful for you. FotoJet can make you look professional ever you are not a graphic artist. At the same time, it makes create collage, social banners, cards and edit photo easy and quick.
You can save your works to your computer, print them out and share them to friends via Facebook, twitter, Pinterest and Tumblr directly. Hope you enjoy FotoJet.