Outlook offers to serve millions of users worldwide owing to its efficient emailing client service as well as other additional features. The users can easily create an Outlook profile and use the application to share emails, manage contacts, calendars, appointments etc. Outlook attempts to maintain the records in its proprietary file format ie., PST(Personal Storage Tables). However, the situation becomes worse when the PST file contains duplicate data items such as redundant emails, contacts, appointments etc.
Since, the duplicated items are useless for users and also hampers smooth working, the users always attempt to remove Outlook duplicates. To ease out this task, we are going to discuss the simplest way to delete Outlook duplicates to prevent redundant items in PST file.
Duplicacy Issues Faced by Outlook Users while using PST files
A number of issues have been reported in various forums, where Outlook users face several kinds of difficulty with duplicate data items. Some of the commonly faced situations, which emerge out the need to delete Outlook duplicates are mentioned below:
"While importing emails to Outlook account, I forgot to choose Do not include Duplicates option. As a result, around 2000 emails got imported in a duplicate manner. I face lot of difficulty in handling such emails as it creates lot of confusion. Kindly, suggest any feasible solution so that I can remove duplicate Outlook emails from my PST file."
"I had synced my iPhone contacts with Outlook profile due to which number of contacts got duplicated. As the contacts are in bulk amount, so it is cumbersome to search for duplicate contacts and delete them. Is there any method to delete Outlook duplicate contacts that can automatically detect and delete them."
"I am unable to access Outlook profile as Outlook always hampers to use account due to oversized Outlook PST file. The major reason is that thousands of data items have got duplicated in my account, which occupy double space."
Tip: Always keep in mind to select Do Not include Duplicate option while importing files to Outlook. It automatically excludes deleted data items.
Needs to Remove Outlook Duplicates
After considering numerous user's queries and issues faced by them, we find it quite necessary to delete duplicate Outlook emails, contacts, and calendars to prevent redundant items in PST file. The major reasons to delete duplicate items, which must be kept in mind of every Outlook user include:
Large Resource Utilization– Since the duplicated items attain double memory space, a number of resources such as CPU, memory, and disk space get utilized. It is really wastage to use the crucial resources to store duplicate items.
Slow Outlook Performance– As the number of duplicate data items increase, Outlook finds it difficult to handle them. This reduces Outlook performance and hampers the user's task.
Oversized PST Mailbox– In the major cases, Outlook mailbox gets oversized and it becomes inaccessible to the users. This may also result in freezing of Outlook application.
Manual Approach to Delete Outlook Duplicate Items
The users can remove duplicate data items from Outlook account within Outlook application itself. However, this manual procedure can be implied in case you have few number of duplicate data items.
Manually Remove Duplicate Outlook Emails
The duplicate emails can be deleted using the browse and delete manner. This can be performed in the following steps:
Login to Outlook profile and click on View from the menu bar.
Now, choose Arrange By option.
You can sort the emails by the required category: name, subject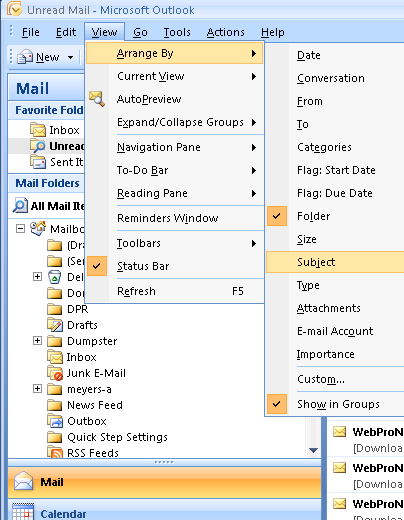 Select the duplicate emails individually from the email list.
Note: It is preferred to arrange the bulk emails in the order of Subject. It browses and maintains emails with same subject together, which makes it easy to delete duplicate emails permanently.
Manual way to Remove Duplicate Outlook Contacts
All the Outlook contacts are stored under Address Book. So, you can search and delete redundant Outlook contacts from the Address Book in following steps:
Click on Tools > Address Book from menu bar.
Select the contacts folder from which duplicate contacts need to be eliminated.
Browse View > Change View option.
Select Phone to view all the contacts under single window.

Click on Full Name to read all the contacts in a listed form.
Using CTRL key, start deleting the redundant contacts.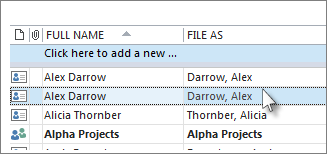 Limitation of Manual Process: The above discussed manual methods can be beneficial and efficient only if the number of duplicate data items are less in number. However, if there is bulk duplication, it creates trouble to browse and then delete each data item individually. It is much time consuming and needs much human attention as there are much chances of accident deletion of original item loss.
Automated Approach to Remove Duplicate Items Effortlessly
The automated tool has always been the choice of majority of users due to efficient and fast results. Similarly, one such third party tool is Outlook Duplicate Remover which can efficiently delete Outlook Duplicates to prevent redundant items in PST file. The software attempts to automatically scan and delete the required data items from PST file without any data loss. The major attractions of Outlook Duplicate Remover are:
Delete duplicate data from folder or multiple PST files
Selective option to delete Outlook data: emails/contacts/journals/tasks/notes
Remove duplicates from large sized PST files
Guarantees to eliminate duplicacy without corruption or data loss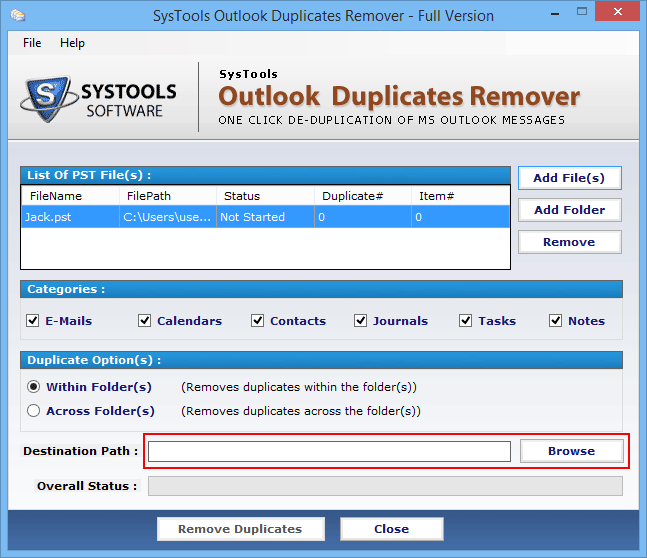 Thus, the users can go for the software to carry out redundant data removal in an effortless, efficient and secure manner.
Conclusion
With increasing dependency on emails and other management service, free space storage is one of the major concern for most of the users. Likewise, Outlook users also wish to delete Outlook duplicates to prevent redundant items in PST file so that they can easily handle Outlook account.
To help out the users, we have discussed manual method to remove duplicate items. An efficient and reliable third party tool, Outlook Duplicate Remover has also been discussed for bulk and effortless data duplication.