This is the best line which describe the Dennis Ritchie sir
if you had a microscope and could look in a computer, you'd see his work everywhere insidei think you could not understand line?? please read it again….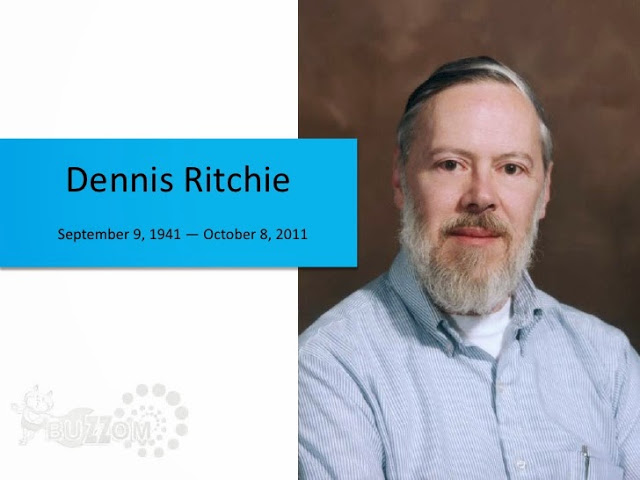 The man behind the C language – Dennis Ritchie
The legendary man who made a mark in the field of computers, Dennis Richie is known as the god of the popular language C. This programming language, C is a major and an important piece of software that helped the engineers in many ways.
c is like seeds for modern technology
|
unix
|
linux
|
Mac OS/IOS/android
|
so many thing which idont know

Apart from this he was also the author of two of the famous books of the world, Unix Programmer's manual in the year 1971 and the other The C Programming Language in the year 1978.Both the Unix and the C language can be considered vey essential components for shaping the design and structure of the technology that we possess today.
A world without this language/software could not be imagined
Education and achievements
He earned his Bachelor's degree in the year 1963 from the Harvard University in the field of physics.
Further he completed his PhD from the same university in the year 1968.Also he has been awarded many rewards and awards for his outstanding contribution in the field of computer science.
This may include the Turing Award from the ACM in the year 1983, the Hamming Medal from the IEEE in the year 1990
The national Medal of Technology from the president Mr. Clinton in the year 1998 and also with the Japan Prize for Information and Communication in the year 2011.
His early life
This great man was born on 9th of September in the year 1941, in Bronxville, New York.
His father being a scientist at the Bell laboratory influenced him greatly.
He learned a lot of technical things from his father, Alistair E. Ritchie who is also known as the co-author of the Design of Switching Circuits.So following his father's footsteps this young man began working at the Bell laboratory in the field of computing and science researchers.
He was very nerdy during his school days with a very good sense of humor too. On the other hand was very dedicated and passionate towards his goals and aspirations.