if you want to transfer funds online through net banking then first you need to add an account of that person in your SBI net banking. in another word you can say first you have to add Beneficiary in SBI net banking. State Bank of India is India's largest bank in India which have 37 crores user base and 209,567 employees in 2017. From last 5 year usage of net banking is growing very rapidly, it is the impact of digital India mission and Jio Internet. SBI Net Banking is used for a various feature like money transfer, view statements, mobile banking, recharges, pay bills and lot more. if you find any mistake or error in How To Add Beneficiary in SBI Net Banking guide then please inform us through comment.
if you are using SBI Net Banking then you must know that for SBI login you need Login Password and for any modification in account level you need Profile Password. So you have to remember 2 passwords to handle any task related to SBI Netbanking.
Why You Need To Add beneficiary
in SBI there is 2 option for fun transfer. in the first option, you don't need to add any beneficiary account but fun transfer limit is only Rs.10,000. This feature is Quick Transfer.
in the 2nd option, you have to add beneficiary account before the amount is spent. There is no limit for fund transfer in this step.
How To Add Beneficiary in SBI Net Banking:
Step 1: Manage Beneficiary
First login to your SBI net banking and Click on Profile option Than Manage Beneficiary from the left side menu. (Check Below images)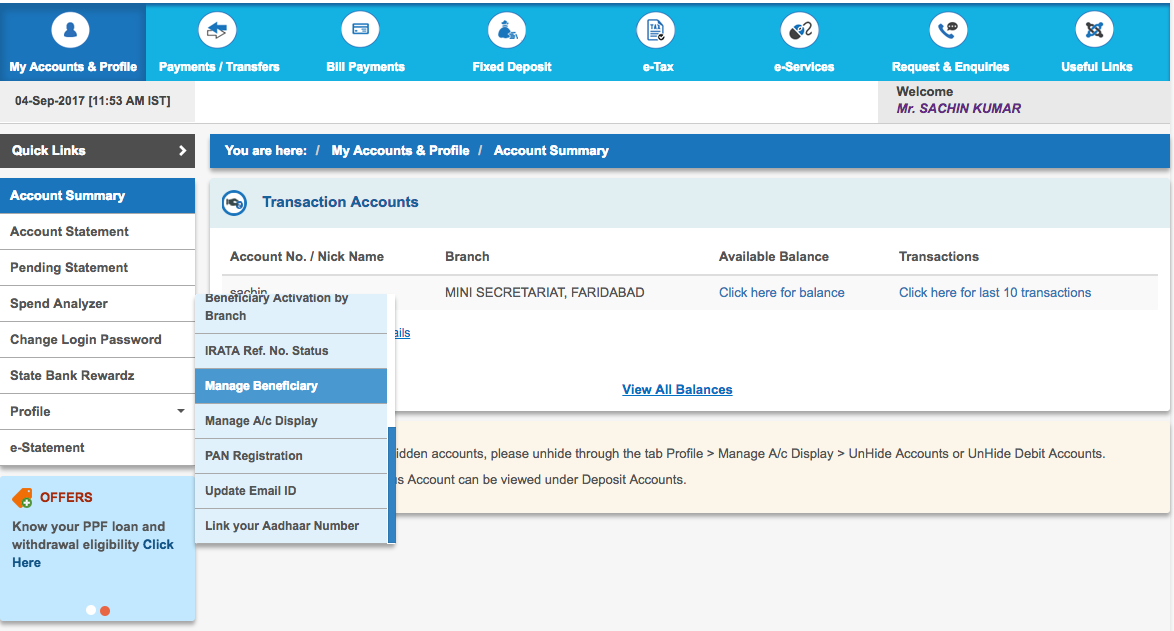 Step 2: Use Profile Password:
if you want to continue with beneficiary than enter your profile password:

Step 3: Choose Interbank Fund Transfer or Intra Bank Fund Transfer:
Intra-bank Beneficiary: This is for SBI to SBI account
Inter-bank beneficiary: This is for SBI To Other bank accounts
IMPS beneficiary: This is for IMPS fund transfer
If you want to transfer money from SBI bank account to another SBI Bank account then you have to choose Intra Bank Beneficiary option.
If you want to transfer money from your SBI Bank to any other Bank Account then you have to choose Inter Bank beneficiary.

Step 4: Submit Data
Once you reached to below mention page than simply enter person's account details like name, account number , IFSC Code and transfer limit.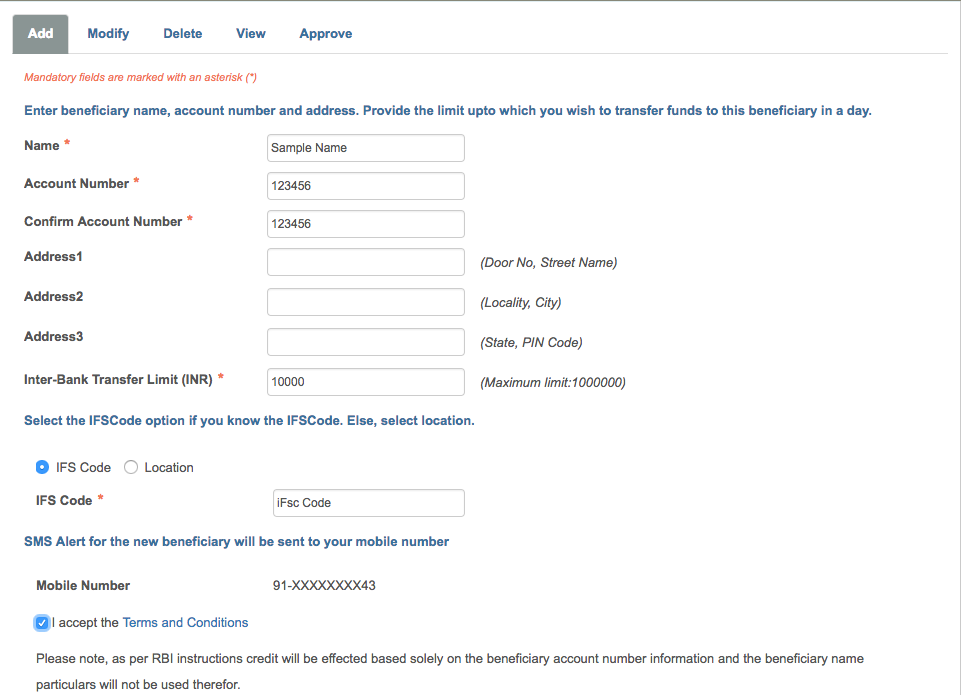 Step 5: Beneficiary Approval
once you fill all data it will ask for approval so you have to click on Approve Now Button

Step 6: Final Approval Time

Step 7: Approval Option
You can approve beneficiary instant through ATM (you need to go to any SBI ATM for Instant approval) or you can approve beneficiary through Mobile OTP which take 3 to 4 hour.

Step 8: OTP For Beneficiary
SBI Net sent one-time password on your register mobile number so check the message and submit the code in front of High-Security Password Text field in Approval Menu screen.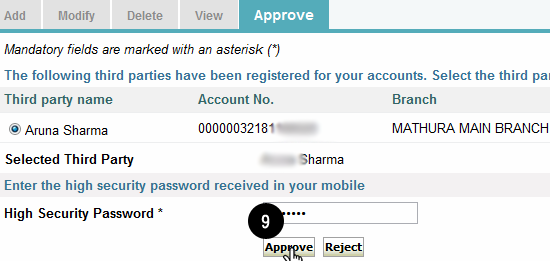 Step 9: Congrats Your Intra Beneficiary is successfully added
Your beneficiary is added successfully but it will take approx 4 hours and you will get a notification through SMS once it will activate.
this is the simple and quick method to add any type of beneficiary in your SBI net banking.
How to add Benificiary in SBI internet Banking || sbi इंटरनेट बैंकिंग में बेनिफिसरी कैसे जोड़ें
Also Read: