Google Analytics one of the most powerful digital analytics solutions available in the market.It will help for the advertiser as well as for publisher to track the record of their visitor and customer came to their site. Analytics is accessible who have Google account.How To Add Multiple User in  Google Analytics in 2017

Priceless feature Provide by Google Analytics Are!
Real-Time Reporting
which display the real time status of your site like how many visitors are currently on your site and going to which page. One of my favorite feature among all of them.
Audience Analysis
This feature tells you about the visitor location, technology , behavior in short about guide about the visitor.
Visitors Flow
This feature Tell how your visitors are moving from one page to another page. for example, one visitor land to your homepage then move to the category page and contact us page
This feature helps to understand your visitor. There are plenty of features which behind the wall of Analytics find and play with those.
[irp posts="140″ name="How to Delete Google Search Engine History & Youtube History"]
Now came to Title of the blog if you want to add 1 or 10 user to Google Analytics then its is very simple way given by google.
1)Simple Go to Admin Of your account which is right side of your account

2) Select the User Management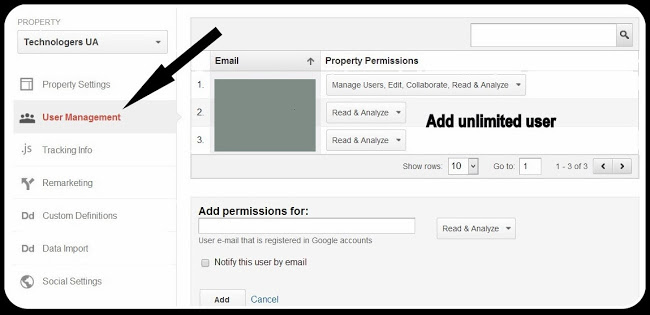 3) Add the Email of Person you Want to Give Permission

if You want to Delete the user which you don't like after some time or they nor helping you simply delete it from your account.watch the video where I explain how to delete a user after adding it.

This feature Especially helps the blogger who is interested in any blog or anybody want to buy any blog then before buying the analysis the complete blog with analytics.
Add Multiple User in Google Analytics