One of the most popular customs made DVD backup software designed for Windows is WinX DVD Copy Pro. Using this software the users can sector-by-sector renew DVD to the DVD disc for providing it a storage space; also there are options to copy DVD to the ISO image format in order to burn it into a disc later. There are also provisions for creating MPEG2 files from the DVD using this software so that it can be used later for usage. The DVD backup software has an ISO mounter as well as a DVD burner, which is very helpful in mounting ISO into a virtual drive and also burn DVD to create backup DVD.
For DVD backup, we always meet the problem of content loss. Some old DVDs are even scratched with various levels, you can't play them anymore, but using WinX DVD Copy Pro, you can sector-by-sector clone DVD to blank DVD discs and store it there without any degradation of the quality.
The WinX DVD Copy Pro software enables the users to copy D9 to D9 (8.5 GB), copy D5 to D5 (4.7 GB), and even duplicate intact DVD video audio data into blank DVD-/+R (DL), DVD-/+RW (DL), DVD RAM.You can copy original DVD Audio/Video data as well as remix these files to a single MPEG-2 file. This copied file can be played back on various PS3, Xbox, Wii as well as TVs utilizing the USB flash drive.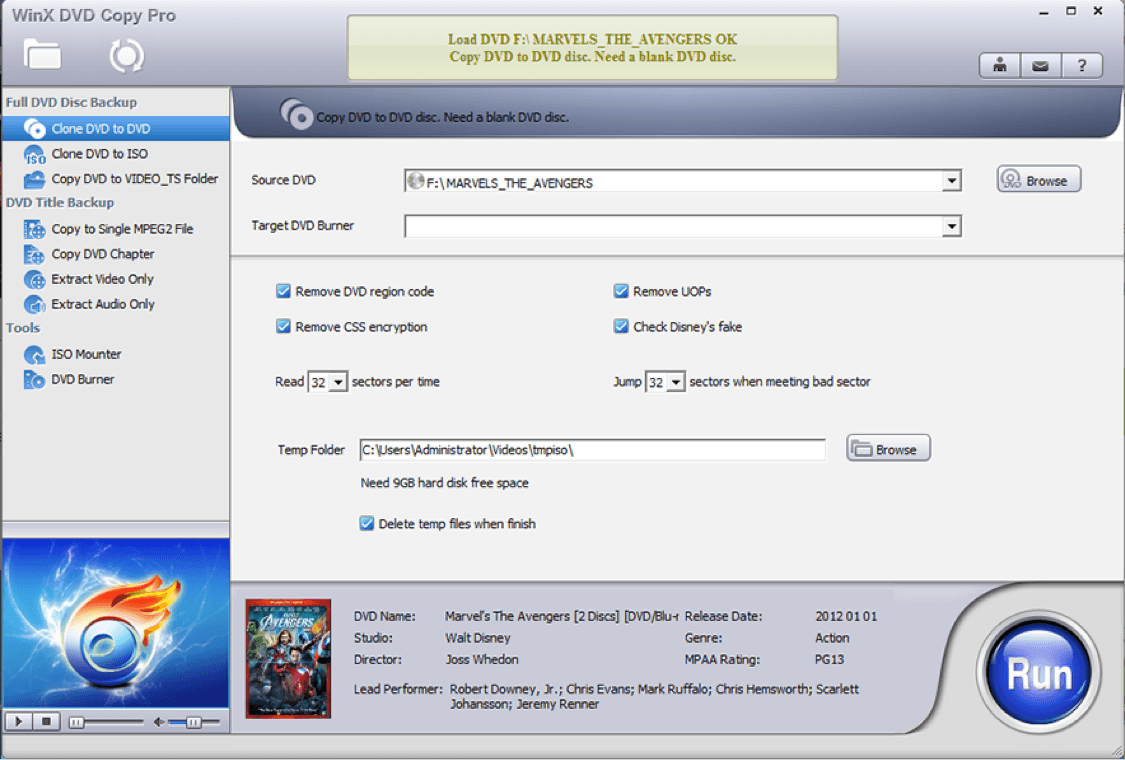 You can even edit the copies further to suit your preference by using the Windows Media Center. WinX DVD Copy Pro is created in such a manner that it is perfectly compatible with the various Region Codes, CSS, RCE, UOPs (FBI warnings), Sony ARccOS, APS and even Disney X-project DRM tricks.
Using the very capable Disney Fake checking feature, WinX DVD Copy Pro has developed into one of the most sought-after DVD cloning software which is successful to renew DVD by successfully copying the latest DVD formats.

The basic features of the WinX DVD Copy Pro software are found in almost all the DVD copy products which are available in the market, but there are certain extra parts which set it apart from all other competitors.
The most important feature which makes it far more superior than any other products available in the market is the integrated CSS decrypter which enables the user to bypass any kind of anti-piracy protections which might be present in the discs. This enables you to create several personal copies as well as backups which you bought legally.This software enables you 9 DVD copy modes to renew several copies of various DVD movies and the process can be done in about 45 minutes. The software is unable to compress the commercial discs to another small capacity blank DVD, so as for result of this the best-suited DVD would be the dual-layered blank DVD discs.In these discs, the content of the commercial discs can be copied easily using the software.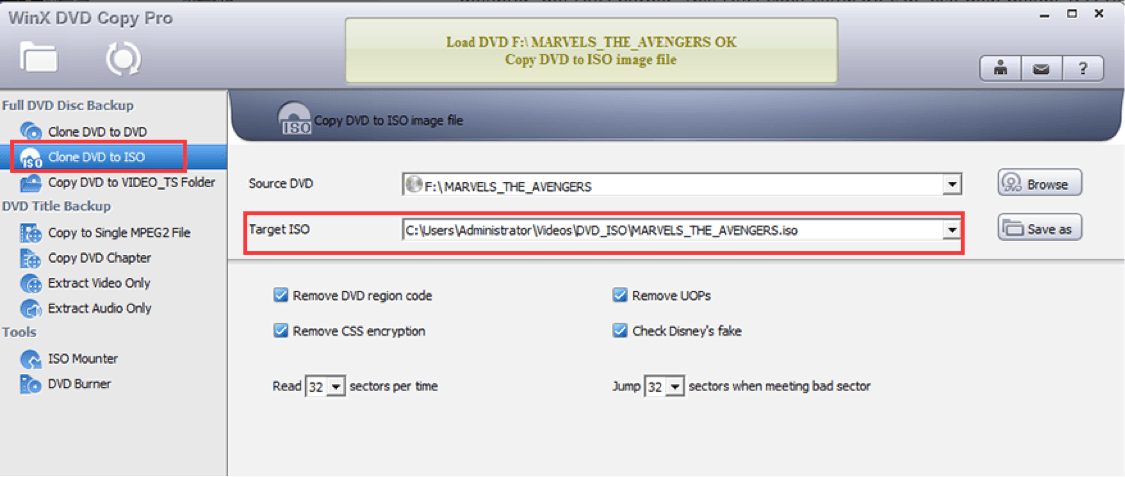 Using WinX DVD Copy Pro it is also quite easy to create copies of ISO files in a DVD from the hard drive. The ISO file is an image file which in essence is a blueprint of a DVD. The ISO files contain each and everything starting from the DVD right to the captions and bonus materials. Using the WinX DVD Copy Pro software you can even burn new discs from these ISO files. In order to achieve this all you need is to load the interface following which the content is copied in a manner normal to a physical disc. Also, we would like to inform you about the giveaway of DVD Copy which is used to renew old DVD very easily. This software is very useful to make copies of DVD and is even mounted with the ISO mounter as well as DVD burner to make several copies.
Get free license key to sector-by-sector renew DVD >>
About Digiarty
With 11 years of experience in the industry, the developer of WinX DVD Copy Pro – Digiarty is now a leader in personal and home-use video audio applications based on Windows and Mac OS. It provides fast and easy-to-use Mac DVD ripper/copier/creator, video converter, online video downloader, media player, iPhone file manager, video audio streaming app, etc.