KBC or Kaun Banega Crorepati is a very famous reality game show which has helped people earns money by answering some questions. It is a very popular game show that is broadcasted on Sony TV. Many audiences and contestants are a huge fan of this game show and it has also changed the lives of many people by offering them an opportunity to earn money. This game show is watched by almost entire population of India and it has left an impact on the hearts of people. This game show is broadcasted on the famous Sony TV and many people go to play the game and sit on the hot seat. However, if you are someone who is not willing to face the camera or come in front of the national television then you can also look forward to KBC Game Play Online with Jio Chat.
How to Play KBC Games Online?
This game has also come up with online options to play where you simply have to answer questions online and can win prize money and exciting gifts.
The game can be played easily by downloading the app and then registering yourself. After registering yourself you too will be considered as one of the contestants of KBC Live. Play Jio KBC Play Along is also used to play KBC online.
The game is similar to that played in the TV. Fastest finger fast question will be asked and you have to answer it and then if you give the right answer the actual game will be started.
[irp posts="4660″ name="Play Jio KBC Play Along with KBC Live show Download Jio Chat"]
This way you can play the game sitting at your home on your phone with ease. So, without wasting time read below and know how you can start playing the game.
How to Play KBC Game Online & Win Prizes
If you are looking forward to playing KBC with Amitabh Bachchan, then you are at the right place.
Here you can play KBC online with KBCSony Live Play instead of simply sitting and watching the entire program without being a part of it. Instead of sitting idle and watching the game makes sure to be an active participant of KBC and earn exciting gifts and prizes.
If you are wondering how to take part in the online KBC game then you can do it easily by following the below steps:
[irp posts="4632″ name="Cancel Jio Pre Booked Phone – Jio Phone Money Claim 500 Rupees"]
Learn how to play KBC live in few simple steps
To understand and experience the proverb Ghar Baitho Jeeto Jackpot you have to download the Jio chat app where you can have the option of KBC Game Play Online.

If you are a Jio user then it will become much easier for you and you can register yourself for the same in a much simpler way.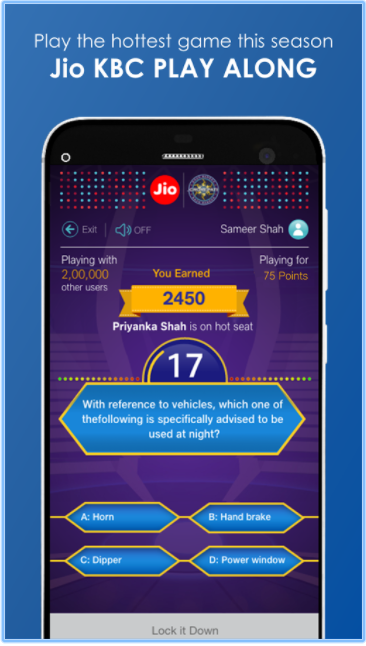 All you need to do is download the Jio Chat app to play KBC live and then enter your details as you have filled in your Jio account and then you will be considered as a contestant.
Once you do this you can now start playing the game online and can answer as many questions as you know and become one of the lucky winners.
How to Download Jio Chat Online in 1 Min:
1. Click Here to download Jio Chat from google play.
2. Choose the Permission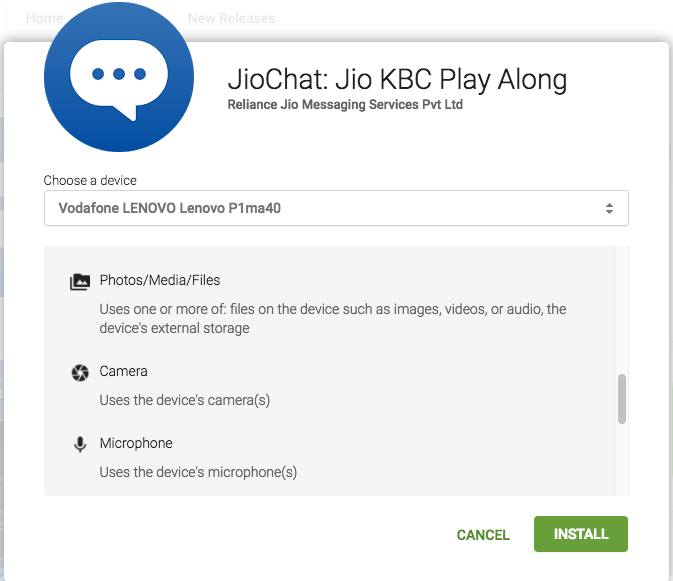 The game is now in your phone
To play KBC Live from your phone you simply have to open the KBC Jio app and the questions will be asked after you have successfully registered yourself.
You will be asked questions and you have to answer the questions. You can continue to play until you give any wrong answer. If you continue to give right answers then you can continue playing.
For the first 10 questions you will be given 30 seconds like the real game and after 10 questions there will be no time limit for answering the question.