Jio will launch its own DTH services real soon. People are eagerly waiting for the release date of Reliance DTH services as with its launch, the company will also provide various Jio DTH recharge offers. Jio is known for its low-priced services and surprising offers. When Jio launched its mobile network and Jio SIM, the free data services and unlimited talk-time offers attracted customers. It is these kinds of irresistible offers that people are also expecting from its DTH services.
Till now there has been no confirmation on the launch date of Jio DTH services. But some sources say that Reliance Jio is going to launch its DTH services in the near future. As soon as the company asserts the release of DTH services, Jio setup box online booking and a link will be updated on our site.
You will then just have to register yourself as a genuine buyer and then pay the pre-booking price to book your Jio DTH set up box.
[irp posts="4023″ name="Jio DTH Customer Care Number | Jio DTH Toll Free Number – Helpline Number"]
Notable features of Reliance Jio DTH service:
300+ channels and 50+ HD channels
Unlike other DTH set up boxes, the Jio DTH setup box will be an Android-based set up box. It will work on a similar concept as Jio TV runs on your phone using Jio SIM.
The Jio set up box will be driven by Jio optical fiber which is speculated to offer a striking speed of 1 Gbps. The Jio broadband services will power the DTH set up box and as a result, you can enjoy various channels without any buffering.
The DTH pre-booking and launch dates have not been confirmed yet. But some sources say that the Jio DTH services will be live by October 2017.
So, the pre-booking will start most probably by the end of the month of October.
The setup box will most probably be priced around Rs 1800-2000.
It is believed that Jio will also give a 'Jio DTH welcome Offer' which will allow you to enjoy the first 3 months of the DTH service free of cost. Though the offer has not been ascertained yet, still people are expecting this offer as Jio had given a similar offer when it had launched the Jio SIM.
The all-channel package of Jio DTH Channel will cost around Rs 300. Jio will also offer various plans depending upon your channels choice; e.g Gold, Silver, Platinum. There will also be a My Plan which will allow you to choose only those channels that you wish to watch. There will also be region or zone based channel packages.
Once Reliance confirms about the release date of the DTH service, the link for the pre-booking will come live. We will keep you updated on any information that comes regarding the Jio DTH booking price and Jio DTH dealership.

How to Get Jio DTH Recharge Offers?
Jio will accept various types of online payments like payment through credit card, debit card, digital wallets like Paytm, Jio Money (Jio upcoming service) etc. But we all know that with online recharging technique, you will also get various Jio DTH recharge offers.
Jio is well known for offering various discounts and free services to its customers. When it released its mobile network services, it had provided its users free data and talk-time for the first few months. It made its user base quite wide and that is why people are expecting Jio DTH recharge offers too.
Paytm offers quite a lot of coupons and cash back while recharging DTH services. So, it will most certainly offer Jio DTH recharge coupons too.
How To Recharge Jio DTH Through Paytm:
1. Go to Paytm.com and Click on DTH Recharge Option.
2. Select Jio DTH and Recharge with the Selected amount.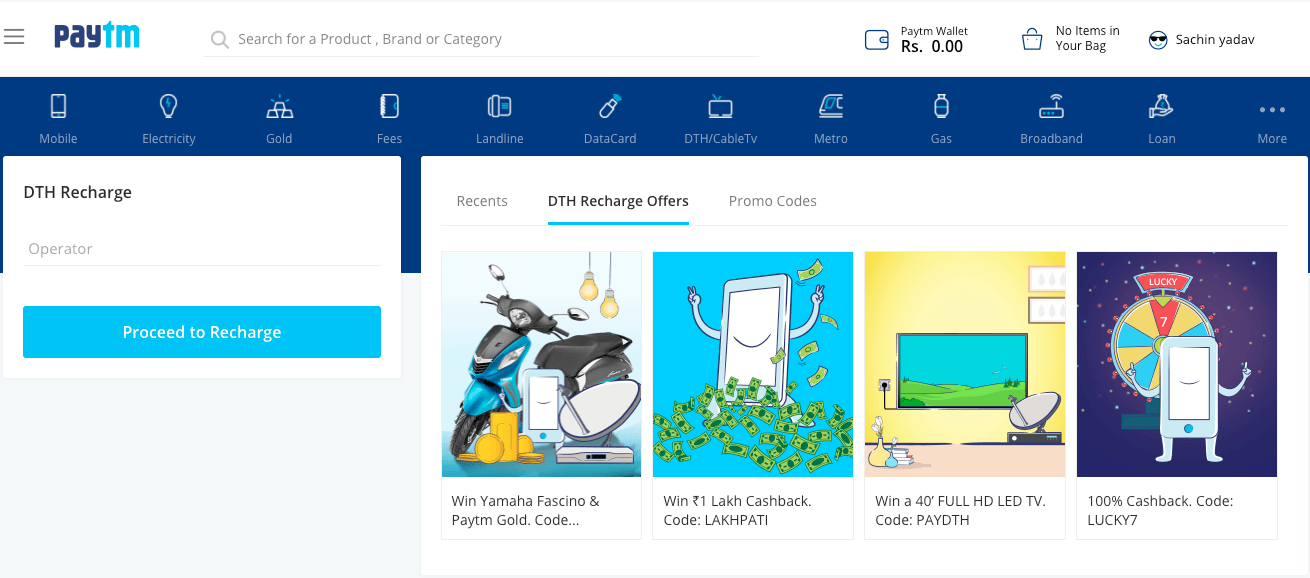 How To Recharge Jio DTH Through Freecharge: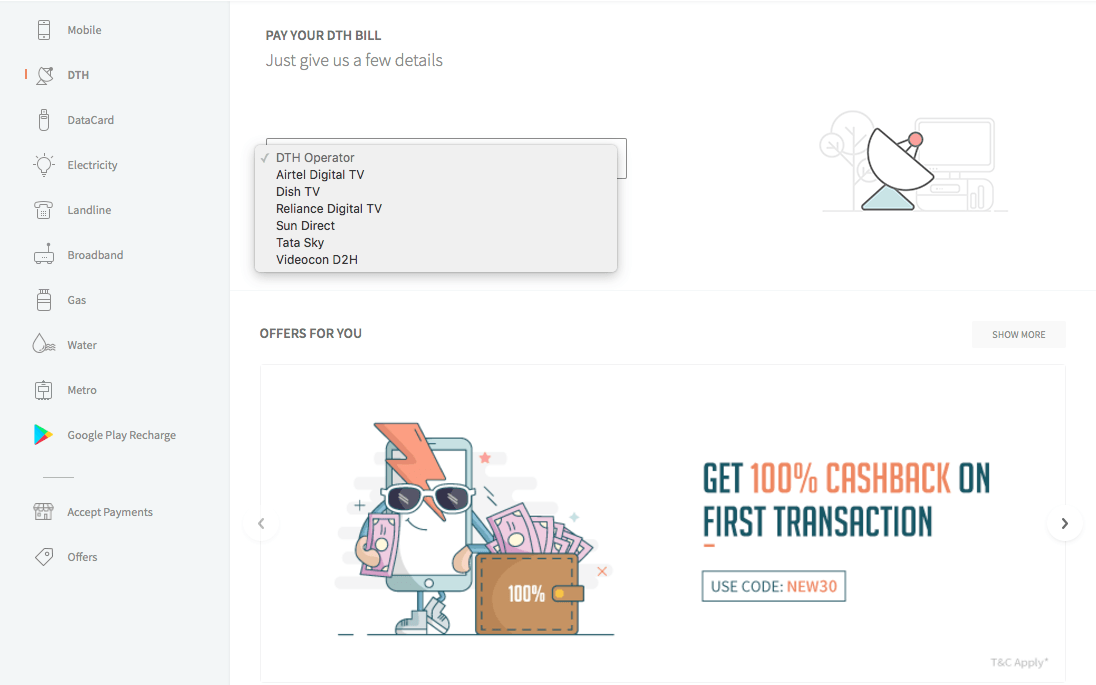 Jio DTH online recharge will be as easy as any other DTH services and can be easily done through credit card, debit card or digital wallets. As the packages details if Jio DTH services has not been confirmed yet, so nothing much can be said about the Jio DTH recharge plans.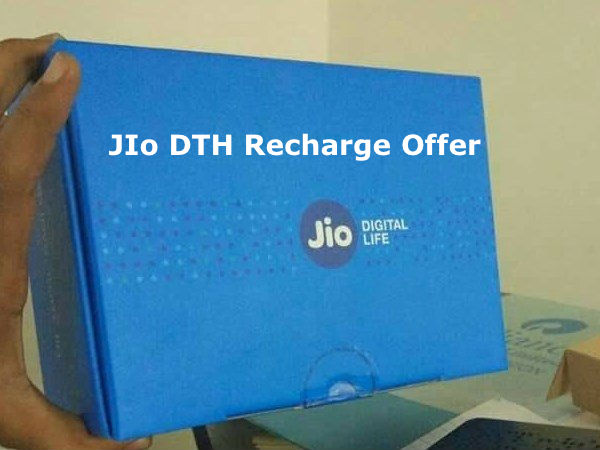 Once the DTH service becomes live, you can easily register yourself in the online site of Jio and then maintain your DTH service account online.
You can select you Jio DTH recharge plan and channel packages through your account itself. Chances are there that just like Tatasky, Jio might also launch its DTH service mobile application. You can easily maintain your account through this app and make your payments through it.
Jio might also give various Jio DTH recharge offers while recharging.
We hope Jio DTH services is launched real soon. Watch this space for more details on the Jio DTH service and Jio DTH recharge offers.